By Lambert Strether of Corrente.
Bird Song of the Day
Magpie-lark. Piesse Park (Katanning), Katanning, Western Australia, Australia. "Pair duet. Female woo-loop call in flight @ 0.17. 2nd duet- male lead. Near end- Male few out no call. Female called, followed male." Woo-loop!
* * *
Politics
"So many of the social reactions that strike us as psychological are in fact a rational management of symbolic capital." –Pierre Bourdieu, Classification Struggles
Biden Administration
"Biden says he's offered $1 trillion in spending cuts but GOP won't budge on debt limit" [Ohio Capitol Journal]. "President Joe Biden said Sunday his administration has offered $1 trillion in spending cuts as part of the ongoing talks with Republicans around a budget agreement, but he said no deal has yet been reached. Biden, speaking from Japan during a press conference following the G7 summit, said his administration wants House Speaker Kevin McCarthy to consider changes to the tax code in addition to spending cuts. 'It's time for Republicans to accept that there's no bipartisan deal to be made solely on their partisan terms — they have to move as well,' Biden said." • Sounds like… a Grand Bargain? Scranton Joe, the people's friend!

"The Wall Street Grumble" [American Economic Liberties Project]. "The American Economic Liberties Project has been tracking the number of editorials, op-eds, and letters to the editor published in the pages of the Wall Street Journal that raise concerns about the antitrust enforcement record of FTC Chair Lina Khan. In total, as of May 2023, the elite voices of the Wall Street Journal have published 63 pieces since the beginning of Khan's tenure, all of them intending to undermine the FTC's enforcement actions. In our view, that means Chair Khan is on the right path. According to our analysis, the Journal is publishing a screed against Chair Khan once every 11 days!"

"IRS Processing Updates Include Up To 20-Week Wait For Amended Tax Returns" [Forbes]. "According to the IRS, all paper and electronic individual returns received before January 2023 have been processed. Additionally, the agency claims it is opening mail within normal time frames. This means, they say, that all returns received for the tax year 2021 or earlier have been processed—if those returns had no errors or did not require further review. As of May 13, 2023, the IRS had 4.2 million unprocessed individual returns—yes, that number is higher than reported just a few weeks ago. That number includes tax year 2022 returns, 2021 returns that need review or correction, and late filed prior year returns. Of the unprocessed individual returns, 2 million returns require error correction or other special handling, and 2.2 million are paper returns waiting to be reviewed and processed, nearly 3/4 million more than two weeks ago. These returns require special handling by an IRS employee, so in these instances, it will take the IRS more than 21 days to issue any related refund." • News you can use!
2024
I guess it's time for the Countdown Clock!

* * *

"Tucker Carlson Hits 'Draft Carlson PAC' With Legal Complaint" [The Messenger]. "A recently unveiled super PAC that is urging former Fox News host Tucker Carlson to run for president in 2024 was hit with a cease-and-desist letter on Monday, according to reports. Carlson's lawyer Harmeet Dhillon sent 'Draft Tucker PAC' the letter—obtained by The Daily Beast — saying the PAC is using Carlson's 'name, image, and likeness' to raise money, despite the fact that he 'will not run for President in 2024 under any circumstances.'"

"Marianne Williamson Loses Two Campaign Officials" [The Messenger]. "Democratic presidential candidate Marianne Williamson lost two of her main campaign officials in back-to-back resignations, including her campaign manager, Peter Daou, and deputy campaign manager, Jason Call." • Hmm.

"A ROCKSTAR JOINS FORWARD" [Andrew Yang]. "Some huge news came out this week – Krist Novoselic has joined the National Board of the Forward Party! Krist co-founded Nirvana with Kurt Cobain – he's the tall, good-looking one playing the guitar toward the back…. Krist is no stranger to political activism. He was the chairman of Fairvote, an org championing Ranked Choice Voting, for 9 years and was the former chair of his local county Democratic Party. He even wrote a book, 'Of Grunge and Government: Let's Fix this Broken Democracy.'…. 'The only way you do anything is to become really active,' Krist says. He also said, in another context: 'I kind of discovered my voice for the first time, and the more I did it, the better it got.' Can we change the face of American politics? Krist thinks we can – and he's done it once already." • If that's a good summary, the Forward Party is content-free.

wa
Republican Funhouse
"Tim Scott's Uphill Battle To Win The Republican Nomination" [FiveThirtyEight]. "Going into this piece, though, I wrestled with the question of why Scott, the lone Black Senate Republican, first appointed (by Haley) to the chamber in 2012, doesn't share DeSantis's presumed front-runner status. He's got a lot going for him, at least on paper: He's an unapologetic and unceasingly affable conservative whose Christian faith has informed his politics and personal journey. His vision is relentlessly optimistic, an implicit rebuke of the grievance politics that have taken over the Republican Party — though it's unclear if the party wants to pivot in his direction. And, unlike DeSantis, Scott has managed the impressive feat of staying on the good side of both the Trumpist and non-Trumpist wings of the party. Scott's advisers argue that his middle-of-the road disposition makes him more electable — specifically in a general election. So why isn't Scott entering the race with the same stature as DeSantis despite his conservative record and political resume? One reason for this dynamic could be because DeSantis has had a chance to pursue an "anti-woke" agenda as Florida's governor with actual outcomes, whereas it's harder to make the same kind of name for yourself in the Senate minority. Republican voters might also just want a Trumpian-type candidate that's not Trump himself, or may rebuke the possibility of a Black party leader. These factors could help explain why Scott is just barely on the map as a presidential candidate while DeSantis is largely viewed as Trump's top opponent." • Nominating the Black guy would totally own the libs. Oddly, nobody's saying that.

"'A Tim Scott Nomination Would Be a Nightmare for Joe Biden': Our Columnists Weigh In on the G.O.P. Candidate" [New York Times]. "Tim Scott is the most serious candidate who isn't Trump or Ron DeSantis. That may seem like faint praise. But Republican primary voters have been eager to consider Black candidates in recent cycles: Herman Cain in 2012, Ben Carson in 2016. That eagerness gives Scott an opening." • Trump's VP. That would cause a few heads to explode…

"'Blood in the water for DeSantis': Trump world embraces Tim Scott's candidacy" [Politico]. "'The more the merrier,' said one Trump adviser of Scott's announcement. 'Tim Scott doesn't have to write 'Be Likeable' at the top of his notepad,' referencing a video from a 2018 DeSantis debate prep where he was advised to be 'likeable' to the audience." • Ouch!

"No More Losers" [The American Conservative]. "Since the time Nixon initiated a generation of GOP dominance in 1968, the Republican nominee had won, on average, thirty-seven of the fifty states in each presidential election. Twice—in 1972 and 1984—a Republican incumbent carried all but one. Bob Dole pulled nineteen, scraping together just 159 electoral votes against Bill Clinton's 379. Bob Dole, that is, was the last massive loser put forward by either major party. What does it say, then, when his campaign manager returns from the grave to foist another candidate on a divided GOP? Scott Reed, who led Bob Dole and the party to electoral humiliation 27 years ago, was announced this week as co-leader of "Allies of Mike Pence," a Super PAC set up to fund the former vice-president's long-shot candidacy for the 2024 nomination. Since the bungling of 1996, Reed has slinked from swamp role to swamp role, among the most recent of which was political director of the U.S. Chamber of Commerce. (He was terminated for cause in 2020 after "an internal review…revealed that Scott repeatedly breached confidentiality, distorted facts for his own benefit, withheld information from chamber leadership and leaked internal information to the press.") The choice is poetic, if not much else. Who better to lead a failing campaign than a man with an ironclad track record? Who better to force out the last gasp of the dead consensus than an alumnus of Dole/Kemp?" • Fun stuff. However, Pence didn't "get in the car." That speaks well of him.
Democrats en Déshabillé
Patient readers, it seems that people are actually reading the back-dated post! But I have not updated it, and there are many updates. So I will have to do that. –lambert

I have moved my standing remarks on the Democrat Party ("the Democrat Party is a rotting corpse that can't bury itself") to a separate, back-dated post, to which I will periodically add material, summarizing the addition here in a "live" Water Cooler. (Hopefully, some Bourdieu.) It turns out that defining the Democrat Party is, in fact, a hard problem. I do think the paragraph that follows is on point all the way back to 2016, if not before:

The Democrat Party is the political expression of the class power of PMC, their base (lucidly explained by Thomas Frank in Listen, Liberal!). ; if the Democrat Party did not exist, the PMC would have to invent it. . ("PMC" modulo "class expatriates," of course.) Second, all the working parts of the Party reinforce each other. Leave aside characterizing the relationships between elements of the Party (ka-ching, but not entirely) those elements comprise a network — a Flex Net? An iron octagon? — of funders, vendors, apparatchiks, electeds, NGOs, and miscellaneous mercenaries, with assets in the press and the intelligence community.

Note, of course, that the class power of the PMC both expresses and is limited by other classes; oligarchs and American gentry (see 'industrial model' of Ferguson, Jorgensen, and Jie) and the working class spring to mind. Suck up, kick down.

"Maverick Joe Manchin on shaky ground in coal country over climate" [Financial Times]. "Democrats hope that the Inflation Reduction Act, which contains nearly $370bn in subsidies, can unleash a wave of green jobs across America, bringing prosperity to the faltering economies of the country's depressed Appalachian region. But shortly after Manchin backed the plan, his approval rating in West Virginia — one of the regions likely to benefit from the green spending splurge — plummeted… A Morning Consult poll in October showed 51 per cent of West Virginia voters disapproved of Manchin's job performance, compared with 38 per cent in the second quarter of the year, placing him among the country's least popular senators… 'No politician in West Virginia can win statewide office by saying that the climate is changing and we need to do something about it,' said Hoppy Kercheval, a longtime radio show host based in Morgantown. 'That is a political non-starter.'"

* * *

"Back in hoodies and gym shorts, Fetterman tackles Senate life after depression treatment" [Associated Press]. "These days, he's back to wearing the hoodies and gym shorts he was known for before he became a senator. Male senators are expected to wear a jacket and tie on the Senate floor, but Fetterman has a workaround. He votes from the doorway of the Democratic cloakroom or the side entrance, making sure his "yay" or "nay" is recorded before ducking back out. In between votes this past week, Fetterman's hoodie stayed on for a news conference with four Democratic colleagues in suits, the 6-foot-8 Fetterman towering over his colleagues. People close to Fetterman say his relaxed, comfortable style is a sign that the senator is making a robust recovery after six weeks of inpatient treatment at Walter Reed National Military Medical Center, where his clinical depression was treated with medication and he was fitted for hearing aids for hearing loss that had made it harder for him to communicate. His hospitalization came less than a year after he had a stroke during his Senate campaign that he has said nearly killed him, and from which he continues to recover." • I say good for Fetterman, and may his suffering be expressed in humane policy. (We don't know that it will, of course; but what impressed my about Fetterman was his "every county, every vote" strategy, which arguably carried him to the Senate after a stroke (not that the dog-torturing charlatan Oz was any great shakes as a candidate).

This is just sad:

Just with @SenSanders and some other friends re-introducing #MedicareForAll. pic.twitter.com/H1zqvybiO6

— Congressman Greg Casar (@RepCasar) May 17, 2023

Democrats didn't pass single payer during a pandemic; they're certainly not going to pass it when the pandemic is "over."
Realignment and Legitimacy
#COVID19
"I am in earnest — I will not equivocate — I will not excuse — I will not retreat a single inch — AND I WILL BE HEARD." –William Lloyd Garrison
Resources, United States (National): Transmission (CDC); Wastewater (CDC, Biobot; includes many counties); Variants (CDC; Walgreens); "Iowa COVID-19 Tracker" (in IA, but national data).
Lambert here: Readers, thanks for the collective effort. We are now up to 50/50 states (100%). This is really great! (It occurs to me that there are uses to which this data might be put, beyond helping people with "personal risk assessments" appropriate to their state. For example, thinking pessimistically, we might maintain the list and see which states go dark and when. We might also tabulate the properties of each site and look for differences and commonalities, for example the use of GIS (an exercise in Federalism). I do not that CA remains a little sketchy; it feels a little odd that there's no statewide site, but I've never been able to find one. Also, my working assumption was that each state would have one site. That's turned out not to be true; see e.g. ID. Trivially, it means I need to punctuate this list properly. Less trivially, there may be more local sites that should be added. NY city in NY state springs to mind, but I'm sure there are others. FL also springs to mind as a special case, because DeSantis will most probably be a Presidental candidate, and IIRC there was some foofra about their state dashboard. Thanks again!
Resources, United States (Local): AK (dashboard); AL (dashboard); AR (dashboard); AZ (dashboard); CA (dashboard; Marin); CO (dashboard; wastewater); CT (dashboard); DE (dashboard); FL (wastewater); GA (wastewater); HI (dashboard); IA (wastewater reports); ID (dashboard, Boise; dashboard, wastewater, Central Idaho; wastewater, Coeur d'Alene; dashboard, Spokane County); IL (wastewater); IN (dashboard); KS (dashboard; wastewater, Lawrence); KY (dashboard, Louisville); LA (dashboard); MA (wastewater); MD (dashboard); ME (dashboard); MI (wastewater; wastewater); MN (dashboard); MO (wastewater); MS (dashboard); MT (dashboard); NC (dashboard); ND (dashboard; wastewater); NE (dashboard); NH (wastewater); NJ (dashboard); NM (dashboard); NV (dashboard; wastewater, Southern NV); NY (dashboard); OH (dashboard); OK (dashboard); OR (dashboard); PA (dashboard); RI (dashboard); SC (dashboard); SD (dashboard); TN (dashboard); TX (dashboard); UT (wastewater); VA (dashboard); VT (dashboard); WA (dashboard; dashboard); WI (wastewater); WV (wastewater); WY (wastewater).
Resources, Canada (National): Wastewater (Government of Canada).
Resources, Canada (Provincial): ON (wastewater); QC (les eaux usées); BC, Vancouver (wastewater).
Hat tips to helpful readers: Art_DogCT, B24S, CanCyn, ChiGal, Chuck L, Festoonic, FM, FreeMarketApologist (4), Gumbo, hop2it, JB, JEHR, JF, JL Joe, John, JM (9), JustAnotherVolunteer, JW, KatieBird, LL, Michael King, KF, LaRuse, mrsyk, MT, MT_Wild, otisyves, Petal (5), RK (2), RL, RM, Rod, square coats (11), tennesseewaltzer, Utah, Bob White (3).
Stay safe out there!
* * *
Look for the Helpers
If you are going to fly, read this excellent long thread from Jose-Luis Jimenez (an aerosol stalwart since before the beginning):

1/ Surveying indoor ventilation in the US as I travel to a conference

I'll use Aranet4 CO2 meter (see next tweet for details)

At the @RideRTD Bus to the airport ventilation is very poor, worse than what I measured previously (but similar to meas. by others such as @DougChem ) pic.twitter.com/7iRWsyGYxS

— Prof. Jose-Luis Jimenez (@jljcolorado) May 22, 2023

If you're drinking coffee, put it down. Here is a long thread on "Bob" Wachter's current Covid protocol (Wachter being the dude who infected his wife with Long Covid by chivvying her to go to a superspreader event, and got away clean with no reputational damage:

Covid (@UCSF) Chronicles, Day 1161
With the Pub Health Emergency over, it's a good time to update you on my view of Covid & my current approach to Covid behavior – which is now based on 2 principles:
1) Is the risk worth it?
2) Can I live w/ the behavior for the long haul? (1/25)

— Bob Wachter (@Bob_Wachter) May 23, 2023

You can read the whole thing if you want to indulge your sense of grim fascination; notice in this first tweet that (A) Wachter assumes up front that he can judge risk when the public health establishment has carefully erased all the data he needs (though to be fair he later admits this, so why is point 1) even there? Further, he has nothing on CO2 metering, which would help him assess risk in real time, or sprays, which mitigate it. (B) it's all about him (unsurprisingly). Surely the question of whether others (say, his wife) can live with Wachter's behavior also matters? Even more offensively, Wachter wraps up this steaming load with hedonistic rhetoric about "joy" and "pleasure." What a piece of work.

NOTE I'm filing Wachter here as a parallel to Jimenez, a genuine helper. For Wachter I need an antonym for helper, like harmer, or hurter. Perhaps anti-helper.

* * *

"Toward a Values-Informed Approach to Complexity in Health Care: Hermeneutic Review" [The Milbank Quarterly]. "[R]eal-world complexityis not only (or even primarily) a mathematical phenomenon; it is a human, social, and political one characterized by strongly held values, contested meanings, and stakeholder conflicts. It requires not merely generalizable, abstract, and formal knowledge but also what Polanyi and Tsoukas have called 'complex knowledge'—including embodied, intersubjective, collective, and distributed elements.The human and political dimension of complexity is illustrated by what have become known as 'grand challenges,' such as the climate emergency. These are often presented as grand in difficulty (multiple interacting components), grand in scope (extended temporal or spatial scale), or both and as requiring a heroic, all-out collaborative effort. Such framings emphasize the mathematical (or structural) complexityaris-ing from the sheer number of components and interactions in a system and resulting logistical challenges. However, another key feature of grand challenges is that they are grand in wickedness—that is, putting scale and logistics aside, they resist definitive description or clear solutions, they are inherently unpredictable, and efforts to address them often generate conflict among stakeholders. In other words, they also exhibit value(or normative) complexity, which we define as complexity that arises from differences in world views, interests, and values, leading to mistrust, misunderstanding, and conflict among stakeholders." • A little turgid, perhaps, but worth some study (as is anything in which Trisha Greenhalgh is involved). Anyhow, I'm a sucker for hermeneutics. On "wicked," see "wicked problems."
Maskstravaganza
Fashion-forward masking (1):

use code HURRY80 to get 80% fashion masks https://t.co/xFwzuENomU

— Xtian W. Z. Reader ( EKS-TI-an) (them!) (@XtianPerfection) May 21, 2023

I clicked through: "As seen in People." Good! Ear loops: Gaaah!

Fashion-forward masking (2):

Hi! I have a few suggestions!

Rub-on transfers https://t.co/kbHqMbwNVU to create N95 flair https://t.co/3HdsHUbpNt

Mask Squad: https://t.co/JeMYzyFR5w
Flo snap-on: https://t.co/PSyCMzWHEY
Look through @nickelpin's pics for many mask couture ideas https://t.co/F7uxrCetm0 ❤️ pic.twitter.com/to9qEdS3a4

— Violet Blue® (@violetblue) May 21, 2023

Fashion-forward masking (3):

I bejeweled a mask it was so cuteeeee pic.twitter.com/Ye4VL8mikf

— kelli (@kelzyeah) May 22, 2023

* * *

"Emily Landon: Ending masking requirements in hospitals and clinics is a step backward for health care" [Chicago Tribune]. "A universal source-control masking strategy is a harm reduction approach that asks everyone to wear at least low-quality masks to reduce the amount of COVID-19, tuberculosis, influenza, rhinovirus, adenovirus, metapneumovirus, measles, mumps, etc. in the air around them, whether they know they have infection or not. It works much like the myriad other things we do in health care to protect you even if we may not know for sure that you need it, like hand washing, gloves, and cleaning rooms with bleach. We can't easily tell when these things are needed and when we can safely skip them, so we do them for everyone, every time.

These kinds of interventions have reduced spread of multidrug-resistant organisms, decreased device related infections, and generally made health care safer, paving the way for more complex medical treatments and procedures. Without progress in infection prevention, many of the things we are able to do today (cancer treatments, transplants, complex surgeries) would not be possible because the risk of infection would be prohibitive. Unmasking in health care in order to 'give health care workers a break from masks' or 'keep up with what others are doing' is like saying we are going to provide the best health care 2019 has to offer. Yes, masks can be annoying and uncomfortable and there are definitely a few situations where we should ditch them for the sake of good communication. But they aren't much different from gloves, electronic medical record best practice alerts, hand washing, bar code medication administration, fall precautions, medication reconciliation, or pharmacy verification — and you deserve every single one of them." • Excellent piece. Circulate!

"Regional Healthcare Organizations Adopt Joint Consensus Statement: Continuation of Masking in Healthcare Facilities" [Northwest Healthcare]. "Throughout the COVID-19 pandemic healthcare organizations and local health jurisdictions throughout our region have maintained a strong commitment to collaboration with one another to ensure a coordinated approach to the healthcare system's pandemic response and caring for patients. This collaboration continues as many of the region's major medical institutions have again committed together to continue masking in their acute care and outpatient clinic facilities in advance of the removal of the Secretary of Health Mask Order on April 3, 2023. This decision is timely as the region continues to face a burden within the healthcare system and the risk for severe disease associated with infection amongst vulnerable populations is ongoing. This regional consensus provides a consistent and clear message that these healthcare organizations continue to prioritize the health and safety of both their patients and employees. This consensus statement informs each organization's individual policies and procedures related to the continued protection of employees and patients through masking in patient care areas and public spaces."

ACT-UP used shaming too:

We've created a system of structural violence against the immunocompromised, disabled, and clinically vulnerable. One that now extends to healthcare. We deserve to feel ashamed about it and we should always feel uncomfortable with perpetuating structural violence against others.

— Dr. Lisa Iannattone (@lisa_iannattone) May 20, 2023

"Highly regarded":
Celebrity Watch
"Paul Simon opens up about his 'sudden' hearing loss: 'Nobody has an explanation for it'" [Yahoo News]. "Tis a mystery!

Paul Simon: "Nobody has an explanation for it, but let me tell you about my tough struggle with Covid."

This is so sad. h/t @TheChefsGardens https://t.co/AGqLsOM5a8 pic.twitter.com/Y6nnWggUfC

— Laura Miers (@LauraMiers) May 21, 2023
Sequelae
"Potential Prion Involvement in Long COVID-19 Neuropathology, Including Behavior" [Cellular and Molecular Neurobiology]. "Prion disorders exhibit, in part, incubation periods, neuronal loss, and induce abnormal folding of specific normal cellular proteins due to enhancing reactive oxygen species associated with mitochondria energy metabolism. These agents may also induce memory, personality and movement abnormalities as well as depression, confusion and disorientation. Interestingly, some of these behavioral changes also occur in COVID-19 and mechanistically include mitochondrial damage caused by SARS-CoV-2 and subsequenct production of reactive oxygen species. Taken together, we surmise, in part, long COVID may involve the induction of spontaneous prion emergence, especially in individuals susceptible to its origin may thus explain some of its manesfestions post-acute viral infection." • I've gotta admit, this "potential" induces fear. I've seen other articles on Covid and prions, but this is the first one to propose a mechanism, so I included it. Readers?

"Yes, you're tired. But are you hungry tired, angry tired, resignation tired, stupid tired …?" [Guardian]. "A new tiredness has dropped. According to the market researchers Mintel, 2023 is the year of 'hyperfatigue' – which seems to describe a state of continual physical, emotional and mental exhaustion. It's nice of them to enrich our weariness one-upmanship with this concept, even if it sounds like something a French teenager would have said in the 90s; my computer even keeps trying to add an accent. But they aren't wrong: tiredness – possibly, yes, hyperfatigue – is the malaise of our age. Everywhere is too light and too loud to sleep properly, and our animal brains are overwhelmed by rolling news of hundreds of global atrocities and dangers, TikTok, deepfakes and monitoring 48 WhatsApp groups. In a recent survey, 35% of people said they were too tired to make healthy changes to their diet and activity levels, suggesting many are in a vicious circle of fatigue-induced self-sabotage, leading to more fatigue. We're too tired to tackle our tiredness, basically." • I wonder if there could be some common factor. 'Tis a mystery!
Elite Maleficence
Infection Control whacking more patients (1):

As a junior doctor we were literally shouted at by infection control for wearing white coats and ties. Both were banned.
Now we don't have to wear masks, during an airborne pandemic, with a 10% risk of death for patients who acquire Covid in hospital.
Make. It. Make. Sense. 🧵 pic.twitter.com/DRBeMkHGeY

— Palliative Doc (@PrognosticChats) May 20, 2023

Infection Control whacking more patients (2):

Mom's LTC home is now recommending visitors meet with their loved ones outside, since there's so much c_v1d in the place. Despite this, staff still refuse to mask to protect the residents. "Dr. Bonnie says we don't have to". So f**king angry and so worried about my mom.

— Jason M (@JasonM98282978) May 21, 2023

"Dr. Bonnie" (!!!).

"Column: These 'experts' sold the U.S. on a disastrous COVID plan, and never paid a professional price" [Los Angeles Times]. "They've held credentials from some of the world's most elite universities — Harvard, Stanford, Johns Hopkins, Oxford. They've been welcomed into the highest government policy councils. They became fixtures on television news shows and were quoted incessantly by some of the nation's leading newspapers. They're a cadre of academics and scientists who pushed a discredited solution to the COVID pandemic, shunning masks, school closings, even vaccines, all in the name of reaching the elusive goal of 'herd immunity,' resulting in what may have been hundreds of thousands of unnecessary American deaths. That's the contention of 'We Want Them Infected,' a painstakingly documented new book by Jonathan Howard, a neurologist at New York University and a veteran debunker of the pseudoscience contaminating our efforts to fight the pandemic.'" And: "In his book, Howard reserves his deepest scorn for the promoters of the "Great Barrington Declaration," a manifesto for herd immunity published in October 2020 and signed initially by epidemiologists Jay Bhattacharya of Stanford; Martin Kulldorff, then of Harvard; and Sunetra Gupta of Oxford. (Thousands of other academics and scientists would later add their signatures)…. As Howard documents, the declaration was little more than a libertarian fantasy." • Needs a copy editor. "Libertarian fantasy" is redundant.

"Might "Vitriolic Attacks" Against Emily Oster Rival COVID's Carnage?" [Science-Based Medicine]. "Maybe it's because I've worked in a New York City hospital throughout the pandemic, but I'm not too worried that vitriolic attacks against a famous, sheltered economist will soon rival COVID's carnage. To be honest, I can't even conceive of a 'vitriolic attack' that compares to tens of millions of dead people, especially considering so many of them should still be alive. The Delta and Omicron variants arrived shortly after Professor Oster published her article in the spring of 2021, proving that being a child wasn't always a really great vaccine. However, even before this, there was already evidence that not all children were 'naturally protected.' Sadly, the fact that we did an OK job of protecting children early in the pandemic was used as 'evidence' they didn't need protecting at all. It's not a 'vitriolic attack' to point any of this out to Professor Oster- though assuredly, someone who pretends to value 'debate and discussion,' will frame it that way in the hopes of dissuading me and anyone else from making pointed criticisms in the future."
The Jackpot
Catch 'em young:

lunchbox, so she "didn't know if it was her food" eventhough it was in her lunchbox in her book bag and she saw her Mom put it there.

I was shocked that her summer camp now will have session addressing Executive Function for elementary school-aged students. pic.twitter.com/p43Ee28rrm

— Lady Chuan (@LadyChuan) May 17, 2023

Of course, I can't be sure we didn't have "Executive Functioning" camp for children before Long Covid was a thing. Nevertheless. Readers, have any of you spotted anything like this in the wild?
* * *
Lambert here: I'm getting the feeling that the "Something Awful" might be a sawtooth pattern — variant after variant — that averages out to a permanently high plateau. Lots of exceptionally nasty sequelae, most likely deriving from immune dysregulation (says this layperson).
Case Data
From BioBot wastewater data from May 22: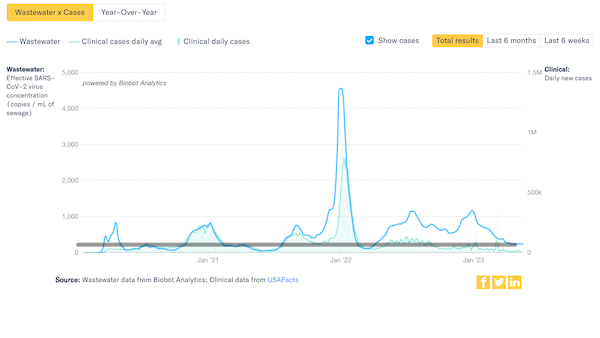 Lambert here: Unless the United States is completely, er, exceptional, we should be seeing an increase here soon. UPDATE Still on the high plateau. Are we are the point in the global pandemic where national experiences really diverge?
For now, I'm going to use this national wastewater data as the best proxy for case data (ignoring the clinical case data portion of this chart, which in my view "goes bad" after March 2022, for reasons as yet unexplained). At least we can spot trends, and compare current levels to equivalent past levels.
• "Bay Area doctor believes COVID-19 to become endemic this year" [ABC7]. "As health emergencies end across the country and in the Bay Area, UCSF Infectious Diseases Expert Dr. Peter Chin-Hong can finally say with confidence that society can collectively breathe a maskless sigh of relief… 'I think this is a critical year because this is the year that COVID will become endemic,' Dr. Chin-Hong said. Dr. Chin-Hong believes COVID is becoming predictable thanks to the amount of immunity in society as well as tools like treatment and vaccines. On top of this, he thinks yearly vaccines may only be needed by the most vulnerable and people over 65. ',' Dr. Chin-Hong said. ''" • So that's alright then.
Variants
NOT UPDATED From CDC, May 13, 2023: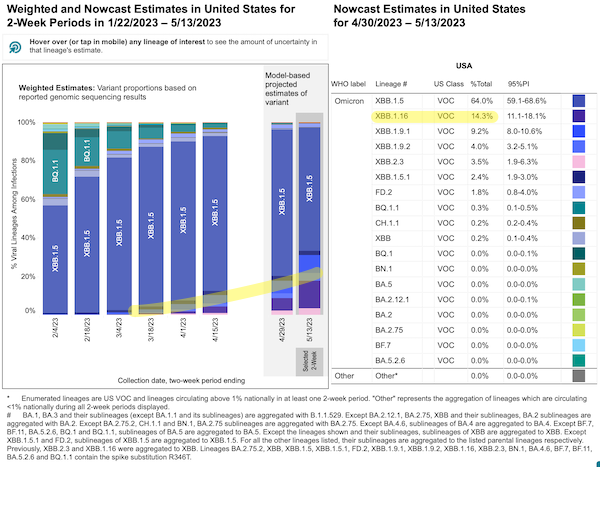 Lambert here: Looks like XBB.1.16 is rolling right along. Though XBB 1.9.1 is in the race as well.
Covid Emergency Room Visits
NOT UPDATED From CDC NCIRD Surveillance, from May 13: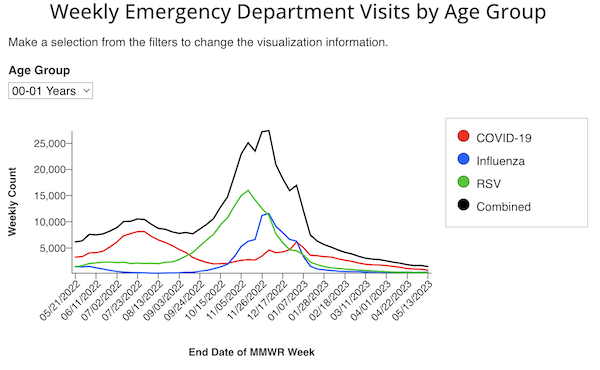 NOTE "Charts and data provided by CDC, updates Wednesday by 8am. For the past year, using a rolling 52-week period." So not the entire pandemic, FFS (the implicit message here being that Covid is "just like the flu," which is why the seasonal "rolling 52-week period" is appropriate for bothMR SUBLIMINAL I hate these people so much. Notice also that this chart shows, at least for its time period, that Covid is not seasonal, even though CDC is trying to get us to believe that it is, presumably so they can piggyback on the existing institutional apparatus for injections.
Positivity
From Walgreens, May 22: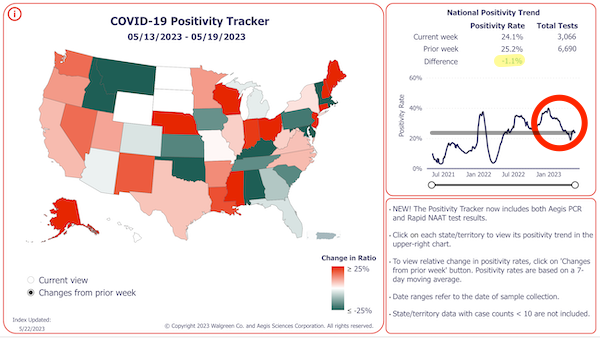 -1.1%. Frequency down to once a week? UPDATE Apparently so!
Deaths
NOT UPDATED Death rate (Our World in Data), from May 14: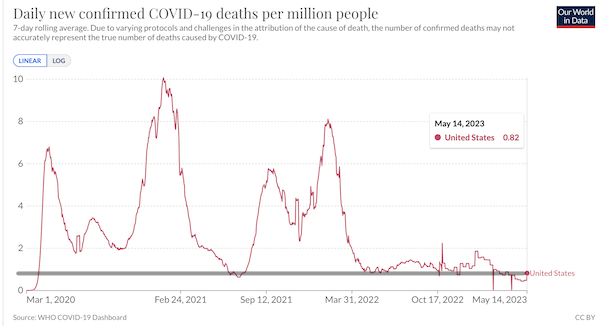 Lambert here: Quite a little jump (I assume data-related, this is WHO).
Total: 1,164,351 – 1,163,871 = 480 (480 * 365 = 175,200 deaths per year, today's YouGenicist™ number for "living with" Covid (quite a bit higher than the minimizers would like, though they can talk themselves into anything. If the YouGenicist™ metric keeps chugging along like this, I may just have to decide this is what the powers-that-be consider "mission accomplished" for this particular tranche of death and disease).
Excess Deaths
Excess deaths (The Economist), published May 21: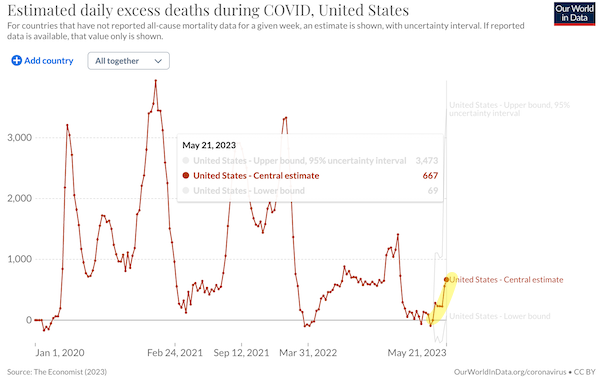 Lambert here: Based on a machine-learning model. (The CDC has an excess estimate too, but since it ran forever with a massive typo in the Legend, I figured nobody was really looking at it, so I got rid it. )
Stats Watch
Manufacturing: "United States Richmond Fed Manufacturing Index" [Trading Economics]. "The Manufacturing Activity Index in the Richmond area fell to -15 in May 2023 from -10 in April, the lowest in three months and below market expectations of -8."
* * *
Banking: Handy chart:
US bank failures, so far: pic.twitter.com/gI7sZK3anr

— unusual_whales (@unusual_whales) May 23, 2023
War on Cash: "Paper Money Diehards Refuse to Fold" [Wall Street Journal]. Damn straight. "Brett Scott, author of "Cloudmoney: Cash, Cards, Crypto and the War for our Wallets," says a power struggle is set to grow over how people pay for stuff. McKinsey projects the digital-payments industry will be worth $3 trillion by 2026, much of it generated in Asia, particularly China. Cash, Scott argues, provides freedom, anonymity and security. Others say it can help track their spending. 'It's easier to stick to your budget when you're at the supermarket,' said Jenny Whittaker, out shopping with her 2-year-old. 'If I'm using my card or phone, it would quickly get out of control.' In Ireland, lawmakers took up the cause after the overseers of Gaelic football introduced cashless ticketing. Many older fans have been unable to figure out how to buy tickets, some relying on their children to do it for them. The British parliament is considering moves to make sure people are always within reach of an ATM or bank to withdraw cash. In the U.S., Congress is mulling legislation that would require businesses to accept cash, as is already the case in some cities, such as San Francisco. The bigger question is whether bills and coins make a comeback or, on the flip side, insisting on them amounts to little more than a protest against the speed with which the world is changing." • Lots of quotes meant to discredit cash advocates that I didn't include. Why on earth would I want my every transaction in some database? Also, in my view, cards processing is slower than handing over cash, even when making change is included. Since standing in line can mean sharing air, I want lines to move as fast as possible, and I don't want to wait while cashier and customer struggle to pair phone and device, or while the customer hesitates over whether to use the electronic coupons on their screen. One of these days I'm going to lose a tooth, grinding it.
War on Cash: "Billions of banknotes are missing. Why does nobody care?" [The Economist]. "Since the lockdown started, my local shops switched to only accepting electronic payment, like others across Britain, worried about the possibility of transmitting the virus through physical money." Fomite transmission is not a thing (but propaganda works). More: According to the National Audit Office, which scrutinises public-sector accounts, the value of all the sterling-denominated notes in existence has tripled in the past 20 years. It now totals around £75bn. If you're looking to public records to see what's driving this demand you won't have much luck. Only a third of that £75bn is being circulated in the kind of day-to-day transactions that officials can monitor. The remaining £50bn is out there somewhere, being put to unknown uses. "The Bank of England doesn't know where, who by or what for, and doesn't seem very curious," said Meg Hillier, head of a parliamentary committee that recently investigated the future of cash." • Good. Great!
* * *
Today's Fear & Greed Index: 70 Greed (previous close: 69 Neutral) [CNN]. One week ago: 57 (Greed). (0 is Extreme Fear; 100 is Extreme Greed). Last updated May 23 at 12:29 PM ET.
Rapture Index: Closes unchanged[Rapture Ready]. Record High, October 10, 2016: 189. Current: 185. (Remember that bringing on the Rapture is good.) NOTE on #42 Plagues: "The coronavirus pandemic has maxed out this category." More honest than most!
Zeitgeist Watch
Little torment nexuses everywhere:
I've taken up the habit of breaking the tips
of individually packaged toothpicks that I see in cafes without damaging the wrapper. It's mildly inconvenient to whoever opens them and it brings me daily joy.

— Fesshole 🧻 (@fesshole) May 23, 2023
This is the sort of thing upper management would find funny, no?
Class Warfare
"They say that money can't buy happiness, but it can sure take the sting about of being unhappy." –John D. MacDonald
The ability to afford health care often translates into better health:

A Federal Reserve Survey found that families with higher income reported being in good health. https://t.co/LllZEFP2qa

— Axios (@axios) May 23, 2023
News of the Wired
"MICROTIMING IN A RIFF FROM METALLICA'S "MASTER OF PUPPETS" [Metal in Theory]. "Metallica's song "Master of Puppets" has extremely powerful and driving momentum, which is especially impressive given that it is riddled with meter changes and thrashes on for almost nine minutes. … Every time I get up and headbang to "Master of Puppets," I get a sudden burst of adrenaline when I hear this riff. This kind of visceral reaction entirely depends on the "inexact" timing Metallica uses, and the way it upsets with the movement of my headbanging body, for its effect." • I left out the nerdy stuff, but I'm sure metal fans and musicians will appreciate it!
* * *
Contact information for plants: Readers, feel free to contact me at lambert [UNDERSCORE] strether [DOT] corrente [AT] yahoo [DOT] com, to (a) find out how to send me a check if you are allergic to PayPal and (b) to find out how to send me images of plants. Vegetables are fine! Fungi and coral are deemed to be honorary plants! If you want your handle to appear as a credit, please place it at the start of your mail in parentheses: (thus). Otherwise, I will anonymize by using your initials. See the previous Water Cooler (with plant) here. From IM: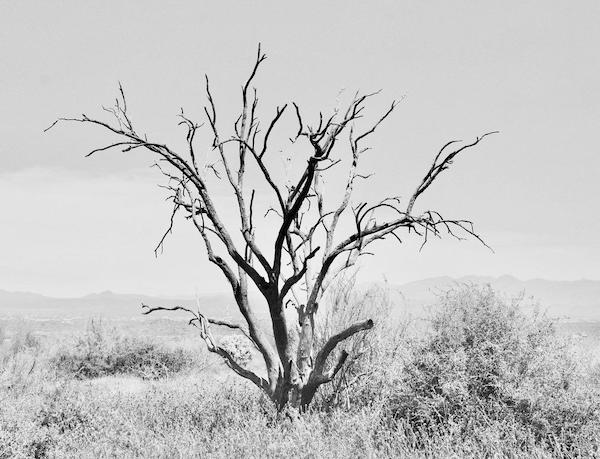 IM writes: "Overexposed for that silvery look!"
* * *
Readers: Water Cooler is a standalone entity not covered by the annual NC fundraiser. So if you see a link you especially like, or an item you wouldn't see anywhere else, please do not hesitate to express your appreciation in tangible form. Remember, a tip jar is for tipping! Regular positive feedback both makes me feel good and lets me know I'm on the right track with coverage. When I get no donations for five or ten days I get worried. More tangibly, a constant trickle of donations helps me with expenses, and I factor in that trickle when setting fundraising goals:
Here is the screen that will appear, which I have helpfully annotated: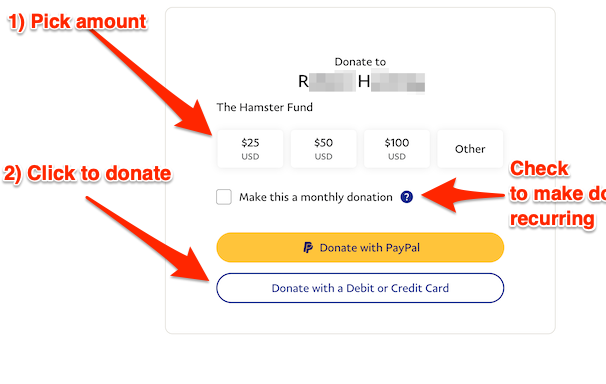 If you hate PayPal, you can email me at lambert [UNDERSCORE] strether [DOT] corrente [AT] yahoo [DOT] com, and I will give you directions on how to send a check. Thank you!