By Lambert Strether of Corrente.
I hope everybody had a wonderful holiday! –lambert
Bird Song of the Day
Common House-Martin. River Danube–Visegrad-Nagymaros, Pest, Hungary. With a bell ringing, far off in the distance. And possibly the rumble of a diesel train?
* * *
Politics
"So many of the social reactions that strike us as psychological are in fact a rational management of symbolic capital." –Pierre Bourdieu, Classification Struggles
Biden Administration
"House Armed Services Committee endorses new management structure for Space Force" [Federal News Network]. • Already? We haven't even lost a war yet! No, but seriously, the front page is all about IT solving problems created by …. IT. There's a lot to be said for paper….
2024
I guess it's time for the Countdown Clock!

* * *

"Hunter Biden reaches plea deal with feds to resolve tax issues, gun charge" [Politico]. "Under an agreement detailed Tuesday in a filing in federal court in Delaware, President Joe Biden's son will plead guilty to a pair of misdemeanor tax charges. Prosecutors have also charged him with possessing a firearm while being a user of illegal drugs — a felony — but have agreed to dismiss that charge if he completes a two-year period of probation. Hunter Biden, 53, is unlikely to serve time in prison if he complies with release conditions. The deal calls for both sides to recommend that he be put on probation. The probe was overseen by U.S. Attorney for Delaware David Weiss, who was appointed by former President Donald Trump and was permitted to stay in his post after Joe Biden took office in order to complete the investigation of the president's son." Coverage keeps implying that "Trump appointee" is the same as "Trump loyalist." More: "The White House and the Justice Department have said they did not interfere with Weiss' investigation. The plea agreement is intended to be , a person familiar with the negotiations said. ." • Dear Hunter! More lives than a cat!

"Hunter Biden expected to plead guilty to tax-related misdemeanor crimes as part of a plea agreement" [NBC]. "It's the first time the Justice Department — part of the executive branch, headed by the president — has brought charges against a child of a sitting president." • Imagine the howls of triumph if a Trump child had been indicted….

"Trump Predicts Hunter Biden Will Get Charged With 'Something Small' to 'Make Their Strike on Me Look Fair'" [Mediaite]. • Nailed it. From June 6, still germane.

* * *

"Trump and other Republicans conjure a familiar enemy in attacking Democrats as 'communists'" [Associated Press]. • I wish! Or even Narodniks.

"Trump offers dizzying new justifications for classified documents as former Cabinet secretaries sound the alarm" [CNN]. • I'd have to read the transcript….

"Ron DeSantis talks about what he'll do in White House at state press conference" [Florida Politics]. "'My mission is to bring accountability to politicized agencies like DOJ, FBI. We're going to excise the political bias and we are going to end the weaponization of the federal government. We are going to do that,' the Governor said. 'And so we actually have already put out a lot of plans about what we'll do starting Day 1,' DeSantis added. 'You know, with me, you don't have to worry about it. You have a new FBI Director on Day 1, you have a house cleaning on Day 1 in these agencies, and we will use our full Article 2 powers to ensure that the weaponization of government in this country ends.'" • DeSantis sounds like he's running for Trump's chief of staff. Not a bad idea, actually!

"DeSantis quiet on Trump indictment as he faces conservatives in Trump country" [Associated Press]. "Speaking to Nevada Republicans for the first time as a presidential candidate, DeSantis made no direct mention of the federal indictment of Trump, who is facing dozens of felony counts for mishandling classified documents. 'We're going to end this weaponization of government once and for all,' said DeSantis, donning an untucked short-sleeve shirt from a podium adorned with bales of hay and bull horns." • Lots of hay in Nevada, then?

"Republican Presidential Candidates 2024: Who Is Running?" [Teen Vogue]. "A number of other Republican candidates have thrown their hat in the ring for the 2024 GOP presidential nomination either officially or unofficially via trips to Iowa (the first state where Republicans will weigh in on who should be their party's nominee) and other early primary states like New Hampshire and South Carolina. So far, our cast of characters includes the first former president to face a criminal indictment, a 37-year-old biopharmaceutical entrepreneur who thinks we should raise the voting age to 25, the first female governor of South Carolina, and one of two sitting Black senators. Here's everything you need to know."

* * *

"Democratic group launches 'This f***ing guy' campaign centered on Trump chaos" [The Hill]. "'The American people already paid the price for Trump's daily incompetence, inaction, and irresponsibility. He was just as much of a disaster in the White House as he is out of it, and American Bridge is here to remind voters just how much of a nightmare another four years of Trump would be,' Tom Perez, an American Bridge co-chairman who is joining the White House as the head of intergovernmental affairs, said in a statement to The Hill." • Ah, Tom Perez. Still making bank, I see. Odioius even by DNC standards.
Democrats en Déshabillé
Patient readers, it seems that people are actually reading the back-dated post! But I have not updated it, and there are many updates. So I will have to do that. –lambert

I have moved my standing remarks on the Democrat Party ("the Democrat Party is a rotting corpse that can't bury itself") to a separate, back-dated post, to which I will periodically add material, summarizing the addition here in a "live" Water Cooler. (Hopefully, some Bourdieu.) It turns out that defining the Democrat Party is, in fact, a hard problem. I do think the paragraph that follows is on point all the way back to 2016, if not before:

The Democrat Party is the political expression of the class power of PMC, their base (lucidly explained by Thomas Frank in Listen, Liberal!). ; if the Democrat Party did not exist, the PMC would have to invent it. . ("PMC" modulo "class expatriates," of course.) Second, all the working parts of the Party reinforce each other. Leave aside characterizing the relationships between elements of the Party (ka-ching, but not entirely) those elements comprise a network — a Flex Net? An iron octagon? — of funders, vendors, apparatchiks, electeds, NGOs, and miscellaneous mercenaries, with assets in the press and the intelligence community.

Note, of course, that the class power of the PMC both expresses and is limited by other classes; oligarchs and American gentry (see 'industrial model' of Ferguson, Jorgensen, and Jie) and the working class spring to mind. Suck up, kick down.

* * *
#COVID19
"I am in earnest — I will not equivocate — I will not excuse — I will not retreat a single inch — AND I WILL BE HEARD." –William Lloyd Garrison
Resources, United States (National): Transmission (CDC); Wastewater (CDC, Biobot; includes many counties); Variants (CDC; Walgreens); "Iowa COVID-19 Tracker" (in IA, but national data).
Lambert here: Readers, thanks for the collective effort.
Resources, United States (Local): AK (dashboard); AL (dashboard); AR (dashboard); AZ (dashboard); CA (dashboard; Marin); CO (dashboard; wastewater); CT (dashboard); DE (dashboard); FL (wastewater); GA (wastewater); HI (dashboard); IA (wastewater reports); ID (dashboard, Boise; dashboard, wastewater, Central Idaho; wastewater, Coeur d'Alene; dashboard, Spokane County); IL (wastewater); IN (dashboard); KS (dashboard; wastewater, Lawrence); KY (dashboard, Louisville); LA (dashboard); MA (wastewater); MD (dashboard); ME (dashboard); MI (wastewater; wastewater); MN (dashboard); MO (wastewater); MS (dashboard); MT (dashboard); NC (dashboard); ND (dashboard; wastewater); NE (dashboard); NH (wastewater); NJ (dashboard); NM (dashboard); NV (dashboard; wastewater, Southern NV); NY (dashboard); OH (dashboard); OK (dashboard); OR (dashboard); PA (dashboard); RI (dashboard); SC (dashboard); SD (dashboard); TN (dashboard); TX (dashboard); UT (wastewater); VA (dashboard); VT (dashboard); WA (dashboard; dashboard); WI (wastewater); WV (wastewater); WY (wastewater).
Resources, Canada (National): Wastewater (Government of Canada).
Resources, Canada (Provincial): ON (wastewater); QC (les eaux usées); BC, Vancouver (wastewater).
Hat tips to helpful readers: Art_DogCT, B24S, CanCyn, ChiGal, Chuck L, Festoonic, FM, FreeMarketApologist (4), Gumbo, hop2it, JB, JEHR, JF, JL Joe, John, JM (9), JustAnotherVolunteer, JW, KatieBird, LL, Michael King, KF, LaRuse, mrsyk, MT, MT_Wild, otisyves, Petal (5), RK (2), RL, RM, Rod, square coats (11), tennesseewaltzer, Utah, Bob White (3).
Stay safe out there!
* * *
Look for the Helpers
"Why our family is covid cautious" [Google Docs]. The conclusion: "Thank you for your understanding. We wish things were different. We are dealing with the world how it is instead of how we wish it were. We know that the world has moved on and is pretending that the data is not real, but the data is real. We are looking forward to lots of wonderful outdoor family catch-ups with you all." • A useful aggregation (though the bitcoin plug at the end is a bit unsettling).
Maskstravaganza
This is how I feel:

I think maybe, just maybe, the tide is turning.

3 patients so far this week aware that covid is airborne, long-covid is serious, and angry that Public Health appears to be letting it spread in an unmitigated fashion.#CovidIsAirborne #CovidIsNotOver https://t.co/M3zqAwBIGw

— David Keegan ♿️🏳️‍🌈 he/him (@drDavidKeegan) June 14, 2023

Elites would like the baseline for masking and Covid awareness generally to be zero, at least among the proles. However, the baseline ended up with a higher set point (and maskers, if I may so denote them, are deeply committed). From that baseline, one hopes for a gradual ascent into reason, as denial and commitment to the bit break down (especially in the face of harm to children and family, and experience with our ridiculous medical care system).

"Strategic Masking to Protect Patients from All Respiratory Viral Infections" [NEJM]. Discontinuing masking outside of health care contexts is understandable. Immunity acquired by means of vaccination and infections, combined with the widespread availability of rapid diagnostics and effective treatments, has dramatically reduced the morbidity and mortality associated with SARS-CoV-2. Most SARS-CoV-2 infections are now no more burdensome than the infections caused by influenza and other respiratory viruses that most people have long tolerated without feeling compelled to mask." Nonsense, because "burdensome" is erasing all harms after the infection clears. More: "There are two reasons, however, why this framing has limited application to health care facilities. First, hospitalized patients are different from nonhospitalized populations. Hospitals, by definition, aggregate some of the most vulnerable people in society when they are at heightened vulnerability (i.e., when they have an acute illness)… Second, nosocomial infections caused by respiratory viruses other than SARS-CoV-2 are common and underappreciated, as are the possible adverse health effects associated with these viruses in vulnerable patients…. Viewed through the lens of these concerns, masking in health care facilities continues to make sense. Masks reduce respiratory viral spread from people with both recognized and unrecognized infections…. We acknowledge that there is widespread masking fatigue among health care workers, that many workers are keen to return to prepandemic practices, and that masks can be uncomfortable or impair communication. ." • I vehemently disagree. We need to get to a situation where masking and non-pharmaceutical interventions like filtration — heck, clean air generally — are cultural norms. You don't do that by adjusting levels up and down all the time. (This persistent idea seems to be an artifact of how the PMC loves doing homework — and giving grades. In reality… Remember the color-coded terror alerts under the Bush administration?

Muich-ridiculed, they were. Don't be fiddling with the knobs all the time. Stick to a high level, like universal masking in the hospitals at al ltimes ffs.
Covid is Airborne
"'Bold' study that gave people COVID reveals 'supershedder' phenomenon" [Nature]. Challenge study, N = 18. "A study of people who were intentionally infected with SARS-CoV-2 has provided a wealth of insights into viral transmission — showing, for example, that a select group of people are 'supershedders' who spew vastly more virus into the air than do others….. Of the 18 participants who developed infections, 2 shed 86% of the airborne virus detected over the course of the entire study — even though both had only mild symptoms." • So by encouraging people to go back to work with only "mild" symptoms, the public health establishment has infected a lot of people…. Yet again the virus outsmarts us….. (Filing this under airborne, because I've never heard of a case of superspreading fomites.
Sequelae
"A Possible Mechanism of Erectile Dysfunction in Coronavirus Disease-19: Cavernosal Smooth Muscle Damage: A Pilot Study" [Revista Internacional de Andrología]. N = 29. From the Abstract: "Nine patients that had COVID-19 and were treated as outpatients were classified as group 1, 10 patients who were hospitalized due to COVID-19 were classified as group 2, and 10 patients who did not have COVID-19 were classified as the control group (group 3). According to penile [color Doppler ultrasonography (CDUS)] and hormonal values results, there was no significant difference between the groups. According to cc-EMG results, amplitudes and relaxation capacities of the cavernosal smooth muscle EMG activities of patients in group 3 were significantly higher than those in the other groups. According to penile CDUS and hormonal values results, there was no significant difference between the groups. According to cc-EMG results, amplitudes and relaxation capacities of the cavernosal smooth muscle EMG activities of patients in group 3 were significantly higher than those in the other groups. COVID-19 can cause ED not only by psychogenic and hormonal factors but also with cavernosal smooth muscle damage." • So not a vascular issue? Hmm.
Treatment
"I have COVID! What should my kids and I take to reduce chances of severe illness and Long COVID?" [Studies, Surveys, & Supplements]. "Here are some of my current best bets for speeding up COVID recovery and reducing the chances of Long Covid. I'm focusing on accessible pharmacological treatments with a good balance of safety, tolerability and (potential) efficacy, based on currently available information. This is not an exhaustive list, but a few select treatments that can, for the most part, be combined together if desired. At the end of each treatment review, I present dosing/brand information for both adults and children." • I'm not a doctor and don't recommend. And I don't think much of supplements. But for those of you who do….
"Something Awful"
Lambert here: I'm getting the feeling that the "Something Awful" might be a sawtooth pattern — variant after variant — that averages out to a permanently high plateau. Lots of exceptionally nasty sequelae, most likely deriving from immune dysregulation (says this layperson). To which we might add brain damage, including personality changes therefrom.

* * *
* * *
Case Data
NOT UPDATED From BioBot wastewater data from June 15: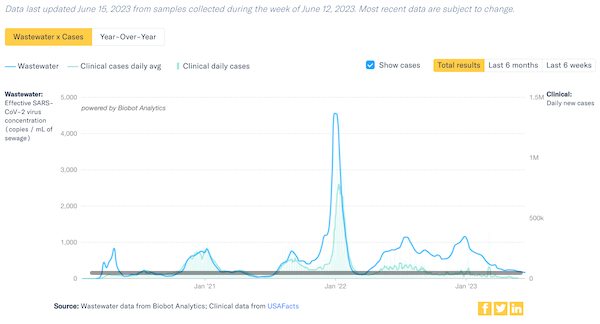 For now, I'm going to use this national wastewater data as the best proxy for case data (ignoring the clinical case data portion of this chart, which in my view "goes bad" after March 2022, for reasons as yet unexplained). At least we can spot trends, and compare current levels to equivalent past levels.
Variants
NOT UPDATED From CDC, June 10: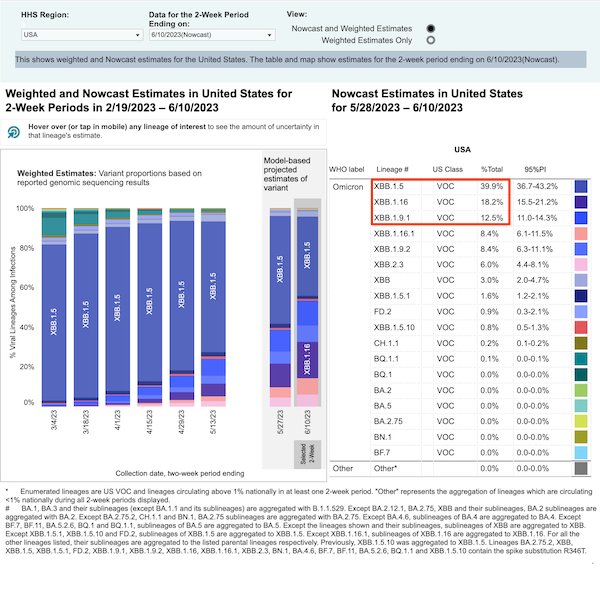 Lambert here: Looks to like XBB.1.16 and now XBB.1.16 are outcompeting XBB.1.9, but XBB.1.5 has really staying power. I sure hope the volunteers doing Pangolin, on which this chart depends, don't all move on the green fields and pastures new (or have their access to facilities cut by administrators of ill intent).
CDC: "As of May 11, genomic surveillance data will be reported biweekly, based on the availability of positive test specimens." "Biweeekly: 1. occurring every two weeks. 2. occurring twice a week; semiweekly." Looks like CDC has chosen sense #1. In essence, they're telling us variants are nothing to worry about. Time will tell. Looks like the Walgreens variants page isn't updating.
Covid Emergency Room Visits
NOT UPDATED From CDC NCIRD Surveillance, from June 10: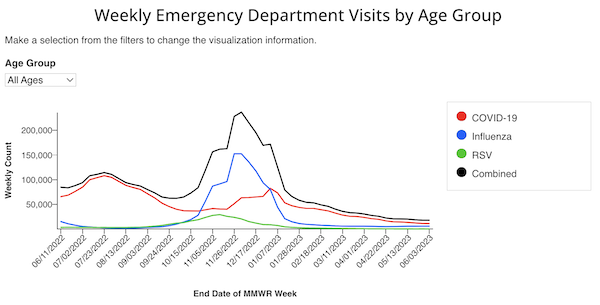 NOTE "Charts and data provided by CDC, updates Wednesday by 8am. For the past year, using a rolling 52-week period." So not the entire pandemic, FFS (the implicit message here being that Covid is "just like the flu," which is why the seasonal "rolling 52-week period" is appropriate for bothMR SUBLIMINAL I hate these people so much. Notice also that this chart shows, at least for its time period, that Covid is not seasonal, even though CDC is trying to get us to believe that it is, presumably so they can piggyback on the existing institutional apparatus for injections.
Positivity
From Walgreens, June 19: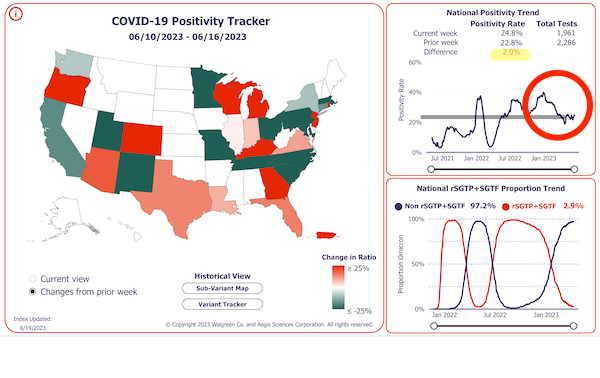 2.0%. Still chugging along, though the absolute numbers are still very small relative to June 2022, say.
Deaths
NOT UPDATED Death rate (Our World in Data), from June 14: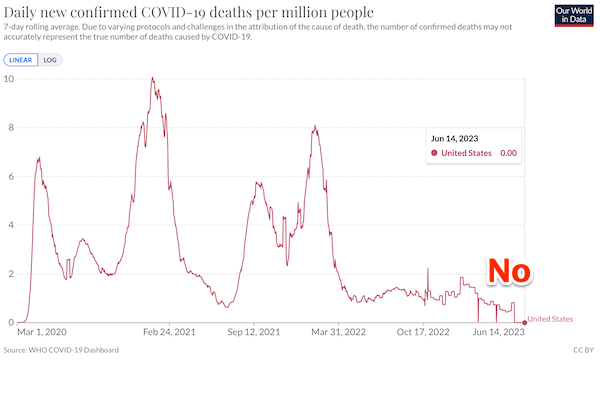 Lambert here: Theatre of the absurd. I can believe that deaths are low; I cannot believe they are zero, and I cannot even believe that all doctors signing death certificates have agreed to make it so. Looks to me like some administrative minimizer at WHO put the worst intern in charge of the project. And thanks, Johns Hopkins of the $9.32 billion endowment, for abandoning this data feed and passing responsibility on to the clown car at WHO.
Total: 1,167,381 – 1,166,899 = 482 (482 * 365 = 175,930 deaths per year, today's YouGenicist™ number for "living with" Covid (quite a bit higher than the minimizers would like, though they can talk themselves into anything. If the YouGenicist™ metric keeps chugging along like this, I may just have to decide this is what the powers-that-be consider "mission accomplished" for this particular tranche of death and disease).
Excess Deaths
Excess deaths (The Economist), published June 20: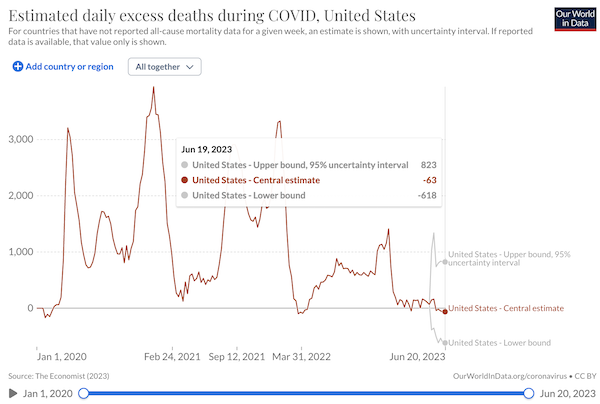 Lambert here: Still some encouragement! Not sure why this was updated so rapidly. The little blip upward?
Lambert here: Based on a machine-learning model. (The CDC has an excess estimate too, but since it ran forever with a massive typo in the Legend, I figured nobody was really looking at it, so I got rid it. )
Stats Watch
Housing: "United States Housing Starts" [Trading Economics]. "Housing starts in the US unexpectedly jumped 21.7% month-over-month."
* * *
Tech: "Is Apple's weird headset the future?" [Vox]. "Apple is being quite literal about announcing the new device at its developers conference: It's hoping that once it shows this thing off to the world, other people will think up fun or at least useful things to do with it, and build up apps to make that happen. That will make the headsets more popular, which will then encourage more developers to build cool apps, which will make them more popular. Repeat." • I can think of two use cases immediately. First, make the headset remove all advertising from my visual field, like They Live in reverse. Second, make Covid virons floating like smoke in the air visible. The latter may be hard, but it would save a lot of lives, and Apple has good scientists and very deep pockets.
Tech: "Who Builds The Internet? Meet Wikipedia's Architects" [Byline]. "Within the expansive digital corridors of Wikipedia, there exists a dedicated community of editors who dedicate themselves to curating, expanding, and refining the wealth of information available to the world. These editors, driven by a shared passion for knowledge and armed with a commitment to information, play an instrumental role in shaping the internet landscape we navigate each day. Their tireless efforts are the building blocks upon which the internet's foundations rest, with Wikipedia standing tall as a testament to their ingenuity and collective wisdom." • Hmm…
The Economy:
Cardboard Box Demand Collapses To Lowest Level Since The Great Financial Collapse ……

Probably Nothing … 🚨🚨🚨 pic.twitter.com/IkZoodKpOT

— Wall Street Silver (@WallStreetSilv) June 18, 2023
Somebody warn the cats!
* * *
Today's Fear & Greed Index: 80 Extreme Greed (previous close: 81 Extreme Greed) [CNN]. One week ago: 81 (Extreme Greed). (0 is Extreme Fear; 100 is Extreme Greed). Last updated Jun 20 at 1:14 PM ET.
Rapture Index: Closes down one on famine. "The lack of negative activity has downgraded this category" [Rapture Ready]. Record High, October 10, 2016: 189. Current: 183. (Remember that bringing on the Rapture is good.) NOTE on #42 Plagues: "The coronavirus pandemic has maxed out this category." More honest than most!
Class Warfare
"Opinion: COVID-19 showed us how to beat poverty" [Colorado Sun]. "During COVID-19, we intentionally chose to address poverty and bolster programs we knew worked. We prioritized families' health and well-being, and we succeeded: poverty dropped during a time of deep financial and social upheaval…. We know which social safety systems work. COVID-19 spotlighted their value and efficacy. What remains is for us to learn from these past several years and grow the effective policies that support our communities."• Covid showed us how to beat poverty, and the Democrats ran from the lesson as fast as their little legs would carry them….
News of the Wired
"'I'm not just faster, but taller': how I learned to walk properly – and changed my pace, posture and perspective" [Guardian]. I've gotta say, this reads like a pitch for the therapist/trainer. That said: "Perhaps the most significant claim Hall makes is that, in terms of fitness, walking can be enough. It can complement other forms of exercise, such as yoga and pilates, but if you don't do anything else, improving your walk can still confer major health benefits. 'I'm not anti-running, I'm not anti-gyms, I think they all have a role to play,' she says. 'But I also think, sometimes, if we just think about , even if someone doesn't necessarily feel as if they want to walk for longer, even if they just looked at changing their walking technique and applied it to their commute, that can be powerful." • The logic of finding the simpest thing we do and doing it better also seems reasonable. Like non-pharmaceutical interventions….
"The Absurd Logistics of Concert Tours: The Behind-the-Scenes Preparation You Don't Get to See" [Open Culture]. "the video below lets you see, in timelapse motion, a crew preparing a Rammstein show at a large German stadium, compressing seven days of beehive activity into 2 minutes. It's a sight to behold." • Spectacle, we do very well:
* * *
Contact information for plants: Readers, feel free to contact me at lambert [UNDERSCORE] strether [DOT] corrente [AT] yahoo [DOT] com, to (a) find out how to send me a check if you are allergic to PayPal and (b) to find out how to send me images of plants. Vegetables are fine! Fungi and coral are deemed to be honorary plants! If you want your handle to appear as a credit, please place it at the start of your mail in parentheses: (thus). Otherwise, I will anonymize by using your initials. See the previous Water Cooler (with plant) here. From griffen: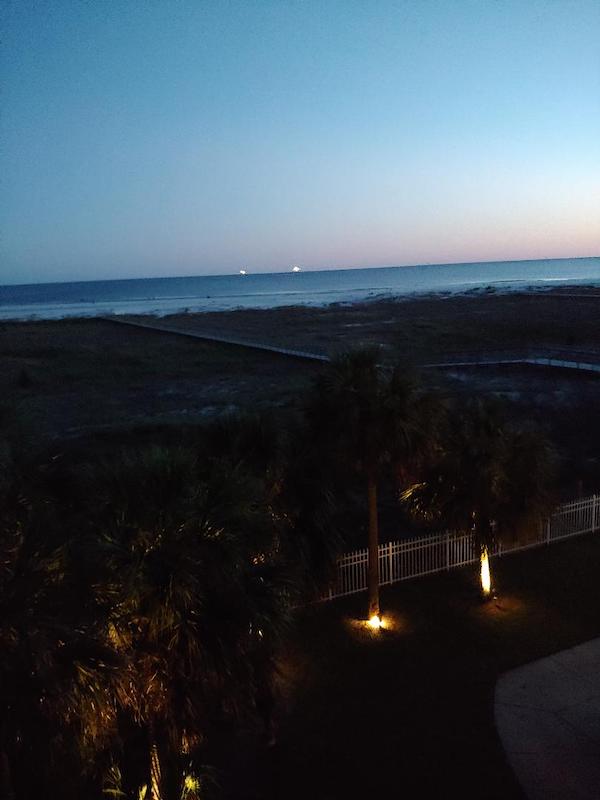 griffen writes: "Completed a recent road trip to Dauphin Island, AL. Caught a few decent photos of the Gulf." Makes me wonder what those flames out on the horizon are….
* * *
Readers: Water Cooler is a standalone entity not covered by the annual NC fundraiser. So if you see a link you especially like, or an item you wouldn't see anywhere else, please do not hesitate to express your appreciation in tangible form. Remember, a tip jar is for tipping! Regular positive feedback both makes me feel good and lets me know I'm on the right track with coverage. When I get no donations for five or ten days I get worried. More tangibly, a constant trickle of donations helps me with expenses, and I factor in that trickle when setting fundraising goals:
Here is the screen that will appear, which I have helpfully annotated: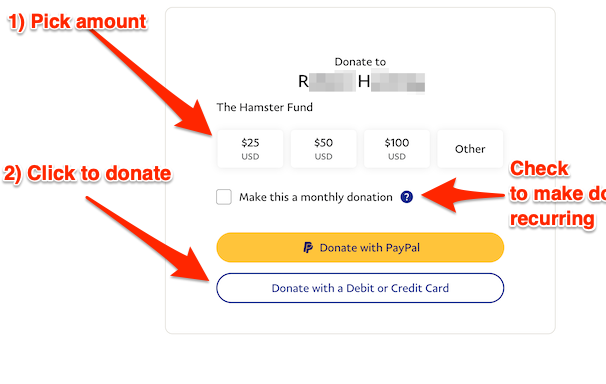 If you hate PayPal, you can email me at lambert [UNDERSCORE] strether [DOT] corrente [AT] yahoo [DOT] com, and I will give you directions on how to send a check. Thank you!