By Lambert Strether of Corrente.
Bird Song of the Day
American Goldfinch, Audrey Carroll Audubon Sanctuary, Frederick, Maryland, United States. "Quiet vocalization accompanied by wing flicking."
* * *
Politics
"So many of the social reactions that strike us as psychological are in fact a rational management of symbolic capital." –Pierre Bourdieu, Classification Struggles
Biden Administration
"TL(PM) DIGEST: Still no 'Ukraine fatigue' in sight" [The Liberal Patriot]. "A new Reuters/Ipsos poll shows that nearly two-thirds of Americans back continued military aid to Ukraine, with majorities of Republicans (56 percent) and independents (57 percent) joining 81 percent of Democrats in favor of ongoing assistance. Two-thirds also say that they're more likely to support a presidential candidate who backs military aid to Ukraine as well. Why does it matter? These results show that often-predicted 'Ukraine fatigue' has still yet to overtake the American public—and that support for Ukraine's battle against Russian aggression should be seen as a political winner across party lines. Predictions that the American people will eventually get tired of backing Kyiv have repeatedly fallen short of the mark, even as many 'America First' conservatives rail against continued assistance. Good politics and good policy don't always coincide, but on Ukraine they very much seem to do so. President Biden and the bipartisan coalition in favor of aid to Ukraine have little to fear politically for doing the right thing here."
2024
I guess it's time for the Countdown Clock!

* * *

"President Biden denies he was present during alleged Hunter Biden 2017 text" [CNN]. "President Joe Biden on Wednesday emphatically denied that he was involved or present when his son Hunter Biden is alleged to have texted a Chinese business partner in 2017, claiming that he was sitting with his father. Asked whether he was involved in the business dealings or was sitting with Hunter when the message was sent, Biden told reporters Wednesday, 'No. I wasn't.' Asked again, Biden replied more forcefully, 'No.' The White House has previously declined to say whether Biden was present during the alleged exchange. The questions referred to a portion of the testimony in which a IRS supervisor-turned-whistleblower told House lawmakers that Justice Department prosecutors denied requests to look into messages allegedly from Hunter Biden where he used his father as leverage to pressure a Chinese company into paying him. ','according to testimony the whistleblower gave to Congress, which quotes from texts that are allegedly from Hunter Biden to the CEO of a Chinese fund management company. The message continues: 'Tell the director that I would like to resolve this now before it gets out of hand. And now means tonight.' The message goes onto say, 'I will make certain that between the man sitting next to me and every person he knows and my ability to forever hold a grudge that you will regret not following my direction. I am sitting here waiting for the call with my father.'" • Hunter — dear Hunter! — is rather imperious, here. I wonder where he gets that from?

"Biden has started using CPAP machine for sleep apnea" [Axios]. "President Biden has recently started to use a CPAP machine to treat his sleep apnea, the White House confirmed Wednesday…. Biden started using the machine recently to improve his sleep quality, per a White House official. Previous medical records from 2008 showed that Biden had a recurring issue of sleep apnea, a common condition in which 'your breathing stops and restarts many times while you sleep,' per the National Institutes of Health." • Naturally, I checked: "Sleep apnea linked to long-COVID symptoms" [CIDRAP].

* * *

"Trump sues E. Jean Carroll for defamation over post-trial rape claim" [Boston Globe]. "The former president on Tuesday night filed a counterclaim accusing Carroll of trashing his reputation by publicly accusing him of rape during a May 10 appearance on CNN, despite jurors concluding a day earlier that his actions during the alleged 1996 assault hadn't gone that far. Trump 'has been the subject of significant harm to his reputation, which, in turn, has yielded an inordinate amount of damages sustained as a result,' according to the filing." • It's like the whole Trump subsection is over-run with lawsuits….

"Joe Rogan praises Trump for 'perfect' answer declaring he would end Russia-Ukraine war as president" [FOX]. "Rogan then lamented that the anti-war left of his youth is missing in action, saying establishment Democrats and Republicans appear united to prolong the war in Ukraine. 'They're all united on this idea that they should continue. There's no one, whether it's a Republican or a Democrat," he observed, recalling that Democrats of the past were "always anti-war, always.'" Not so! More: 'He went on to say, 'This is the first time where the Democrats are, like, wholesale buying the narrative and 'We have to stop Putin. We have to support Ukraine.' I mean, how many Democrat, peaceful people that used to have syringes in their Twitter bio now have a Ukraine flag?' Rogan praised Trump for his rhetoric in a CNN Town Hall in May, where the 2024 candidate boasted he could end the Russia-Ukraine war overnight if he were re-elected president. 'If I'm president, I will have that war settled in one day, 24 hours,' Trump declared, saying he would meet with presidents of both countries."

"Trump wants to keep 'communists' and 'Marxists' out of the US. Here's what the law says" [Associated Press]. "During his speech Trump said he would use a particular section of U.S. immigration law — Section 212 (f) — to bar 'all communists and all Marxists.' That section gives broad authority to bar people who aren't U.S. citizens entering the country if their entry would be 'detrimental to the interests of the United States.' … He also said there needs to be a "new law" to address communists and Marxists who grew up in America, but didn't elaborate on what it would include." • I'm sure liberal Democrat will get behind this, so what's the issue?

* * *

"DeSantis wants Disney trial held after presidential election" [Orlando Sentinel]. The deck: "Disney's lawyers propose July 15, 2024, the same day the Republican National Convention begins in Milwaukee." More: "DeSantis has made his quarrel with Disney a centerpiece of his bid for president. He devoted a chapter in his book "The Courage to be Free' to Disney. But David Jolly, a political analyst critical of the governor, said he thinks DeSantis has overplayed his hand. The issue won't translate well with general election voters, and his Republican primary challengers have an avenue to attack him for meddling with business, he said. 'For a governor that built his campaign on a slogan of never back down, he sure is running away from this issue,' said Jolly, a former Tampa Bay-area congressman." • Actually, I think DeSantis is right on the merits (though I don't know if he's selling it that way). Disney's "tourism oversight district" ("Reedy Creek") sounds like an unfortunate combination of a corporation and a sovereign state, to me. Not something conservatives should be any favor of.

"Comedians are starting to mock Ron DeSantis. What it means for the 2024 candidate" [McClatchy]. "DeSantis' entrance into popular internet culture can be read two ways. On one hand, it signals his rising relevance in a primary campaign that includes 10 other GOP candidates: There aren't any Nikki Haley or Tim Scott impressionists — at least not yet. On the other hand, most studies of political humor show it having an overwhelmingly negative effect on people's opinions of the person being parodied….. There are caveats to the thesis. [Dr. Jody Baumgartner, a professor of political science at East Carolina University] said the better known the politician is, the less impact an impersonation has on mass perception. This means that continued impressions of the former president won't move the dial no matter how funny or prevalent they are. 'The Trump humor won't have any effect whatsoever. And I mean none,' Baumgartner said." • I read the jokes. They're not very good.

* * *

"Vivek Ramaswamy's rise to semi-prominence, explained" [Vox]. "The 37-year-old former biotech CEO and first-time candidate has been omnipresent in the media. He's been campaigning vigorously in the early states. And in recent months, he's polled comparably with candidates like Mike Pence and Nikki Haley, in the hunt for third place behind Trump and DeSantis — getting between 1 and 5 percent support nationally. That is not exactly a poll surge that terrifies the frontrunners just yet, but it's still impressive for an unknown to rise to that level. Ramaswamy has gotten to this point through a combination of talent, message, and money. After making an estimated half-billion-dollar fortune from his biotech startup ($10 million of which he's put into his campaign so far), Ramaswamy became an outspoken commentator criticizing 'woke capitalism,' frequently spotlighted on Fox News. His pocketbook and networking ability also helped him get onto the conservative groups event circuit. The mainstream media, meanwhile, has realized Ramaswamy is ready and willing to take any interview, and that he makes for good TV, though it could come at a cost for the journalist conducting the interview. During a CNN appearance, host Don Lemon became exasperated with Ramaswamy's strange historical claims about the National Rifle Association's role in the civil rights movement, and huffed, 'It's insulting that you're sitting here, whatever ethnicity you are, 'splaining to me what it's like to be Black in America.' Lemon was fired by CNN days later, and the interview reportedly played a role. Ramaswamy had been talking nonsense, but what did that matter? He'd owned the lib." • Ten million isn't much.

* * *

"RFK Jr.: 'I'm proud that President Trump likes me'" [The Hill]. "Robert F. Kennedy Jr. refused to criticize former President Trump on Wednesday night and said he was flattered by recent comments from Trump praising him as a 'common-sense guy.' Asked by moderator Elizabeth Vargas what Kennedy thinks about Trump, Kennedy said: "I'm not going to attack other people personally." He then went a step further, expressing pride that he has received positive affirmations recently from Trump, who is embroiled in legal troubles as the leading Republican presidential contender in the GOP primary. He also referred to the former president in present tense. 'I'm proud that President Trump likes me,' he said. Trump was the latest figure on the right to defend Kennedy in an appearance this week on 'The Howie Carr Show.' 'Just hang in,' Trump advised Kennedy. 'He's been very nice to me, I've actually had a very nice relationship with him over the years. He's a very smart guy, and a good guy.'"

Glenn is making "rhetorically adept" do rather a lot of work. The clip is on vaccines:

What surprised me when I interviewed RFK is he's much more rhetorically adept than I had known. He's only getting better.

For the crime of challenging Biden and his proxy war in Ukraine, he will, of course, be mauled by corporate media. We'll see if he can talk around them: https://t.co/LZPnEX36ln

— Glenn Greenwald (@ggreenwald) June 29, 2023

RFK: "I've never been anti-vaccine…. Vaccines should be tested." Wellie, I'm trying to avoid putting on my yellow waders here, so I went back to 2005's "Deadly Immunity" (since retracted by both Rolling Stone and Slate) where RFK, in the process of making his bones with the anti-vax community, quotes one Mark Blaxill approvingly and unqualifiedly: "The damage caused by vaccine exposure is massive. It's bigger than asbestos, bigger than tobacco, bigger than anything you've ever seen." (The Rolling Stone article focuses on thimerosal, alleged to cause autism in a study by one Andrew Wakefield retracted for fraud.) And don't gish gallop me on this. NOTE * One of the savage ironies here, of course, is that the actions of both our public health authorities and Big Pharma on Covid vaccines were so egregious as to throw gasoline on the anti-vax fire. We mandated what we should not have (vaccines) and did not mandate what we should have (non-pharmaceutical interventions).
Republican Funhouse
"House Republicans embark on a mission: Avenge Trump" [NBC]. "House Republicans are using the powers of their majority to carry out Donald Trump's quest for retribution against his political adversaries, bolstering the indicted former president's 2024 campaign message that he is the victim of a wide-ranging conspiracy by 'villains' who must be brought down. The battle to avenge Trump began on the first day of the new Congress, and it has grown nearly six months into the GOP majority, led by Trump's staunchest allies in the conference and usually getting a helping hand from Speaker Kevin McCarthy, R-Calif. They're fighting to 'expunge' his impeachments. They've punished his most outspoken Democratic critics. They're investigating law enforcement entities that charged Trump. They crafted a 'weaponization' panel that channels his grievances. Swing-district Republicans are in a bind between the wishes of their pro-Trump GOP base and Trump-skeptical independents." And: "In the latest move to prop up Trump, key Republicans are pushing to expunge his two impeachments — one in 2019 for abuse of power by pressuring Ukraine's president to investigate his campaign rival Joe Biden and one in 2021 for inciting the Jan. 6 insurrection. The resolutions, which could pass with a majority vote in the House, would amount to a symbolic pro-Trump vote without legal or practical impact. Trump was acquitted both times because of insufficient Senate Republican votes to convict." • "Expunge" sounds like a word some consultant made up…
2020 Post Mortem
"Donald Trump's 2020 election loss was an inside job" [NY Post]. "Score half a point for Donald Trump. It turns out he was on to something with his claim the 2020 election was rigged, though not in the way he thinks. The dirty deed didn't happen in offices in Arizona or Georgia, where Republicans supposedly were banished while Democrats counted duffel bags full of late-arriving votes. Nor did Trump lose because computers were wired to rob him of victory. Instead, the cheating that likely denied Trump a second term was very close to home. In fact, it was an inside job. There are numerous bombshells in the congressional testimony of two IRS whistleblowers, but the most significant is that members of Trump's Department of Justice helped to tip the 2020 election to his opponent by slow-walking the investigation into Hunter Biden. The interference with the probe began as soon as it looked like Joe Biden was going to win the Democrats' nomination. That's the allegation made by supervising agent Gary Shapley, who detailed steps he and other IRS investigators wanted to take to gather evidence against Hunter for massive tax fraud and other crimes. They planned to execute search warrants in New York, California, Arkansas and Washington, DC. Shapley said he and other IRS investigators wanted to take to gather evidence against Hunter for massive tax fraud and other crimes. They also wanted to search Joe Biden's Delaware guest house because Hunter spent a lot of time there. The probers laid out their plan in a probable cause memo, but it was inexplicably rejected by DOJ lawyers. 'After former Vice President Joseph Biden became the presumptive Democratic nominee for president in early April 2020, career DOJ officials dragged their feet on the IRS taking these investigative steps,' Shapley testified. 'By June 2020, those same career officials were already delaying overt investigative actions.' Noting that the rejections came long before the probes ran afoul of the Justice Department's rule to 'stand down' on political cases within 60 or 90 days of an election, Shapley said bluntly: 'It was apparent that DOJ was purposely slow-walking investigative actions in this matter.'" • The whole Hunter Biden's laptop imbroglio, along with the letter from 50 former (lol) intelligence operatives "baselessly," as the word is, claiming the laptop was a Russian plant, along with the media suppression, very much in evidence in The Twitter files, was there for anyone to see during the election itself. I will never understand why Trump didn't make a frontal assault on his real enemies during the election, instead of going the election theft route after the event. Perhaps the spook involvement scared him off, which doesn't bode well for a second Trump administration.
Democrats en Déshabillé
Patient readers, it seems that people are actually reading the back-dated post! But I have not updated it, and there are many updates. So I will have to do that. –lambert

I have moved my standing remarks on the Democrat Party ("the Democrat Party is a rotting corpse that can't bury itself") to a separate, back-dated post, to which I will periodically add material, summarizing the addition here in a "live" Water Cooler. (Hopefully, some Bourdieu.) It turns out that defining the Democrat Party is, in fact, a hard problem. I do think the paragraph that follows is on point all the way back to 2016, if not before:

The Democrat Party is the political expression of the class power of PMC, their base (lucidly explained by Thomas Frank in Listen, Liberal!). ; if the Democrat Party did not exist, the PMC would have to invent it. . ("PMC" modulo "class expatriates," of course.) Second, all the working parts of the Party reinforce each other. Leave aside characterizing the relationships between elements of the Party (ka-ching, but not entirely) those elements comprise a network — a Flex Net? An iron octagon? — of funders, vendors, apparatchiks, electeds, NGOs, and miscellaneous mercenaries, with assets in the press and the intelligence community.

Note, of course, that the class power of the PMC both expresses and is limited by other classes; oligarchs and American gentry (see 'industrial model' of Ferguson, Jorgensen, and Jie) and the working class spring to mind. Suck up, kick down.

* * *

"Candidate Says Mississippi Democratic Party Chair 'Undermined Democracy,' Should Be Replaced" [Mississippi Free Press]. "The report says the 77-year-old party chair sent a reply that included [Mississippi Democratic Party State Executive Director Andre Wagner] and the DNC officials in which he harshly criticized the state executive director. 'Mr. Wagner, you do not speak for the chair, and you are out of order,' Mississippi Today reported [Mississippi Democratic Party Chairman Tyree Irving] as saying. "I am an accomplished jurist. I know and understand things that you cannot know or understand because: you do not have the education level, you do not possess the personal or vicarious experience that I have, and you know nothing about the historical political landscape of Mississippi. You are not in a position to speak for the Mississippi Democratic Party or say how the Mississippi Democratic Party will spend any funds without being granted that authority to speak, and it has not been granted to you. You are a salaried employee and nothing else. You need to find your place and stay in it.'" • Dear me!
Realignment and Legitimacy
"One of the Most Effective Political Fundraising Pitches Is Actually a Scam" [Politico]. "Have you received an email or text message from a politician promising that your contribution will be matched 2x, 10x or have a 1,500 percent impact? If you've contributed to a candidate recently, you're likely on donor lists that result in a constant bombardment of email and text message solicitations featuring some variation of these claims…. With millions of match solicitations hitting inboxes daily, have you ever wondered who's matching your contribution? In virtually every case, nobody is. It's a scam…. [M]ost everyone is doing it. Democrats and Republicans, state and federal candidates, campaigns and committees, are all getting in on the scam, enabled by fundraising vendors who privately acknowledge the seediness of it all. Campaigns are so addicted to the tactic that some demand vendors employ it or else." • Examples:

Looks like the stuff Mothership does for Democrats….
#COVID19
"I am in earnest — I will not equivocate — I will not excuse — I will not retreat a single inch — AND I WILL BE HEARD." –William Lloyd Garrison
Resources, United States (National): Transmission (CDC); Wastewater (CDC, Biobot; includes many counties); Variants (CDC; Walgreens); "Iowa COVID-19 Tracker" (in IA, but national data). NEW "Infection Control, Emergency Management, Safety, and General Thoughts" (especially on hospitalization by city).
Lambert here: Readers, thanks for the collective effort.
Resources, United States (Local): AK (dashboard); AL (dashboard); AR (dashboard); AZ (dashboard); CA (dashboard; Marin, dashboard; Stanford, wastewater; Oakland, wastewater); CO (dashboard; wastewater); CT (dashboard); DE (dashboard); FL (wastewater); GA (wastewater); HI (dashboard); IA (wastewater reports); ID (dashboard, Boise; dashboard, wastewater, Central Idaho; wastewater, Coeur d'Alene; dashboard, Spokane County); IL (wastewater); IN (dashboard); KS (dashboard; wastewater, Lawrence); KY (dashboard, Louisville); LA (dashboard); MA (wastewater); MD (dashboard); ME (dashboard); MI (wastewater; wastewater); MN (dashboard); MO (wastewater); MS (dashboard); MT (dashboard); NC (dashboard); ND (dashboard; wastewater); NE (dashboard); NH (wastewater); NJ (dashboard); NM (dashboard); NV (dashboard; wastewater, Southern NV); NY (dashboard); OH (dashboard); OK (dashboard); OR (dashboard); PA (dashboard); RI (dashboard); SC (dashboard); SD (dashboard); TN (dashboard); TX (dashboard); UT (wastewater); VA (dashboard); VT (dashboard); WA (dashboard; dashboard); WI (wastewater); WV (wastewater); WY (wastewater).
Resources, Canada (National): Wastewater (Government of Canada).
Resources, Canada (Provincial): ON (wastewater); QC (les eaux usées); BC, Vancouver (wastewater).
Hat tips to helpful readers: anon (2), Art_DogCT, B24S, CanCyn, ChiGal, Chuck L, Festoonic, FM, FreeMarketApologist (4), Gumbo, hop2it, JB, JEHR, JF, JL Joe, John, JM (9), JustAnotherVolunteer, JW, KatieBird, LL, Michael King, KF, LaRuse, mrsyk, MT, MT_Wild, otisyves, Petal (6), RK (2), RL, RM, Rod, square coats (11), tennesseewaltzer, Utah, Bob White (3).
Stay safe out there!
* * *
Look for the Helpers
I admire people who can help out like this so much:

"Is that for air? I was confused b/c I knew I hadn't turned the ceiling system up."

So that's something to ask about/for. Turn it on & up, guys.

"Yes," I said. "The CO2 is high in here, & C02 is a proxy for other things people exhale."

"A tiny bit high, or really high?" /2

— J. Offir, Ph.D. (@dontwantadothis) June 28, 2023

And the moral:

"Is that for air? I was confused b/c I knew I hadn't turned the ceiling system up."

So that's something to ask about/for. Turn it on & up, guys.

"Yes," I said. "The CO2 is high in here, & C02 is a proxy for other things people exhale."

"A tiny bit high, or really high?" /2

— J. Offir, Ph.D. (@dontwantadothis) June 28, 2023
Celebrity Watch
"Madonna Found Unresponsive, Rushed To NYC ICU: Manager, Report" [Upper East Side Patch]. "The famed singer developed a serious bacterial infection and will spend several days in an ICU, her manager wrote on Instagram."
Immune System Dysregulation?
"When COVID meets Candida: exploring the alarming surge of C. auris in Israel" [News Medical Life Sciences]. "C. auris incidence in 2021-22 corresponded with the surge in coronavirus disease 2019 (COVID-19) cases. Surges in C. auris cases occurred in January-March 2021, June-November 2021, and January-May 2022, synchronous with the Alpha, Delta, and Omicron waves, respectively."

"Stomach Virus Spreads Through Cruise Ships at Fastest Pace in Years" [Wall Street Journal]. • 'Tis a mystery!

"Lab workers, monkeys test positive for tuberculosis at Norton Shores biomedical research facility" [WZZM]. • 'Tis a mystery!

"Why tuberculosis cases have risen in recent years after decades of decline" [NBC]. • 'Tis a mystery!

"Tuberculosis rising after pandemic-era decline; NY caseload 40% higher than national rate" [Gothamist]. • 'Tis a mystery!
Prevention
"COVITRAP Anti Covid Nasal Spray 150 Sprays" [DrewInSeAsia Shop]. "COVITRAP Anti Covid Nasal Spray 150 Sprays." • Pricey, at $25.00 a pop. I can't recommend this vendor, except to say that the site seems to have improved from the last time I visited. Still waiting for approval in, say, Israel (I checked the Enovid vendor, but no joy).
Science Is Popping
"Something Awful"
Lambert here: I'm getting the feeling that the "Something Awful" might be a sawtooth pattern — variant after variant — that averages out to a permanently high plateau. Lots of exceptionally nasty sequelae, most likely deriving from immune dysregulation (says this layperson). To which we might add brain damage, including personality changes therefrom.

* * *

"Long-term effects of SARS-CoV-2 infection on human brain and memory" [Nature]. From the Abstract: "This review mainly provides the molecular foundations for understanding the mechanism of SARS-CoV-2 invading human brain and the molecular basis of SARS-CoV-2 infection interfering with human brain and memory, which are associated with the immune dysfunction, syncytia-induced cell death, the persistence of SARS-CoV-2 infection, microclots and biopsychosocial aspects." • Handy chart:
* * *
Case Data
NOT UPDATED From BioBot wastewater data from June 26: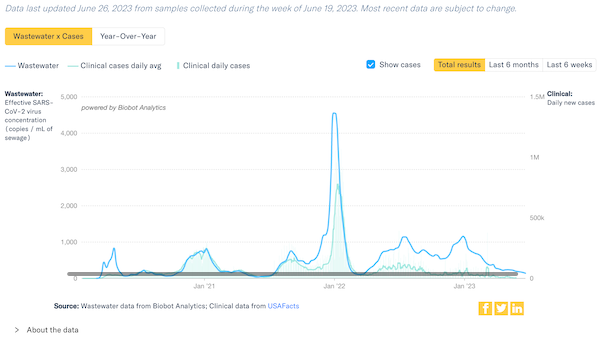 For now, I'm going to use this national wastewater data as the best proxy for case data (ignoring the clinical case data portion of this chart, which in my view "goes bad" after March 2022, for reasons as yet unexplained). At least we can spot trends, and compare current levels to equivalent past levels.
Variants
NOT UPDATED From CDC, June 24: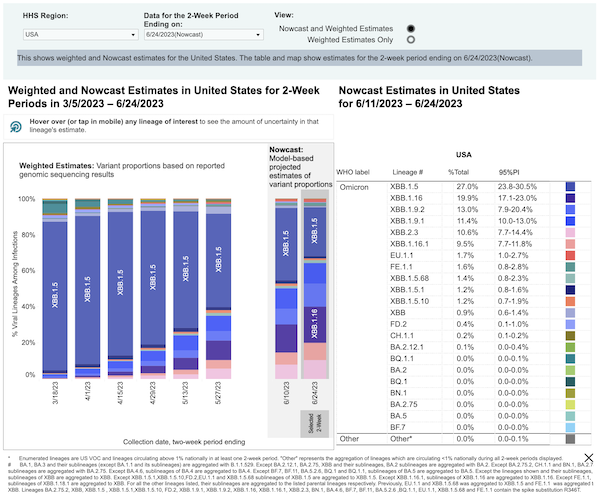 Lambert here: Not sure what to make of this. I'm used to seeing a new variant take down the previously dominant variant. Here it looks like we have a "tag team," all working together to cut XBB.1.5 down to size. I sure hope the volunteers doing Pangolin, on which this chart depends, don't all move on the green fields and pastures new (or have their access to facilities cut by administrators of ill intent).
CDC: "As of May 11, genomic surveillance data will be reported biweekly, based on the availability of positive test specimens." "Biweeekly: 1. occurring every two weeks. 2. occurring twice a week; semiweekly." Looks like CDC has chosen sense #1. In essence, they're telling us variants are nothing to worry about. Time will tell.
Covid Emergency Room Visits
From CDC NCIRD Surveillance, from June 24: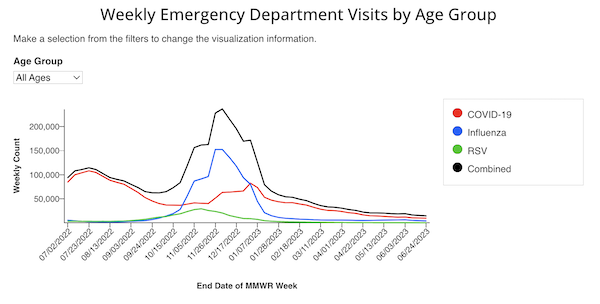 NOTE "Charts and data provided by CDC, updates Wednesday by 8am. For the past year, using a rolling 52-week period." So not the entire pandemic, FFS (the implicit message here being that Covid is "just like the flu," which is why the seasonal "rolling 52-week period" is appropriate for bothMR SUBLIMINAL I hate these people so much. Notice also that this chart shows, at least for its time period, that Covid is not seasonal, even though CDC is trying to get us to believe that it is, presumably so they can piggyback on the existing institutional apparatus for injections.
Positivity
NOT UPDATED From Walgreens, June 26: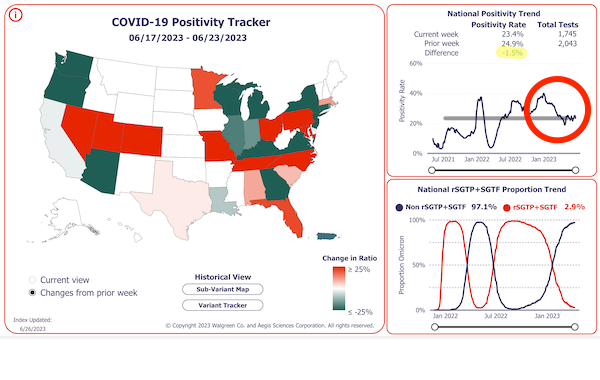 -1.5%. Still chugging along, though the absolute numbers are still very small relative to June 2022, say.
From CDC June 5: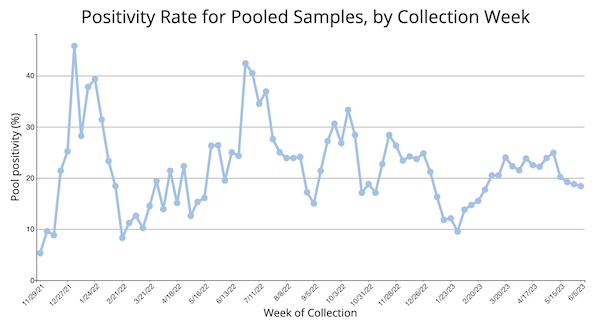 Lambert here: This is the CDC's "Traveler-Based Genomic Surveillance" data. They say "maps," but I don't see one….
Deaths
Iowa COVID-19 Tracker, June 28: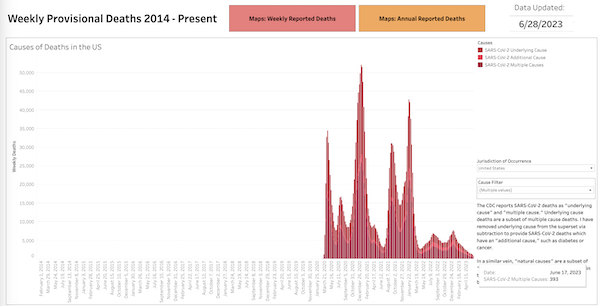 Lambert here: The WHO data is worthless, so I replaced it with the Iowa Covid Data Tracker. Their method: "These data have been sourced, via the API from the CDC: https://data.cdc.gov/NCHS/Conditions-Contributing-to-COVID-19-Deaths-by-Stat/hk9y-quqm. This visualization updates on Wednesday evenings. Data are provisional and are adjusted weekly by the CDC." I can't seem to get a pop-up that shows a total of the three causes (top right). Readers?
Total: 1,168,100 – 1,167,832 = 268 (268 * 365 = 97,820 deaths per year, today's YouGenicist™ number for "living with" Covid (quite a bit higher than the minimizers would like, though they can talk themselves into anything. If the YouGenicist™ metric keeps chugging along like this, I may just have to decide this is what the powers-that-be consider "mission accomplished" for this particular tranche of death and disease).
• "CNN analyst slammed after writing COVID deaths are being overcounted: 'TWO AND A HALF YEARS LATE" [New York Post] "[Leanna] Wen, who writes an occasional Washington Post column providing her observations on the pandemic, masking and other COVID-related subjects, cited sources claiming that most 'patients diagnosed with COVID are actually in the hospital for some other illness.' The article is titled, 'We are overcounting COVID deaths and hospitalizations. That's a problem.' … Wen began her column with some apparent skepticism about the CDC's latest COVID-19 death stats: 'According to the Centers for Disease Control and Prevention, the United States is experiencing around 400 COVID deaths every day. At that rate, there would be nearly 150,000 deaths a year. But are these Americans dying from COVID or with COVID?' The doctor claimed that 'Understanding this distinction is crucial to putting the continuing toll of the coronavirus into perspective. Determining how likely it is an infection will result in hospitalization or death helps people weigh their own risk.'" • Well, that doesn't help my personal risk assessment for vascular disease, brain damage, Long Covid, or any disease resulting from immune dysregulation, all of which would be classified as "with" and not "from." However, I commend Wen for her commitment to the minimizing bit, ka-ching. Meanwhile:
😲Leana Wen was just in the hospital

Wen told Anderson Cooper "I'm just getting over pneumonia myself… last week I had severe shortness of breath & chest pain & ended up being hospitalized for pneumonia"

(talking to Cooper abt Madonna's infection)https://t.co/UE0fluLffW

— Moriah (Galores Flying Circus) (@GaloresCircus) June 29, 2023
Excess Deaths
NOT UPDATED Excess deaths (The Economist), published June 28: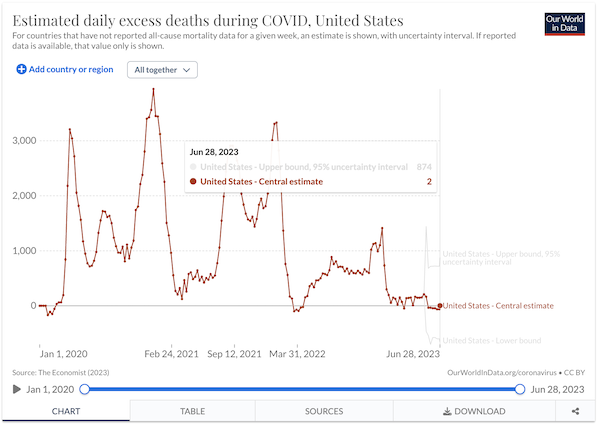 Lambert here: Still some encouragement! Not sure why this was updated so rapidly; it used to take weeks. The little blip upward? Based on a machine-learning model. (The CDC has an excess estimate too, but since it ran forever with a massive typo in the Legend, I figured nobody was really looking at it, so I got rid it. )
Stats Watch
Employment Situation: "United States Initial Jobless Claims" [Trading Economics]. "The number of Americans filing for unemployment benefits fell by 26,000 from the prior week's 20-month high to 239,000 on the week ending June 24th, the sharpest drop since October 2021 and below market estimates of 265,000. The results somewhat extended the period of labor-market resilience to higher borrowing costs from the Federal Reserve, easing recent concerns of a marked softening."
GDP: "United States GDP Growth Rate" [Trading Economics]. "The US economy grew by an annualized 2% on quarter in Q1 2023, well above 1.3% in the second estimate, and forecasts of 1.4%. Consumer spending growth accelerated more than expected to 4.2%, the strongest in nearly two years (vs 3.8% in the second estimate) despite stubbornly high inflation. Spending on durable goods surged 16.3% and services rose 3.2%."
* * *
* * *
Today's Fear & Greed Index: 79 Extreme Greed (previous close: 77 Greed) [CNN]. One week ago: 75 (Extreme Greed). (0 is Extreme Fear; 100 is Extreme Greed). Last updated Jun 29 at 1:45 PM ET.
The 420
"Bird That Can Read Everyone's Thoughts Welcomed As Keynote Speaker Of Psychedelics Conference" [The Onion]. • Sounds like the "iridescent magpie" needs to be my next bird….
Guillotine Watch
"Women Interviewing for Bill Gates's Private Office Were Asked Sexually Explicit Questions" [Wall Street Journal]. • How… Epstein-esque.
News of the Wired
Paying it forward or perhaps simple neighborliness: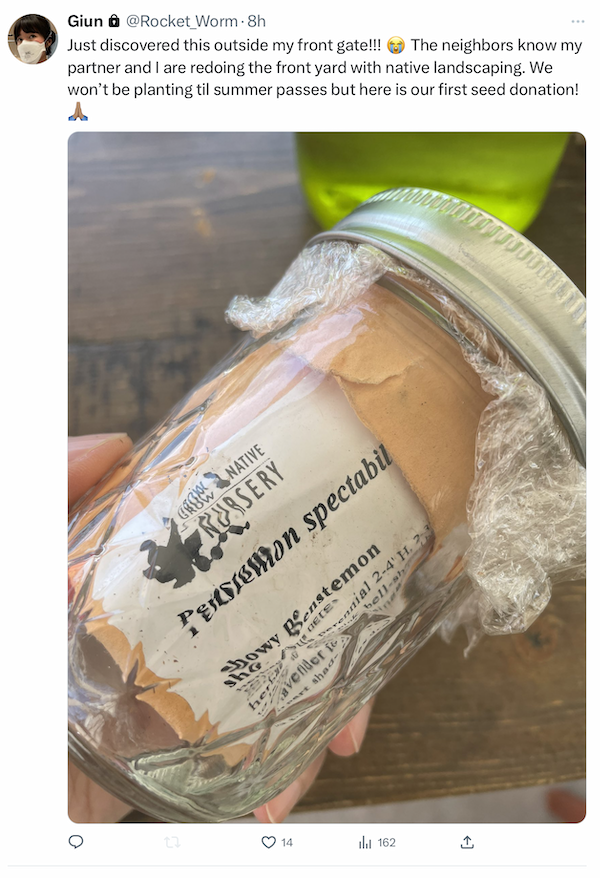 * * *
Contact information for plants: Readers, feel free to contact me at lambert [UNDERSCORE] strether [DOT] corrente [AT] yahoo [DOT] com, to (a) find out how to send me a check if you are allergic to PayPal and (b) to find out how to send me images of plants. Vegetables are fine! Fungi and coral are deemed to be honorary plants! If you want your handle to appear as a credit, please place it at the start of your mail in parentheses: (thus). Otherwise, I will anonymize by using your initials. See the previous Water Cooler (with plant) here. From CH: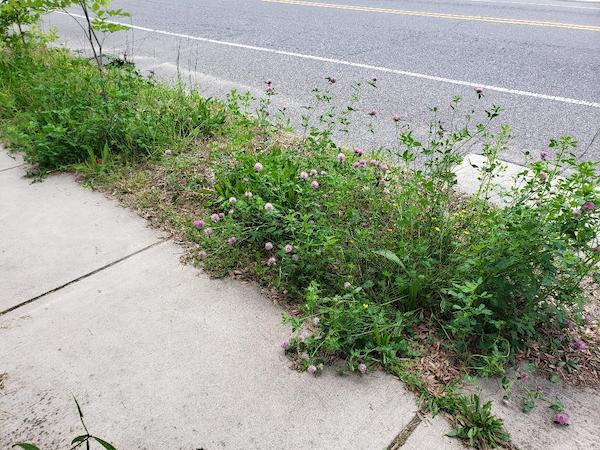 CH writes: "Particularly appreciate the 'No more May' link and succinct commentary. Attached is my extended version 'no mow springtime' with some crimson and purple clover in bloom. Urban Durham, central NC."
* * *
Readers: Water Cooler is a standalone entity not covered by the annual NC fundraiser. So if you see a link you especially like, or an item you wouldn't see anywhere else, please do not hesitate to express your appreciation in tangible form. Remember, a tip jar is for tipping! Regular positive feedback both makes me feel good and lets me know I'm on the right track with coverage. When I get no donations for five or ten days I get worried. More tangibly, a constant trickle of donations helps me with expenses, and I factor in that trickle when setting fundraising goals:
Here is the screen that will appear, which I have helpfully annotated: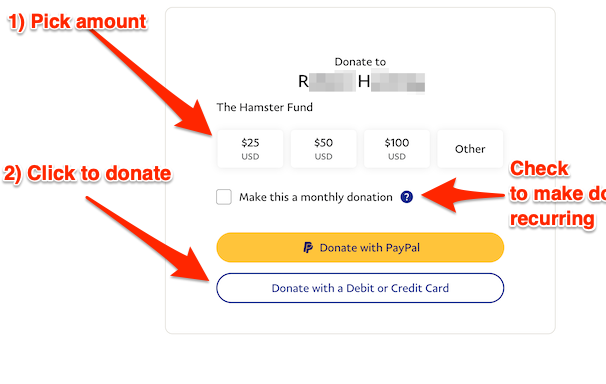 If you hate PayPal, you can email me at lambert [UNDERSCORE] strether [DOT] corrente [AT] yahoo [DOT] com, and I will give you directions on how to send a check. Thank you!