Yves here. Coming from a family that on one side was fishermen and sea cooks, reading about harm to ocean-dependent lifestyles, even if mainly of the tourist classes, is sad. Many traditional communities now depend on making hay during a comparatively short high season to last the year. And shoreline loss that eats away at big cities? Can and will they invest in infrastructure to protect them?
By Thomas Neuburger. Originally published at God's Spies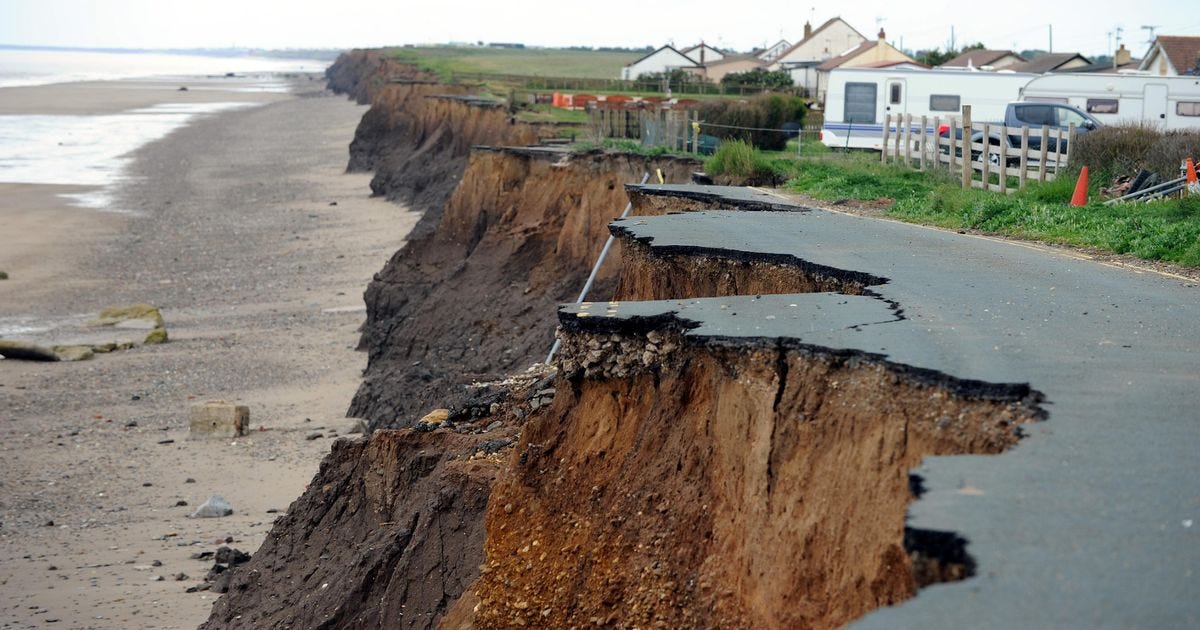 We have to adapt to a shoreline that is shifting inland for the first time in human civilization.
—John Englander, here

Half the world's citizens live on sea coasts. That's where the commerce action is. So they're going to have to move. Where they going to go? And who's going to pay for it?
—Bill Nye, here

No one will pay for it. The rich aren't rich enough yet.
—Yours truly
I recently wrote a deep dive into James Hansen's working paper on "Global warming in the pipeline". That piece is here:
Today I'd like to address a few of the common misconceptions about sea level rise and how dangerous it is. More specifically, I want to answer this question…
My house is on the shore, but a full three feet above sea level. If the sea only rises a foot, I'm safe, right?
…with brief reasons why the answer is "No, you're not safe at all.
• When sea level rises, the land behind it erodes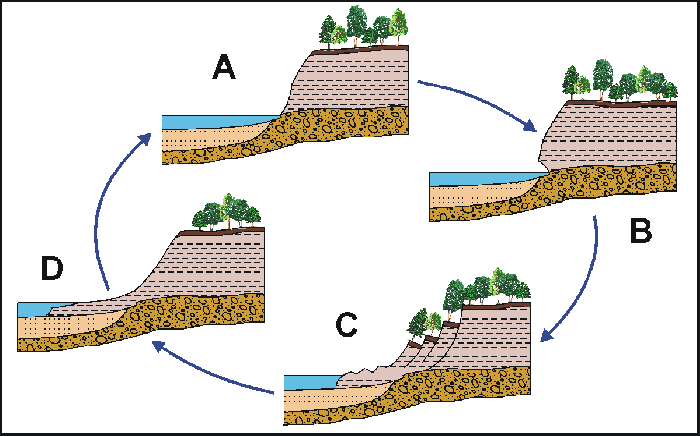 The cycle of land erosion (source)
Notice in the image above that the sea doesn't have to rise much for quite a bit of land behind it, the land it newly touches, to erode and collapse. As John Englander points out in this TED Talk (3:36):
It makes sense that every time sea level goes higher, the shoreline is going to move inland. But the ratio is surprising. For each foot of rise, the average global shoreline moves inland about 300 feet — the length of a football field.
Keep that ratio in mind. To answer our original question, one foot of sea level rise moves the shoreline inland by something like 300 feet, or more if you live in a low coastal zone like most of Florida.
• When sea level rises, fresh water becomes salty
When salt water from the ocean rises, it forces fresh water in the ground — the water table — to rise as well. This impacts drinking water in a number of ways.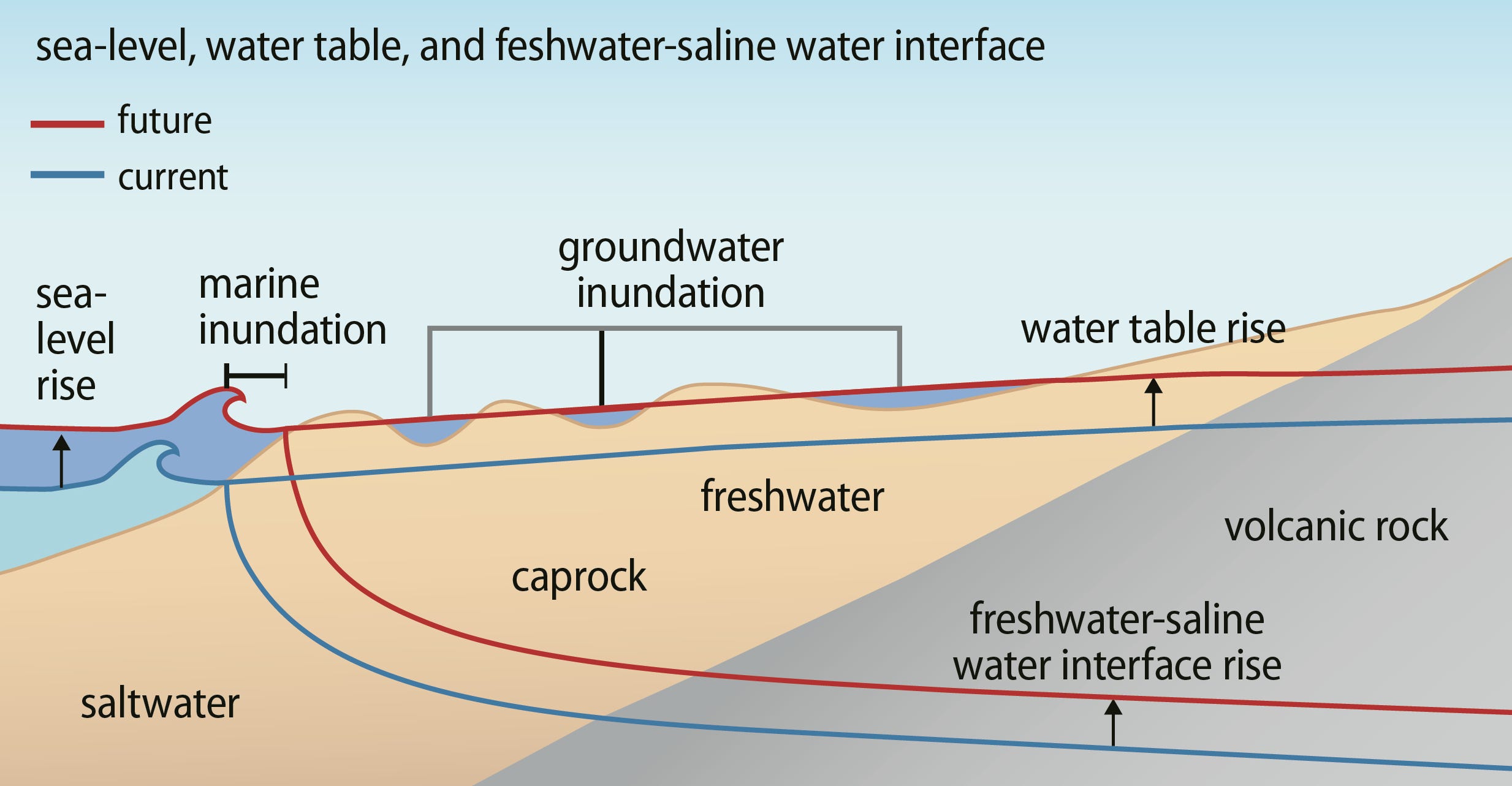 This shows the effect on wells: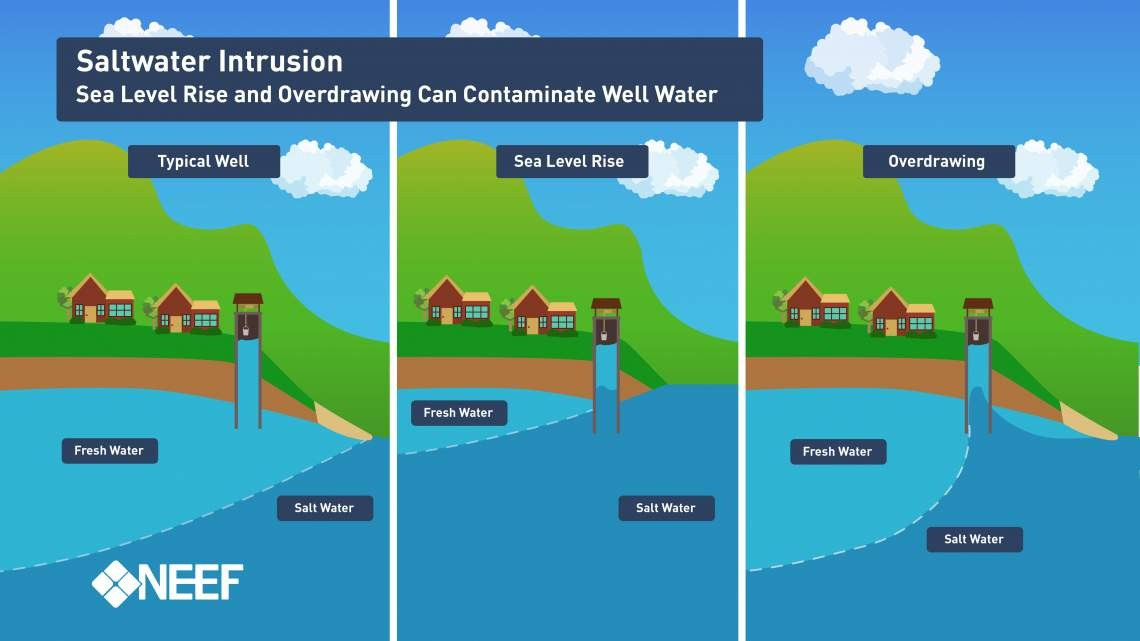 Florida is already constantly fighting the intrusion of salt water into its water system.
Imagine Florida's future, even if escapes a monster Haiyan-like storm. More on Miami's fresh water problems here and here.
• When sea level rises, high tide is higher and storm surges overcome defenses
A higher sea level means higher storm surges, which means dikes that used to be effective are overrun.
• High tide can cause salt water to flood streets through water drains
Yes, you read that right. Salt water. As John Englander says in the TED Talkquoted above (emphasis added):
The other phenomenon we're starting to see is flooding streets on a regular basis, every 28 days, along with the lunar tide cycle. Flooding streets without rain, without storms. And in some neighborhoods, they're actually storm drains installed that were designed to take excess rainfall and move it over to the nearest waterway. Those storm drains now work in reverse.

Every month, and some months worse than others depending upon the alignment of the planets, the salt water is backing up through the storm drain. It's happening from Key West and in Broward County and up toward Palm Beach County and out in Seattle — all over the world [in] low-lying coastal areas.

That didn't happen a few decades ago, when those streets were designed[.]
• Some major cities are sinking, exaggerating already dangerous sea level rise
From a report by the World Economic Forum:
Relative sea-level rise will be even higher in the many cities that are sinking because of factors that include groundwater extraction and the growing weight of urban sprawl. Some cites are sinking faster than sea levels are rising: in parts of Jakarta, for example, ground level has sunk by 2.5 metres in the past decade.[13] In addition, sea-level rise amplifies the impact of storm surges, as it takes a smaller surge to produce the same extreme water level.
Jakarta is one of the world's most populated places — 10 million people in the city proper alone.
When Will We Start?
So no, we're not safe during "modest" sea level rise. A rising sea level shouldn't be counted in vertical inches and feet, but in horizontal feet, yards and miles, measured from the previous shoreline to where our towns and cities will be safe for the next 100 years or so.
How long will it take to effectively move New York City? Mumbai? Jakarta? Shanghai? San Diego? Forever, if the planning never starts.
Videos
John Englander's entire TED Talk is below. Note, however, his optimism, saying none of this will happen this century. Others disagree.

And Bill Nye's contribution to this subject is here:

Another good video on sea level rise: