By Lambert Strether of Corrente.
Patient readers, I think by the time the countdown clock hits 500 I will have done something of an editorial redesign once more. The difficulty is that Covid, as a story, is popping everywhere but the mainstream (especially as the studies funded one or two years ago become published). But election 2024 is popping as well, and although 500 days is a long time in politics, it's a short time editorially. And in both cases, I'm leaving more on the cutting room floor than I would like. So I have to do some thinking. –lambert
Bird Song of the Day
Oriental Turtle-Dove, Yusmarg, Budgam, Jammu and Kashmir, India. "Songs from one bird, and then very quiet calls from the same individual after it flew to another tree. A second bird flies in, and the first bird gives extremely quiet growl song. That second bird then flies off, and the original bird resumes normal song. Note especially the quiet calls from 0:29 to 0:46." I tried several recordings. They really do growl!
* * *
Politics
"So many of the social reactions that strike us as psychological are in fact a rational management of symbolic capital." –Pierre Bourdieu, Classification Struggles
Biden Administration
"House GOP prepares for final procedural drama before expected debt deal passage" [Politico]. • What drama?

"McConnell to face off with conservative opponents on debt ceiling bill" [The Hill]. • I would bet on McConnnell, aged though he is.
2024
I guess it's time for the Countdown Clock!

* * *

"Bidens offer 'safe harbor' to Hunter as he flails over scandalous reports, new messages show" [New York Post]. "It appears that Hunter was in a free fall and his uncle Jim Biden reached out in newly discovered messages to offer him a 'safe harbor.' … As revealed recently by the House Oversight Committee, the Bidens constructed a labyrinth of corporations and accounts to transfer millions from these deals to various Biden family members, including grandchildren." They did indeed, from bank records. More: "[Hunter] was the firebreak between the money and any scandal. This was made evident in a recent and rare sit-down interview; MSNBC's Stephanie Ruhle delicately broached the scandals involving Hunter by emphasizing that it is a 'personal' matter and assuring the president (and the viewers) that the still-unknown charges involve 'no ties to you.' Hunter increasingly looks like the designated defendant of the Bidens — the sin-eater who may have to take one for the team in the form of a couple of tax charges…. As made clear by Jim Biden, there is always a plan in the Biden family. Back in 2018, he assured his nephew that 'as usual just need several months of [your father's] help for this to work.' 'Let's talk about it. It makes perfect sense to me.'" • It's hard to see this as anything other than a yarn diagram with a story hook. Sadly!

"Can Republicans Hope To Outrun Trump In 2024 House Races?" [Amy Walter, Cook Political Report]. "In 2020, Republicans found success with candidates who were female and/or people of color. These candidates didn't look, sound or act like Donald Trump or the stereotype of the GOP. Even so, almost all of the gains Republicans made that year were in districts that Trump had also carried. Only five challengers — David Valadao (CA-21), Young Kim (CA-39), Michelle Steel (CA-48), Maria Elvira Salazar (FL-27) and Beth Van Duyne (TX-24) — won in CDs carried by Biden. Another four incumbents — Mike Garcia (CA-25), Don Bacon (NE-02), John Katko (NY-24), and Brian Fitzpatrick (PA-01) — won re-election in Biden-won districts. In 2022, Republicans narrowly won control of the House thanks to the fact that 18 Republicans won in districts Biden had carried in 2020. However, Republicans' failure to flip other high-profile seats that Biden narrowly carried two years earlier (like MI-08, MI-07, PA-07, CO-08, NM-02 and OH-13) cost them a more robust majority. To hold the House in 2024, Republicans first have to limit their losses in Biden-held districts. The most vulnerable Republicans are the five freshmen who outperformed Trump's 2020 showing in their districts by double digits: John Duarte (CA-13), George Santos (NY-03), Anthony D'Esposito (NY-04), Mike Lawler (NY-17) and Lori Chavez DeRemer (OR-05). For example, Biden won the Central Valley-based 13th District by 11 points. Freshman Rep. John Duarte carried it by just under one point. The next tier of vulnerable incumbents are the four freshman Republicans who outperformed Trump by five to nine points: Tom Kean Jr. (NJ-07), Marc Molinaro (NY-19), Brandon Williams (NY-22) and Jen Kiggans (VA-02). Why did I single out the freshmen members? They are the least established, and as such are likely going to have the hardest time overcoming the pull of the national environment. "
Democrats en Déshabillé
Patient readers, it seems that people are actually reading the back-dated post! But I have not updated it, and there are many updates. So I will have to do that. –lambert

I have moved my standing remarks on the Democrat Party ("the Democrat Party is a rotting corpse that can't bury itself") to a separate, back-dated post, to which I will periodically add material, summarizing the addition here in a "live" Water Cooler. (Hopefully, some Bourdieu.) It turns out that defining the Democrat Party is, in fact, a hard problem. I do think the paragraph that follows is on point all the way back to 2016, if not before:

The Democrat Party is the political expression of the class power of PMC, their base (lucidly explained by Thomas Frank in Listen, Liberal!). ; if the Democrat Party did not exist, the PMC would have to invent it. . ("PMC" modulo "class expatriates," of course.) Second, all the working parts of the Party reinforce each other. Leave aside characterizing the relationships between elements of the Party (ka-ching, but not entirely) those elements comprise a network — a Flex Net? An iron octagon? — of funders, vendors, apparatchiks, electeds, NGOs, and miscellaneous mercenaries, with assets in the press and the intelligence community.

Note, of course, that the class power of the PMC both expresses and is limited by other classes; oligarchs and American gentry (see 'industrial model' of Ferguson, Jorgensen, and Jie) and the working class spring to mind. Suck up, kick down.

* * *
#COVID19
"I am in earnest — I will not equivocate — I will not excuse — I will not retreat a single inch — AND I WILL BE HEARD." –William Lloyd Garrison
Resources, United States (National): Transmission (CDC); Wastewater (CDC, Biobot; includes many counties); Variants (CDC; Walgreens); "Iowa COVID-19 Tracker" (in IA, but national data).
Lambert here: Readers, thanks for the collective effort. We are now up to 50/50 states (100%). This is really great! (It occurs to me that there are uses to which this data might be put, beyond helping people with "personal risk assessments" appropriate to their state. For example, thinking pessimistically, we might maintain the list and see which states go dark and when. We might also tabulate the properties of each site and look for differences and commonalities, for example the use of GIS (an exercise in Federalism). I do not that CA remains a little sketchy; it feels a little odd that there's no statewide site, but I've never been able to find one. Also, my working assumption was that each state would have one site. That's turned out not to be true; see e.g. ID. Trivially, it means I need to punctuate this list properly. Less trivially, there may be more local sites that should be added. NY city in NY state springs to mind, but I'm sure there are others. FL also springs to mind as a special case, because DeSantis will most probably be a Presidental candidate, and IIRC there was some foofra about their state dashboard. Thanks again!
Resources, United States (Local): AK (dashboard); AL (dashboard); AR (dashboard); AZ (dashboard); CA (dashboard; Marin); CO (dashboard; wastewater); CT (dashboard); DE (dashboard); FL (wastewater); GA (wastewater); HI (dashboard); IA (wastewater reports); ID (dashboard, Boise; dashboard, wastewater, Central Idaho; wastewater, Coeur d'Alene; dashboard, Spokane County); IL (wastewater); IN (dashboard); KS (dashboard; wastewater, Lawrence); KY (dashboard, Louisville); LA (dashboard); MA (wastewater); MD (dashboard); ME (dashboard); MI (wastewater; wastewater); MN (dashboard); MO (wastewater); MS (dashboard); MT (dashboard); NC (dashboard); ND (dashboard; wastewater); NE (dashboard); NH (wastewater); NJ (dashboard); NM (dashboard); NV (dashboard; wastewater, Southern NV); NY (dashboard); OH (dashboard); OK (dashboard); OR (dashboard); PA (dashboard); RI (dashboard); SC (dashboard); SD (dashboard); TN (dashboard); TX (dashboard); UT (wastewater); VA (dashboard); VT (dashboard); WA (dashboard; dashboard); WI (wastewater); WV (wastewater); WY (wastewater).
Resources, Canada (National): Wastewater (Government of Canada).
Resources, Canada (Provincial): ON (wastewater); QC (les eaux usées); BC, Vancouver (wastewater).
Hat tips to helpful readers: Art_DogCT, B24S, CanCyn, ChiGal, Chuck L, Festoonic, FM, FreeMarketApologist (4), Gumbo, hop2it, JB, JEHR, JF, JL Joe, John, JM (9), JustAnotherVolunteer, JW, KatieBird, LL, Michael King, KF, LaRuse, mrsyk, MT, MT_Wild, otisyves, Petal (5), RK (2), RL, RM, Rod, square coats (11), tennesseewaltzer, Utah, Bob White (3).
Stay safe out there!
* * *
Look for the Helpers
Look! You can socialize without creating a superspreader event!

in one place. Tied a JBL speaker high up in the fig tree to get the acoustics just right. People used the indoor restroom. Had the restroom window open, fan on, house windows open + 3 hepa filters running. My bedroom was closed off tight. So post party

— AndyAF🎧🔮 (@CactusAndy) May 29, 2023

The whole thread is commonsense (which doesn't mean I would have thought of it all). I thought the two best tips were making sure the bathroom was well ventilated, and organizing matters so people didn't hang out in the kitchen.

Look! You can organize a conference without creating a superspreader event!

That moment when an anime convention outdoes the CDC & the entire medical industry on pandemic mitigation. https://t.co/KrdF7sl6Jw

— Springtime for Hitler Particles (@ljmontello) May 27, 2023

To be fair, you probably can't if you're a brain genius from CDC, or from Infection Control generally. But if your ***cough*** not a professional ***cough*** you can!

* * *

"COVID-Conscious Therapist Directory" [Covid Conscious Therapists]. "Your mental health provider shouldn't tell you that continuing to take safety precautions to lower your risk of infection is irrational." • For the US, Canada, and internationally. All info submitted by the providers.
Vaccines
"Perceived Influence of Incentives on COVID-19 Vaccination Decision-making and Trust" [JAMA]. "This survey study found that although there has been substantial policy attention around incentivizing COVID-19 vaccination, fewer than 1 in 10 vaccinated individuals in a nationally representative sample of US adults reported receiving an incentive." • There was "substantial policy attention" because our elites think everybody and everything can be bought. With some justification, I might add.
Maskstravaganza
More frightening than Darth Vader?

New look pic.twitter.com/lYJbRFMJYF

— Michael A Osborne (@maosbot) May 27, 2023

Still, self-expression is what gets masks out of the medical box and into the fashion box, so…..
Sequelae
"Long COVID: a review and proposed visualization of the complexity of long COVID" (review article) [Frontiers in Immunology]. "Post-Acute Sequelae of Severe Acute Respiratory Syndrome Coronavirus – 2 (SARS-CoV-2) infection, or Long COVID, is a prevailing second pandemic with nearly 100 million affected individuals globally and counting. We propose a visual description of the complexity of Long COVID and its pathogenesis that can be used by researchers, clinicians, and public health officials to guide the global effort toward an improved understanding of Long COVID and the eventual mechanism-based provision of care to afflicted patients. The proposed visualization or framework for Long COVID should be an evidence-based, dynamic, modular, and systems-level approach to the condition. Furthermore, with further research such a framework could establish the strength of the relationships between pre-existing conditions (or risk factors), biological mechanisms, and resulting clinical phenotypes and outcomes of Long COVID." • To this layperson, this visualization is far superior to NIH's lamestream "12 symptoms," not least because it seeks to visualize the complexity, not manage it. Here is the entire visualization:

The authors explain:

The strength of the association between any two [of the round-cornered] nodes [e.g, age, an ancedent, and autoimmunity, a mechanism] based on a qualitative synthesis of the current evidence by the authors, is represented by the thickness of the connecting lines. It is apparent that a single pathway is unlikely to explain the genesis and evolution of this complex post-viral phenomenon and that multi-hit, multi-mechanistic pathways are more likely.

I'm also a big fan of putting biological mechanisms front and center (green middle column) Here is the visualization focused on the autoimmunity mechanism:

My only quarrel with the "thickness of the lines" indicating the strength of association — aside from the fact that it should be captioned — is that it's simply not intuitive to me; I just see, well, yarn. They might darken the tone of the lines to indicate strength, or even add numerical weights to the lines. That aside, this is a truly noble effort to visualize and conceptualize a very hard problem.

"Viral persistence, reactivation, and mechanisms of long COVID" [eLife]. This is, in essence, a plea for "more study." But this nugget was interesing: "Reactivation of latent viruses has been linked to the dysregulation of the host immune response during acute SARS-CoV-2 infection, that is, by disabling the host type I interferon response via autoantibodies (Acharya et al., 2020), resulting in decreased control of these latent pathogens."

* * *

"Persistent Exhausted T-Cell Immunity after Severe COVID-19: 6-Month Evaluation in a Prospective Observational Study" [Journal of Clinical Medicine]. "Severe COVID-19 can result in a significant and irreversible impact on long-term recovery and subsequent immune protection…. The immunological activation in the SARS-CoV-2 group during hospitalization is reversed at the follow-up time point. However, the marked exhaustion pattern remains over time. and the development of other pathologies. Additionally, high SARS-CoV-2-specific T-cells response levels appear to be associated with infection severity.:
"Something Awful"
Lambert here: I've been muttering about Covid and brain damage for some time, but with Topol's article immediately below, the topic should reach the mainstream, or at least that portion of our mighty media stream not clogged with gaslighting, denial, and service provision for those with cash in hand.

"The Brain and Long Covid" [Eric Topol, Ground Truths]. Important. Here is the lead: "Ever since the UK Biobank study that showed brain atrophy, loss of grey matter, and cognitive decline in about 400 people who had Covid compared with matched controls, via baseline (pre-Covid) and subsequent (~3 years later) MRI scans, there has been significant worry about the impact this virus has on the brain. Two new studies, both from researchers in Germany, illuminate the . Importantly, these were studies of people with Covid, not specifically individuals who were suffering from Long Covid." The Munich Study stained tissue (n = 20). The Hamburg Study used MRI (n = 223). I have helpfully outlined and highlighted the lead buried in this lovely graphic:

"The functional and structural changes in the hippocampus of COVID-19 patients" (review article) [Acta Neurologica Belgica]. "COVID-19 activates microglia in the hippocampus and induces a CNS cytokine storm, leading to loss of hippocampal neurogenesis. The functional and structural changes in the hippocampus of COVID-19 patients can explain neuronal degeneration and reduced neurogenesis in the human hippocampus. This will open a window to explain memory and cognitive dysfunctions in 'long COVID' through the resultant loss of hippocampal neurogenesis." • Maybe. There are a lot of laborers in this particular vineyard…..

"Creutzfeldt-Jakob disease after COVID-19: infection-induced prion protein misfolding? A case report" [Prion]. "We describe a young patient developing CJD two months after mild COVID-19. Presenting symptoms were visuospatial deficits and ataxia, evolving into a bedridden state with preserved consciousness and diffuse myoclonus. Diagnostic work-up was suggestive of CJD. The early age of onset and the short interval between respiratory and neurological symptoms might suggest a causal relationship: a COVID-19-related neuroinflammatory state may have induced the misfolding and subsequent aggregation of PrPSc. The present case emphasizes the link between neuroinflammation and protein misfolding. Further studies are needed to establish the role of SARS-CoV-2 as an initiator of neurodegeneration." And: "A diagnosis of probable sCJD was made based on current diagnostic criteria." And: "Our patient developed the first symptoms of sCJD two months after COVID-19. Four previous cases of sCJD after COVID-19 have been reported, highlighting a possible causal relationship [4–6]: our case shows relevant features suggesting a causal link between infection and neurodegeneration, notably the early age of onset and the two-month-long latency between COVID-19 and onset of neurological symptoms. The young age at onset and the limited familial history prompted us to perform genetic testing." • Hmm.
Elite Maleficence
Elites on masks (1):

That's a residual benefit to the administration's corporate overlords. The CDC lady already explained the central problem with people being seen in public wearing masks is that it reminds us of the ongoing plague they have worked so hard to gaslight us into thinking it's over. pic.twitter.com/2Sg52Fru1q

— Hugh Wouldathunkit (@HughThunkIt) May 29, 2023

In retrospect, Walensky was quite right. Under current conditions, a masked population is not gaslit, and is not in denial. That's a problem for elites, who know there's a pandemic — #DavosSafe — but don't want you to think there is, because otherwise how would the capital accumulation bandwagon keep rolling?

Elites on masks (2):

Appropriate behaviour on part of students to unreasonable demands of the lecturer – do what you like with respect to mask-wearing but don't start talking OH&S if your audience doesn't want to play ball https://t.co/pw00wB5Oyi

— Peter McIntyre (@peter_2611) May 30, 2023

McIntyre, a member of the Strategic Advisory Group of Experts of WHO, kicking down against a professor whose only sin is wanting to avoid getting infected by her students in the classroom. McIntyre is also an immunologist, so perhaps he should stay in his lane.

* * *

Dull normals on elastomerics:

I met a remarkable IPC at #IPAC2023 who works for a small rural indigenous hospital in Manitoba. At the start of the pandemic, he bought personal reusable elastomeric respirators for each HCW.

Filter changes every 6 months.

Zero COVID outbreaks.

Zero HCW HAIs.

👏👏👏

— Barry Hunt – #DavosSafe (@BarryHunt008) May 29, 2023

From Canada. For more on Canada, see below.

"Nosocomial COVID-19: A Nationwide Spanish Study" [Gerontology]. From the Abstract: "This is a nationwide, retrospective, multicenter, observational study that analyzed patients hospitalized with confirmed COVID-19 in 150 Spanish hospitals… [=Nosocomial COVID-19 (NC) infection] was defined as patients admitted for non-COVID-19 diseases with a positive SARS-CoV-2 test on the fifth day of hospitalization or later. The primary outcome was 30-day in-hospital mortality (IHM). The secondary outcome was other COVID-19-related complications…. Of the 23,219 patients hospitalized with COVID-19, 1,104 (4.8%) were NC…. . IHM was significantly higher among NC patients." • Hospital Infection Control whacking people in Spain, too!

* * *

Oy, Canada! (1): IPAC Canada erases non-pharmaceutical interventions. Cute, cheerful, friendly poster, though!

Happy to be part of the Chapter President meeting with IPAC Canada. NB/PEI are represented!! #IPAC2023 pic.twitter.com/LxA6j3Mrn1

— Julie Weir (@JulieDWeir) May 28, 2023

IPAC is, as you probably guessed, Infection Prevention and Control (Canada).

Oy, Canada! (2):

That appears to be the winning poster for the upcoming National Infection Control Week October 16-20, 2023. The poster designer won a free trip to this conference, or if they are smart, took the $500 and bought an air purifier pic.twitter.com/5323hZLDNc

— David Elfstrom (@DavidElfstrom) May 29, 2023

From IPAC's conference.
The Jackpot
"Speech Sounds" [Octavia E. Butler]. • The Last of Us, but from 1983 and without SARS-CoV-2 Cordyceps. Genuinely frightening, so consider yourself warned, but also a classic.
* * *
Lambert here: I'm getting the feeling that the "Something Awful" might be a sawtooth pattern — variant after variant — that averages out to a permanently high plateau. Lots of exceptionally nasty sequelae, most likely deriving from immune dysregulation (says this layperson). To which we might add brain damage, including personality changes therefrom.
Case Data
From BioBot wastewater data from May 30: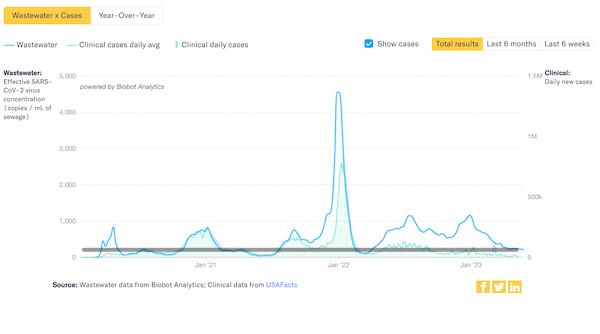 Lambert here: Unless the United States is completely, er, exceptional, we should be seeing an increase here soon. UPDATE Still on the high plateau. Are we are the point in the global pandemic where national experiences really diverge?
For now, I'm going to use this national wastewater data as the best proxy for case data (ignoring the clinical case data portion of this chart, which in my view "goes bad" after March 2022, for reasons as yet unexplained). At least we can spot trends, and compare current levels to equivalent past levels.
Variants
NOT UPDATED From CDC, May 27, 2023: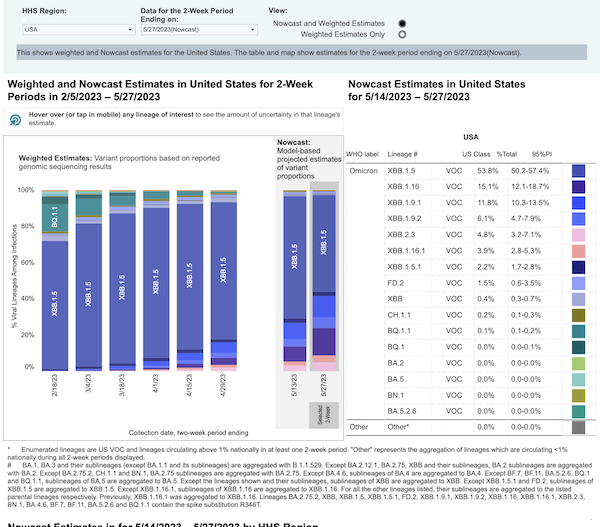 Lambert here: XBB.1.16 and XBB.1.9.1 still on the way up, eating into XBB.1.5. I sure hope the volunteers doing Pangolin, on which this chart depends, don't all move on the green fields and pastures new (or have their access to facilities cut by administrators of ill intent).
CDC: "As of May 11, genomic surveillance data will be reported biweekly, based on the availability of positive test specimens." "Biweeekly: 1. occurring every two weeks. 2. occurring twice a week; semiweekly." Looks like CDC has chosen sense #1. In essence, they're telling us variants are nothing to worry about. Time will tell. Looks like the Walgreens variants page isn't updating.
Covid Emergency Room Visits
From CDC NCIRD Surveillance, from May 27: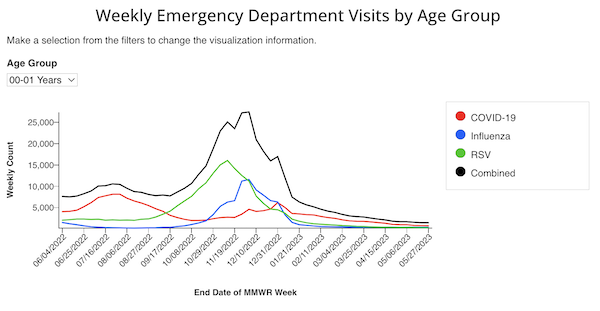 NOTE "Charts and data provided by CDC, updates Wednesday by 8am. For the past year, using a rolling 52-week period." So not the entire pandemic, FFS (the implicit message here being that Covid is "just like the flu," which is why the seasonal "rolling 52-week period" is appropriate for bothMR SUBLIMINAL I hate these people so much. Notice also that this chart shows, at least for its time period, that Covid is not seasonal, even though CDC is trying to get us to believe that it is, presumably so they can piggyback on the existing institutional apparatus for injections.
Positivity
NOT UPDATED From Walgreens, May 30: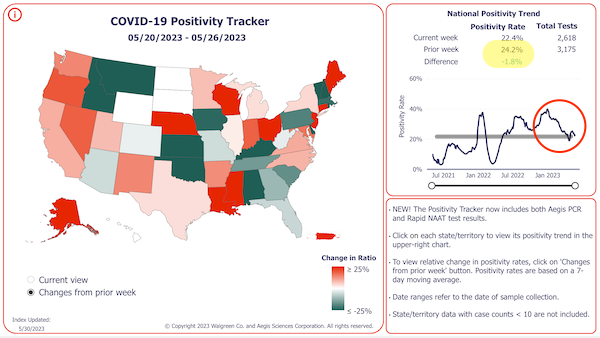 -1.8%. Frequency down to once a week.
Deaths
NOT UPDATED Death rate (Our World in Data), from May 24: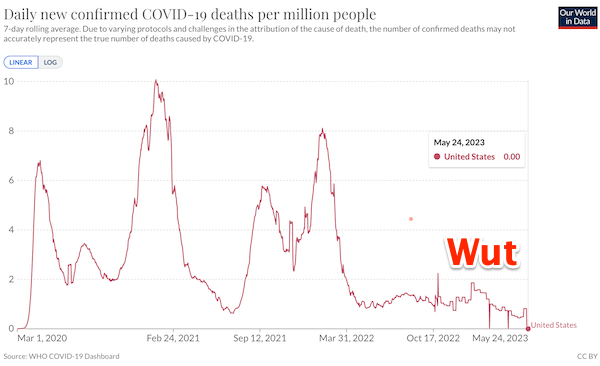 Lambert here: Zero deaths, for three days in a row. Not possible. Thanks, Johns Hopkins of the $9.32 billion endowment, for abandoning this data feed and passing responsibility on to the clown car at WHO.
Total: 1,165,317 – 1,165,281 = 36 (36 * 365 = 13,140 deaths per year, today's YouGenicist™ number for "living with" Covid (quite a bit higher than the minimizers would like, though they can talk themselves into anything. If the YouGenicist™ metric keeps chugging along like this, I may just have to decide this is what the powers-that-be consider "mission accomplished" for this particular tranche of death and disease).
Excess Deaths
NOT UPDATED Excess deaths (The Economist), published May 21: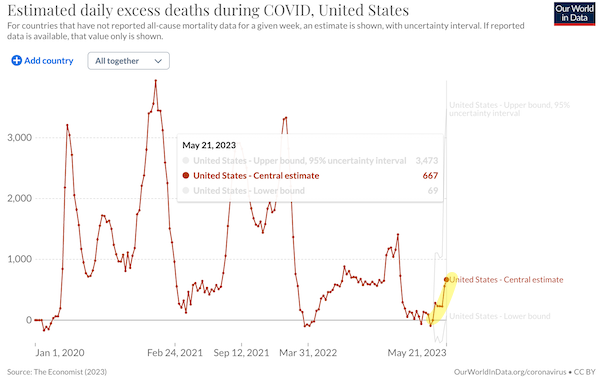 Lambert here: Based on a machine-learning model. (The CDC has an excess estimate too, but since it ran forever with a massive typo in the Legend, I figured nobody was really looking at it, so I got rid it. )
Stats Watch
Employment Situation: "The number of job quits in the United States decreased by 49K from the previous month to 3.79 million in April of 2023, the lowest level since March of 2021 and falling further from the record peak of roughly 4.5 million quits reached in November 2021" [Trading Economics].
Manufacturing: "United States Chicago PMI" [Trading Economics]. "The Chicago Business Barometer, also known as the Chicago PMI, fell to 40.4 points in May 2023, down from an eight-month high of 48.6 in April and below market forecasts of 47. The reading marked the ninth consecutive month of contraction in business activity in the Chicago region, but one that was the softest since November last year."
* * *
Tech: Twitter's "For You" feed is a poisoned chalice:
New research finds that Twitter's recommendation algorithm amplifies anger, outgroup hostility, and affective polarization https://t.co/mlwF3TEUnq

This is a good reason to ignore the recommended Tweets. pic.twitter.com/JJaTRtOs1i

— Jay Van Bavel (@jayvanbavel) May 29, 2023
Tech: "Electric vehicles have an efficiency problem" [Axios]. "Car batteries are like wine fridges: They're never big enough. That's a real problem for anybody who hopes that electric vehicles will help decarbonize the planet and reduce pollution. EVs are extraordinarily heavy, and the larger their batteries, the heavier they become. That makes them more dangerous, increases pollution, minimizes decarbonization, and locks in a geopolitically fraught reliance on China." • Oops.
* * *
Today's Fear & Greed Index: 64 Greed (previous close: 65 Greed) [CNN]. One week ago: 59 (Greed). (0 is Extreme Fear; 100 is Extreme Greed). Last updated May 31 at 2:16 PM ET.
News of the Wired
"Ask HN: Is it just me or GPT-4's quality has significantly deteriorated lately?" [Hacker News] • That was fast. Interesting thread.
* * *
Contact information for plants: Readers, feel free to contact me at lambert [UNDERSCORE] strether [DOT] corrente [AT] yahoo [DOT] com, to (a) find out how to send me a check if you are allergic to PayPal and (b) to find out how to send me images of plants. Vegetables are fine! Fungi and coral are deemed to be honorary plants! If you want your handle to appear as a credit, please place it at the start of your mail in parentheses: (thus). Otherwise, I will anonymize by using your initials. See the previous Water Cooler (with plant) here. From JG: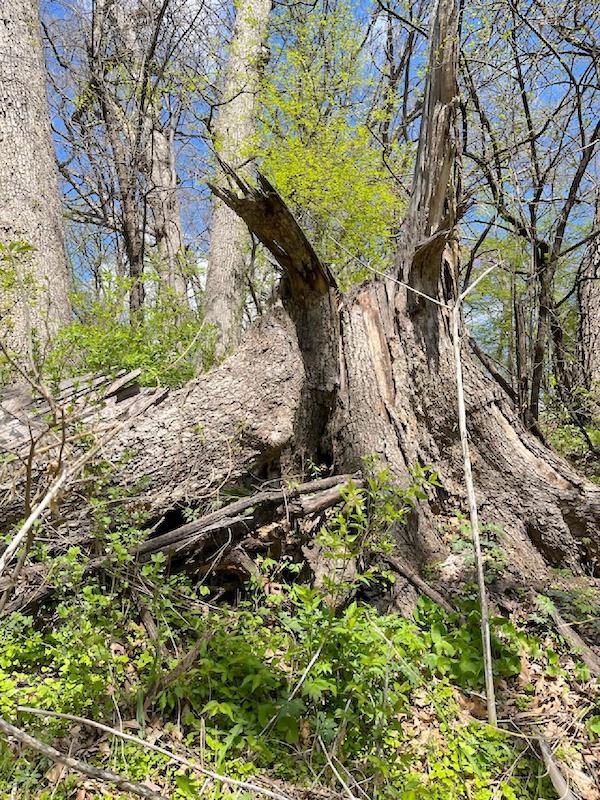 JG writes: "I discovered a charming public path which I had always thought was a private drive. The oak trees are plentiful in this neighborhood and it has been a lovely spring for blooming plants and shrubs. Here is an oak tree stump."
* * *
Readers: Water Cooler is a standalone entity not covered by the annual NC fundraiser. So if you see a link you especially like, or an item you wouldn't see anywhere else, please do not hesitate to express your appreciation in tangible form. Remember, a tip jar is for tipping! Regular positive feedback both makes me feel good and lets me know I'm on the right track with coverage. When I get no donations for five or ten days I get worried. More tangibly, a constant trickle of donations helps me with expenses, and I factor in that trickle when setting fundraising goals:
Here is the screen that will appear, which I have helpfully annotated: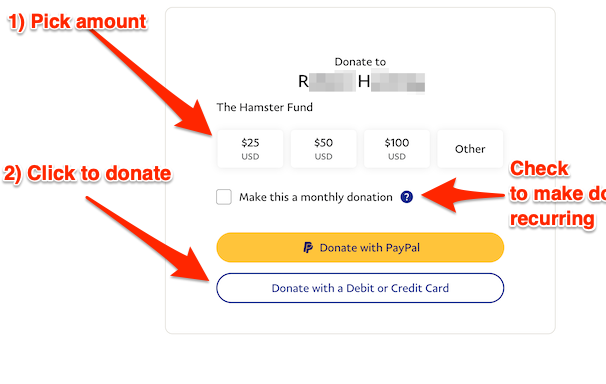 If you hate PayPal, you can email me at lambert [UNDERSCORE] strether [DOT] corrente [AT] yahoo [DOT] com, and I will give you directions on how to send a check. Thank you!