The World Health Organization (WHO) adopts the EU's expiring digital vaccine passport as a global standard, as we warned would happen over a year ago. 
Yesterday (June 5) the World Health Organization (WHO) announced on its website the launch of a "landmark digital health partnership" with the European Union. As part of this agreement, WHO will be taking up the EU's system of digital COVID-19 certification "to establish a global system that will help facilitate global mobility and protect citizens across the world from on-going and future health threats, including pandemics."
As we warned back in March 2022, when WHO began dropping hints that it was ready to endorse COVID-19 vaccine certificates, this means that digital vaccine passports are going to become both a universal and a permanent feature of the global health and travel landscape.
That article, Are Vaccine Passports About to Go Totally Global?, reported that T-Systems, the IT services arm of Deutsche Telekom which had played a key role in making the EU's vaccine passport systems interoperable, had been chosen by WHO as an "industry partner" in the introduction of digital vaccine passports as a standard procedure. This was apparently not only for COVID-19 vaccines but also "other vaccinations such as polio or yellow fever, across 193 countries" as well as presumably other vaccines that come on line in the future.
A "Monstrous Undertaking"
Yesterday, the result of all that work was finally made public in what the German financial journalist Norbert Häring describes as a "monstrous undertaking" that "makes a whole series of alleged conspiracy narratives come true." WHO's Director General Dr Tedros Adhanom Ghebreyesus announced that the EU's expiring digital COVID certificate will be used as a model to establish a global digital health certificate.
"Building on the EU's highly successful digital certification network, WHO aims to offer all WHO Member States access to an open-source digital health tool, which is based on the principles of equity, innovation, transparency and data protection and privacy," said Tedros Adhanom. "New digital health products in development aim to help people everywhere receive quality health services quickly and more effectively."
When it comes to the EU's COVID-19 digital certificate — the so-called "Green Pass" — it is hard to fathom what exactly Tedros Adhanom means by the two words " highly successful". As a means of reducing transmission of COVID-19, the vaccine passports used in Europe (and most other places) did precious little, for the simple reason that the vaccines to which they are tied are non-sterilising.
Indeed, COVID-19 vaccine passports may have actually exacerbated the spread of the disease by creating a false sense of security among vaccine recipients. How else to explain the fact that by the end of 2021 the European Union, whose 27 member states had been using vaccine passports to one degree or another for half a year, was once again ground zero for the COVID-19 pandemic? Also, a recent study by Cleveland, now peer reviewed, found that any protection provided by the bivalent COVID-19 vaccine during the Omicron phase wears off "in a few months". And over time, more prior vaccine doses translated into "increased risk of COVID-19."
Yet in November 2022, the governments of all G-20 economies — including China and Russia — acknowledged the importance of "recognizing digital and non-digital solutions, including proof of vaccinations," in combating COVID-19 and future pandemics. They also called for the establishment of "trusted global digital health networks." WHO, working hand-in-hand with the EU, is now in the latter stages of making that happen.
Globalising "European Best Practices"
Yesterday Stella Kyriakides, EU Commissioner for Health and Food Safety, described the agreement as "an important step" for the digital action plan of the EU Global Health Strategy:
By using European best practices we contribute to digital health standards and interoperability globally—to the benefit of those most in need. It is also a powerful example of how alignment between the EU and the WHO can deliver better health for all, in the EU and across the world. As the directing and coordinating authority on international health work, there is no better partner than the WHO to advance the work we started at the EU and further develop global digital health solutions.
The perverse irony is that WHO initially opposed (at least in public) vaccine passports because it was not yet clear whether the vaccines actually prevented transmission of the virus.
"We at WHO are saying at this stage we would not like to see the vaccination passport as a requirement for entry or exit because we are not certain at this stage that the vaccine prevents transmission," WHO spokeswoman Margaret Harris said at a UN news briefing in April 2021. "There are all those other questions, apart from the question of discrimination against the people who are not able to have the vaccine for one reason or another."
Now that we know for sure that the COVID-19 vaccines do nothing to prevent transmission of COVID-19 in the Omicron era and may actually exacerbate it , WHO has decided to endorse COVID-19 vaccine passports for global travel. This is happening as concerns are growing about the safety of the COVID-19 vaccines, particularly the mRNA shots. It is also happening at the same time that WHO is seeking to significantly bolster its role in shaping health policy globally through a pandemic treaty and planned amendments to the International Health Regulations (IHR).
If the EU's COVID-19 vaccine certification system is broadly adopted by WHO's 194 member countries, it will presumably mean that anyone who is not up to date with their vaccine schedule will not be able to cross international borders in the future, though testing prior to travel may be an option, as it is in the EU.
If COVID-19 vaccines become compulsory to cross most or all international borders, it would essentially mean the end of two fundamental ethical principles underpinning modern medicine: bodily autonomy (the right to make decisions over one's own life and future); and bodily integrity (the right to self-ownership and self-determination over one's own body). In other words, if we ever want to travel again we will no longer have any say over what goes inside out body. And that will include COVID-19 vaccines (and perhaps other gene therapies) that are neither safe nor effective.
"Nothing More and Nothing Less Than a Digital ID"
There are plenty of other reasons why we should worry about the mandatory application of vaccine passports for global travel, including:
The threat they pose to our privacy;
The additional abilities and powers they grant to governments and corporations to track, trace and control the population;
The not insignificant risk that our most personal data, including our health information and biometric identifiers, could be hacked, leaked or simply shared with third parties;
The polarizing, discriminatory and segregational effects vaccine passports are already having across societies, affecting marginalized groups the most.
As I contend in my book, Scanned: Why Vaccine Passports and Digital Identity Will Mean the End of Privacy and Personal Freedom, published in March 2022, a digital vaccine passport or health certificate is "nothing more and nothing less than a digital ID." Their mass roll out during the COVID-19 pandemic served as an opportunity not only to embed some of the necessary infrastructure for digital identity systems but also to acclimatise large segments of the population to the idea that digital certification is needed to access the most basic of services and venues.
Those digital identity and governance systems are now being put in place in many countries. As readers may recall, Samantha Power, the administrator of the US government's soft power arm USAID and inveterate neocon, announced at the World Economic Forum's annual meeting at Davos this year that Washington is hoping to export the "success" of Ukraine's e-governance digital identity app, Diia, to other countries around the world. The UN Development Program also believes the system is ready to "go international."
As the following infographic from the World Economic Forum shows, digital identity could be used to govern (and control) just about every aspect of our lives, from our health to our money (particularly once central bank digital currencies are rolled out), to our business activities, to our private and public communications, to the information we are able to access, to our dealings with government, to the food we eat and the goods we buy.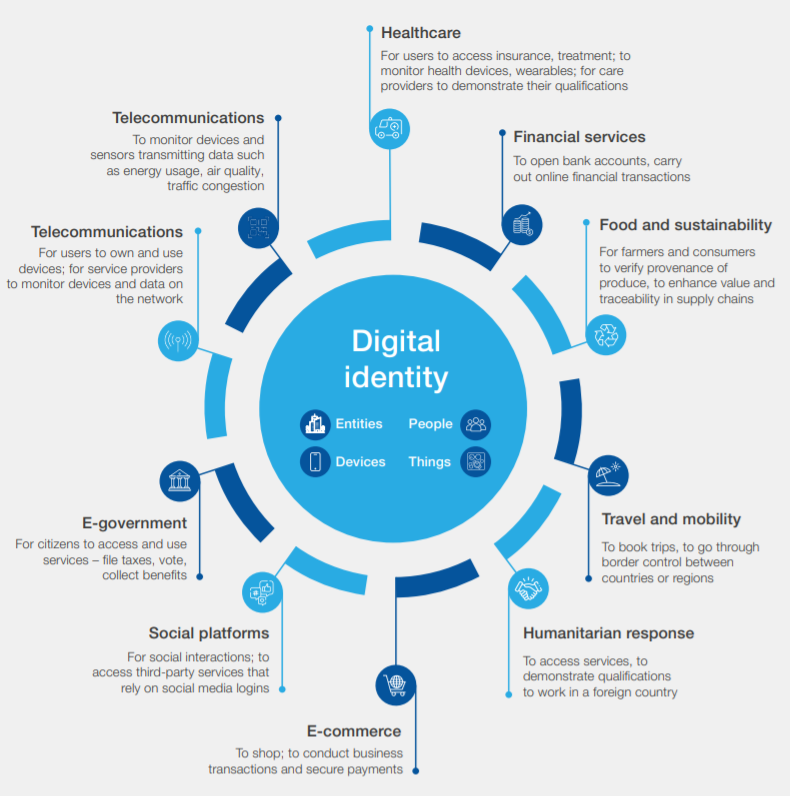 In a 2018 report on digital IDs the WEF admitted that while verifiable digital identities "create new markets and business lines" for companies, especially those in the tech industry that help to operate the ID systems while no doubt vacuuming up the data, for individuals they (emphasis my own) "open up (or close off) the digital world with its jobs, political activities, education, financial services, healthcare and more."
This is the world we are rapidly moving towards and largely unaccountable supranational institutions such as the World Health Organization and the European Union are paving the way.