By Lambert Strether of Corrente.
Patient readers, I am late in starting because of a dinner engagement, from which I have emerged more than slightly plotzed. Hence, another short Water Cooler. –lambert
Bird Song of the Day
Eastern Whip-poor-will, 10 Miles South Of Meadow Portage, Manitoba, Canada. "Evening. Also: cattle, Wilson's snipe, another whip-poor-will, horned owl[Four-hundred and seventeen examples of the "Whip-poor-will" Call of BNA or, more appropriately, the song of C. v. vociferus." June 17, 1960, so really old school!
* * *
Politics
"So many of the social reactions that strike us as psychological are in fact a rational management of symbolic capital." –Pierre Bourdieu, Classification Struggles
Capitol Seizure
"The 'QAnon Shaman' and other Capitol rioters who regret pleading guilty" [BBC]. "Shorn of the horned headdress, furs and face paint that helped earn him the nickname the QAnon Shaman, he was pleading guilty to obstructing an official proceeding. The charge stemmed from his part interrupting a joint session of Congress, and carried a maximum prison term of 20 years. 'I am truly, truly repentant for my actions, because repentance is not just saying you're sorry,' he said. 'Repentance is apologising and then moving in the exact opposite direction of the sin that you committed. In retrospect, I would do everything differently on January 6th.' A judge called his apology 'the most remarkable I've heard in 34 years' and sentenced him to 41 months in prison – considerably less than the maximum allowed. Now more than a year-and-a-half later, Angeli is out of jail early, and his remorse is gone. 'Regrets only weigh down the mind' he told the BBC. 'They're like sandbags on a hot air balloon.'… His about-face is such that he is even taking his case back to court to ask his guilty plea to be reversed. And he is far from alone in changing his mind about the events at the Capitol. Since 6 January 2021, over 1,000 people have been charged over their participation in the riots, and almost half have pleaded guilty. But chatter on online forums and media coverage shows a small but growing number have started to have a change of heart. Emboldened by shifting views of the riots, some have sought to recast their actions, and even benefit from their notoriety."
Biden Administration
2024
Time for the Countdown Clock!

* * *

"How Trump commands the narrative of his own legal woes" [Axios]. "Former President Trump did it again Tuesday: He announced he was likely to be indicted before any announcement by prosecutors, allowing him to frame the news on his terms — and cast himself as a victim. The unusual strategy — most criminal defendants aren't eager to publicize such things — allows Trump to minimize surprise among his supporters, go on the offensive against prosecutors, and continue to say he's being targeted by a partisan 'witch hunt'…. Trump's preemptive announcements force his primary opponents on the record, as his supporters and conservative media pressure candidates to speak out for Trump…. 'There is no such thing as 'bad news' in his view,' [national security attorney Bradley Moss] said. 'So long as he is the center of attention, he is fine with it.'" • What the heck is a "national security attorney," and why do they believe their lane is electoral politics?

* * *

"Financial Problems Force Ron DeSantis Campaign To Fire Wife" [The Onion]. • Readers will recall that the press went into "pulling the wings of a fly" mode with a story on Casey DeSantis's fashion sense. That story was the opening gun.

"Casey DeSantis shrugs off 'Walmart Melania,' 'America's Karen' attacks from lefty critics" [New York Post]. "The mother of three and breast cancer survivor also held back tears as she opened up about her diagnosis." • No doubt. Anybody else hate that "opened up" locution? To me, it's a signal that a press agent was involved.

"There Is No Ron DeSantis 2.0" [Politico]. "If you expected a New Ron DeSantis to pop out of your TV screen in the course of his Tuesday afternoon interview with CNN's Jake Tapper — a kinder, more gentle iteration of his brass knuckles and shrapnel persona — you got nothing. Despite his stalled position in the polls, his recent decision to dismiss almost ten campaign staffers due to a cash crunch, and a mixed report on his fundraising efforts, DeSantis remained true to the Old Ron DeSantis. Forget all the chatter that we might see a DeSantis 2.0. Rather than use a rare interview with a mainstream news organization to showcase a new strategy or tweak his image and broaden his appeal to the centrist CNN audience, DeSantis remained true to his own self. Pretending he was talking to a Fox News audience, he rearticulated his previously articulated positions on transgender people in the military (against). He voiced his views on the 'woke mind virus' (against). Abortion? (Against.) He dodged an invitation to endorse the possible prosecution of Donald Trump ('I don't think it serves us good to have a presidential election focused on what happened four years ago in January, so I want to focus on looking forward,' DeSantis said of the news that special counsel Jack Smith seems prepared to charge Trump over events leading up to and following Jan. 6.)" • Readers know I don't like DeSantis. At all. But…. Anybody remember the woodchipper scene in Fargo?

* * *

"No brotherly love for Biden as blue-collar workers slam 'Bidenomics' before Philly visit: 'Still struggling'" [FOX]. "Just before his planned visit to the City of Brotherly Love, President Biden said wages were at their highest since the onset of the COVID-19 pandemic, but blue-collar workers there feel their income hasn't improved much. 'We're still struggling. We could be better,' Donny told Fox News. 'Wages could be better.".,.. Valerie said problems with the economy predated Biden. 'I don't feel like the president before him did anything, and he's not doing anything,' she told Fox News. 'I feel like we're still in the same rut that we were in. Like we haven't move forward. We're still stuck.'" • Some economic modeler should work out how Biden whacking more people than Trump affected the labor market…
Democrats en Déshabillé
Patient readers, it seems that people are actually reading the back-dated post! But I have not updated it, and there are many updates. So I will have to do that. –lambert

I have moved my standing remarks on the Democrat Party ("the Democrat Party is a rotting corpse that can't bury itself") to a separate, back-dated post, to which I will periodically add material, summarizing the addition here in a "live" Water Cooler. (Hopefully, some Bourdieu.) It turns out that defining the Democrat Party is, in fact, a hard problem. I do think the paragraph that follows is on point all the way back to 2016, if not before:

The Democrat Party is the political expression of the class power of PMC, their base (lucidly explained by Thomas Frank in Listen, Liberal!). ; if the Democrat Party did not exist, the PMC would have to invent it. . ("PMC" modulo "class expatriates," of course.) Second, all the working parts of the Party reinforce each other. Leave aside characterizing the relationships between elements of the Party (ka-ching, but not entirely) those elements comprise a network — a Flex Net? An iron octagon? — of funders, vendors, apparatchiks, electeds, NGOs, and miscellaneous mercenaries, with assets in the press and the intelligence community.

Note, of course, that the class power of the PMC both expresses and is limited by other classes; oligarchs and American gentry (see 'industrial model' of Ferguson, Jorgensen, and Jie) and the working class spring to mind. Suck up, kick down.

* * *

"Senate Dems pledge to stay out of UPS-Teamsters dispute" [Freight Waves]. • Profiles in courage!
#COVID19
"I am in earnest — I will not equivocate — I will not excuse — I will not retreat a single inch — AND I WILL BE HEARD." –William Lloyd Garrison
Resources, United States (National): Transmission (CDC); Wastewater (CDC, Biobot; includes many counties; Wastewater Scan, includes drilldown by zip); Variants (CDC; Walgreens); "Iowa COVID-19 Tracker" (in IA, but national data). "Infection Control, Emergency Management, Safety, and General Thoughts" (especially on hospitalization by city).
Lambert here: Readers, thanks for the collective effort. To update any entry, do feel free to contact me at the address given with the plants. Please put "COVID" in the subject line. Thank you!
Resources, United States (Local): AK (dashboard); AL (dashboard); AR (dashboard); AZ (dashboard); CA (dashboard; Marin, dashboard; Stanford, wastewater; Oakland, wastewater); CO (dashboard; wastewater); CT (dashboard); DE (dashboard); FL (wastewater); GA (wastewater); HI (dashboard); IA (wastewater reports); ID (dashboard, Boise; dashboard, wastewater, Central Idaho; wastewater, Coeur d'Alene; dashboard, Spokane County); IL (wastewater); IN (dashboard); KS (dashboard; wastewater, Lawrence); KY (dashboard, Louisville); LA (dashboard); MA (wastewater); MD (dashboard); ME (dashboard); MI (wastewater; wastewater); MN (dashboard); MO (wastewater); MS (dashboard); MT (dashboard); NC (dashboard); ND (dashboard; wastewater); NE (dashboard); NH (wastewater); NJ (dashboard); NM (dashboard); NV (dashboard; wastewater, Southern NV); NY (dashboard); OH (dashboard); OK (dashboard); OR (dashboard); PA (dashboard); RI (dashboard); SC (dashboard); SD (dashboard); TN (dashboard); TX (dashboard); UT (wastewater); VA (dashboard); VT (dashboard); WA (dashboard; dashboard); WI (wastewater); WV (wastewater); WY (wastewater).
Resources, Canada (National): Wastewater (Government of Canada).
Resources, Canada (Provincial): ON (wastewater); QC (les eaux usées); BC, Vancouver (wastewater).
Hat tips to helpful readers: anon (2), Art_DogCT, B24S, CanCyn, ChiGal, Chuck L, Festoonic, FM, FreeMarketApologist (4), Gumbo, hop2it, JB, JEHR, JF, JL Joe, John, JM (10), JustAnotherVolunteer, JW, KatieBird, LL, Michael King, KF, LaRuse, mrsyk, MT, MT_Wild, otisyves, Petal (6), RK (2), RL, RM, Rod, square coats (11), tennesseewaltzer, Utah, Bob White (3).
Stay safe out there!
* * *
Look for the Helpers
"Citizen engineering":

6/ It's not rocket science folks. It's citizen engineering, and it works.

— Richard Corsi, PhD, PE (Texas) (@CorsIAQ) July 21, 2023

I don't understand why the antis haven't come after CR boxes, but for whatever reason, they never have (at least insofar as I'm aware).
Maskstravaganza
"A Patient's Right to Masked Health Care Providers" [Bill of Health, Petrie-Flom Center at Harvard Law School]. "[P]olicies like Mass General's, which at first explicitly and later implicitly discourage patients' masking requests, create a conflict of interest by assigning the decision about whether a mask is legally necessary to the same person who decides whether they should wear one. Some doctors may refuse to mask because they believe that such a requirement violates their political beliefs, regardless of science. Others may simply believe that the "discomfort" of a mask is beneath them. If patients persist in asking their doctors to mask after an initial refusal, care may be discontinued, on the grounds that the physician-patient relationship has broken down. A notice that care will be discontinued must be provided within a reasonable time so that a patient can transfer care without any treatment interruption. In practice, "reasonable time" often means 30 days. Given nationwide physician shortages, a 30-day notice is generally insufficient to transfer care seamlessly. Many offices will not schedule a new patient appointment without first receiving a referral or medical records, which also take time to obtain. A 2022 survey of physician offices in 15 major metropolitan areas found that the average wait time to see, for example, a cardiologist, was 26.6 days. The possibility of discontinuation of care becomes a threat intended to ensure patient obedience." More: "Enforcing a health care provider's duty to mask should not be left to patients. Masking is an inherently charged subject with the potential to create tension in the patient-physician relationship. That conflict may compromise quality of care or create or exacerbate a patient's medical trauma. High-risk patients with disabilities have suffered enough." • Worth reading in full.
Covid is Airborne
"Clearing the Air on Air Changes per Hour: Time to Move On" [Joey Fox, It's Airborne]. "Air changes per hour is not a meaningful value when assessing the concentration of pollutants. Its use when describing air cleaning equipment or recommended air cleaning rates is only relevant in a room with a specific volume and is not generalizable. Any use of it should be approached with suspicion. It can make small spaces appear to be low risk and very large spaces appear to be high risk, when the opposite is true. To assess the risk of a situation, a more appropriate metric, like airflow rate per person should be used, depending on the pollutant." • Hmm. But the number of people in a room cannot be determined in advance. What am I missing here?
Sequelae
"Long COVID Is Disabling Kids. Why We Ignore It" [The Tyee]. "Surprisingly little research seems to have been done on the cognitive impact of long COVID on children and young adults…. [I]t seems likely that at least some children and young adults who contract COVID-19 suffer persistent neurological damage. Quite apart from the loneliness of school closures and the inadequacy of Zoom lessons, a substantial portion of the student-age population is dealing with COVID-induced impaired cognition, memory loss, anxiety and depression…. The chances of developing long COVID, complete with neurological damage, increase with reinfection. That means some percentage of the present cohort of students will be lost every week, every month, every year. Whatever they might have achieved without infection, their achievements will be hobbled, perhaps for life, by long COVID. At the same time, those who might address the problem are themselves dealing with it."

"First major survey of doctors with Long Covid reveals debilitating impact on health, life and work" (press release) [BMA]. "Around 60% of doctors told the BMA that post-acute Covid ill health has impacted on their ability to carry out day-to-day activities on a regular basis; Almost one in five respondents (18%) reported that they were now unable to work due to their post-acute Covid ill-health; Less than one in three (31%) doctors said they were working full-time, compared to more than half (57%) before the onset of their illness; Nearly half (48%) said they have experienced some form of loss of earnings as a result of post-acute Covid." • Yikes.

"Possible cancer-causing capacity of COVID-19: Is SARS-CoV-2 an oncogenic agent?" [Biochimie]. "[T]he cancer-related effects of SARS-CoV-2 proposed in this article are based on the ability of the virus and its proteins to cause cancer but that the long-term consequences of this infection will only be illustrated in the long run." Something to look forward to! More: "SARS-CoV-2 infection affects many mechanisms that play a crucial role in cancer onset and progression including cell cycle regulation, the RAAS system and inflammation/proliferation signaling pathways." • More research needed…
"Something Awful"
Lambert here: I'm getting the feeling that the "Something Awful" might be a sawtooth pattern — variant after variant — that averages out to a permanently high plateau. Lots of exceptionally nasty sequelae, most likely deriving from immune dysregulation (says this layperson). To which we might add brain damage, including personality changes therefrom.

* * *
Elite Maleficence
Whinging about lockdowns:

Go shopping in supermarkets every day.

— tern (@1goodtern) July 21, 2023
* * *
Case Data
From BioBot wastewater data, July 20: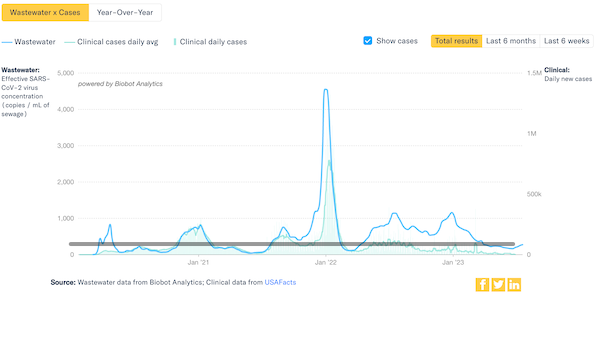 Lambert here: As before, a distinct upward trend. Not seeing the upward slope of doubling behavior, but we are now — just scan the chart backward — at a level above every previous valley.
Regional data: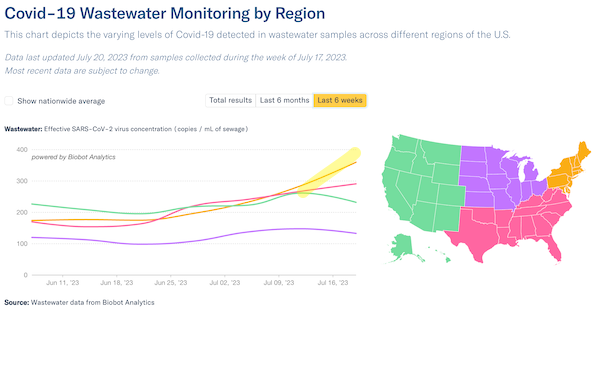 Interestingly, the upswing begins before July 4, which neither accelerates nor retards it.
Regional variant data: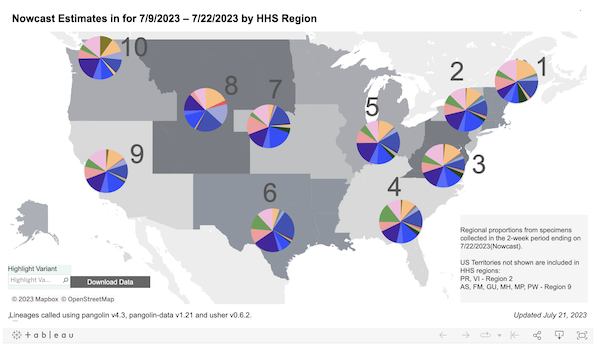 Whatever the cause of the uptick in the Northeast, it's not EG.5 (the orange pie slice), which seems evenly distributed.
Variants
From CDC, July 22: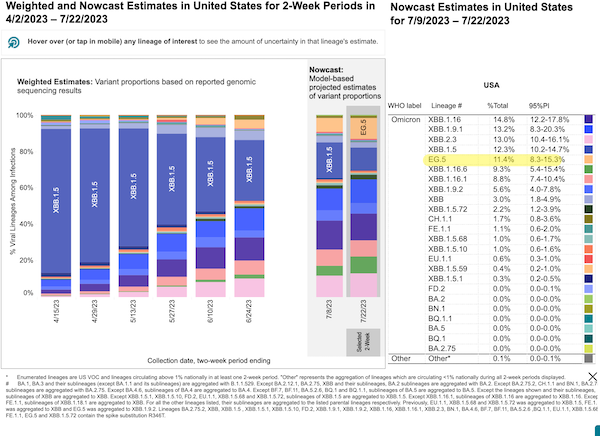 Lambert here: EG.5 still on the leaderboard, but getting crowded out (?) by all those XBB's.
From CDC, July 8: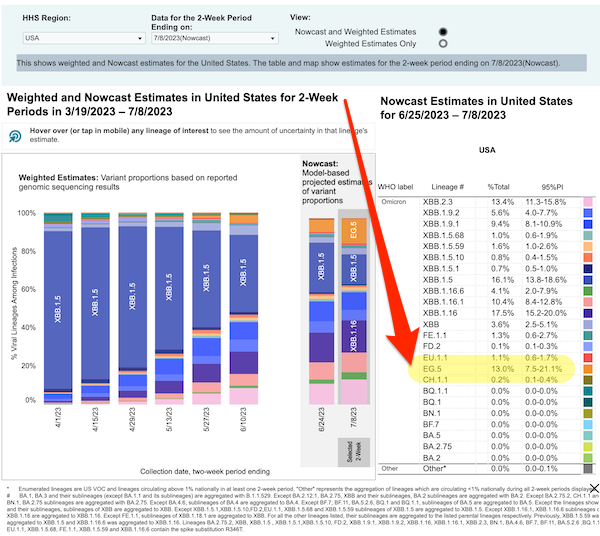 Lambert here: Not sure what to make of this. I'm used to seeing a new variant take down the previously dominant variant. Here it looks like we have a "tag team," all working together to cut XBB.1.5 down to size. I sure hope the volunteers doing Pangolin, on which this chart depends, don't all move on the green fields and pastures new (or have their access to facilities cut by administrators of ill intent).
CDC: "As of May 11, genomic surveillance data will be reported biweekly, based on the availability of positive test specimens." "Biweeekly: 1. occurring every two weeks. 2. occurring twice a week; semiweekly." Looks like CDC has chosen sense #1. In essence, they're telling us variants are nothing to worry about. Time will tell.
Covid Emergency Room Visits
NOT UPDATED From CDC NCIRD Surveillance, July 15: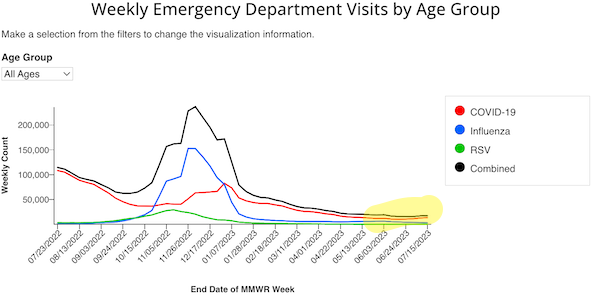 Lambert here: Notice the slight increase.
NOTE "Charts and data provided by CDC, updates Wednesday by 8am. For the past year, using a rolling 52-week period." So not the entire pandemic, FFS (the implicit message here being that Covid is "just like the flu," which is why the seasonal "rolling 52-week period" is appropriate for bothMR SUBLIMINAL I hate these people so much. Notice also that this chart shows, at least for its time period, that Covid is not seasonal, even though CDC is trying to get us to believe that it is, presumably so they can piggyback on the existing institutional apparatus for injections.
Positivity
NOT UPDATED From Walgreens, July 17: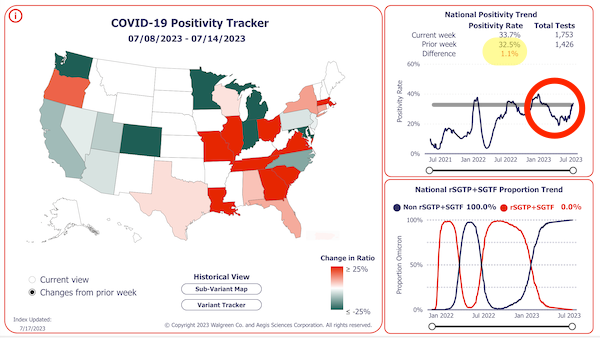 1.1%. Going up, though the absolute numbers are still very small relative to June 2022, say. Interestingly, these do not correlate with the regional figures for wastewater. (It would be interesting to survey this population generally; these are people who, despite a tsunami of official propaganda and enormous peer pressure, went and got tested anyhow.)
NOT UPDATED From CDC, June 26: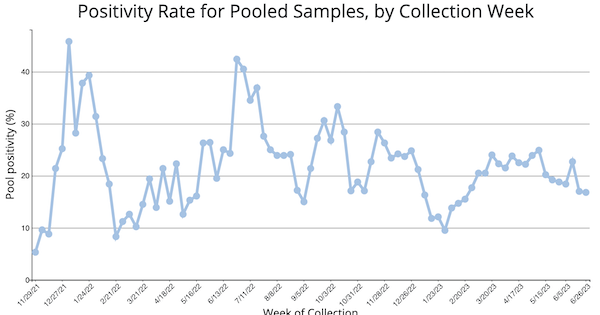 Lambert here: This is the CDC's "Traveler-Based Genomic Surveillance" data. They say "maps," but I don't see one….
Deaths
Iowa COVID-19 Tracker, July 19: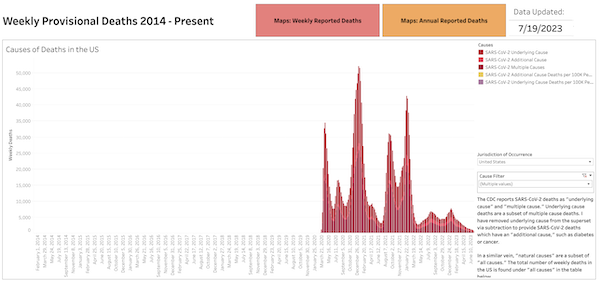 Lambert here: The WHO data is worthless, so I replaced it with the Iowa Covid Data Tracker. Their method: "These data have been sourced, via the API from the CDC: https://data.cdc.gov/NCHS/Conditions-Contributing-to-COVID-19-Deaths-by-Stat/hk9y-quqm. This visualization updates on Wednesday evenings. Data are provisional and are adjusted weekly by the CDC." I can't seem to get a pop-up that shows a total of the three causes (top right). Readers?
Total: 1,169,139 – 1,169,029 = 110 (110 * 365 = 40,150 deaths per year, today's YouGenicist™ number for "living with" Covid (quite a bit higher than the minimizers would like, though they can talk themselves into anything. If the YouGenicist™ metric keeps chugging along like this, I may just have to decide this is what the powers-that-be consider "mission accomplished" for this particular tranche of death and disease).
Excess Deaths
The Economist, July 20: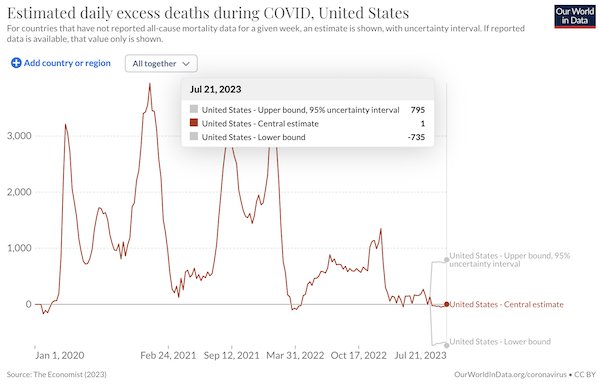 Lambert here: This is now being updated daily. Odd. Based on a machine-learning model. (The CDC has an excess estimate too, but since it ran forever with a massive typo in the Legend, I figured nobody was really looking at it, so I got rid it. )
Stats Watch
There are no official statistics of interest today.
* * *
Shipping: "'Big trouble': Yellow truck drivers ponder next moves amid potential bankruptcy" [Freight Waves]. "From the Great Recession to 2020, Yellow nearly went bankrupt four times. In each episode, the trucking giant was saved — thanks to concessions from lenders, the Teamsters union, the federal government or often all three. As a result, some of Yellow's 30,000 employees weren't too scared when the company began warning this summer that the end times were coming again. 'It's like crying wolf at this point,' Yellow mechanic Brian Atchely told FreightWaves earlier this month. Now — as a strike looms, customers begin to pull freight and the Teamsters union refuses to offer concessions — industry watchers are on alert that the trucking fleet may finally shutter. Ahead of a federal court hearing on Friday, Yellow said a work stoppage could force the company into a Chapter 7 liquidation bankruptcy proceeding. Truck drivers are grappling with the idea that they could lose their jobs. Some 22,000 Teamsters members work at Yellow. "
* * *
Today's Fear & Greed Index: 82 Extreme Greed (previous close: 80 Extreme Greed) [CNN]. One week ago: 80 (Extreme Greed). (0 is Extreme Fear; 100 is Extreme Greed). Last updated Jul 21 at 1:33 PM ET.
Zeitgeist Watch
Not a bad idea, but:
Lancaster, CA transformed its downtown in just 8 months by redesigning it's main street from a mini-highway to a tree-lined boulevard.

For the cost of just $11.5M, the project has generated $273M in economic output since 2010, creating 800 jobs, and nearly doubling tax revenue! pic.twitter.com/kS3E4dpjGq

— Coby (@Cobylefko) July 20, 2023
Lancaster is in California's high desert. I remember arriving there in a van in the evening, seeing a similar center-lane planting, hearing the sprinkler's go on, and thinking "Wait a minute…." I mean, this is the desert, right? So where's the water coming from? And will it always be available? Why not xeriscaping?
"Barbie's 'pornographic' origin story, as told by historians" [WaPo]. Of course [slaps forehead]. "It was 1956, the co-founder of Mattel and her teenage daughter stood outside a shop in Switzerland, transfixed by the window display: An 11.5 inch doll with a platinum ponytail, heavily lined eyes, and puckered lips, sitting on a rope swing. The doll, a German-made model marketed as Bild Lilli, was popular in that part of Europe at the time — generally considered a sex toy, or a gag gift for men. It's not clear that Ruth Handler — a business executive on vacation from her home in California — knew what Lilli was. It's not even clear among historians where the shop was: the popular Franz Carl Weber toy shop in Lucerne, a tobacco store or a bar. Regardless, Lilli did what she was designed for. She intrigued Handler, who took the doll back home and three years later introduced her Americanized doppelgänger: Barbie." • Well, at least not Klaus Barbie. There's that.
News of the Wired
"Nebraska study finds billions of nanoplastics released when microwaving containers" (press release) [Nebraska Today]. "Experiments have shown that microwaving plastic baby food containers available on the shelves of U.S. stores can release huge numbers of plastic particles — in some cases, more than 2 billion nanoplastics and 4 million microplastics for every square centimeter of container. Though the health effects of consuming micro- and nanoplastics remain unclear, the Nebraska team further found that three-quarters of cultured embryonic kidney cells had died after two days of being introduced to those same particles." • Oh.
* * *
Contact information for plants: Readers, feel free to contact me at lambert [UNDERSCORE] strether [DOT] corrente [AT] yahoo [DOT] com, to (a) find out how to send me a check if you are allergic to PayPal and (b) to find out how to send me images of plants. Vegetables are fine! Fungi and coral are deemed to be honorary plants! If you want your handle to appear as a credit, please place it at the start of your mail in parentheses: (thus). Otherwise, I will anonymize by using your initials. See the previous Water Cooler (with plant) here. From B Flat: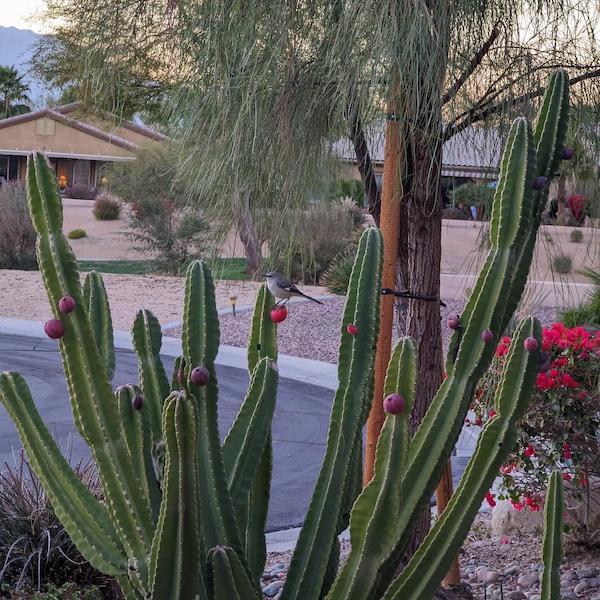 B Flat writes: "Being a black thumb from way back, I have no clue what type of cactus #1 is, it has odd flower buds the little bird is sitting on. This was taken Christmas week in Indio California." The green and red combination is very Christmas-y.
* * *
Readers: Water Cooler is a standalone entity not covered by the annual NC fundraiser. So if you see a link you especially like, or an item you wouldn't see anywhere else, please do not hesitate to express your appreciation in tangible form. Remember, a tip jar is for tipping! Regular positive feedback both makes me feel good and lets me know I'm on the right track with coverage. When I get no donations for five or ten days I get worried. More tangibly, a constant trickle of donations helps me with expenses, and I factor in that trickle when setting fundraising goals:
Here is the screen that will appear, which I have helpfully annotated: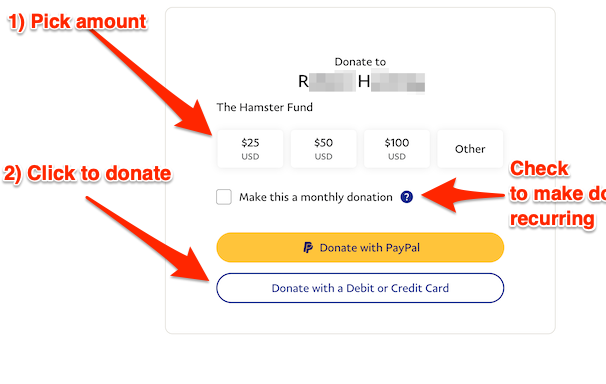 If you hate PayPal, you can email me at lambert [UNDERSCORE] strether [DOT] corrente [AT] yahoo [DOT] com, and I will give you directions on how to send a check. Thank you!