'Hot Money' Is Piling Up at Banks and It's Starting to Take a Toll Bloomberg
Why are interest rate rises not taming inflation? FT
Office landlords struggling for tenants are facing an even scarier predicament — zombie properties Insider
The multibillion-dollar lawsuits that could radically reshape how we buy and sell homes forever Insider
July Fourth Pre-Game Festivities
Celebrating the Fourth of July JSTOR Daily

#297 GETTYSBURG (Part the First) (podcast) Richard and Tracy Youngdahl. July 1–3. I highly recommend this enthralling, magisterial podcast. One factoid I learned from it: When the recently appointed General Meade arrived at the battlefield on the evening after the Confederate and Union armies had collided, the first thing he did was order a map of the ground to be made, and copies were distributed to all his commanders. Lee did no such thing.

How to keep your dogs calm during the fireworks on July 4 – from cuddles and treats to calming music and pheromone collars Daily Mail

Americans are down on morality, family and country Axios

The New 1970s Noah Smith, Noahpinion
The world's tallest flagpole. A tiny Maine town. An idea meant to unite people is dividing them AP
Roller coaster riders stuck upside down for hours at Wisconsin festival CBS
Climate
We're Building Things Based on a Climate We No Longer Live In Scientific American
Water
6 southern Colorado counties, facing drought and thirsty neighbors, move to block water exports Colorado Sun
#COVID19
Effectiveness of the Coronavirus Disease 2019 Bivalent Vaccine Open Forum Infectious Diseases. N = 51,017 employees of Cleveland Clinic. From the Abstract: "The bivalent COVID-19 vaccine given to working-aged adults afforded modest protection overall against COVID-19 while the BA.4/5 lineages were the dominant circulating strains, afforded less protection when the BQ lineages were dominant, and effectiveness was not demonstrated when the XBB lineages were dominant."

Viral persistence in children infected with SARS-CoV-2: current evidence and future research strategies (personal view) The Lancet. Literature review. From the Summary: "Our analysis suggests that in children, independent from disease severity, SARS-CoV-2 can spread systemically and persist for weeks to months."
China?
Beware a Chinese 'dollar avalanche' FT

Tax Havens Obscured at Least $1.4 Trillion of Foreign Investment in China Bloomberg. Handy chart:

U.S. Looks to Restrict China's Access to Cloud Computing to Protect Advanced Technology WSJ

China warns of 'multiple natural disasters' in July Channel New Asia
Japan gets UN nuclear watchdog's approval to discharge water from Fukushima disaster FT
Syraqistan
Israel launches largest military assault in West Bank in years FT. On the bright side, maybe Israel can sell some of the more successful weaponry to Ukraine.
European Disunion
New Not-So-Cold War
Really catapulting the propaganda:

Ukraine says Putin is planning a nuclear disaster. These people live nearby. WaPo:

Where's the kitten?

Ukrainian Nuclear Plant Is Just One of Innumerable Problems for Its Neighbors NYT

IAEA: Zaporizhzhia nuclear plant reconnected to backup power line Kyiv Independent. So now the fuel rods can be moved? Out in the open?

* * *

Russian forces are on the offensive near Bakhmut and Marinka, 30 combat engagements occurred today – General Staff report Ukrainska Pravda. Suburbs of Donetsk.

Every Block Is Another Battle: Ukraine's Latest Eastern Stand NYT. Marinka.

* * *

Ukraine intensively prepares for Vilius summit – Foreign Minister Ukrainska Pravda. Moar cowbell.

Russian military says it fended off Ukrainian drone attack on Moscow AP. Also moar cowbell.

* * *

Where Will All the Wagner Group Mercenaries Go Now That Russia Has Exiled Their Leader? RAND

Putin's Corporate Takeover of Wagner Has Begun WSJ

Prigozhin appeals for public support as Wagner continues recruiting FT

The Wagner 'Coup' Was Staged by Putin—and the West Fell for It Newsweek

* * *

Foreign Minister Sergey Lavrov's interview with the Great Game programme on Channel One, Moscow, June 28, 2023 The Ministry of Foreign Affairs of the Russian Federation

John Mearsheimer—Leading International Relations Scholar—On US Power & the Darkness Ahead for Ukraine (interview) Glenn Greenwald, System Update:
Biden Adminstration
Biden nominates controversial former Trump-appointee to Public Diplomacy Commission CNN. Elliott Abrams.

Who is National Security Advisor Jake Sullivan, the man running US foreign policy? Al Mayadeen

The Sun Sets On Richard N. Haass's CFR Career Simplicius the Thinker(s)
The Supremes
What to Know About a Seemingly Fake Document in a Gay Rights Case NYT
Gunz
Massachusetts is not the gun-control beacon it once was The Economist. Masshole Firearms (!).
Healthcare
'Public health has lost the war': States legalize raw milk, despite public health warnings USA Today
Digital Watch
Everything Continues to Be Going Just Great at Twitter Daring Fireball:

From its inception through this weekend, Twitter has been like blogging, insofar as tweets being public. You visit the URL for a tweet, you see the tweet. Now it's a walled garden, like most of Facebook, available only to logged-in users. I suspect this change will prevent the Internet Archive from caching tweets, too. That just sucks.

The real story is not the rate limiting despite what, no doubt following Musk's lead, the tech pack journalism opines. No, the real story, as I urge here, is that Musk is turning Twitter into a walled garden, by not allowing anyone to read tweets, and breaking embeds. And nobody is saying that's temporary, unlike the rate limiting (not well-defined and in any case not universally effective).

Burning Down The House The Defector. Also well worth a read.

Meta's 'Twitter Killer' App Is Coming NYT. "Meta remains the most credible competitor to Twitter, with deep pockets and an audience of more than three billion people who use Facebook, Instagram or its other apps. Other platforms trying to capitalize on Twitter's weakness — such as Tumblr, Nostr, Spill, Mastodon and Bluesky — are all much smaller than Meta." Facebook is a rotting corpse. Instagram is visually-oriented, Twitter is text-based. I don't see why users would move, or even add on. I think this new venture will go badly for The Zuckerberg™, and that makes me happy.

* * *

Will AI Change Our Memories? Kottke.org. Yikes.
Supply Chain
UN body discusses potential for deep sea mining, permits may be coming soon FOX
Zeitgeist Watch
Class Warfare
Report reveals extent of illegal fees for seafarer recruitment Splash 247
Antidote du jour (via):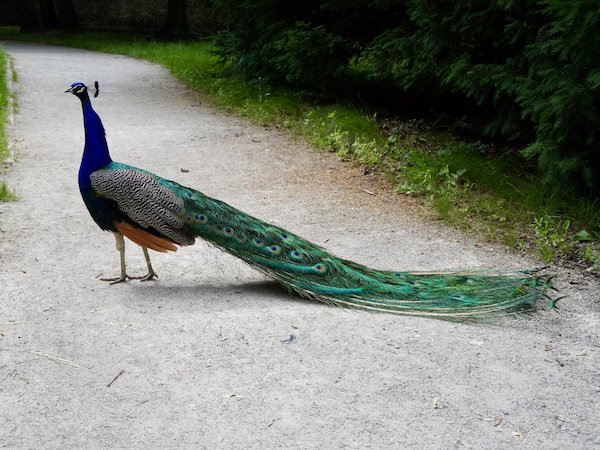 Bonus antidote:
Peacock showing off.. 🦚 pic.twitter.com/kRG1QYeazD

— Buitengebieden (@buitengebieden) July 3, 2023
See yesterday's Links and Antidote du Jour here.