By Lambert Strether of Corrente.
It was a slow Saturday night, and an even slower news day, so I thought I'd write up something quick and easy. Naturally, I thought at once of Covid brain damage, since there are some interesting studies that have come out recently. First, I'll present excerpts from three recent Lancet studies on the brain, Covid, and cognitive impairment, plus a fourth from the Journal of Neurology on Covid and executive function. Then, I'll discussion one aspect of cognitive impairment: failures in social cognition. I will engage in florid speculation on possible effects of these failures. Let me begin by caveating that studying the effects of Covid on cognition isn't especially mainstream. Ed Yong:
For example, [Joanna Hellmuth, a neurologist at UC San Francisco] noted that in her field of cognitive neurology, "virtually all the infrastructure and teaching" centers on degenerative diseases like Alzheimer's, in which rogue proteins afflict elderly brains. Few researchers know that viruses can cause cognitive disorders in younger people, so few study their effects. "As a result, no one learns about it in medical school," Hellmuth said. And because "there's not a lot of humility in medicine, people end up blaming patients instead of looking for answers," she said.
This has certainly been the case with Long Covid, and may well be the case with cognitive dysfunction as well (which is Post-, but not necessarily Long Covid). To the studies:
1) The Lancet, "Where do viruses hide in the human body?, July 4, 2023:
Virus particles often hide in "immunoprivileged sites" around the human body, also sometimes called sanctuary sites, that our immune systems don't monitor or protect as closely as the rest of our bodies. These include the brain, spinal cord, pregnant uterus, testes, and eyes, for which damage by immune cells would be highly problematic…. Whole viruses, also called virions, comprise either RNA or DNA surrounded by a protein coat. Those that persist in sanctuary sites can continue gradually infecting the cells around them. There they hijack the host cell(s) to make copies of themselves.

A low level of immune activity in sanctuary sites usually keeps the viruses under control without killing the cells. And sometimes—especially outside sanctuary sites—the immune system can clear the virus but leave its genetic material behind to reproduce later, known as a 'latent' virus. For example, antibodies in the brain may suppress viral RNA production without harming infected neurons.

With SARS-CoV-2, Daniel Chertow, a critical care and infectious disease specialist at the US National Institutes of Health Clinical Center in Bethesda, Maryland, has found differences depending on where the virus is found…. Usually, explains Chertow, what you find in the lungs is more or less what you find elsewhere, but this wasn't always the case. "There was a variant in the brain that was distinct from what we found in the respiratory tract," he says. "That is suggestive that this virus has the potential to 'evolve' in different anatomic compartments."
Oh good.
[Where SARS-CoV-2 hides] is still being investigated. One study describes autopsies that found traces of SARS-CoV-2 RNA in the lymph nodes, small intestine, adrenal gland, heart, and brain, persisting for 230 days after symptom onset in one case….

"Previously the paradigm was that this was predominantly a respiratory virus," says Chertow, who led the study. ". It also has the potential to replicate in those different sites."
So let's translate that to "Covid finds a sanctuary in the brain," and — depending, I suppose, on how materialist one is — one might assume that neurological disorders can translate to cognitive effects.
2) The Lancet, "Mitigating neurological, cognitive, and psychiatric sequelae of COVID-19-related critical illness", July 17, 2023. Here is a handy diagram summarizing the possible "mechanistic pathways" involved: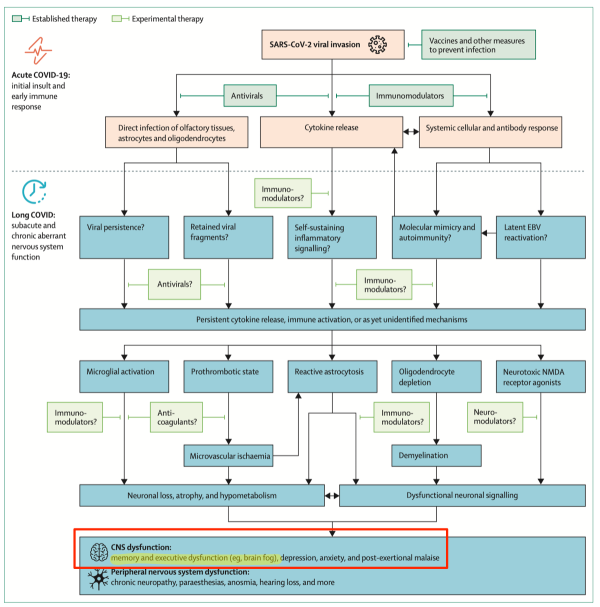 Regarding the distinction in the column at left between "Acute" and "Long," I don't think all sequelae, "Post" Covid are "Long," but I don't think that makes any difference to the mechanisms. (If you look at the way all the arrows come together at the single box at the bottom of the diagram, you can see that we really don't know very much.)
3) The Lancet, "The effects of COVID-19 on cognitive performance in a community-based cohort: a COVID symptom study biobank prospective cohort study", July 21, 2023. N = 3335:
Persistent cognitive impairment and cognitive deficits after SARS-CoV-2 infection in comparison to individuals without infection have been reported from both subjective self-reported survey and objective assessments of cognitive functioning….

In this study, we used a validated cognitive assessment tool, with prospective self-report symptom assessment, and retrospective reflective survey data from a large UK voluntary cohort, the COVID Symptom Study Biobank, to address the following questions: 1) Is COVID-19 associated with cognitive performance? 2) Do symptom duration and ongoing symptoms affect any observed associations between COVID-19 and cognitive performance? 3) Do any associations between COVID-19 and cognitive performance change over time?…
Spoiler: Yes, no, and not for the better.
In summary, individuals with ≥12 weeks symptoms following SARS-CoV-2 infection in the first year of the pandemic had detectable deficits in cognitive accuracy. Those with ongoing symptoms at initial testing did not show cognitive recovery at follow-up 9 months later. The population infected in 2020 with ongoing symptoms, to whom this result is most likely to apply, is sizeable—UK Office for National Statistics estimated that as of January, 2023, 687,000 in the UK were experiencing self-reported long COVID (defined as having ongoing symptoms at more than 4 weeks since infection) after a first infection at least two years previously. The scale of deficits we observed may have detrimental impacts on quality-of-life and daily functioning at an individual level as previously reported, as well as socio-economic impacts on society more broadly due to both a reduced capacity to work and an increased need for support. With infrequent and inconsistent identification of long COVID in electronic health care records, this work calls for renewed efforts to identify those affected by ongoing symptoms following SARS-CoV-2 infection. Our results highlight the importance of assessing the ongoing element of long COVID definitions, which appears to be a better predictor of cognitive impairment due to COVID-19 than symptom duration.
(Supporting, then, the "unfathomable" framing so resolutely ignored by our famously free press.)
4) Journal of Neurology, "COVID-19 severity is related to poor executive function in people with post-COVID conditions," March 20, 2023. N = 109 healthy controls and 319 post-COVID individuals. From the Abstract:
Patients with post-coronavirus disease 2019 (COVID-19) conditions typically experience cognitive problems. Some studies have linked COVID-19 severity with long-term cognitive damage, while others did not observe such associations. This discrepancy can be attributed to methodological and sample variations. We aimed to clarify the relationship between COVID-19 severity and long-term cognitive outcomes and determine whether the initial symptomatology can predict long-term cognitive problems. Cognitive evaluations were performed on 109 healthy controls and 319 post-COVID individuals categorized into three groups according to the WHO clinical progression scale: severe-critical (n = 77), moderate-hospitalized (n = 73), and outpatients (n = 169).

The severe-critical group performed significantly worse than the control group in general cognition (Montreal Cognitive Assessment), (Digit symbol, Trail Making Test B, phonetic fluency), and ( test). Patients with severe COVID-19 exhibited persistent deficits in executive function.
The phrase "loss of executive function" caught my eye, because Yves has recently written about loss of executive function at the societal level. I don't know what happens when a dysfunctional assemblage of functional agents becomes an assemblage of dysfunctional agents[1], all in a very short time; I can't think of a historical precedent, though science fiction or horror films may have something to offer.
But the phrase that really caught my eye here was "social cognition (Reading the Mind in the Eyes test)", because one of the points I keep making in the mask wars with the smile goons is that masks don't cover the face, since the eyes, the windows of the soul, aren't covered. Here is a description of the "Reading the Mind in the Eyes" test:
The Reading the Mind in the Eyes Test consists of 36 photographs, each giving you four choices.

. You may feel that more than one word is applicable, but please choose just one word, the word which you consider to be most suitable. Before making your choice, make sure that you have read all four. Aim to do the task quickly and accurately—your accuracy and time taken are both scored.
The "Reading the Mind in the Eyes," then, is a test of the subject's theory of mind:
To a large extent, the human infant is socialized through the acquisition of a specific cognitive mechanism known as theory of mind (ToM), a term which is currently used to explain . Various neurodevelopmental disorders, such as autism spectrum disorders, attention deficit hyperactivity disorder, developmental language disorders, and schizophrenia, as well as acquired disorders of the right brain (and traumatic brain injury) impair ToM. ToM is a composite function, which involves memory, joint attention, complex perceptual recognition (such as face and gaze processing), language, executive functions (such as tracking of intentions and goals and moral reasoning), emotion processing-recognition, empathy, and imitation.
Interestingly, theory of mind functions at the collective, as well as the invididual, level. Fron PLOS One, "Reading the Mind in the Eyes or Reading between the Lines? Theory of Mind Predicts Collective Intelligence Equally Well Online and Face-To-Face." From the Abstract:
Recent research with face-to-face groups found that a measure of general group effectiveness (called "collective intelligence") predicted a group's performance on a wide range of different tasks. The same research also found that (an ability called "Theory of Mind" or "ToM"). Since ToM was measured in this work by a test that requires participants to "read" the mental states of others from looking at their eyes (the "Reading the Mind in the Eyes" test), it is uncertain whether the same results would emerge in online groups where these visual cues are not available. Here we find that: (1) a collective intelligence factor characterizes group performance approximately as well for online groups as for face-to-face groups; and (2) surprisingly, the ToM measure is equally predictive of collective intelligence in both face-to-face and online groups, even though the online groups communicate only via text and never see each other at all. This provides strong evidence that ToM abilities are just as important to group performance in online environments with limited nonverbal cues as they are face-to-face. It also suggests that the Reading the Mind in the Eyes test measures a deeper, domain-independent aspect of social reasoning, not merely the ability to recognize facial expressions of mental states.
Let us now advance from the firm ground of studies to airy speculation. I have two, the first on health care workers; the second on our foreign policy establishment.
On Health Care Workers. I can't find statistics on how many health care workers (HCWs) have been infected with Covid in the United States. It's safe to say "a lot," and "an even greater percentage than the general population." We can therefore assume that a substantial portion of HCWs have their social cognition impaired; they may be unable to form a theory of mind at all[1], or may lack the cues they are accustomed to responding to, and do not recognize they must seek new ones. Hence, "Let me see your smile!" — beside being, as we have often pointed out, an ugly power trip — may in fact be a pathetic sign of lost social cognition, as HCWs fruitlessly search the masked face for cues to the mind of the other that they know must be there, behind the blank. So perhaps I should be more charitable.
On the Foreign Policy Establishment. Negotiation — something one at least expects The Blob to perform, even if intermittently — involves theory of mind reasoning. From "What's on Your Virtual Mind?
Mind Perception in Human-Agent Negotiations," Association for Computing Machinery, 2019:
Negotiation is a process by which different parties come to an agreement when their interests and/or goals regarding mutually shared issues may not be initially aligned. Also, negotiation may involve joint decision-making with others when one cannot fulfill one's interests and/or goals without their involvement. The concept of fairness as a component of morality can be estimated in negotiations through measurable components, such as negotiation outcomes (e.g., points per player) or process measures (e.g., how many offers a player made to the opponent). Thus, self- and other- regard is inherent to negotiations, encompassing complex socio-psychological processes. Negotiations therefore involve theory of mind reasoning; negotiators have to reason about each others' intentions, trade-offs, and outcomes as a cognitively taxing process. Especially if negotiators have to cooperate and compete, such as during a mixed-motive negotiation, they often rely on a higher-theory of mind.
Take Ukraine — please! It has to be said that our "theory of mind" for Vladimir Putin is incredibly degraded, he having been monstered for so many years (indeed, that very monstering is an electoral asset on the balance sheet of the Democrat Party). And it must also be admitted that there is very little prospect for negotiation between Putin and any Administration figures, partly because there's no positional overlap to be had, and also because the United States is not, in Putin's words, "agreement-capable" (that being his theory of mind for us). That said, Anthony Blinken (Secretary of State), Jake Sullivan (National Security Advisor), and Joe Biden (President) have all had Covid, Biden twice. Would our negotiators — individually or collectively — have sufficiently functional social cognition to be able to recognize an opportunity for negotiation when it presented itself, let alone perform it successfully? A question to be asked, at the very least.
* * *
For the HCWs, I'm not unpleased to have a reason to be charitable. Not so, The Blob. Back in June 2022, I wrote:
A sociopathic elite is one thing, that we're used to; but a sociopathic elite with brain damage is quite another.
And the case for brain damage — ok, ok, "Cognitve Impairment" — is even stronger this year. Could be a bumpy ride. Stay safe out there!
NOTES
[1] Hence (?) the infantilization and empathetic failure we have so many anecdotes for, in volumes even greater than one would expect in a neoliberal political economy,