By Lambert Strether of Corrente.
Bird Song of the Day
Bobolink, 450 Fort Warwick Passage,Pocahontas, West Virginia, United States.
* * *
Look for the Helpers
MWB writes:
HRH and I drove to Prospect, NC to view Shangri-La, a folk art village labor of love fabricated of local white rock blasted by a retired tobacco farmer. He and his wife were childless and he built this for children. Sometimes I think we're not so bad.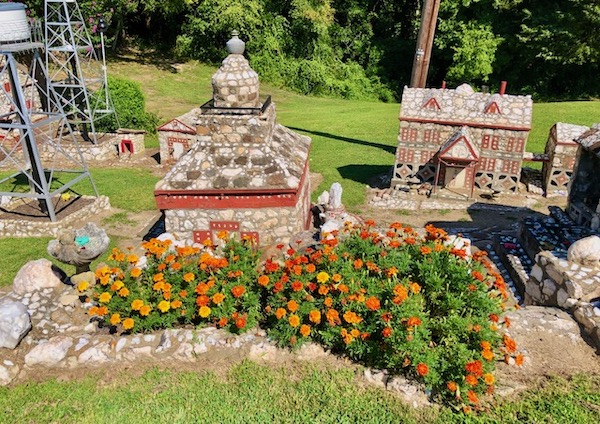 Nice marigolds, too!
Politics
"So many of the social reactions that strike us as psychological are in fact a rational management of symbolic capital." –Pierre Bourdieu, Classification Struggles
The Constitutional Order
Two households, both alike in dignity,
In fair Verona, where we lay our scene,
From ancient grudge break to new mutiny,
Where civil blood makes civil hands unclean. –William Shakespeare, Romeo and Juliet

Shakespeare says the two households are "alike" in dignity, but he doesn't say how much dignity they actually have. If Verona's households are like our parties, the answer is "not much."

* * *

"The Sweep and Force of Section Three" [William Baude and Michael Stokes Paulsen, University of Pennsylvania Law Review]. I highly recommend this piece (and the ensuing discussion at NC, starting here). As a former English major and a fan of close reading, I'm not averse to "originalism," of which Baude and Paulsen provide a magisterial example, in the sense that understanding the law as a text must begin with understanding the plain, public meaning of the words used when the text was written. That's how I read Shakespeare, or Joyce, so why not the Constitution? Just as long as understanding doesn't end there! In any case, I'm working through it. One thing I notice is that there do seem to have been rather a lot of rebellions and insurrections, not just the Civil War. To me, this is parallel to one lesson I drew from Mike Duncan's Revolutions podcast (episode 1): There are rather a lot of revolutions, too. Alert reader Pensions Guy summarizes Baude and Paulsen as follows:

The authors go through an exhaustive textual and originalism analysis of Section Three, and their Federalist Society leanings do not deter them from reaching their conclusion that officials in every State who are charged with determining candidate qualifications should conclude that Donald Trump is disqualified from being on ballots because of the oath he took on Inauguration Day 2017 and subsequently violated through his role in the insurrection that took place on January 6, 2021.

Taking "insurrection" as read (I need to do more reading), here is another aggregation on Section Three.

* * *

"This Week Inside the Big Tent" [Brian Beutler, The Big Tent]. "Less than a week after the insurrection, the appellate advocate Deepak Gupta and I published an early article in the New York Times on the promise of the 14th Amendment option and suggested a few remedies—an act of Congress, or clever litigation, or a combination of the two." Yes, the events of January 2 were instantly framed as an "insurrection." More: "In January of 2021, before Trump had faced his second impeachment, those options weren't yet ripe. Two-and-a half-years later, Trump is the runaway favorite to win the GOP presidential nomination for the third time, one of his best-polling challengers, former Governor Chris Christie of New Jersey, has demonstrated a rare willingness among Republicans to confront Trump over his corruption and lawlessness; he and many other leading Republicans have publicly committed themselves to the view that Trump is uniquely positioned among candidates to lose the 2024 election, . The issue is suddenly very ripe, and plucking it sooner than later would serve the interests of all Americans, including the former president, whose very freedom may be at stake." • Need to find the calendar on this…. 

"The Constitution bars Trump from holding public office ever again" [Donald K. Sherman, The Hill]. Last September, three New Mexico residents represented by my organization, Citizens for Responsibility and Ethics in Washington, won the first case in more than 150 years removing an elected official from office based on participation in an insurrection. The court ruled that then-New Mexico County Commissioner Couy Griffin had violated Section Three of the 14th Amendment by recruiting men for battle to join Trump's ""wild"" effort to overturn the election Jan. 6, normalized violence and breached police barriers as part of the weaponized mob that allowed others to overwhelm law enforcement and storm the Capitol. Griffin's removal marked the first case at the federal or state level concluding that what occurred Jan. 6 was an insurrection. In Griffin's case, the court found that disqualifying officials under Section Three of the 14th Amendment does not conflict with the First Amendment right to protest. It also rebuffed attempts by Griffin to conflate Jan. 6 with Black Lives Matter protests… ." • Appparently, this particular NGO has been laboring in the vineyard for some time. See also 2023's "DisqualifIed: The Case for Donald Trump's Disqualification under the Fourteenth Amendment" (PDF).
Biden Administration
"Biden's fall Covid vaccine rollout for the uninsured won't include pharmacies at first" [Politico]. "The Biden administration's effort to provide free Covid-19 vaccines to the uninsured will not start at retail pharmacies until mid-October, weeks after the government plans to make an updated version of the shot available to the broader public. The gap in timing, which comes as Covid hospitalizations have ticked up in recent weeks, means that millions of Americans without health coverage will not be able to immediately get a no-cost vaccine at popular places like CVS and Walgreens, even as it will be widely available for those who have insurance." • Stochastic eugenics, good job. See Rule #2.
2024
Time for the Countdown Clock!

"Donald Trump calls off press conference where he said he would share report on Georgia election fraud claims" [Politico]. "Former President Donald Trump will no longer hold a news conference nor release a supposed extensive report that he previously said would clear him and his allies of wrongdoing in the wake of his latest indictment by a Georgia grand jury, he said on Thursday. 'Rather than releasing the Report on the Rigged & Stolen Georgia 2020 Presidential Election on Monday, my lawyers would prefer putting this, I believe, Irrefutable & Overwhelming evidence of Election Fraud & Irregularities in formal Legal Filings as we fight to dismiss this disgraceful Indictment by a publicity & campaign finance seeking D.A., who sadly presides over a record breaking Murder & Violent Crime area, Atlanta. Therefore, the News Conference is no longer necessary!' Trump wrote in a Truth Social post on Thursday evening." • Hmm. This implies that Trump's lawyers were able to stuff him back into his box. There's a first time for everything! (And, if so, Trump has the lawyers he needs.)

"Trump requests April 2026 start for election fraud trial" [Axios]. "Lawyers for former President Trump requested an April 2026 start date for the trial on his alleged efforts to overturn the 2020 election, according to a Thursday court filing. Why it matters: The request in the case brought by special counsel Jack Smith comes as the Republican presidential primary front-runner faces a collision course between his mounting court cases and his 2024 campaign."

"Americans are divided along party lines over Trump's actions in election cases, AP-NORC poll shows" [Associated Press]. "The poll from The Associated Press-NORC Center for Public Affairs Research, which was conducted before Monday's charges in the Georgia case, also shows that about half of Americans — 53% — approve of the Justice Department indicting Trump over his efforts to remain in office after losing the 2020 election. The poll finds 85% of Democrats approve of the criminal charges brought Aug. 2 by Special Counsel Jack Smith, compared with 47% of independents and just 16% of Republicans. Overall, 3 in 10 Americans disapprove, including about two-thirds of Republicans."

"Election workers who face frequent harassment see accountability in the latest Georgia charges" [Associated Press]. "Tonya Wichman has overseen elections in a rural Ohio county for eight years and hasn't experienced any significant problems with voting or counting the ballots. But that doesn't mean no big worries at all. What does concern her is the frequent harassment, intimidation and even physical threats she and her staff have been receiving since the 2020 election. It got so bad ahead of the 2022 midterms that her staff got police protection when leaving or coming to the office…. Election worker intimidation is one key element of the conspiracy alleged in the Georgia case. Tuesday's indictment alleges that several of the defendants falsely accused Fulton County election worker Ruby Freeman of committing election crimes and says some defendants traveled from out of state to harass and intimidate her."

"Trump's Toast, Folks" [CATO Institute]. The Georgia indictment is a bombshell—the equivalent of a Texas Hold'em poker player shoving their entire stack of chips into the middle of the table and declaring, ""All in."" In sum, the Georgia indictment alleges that Trump orchestrated a sprawling criminal conspiracy (or ""enterprise,"" in the language of the indictment and Georgia's state RICO statute) involving more than 20 named and unnamed co‐​conspirators ranging across half‐​a‐​dozen states for the purpose of unlawfully changing the result of the November 2020 presidential election. There is nothing subtle or nuanced about this indictment—in effect, it accuses Donald Trump, Rudy Giuliani, Mark Meadows, John Eastman, Jeffrey Clark, Sidney Powell, and a dozen others of staging an unsuccessful coup. If the case goes to trial, which seems likely, the jury will either believe that characterization or they will not. I think they will, for three reasons. 1. Trump's disdain for truth. America has seen its fair share of lying politicians, but Donald Trump is in a class of his own…. 2. Trump's disdain for process. Again, Donald Trump doesn't see the world the way normal people do. Instead of institutions to be respected and rules to be followed, he sees marks to be gulled and systems to be gamed—emphatically including elections and trials." • And this is the interesting argument:

3. Complexity. The third reason Trump will be convicted in one or more of the cases against him is this: complexity. Litigation is a complicated process featuring an often mind‐​numbing interplay of procedural rules, substantive laws, court filings, documents, discovery, fact witnesses, expert witness, and a constant procession of unforeseen twists and turns that evoke the maxim that no plan survives contact with the enemy. And that complexity multiplies geometrically with the number of related proceedings going on at the same time, which means that Trump's legal teams will find it nearly impossible to coordinate across all four of the ongoing prosecutions in New York, Florida, DC, and now Georgia. But it's even worse than that. Litigation complexity is hard enough to manage with a client who plays it straight, both with the court and with their own counsel. But Trump doesn't play it straight—he never has, and it appears he's constitutionally incapable of doing so. So he will lie: in court, in public, on social media and—fatally—to his own lawyers. Simply put, Trump's defense teams will not be able to keep track of all the different positions their client has taken (or directed his various lawyers to take in different proceedings), and eventually things will come completely unraveled.

Hubris, meet nemesis?

* * *

* * *

"Then-VP Joe Biden used PSEUDONYM 'Robert L. Peters' in emails to Hunter about Ukraine business: GOP ramps up Biden family corruption probe and demands National Archives hand over records" [Daily Mail]. "Republicans are seeking records revealing Joe Biden's use of pseudonyms to discuss his activities related to Ukraine with his son Hunter during his time as vice president. They specifically want an un-redacted document that indicates that then-Vice President Biden took a call with the president of Ukraine, Petro Poroshenko, on May 27, 2016. Republicans say the document was emailed to 'Robert L. Peters' which is 'a pseudonym' the House Oversight Committee has 'identified as then Vice-President Biden,' a letter obtained by DailyMail.com states." • The record request:

NEW: Rep. James Comer has uncovered a pseudonym that Joe Biden used as vice president that was applied in an email with his son Hunter Biden.

Time for another Trump indictment?

Comer recently revealed Biden's pseudonym, Robert L. Peters, which was used in an email with Hunter… pic.twitter.com/U2IPX1YXeh

— Collin Rugg (@CollinRugg) August 17, 2023

"Column: An unlikely solution to the problems with Harris and Feinstein" [Los Angeles Times]. "Biden apparently selected Harris largely because of an expected comfort level based on her close working relationship with his late son, Beau, when they were both state attorneys general." • Ah. Since the apple doesn't fall far from the tree, perhaps Beau saw in Harris what Willie Brown saw in Harris.

"Trump's (Still) the One" [John Nichols, The New Republic]. "Even allowing for the unlikely possibility of jury verdicts and jail sentences before next summer, the Republican National Convention is shaping up as one big Trump rally. If anything, Trump's troubles with the law have solidified his grip on a Republican Party that he's remade in his own image—complete with a persecution complex that sees criminal complaints as evidence that the 'deep state' is 'weaponized' against 'the greatest of all presidents.'" Will Christopher Steele please pick up the white courtesy phone? More: "Biden and his allies must lead with attention-grabbing plans to make health care a right, raise wages, guarantee abortion rights, cut education costs, and save the planet—and to tax the rich to pay for a strengthened social safety net. Unfortunately, that's not the president's natural inclination. So he needs a push. The good news is that the State Democratic Party Progressives Network and a coalition of groups such as Progressive Democrats of America have begun organizing to elect progressive delegates and to write a visionary platform for the 2024 Democratic National Convention." • Oh, come on.

* * *

"DeSantis debate memo urges him to 'hammer' Ramaswamy and defend Trump" [Axios]. "[The memo] was posted to the website of Axiom Strategies, which works for the DeSantis-aligned Never Back Down super PAC, "[It] lists four 'overarching goals' for DeSantis during the debate. • Attack President Biden and the media • 'Hammer' Vivek Ramaswamy, with 'Fake Vivek' suggested as a nickname • Share his own 'positive vision' • Defend former President Trump." • Hilariously, super PACs aren't allowed to co-ordinate with campaigns, so it looks like Axiom leaked the memo instead. I agree Ramaswamy is a problem for DeSantis, but imitate Trump by inventing an insulting nickname? Voters want the real Trump, not an imitation. Anyhow, if DeSantis wants to go the "Fake Vivek" route, he'd better put on his elevator shoes, because otherwise he'll look dumb.

* * *

Asking for my vote:

Raising the minimum wage, ramping down fossil fuel extraction, defeating the Taliban, providing universal healthcare, achieving criminal justice for Black and Brown Americans, providing Americans with clean water, ending poverty, providing a a world class education for every… https://t.co/xZIrswFsX0

— Marianne Williamson (@marwilliamson) August 17, 2023

And my six hundred bucks.

"Hawaii's Broken Heart" [Marianne Williamson, Transform]. "Hawaii is ground zero for a form of economic imperialism. Hawaii did not come begging to become a state in the Union; she was made a US protectorate via a coup staged against her. How many Americans have sought refuge and healing in the enchanted land of Hawaii, only later to discover the historical shadows that lay beneath. Hawaii is a deeply sacred land – some say it's the heart center of the planet – and her heart has been wounded by the soulless economic overreach of everyone from Dole to Monsanto. Today, after the largest wildfire recorded in the U.S. in the last 100 years completely destroyed the town of Lahaina on the Western shores of Maui, shots were fired from the bow of the new colonialism – over gentrification. Real estate developers swooped in barely 24 hours after the fire to offer people who have lost everything – who are being given a mere $700 stipend per family plus assistance with filling out FEMA forms (from Katrina to East Palestine and now to Lahaina, it's clear our emergency disaster response systems are themselves a disaster) – to offer them enough to survive in the short term, but probably too little to ever return to where they lived before."
Democrats en Déshabillé
Patient readers, it seems that people are actually reading the back-dated post! But I have not updated it, and there are many updates. So I will have to do that. –lambert

I have moved my standing remarks on the Democrat Party ("the Democrat Party is a rotting corpse that can't bury itself") to a separate, back-dated post, to which I will periodically add material, summarizing the addition here in a "live" Water Cooler. (Hopefully, some Bourdieu.) It turns out that defining the Democrat Party is, in fact, a hard problem. I do think the paragraph that follows is on point all the way back to 2016, if not before:

The Democrat Party is the political expression of the class power of PMC, their base (lucidly explained by Thomas Frank in Listen, Liberal!). ; if the Democrat Party did not exist, the PMC would have to invent it. . ("PMC" modulo "class expatriates," of course.) Second, all the working parts of the Party reinforce each other. Leave aside characterizing the relationships between elements of the Party (ka-ching, but not entirely) those elements comprise a network — a Flex Net? An iron octagon? — of funders, vendors, apparatchiks, electeds, NGOs, and miscellaneous mercenaries, with assets in the press and the intelligence community.

Note, of course, that the class power of the PMC both expresses and is limited by other classes; oligarchs and American gentry (see 'industrial model' of Ferguson, Jorgensen, and Jie) and the working class spring to mind. Suck up, kick down.

* * *

"An Insurance Policy for Democrats" [Ruy Teixeira, The Liberal Patriot]. "States of Change simulations show that, all else equal, a strong white working class surge in 2024 would deliver the election to the GOP. Even a small one could potentially do the trick. In an all-else-equal context, I estimate just a one-point increase in Republican support among the white working class and a concomitant one-point decrease in Democratic support (for a 2-point margin swing) would deliver Arizona, Georgia and Wisconsin (and the election) to the Republicans. Make it a 2-point increase in GOP support and you can throw in Pennsylvania too. So an insurance policy to prevent such a swing is in order. The problem: these are very unhappy voters." Says the consultant whose practice did more than any other to enable Democrats to abandon them. Be that as it may, Teixeria is a pro: "When you look at the actual population of voters and how racial resentment was distributed in 2016, as Grimmer and Marble did, it turns out that the racial resentment explanation simply does not fit what really happened in terms of voter shifts. A rigorous accounting of vote shifts toward Trump shows instead that they were primarily among whites, especially low education whites, with moderate views on race and immigration, not whites with high levels of racial resentment. In fact, Trump actually netted fewer votes among whites with high levels of racial resentment than Mitt Romney did in 2012… So much for the racial resentment explanation of Trump's victory. Not only is racial resentment a misnamed variable that does not mean what people think it means, it literally cannot account for the actual shifts that occurred in the 2016 election…. Such understanding was nowhere to be found, however, in Democratic ranks. The racism-and-xenophobia interpretation quickly became dominant, partly because it was in many ways simply a continuation of the approach Clinton had taken during her campaign and that most Democrats accepted. Indeed, it became so dominant that simply to question the interpretation reliably opened the questioner to accusations that he or she did not take the problem of racism seriously enough. We are still living in that world…. Democrats desperately need that insurance policy for 2024 and getting rid of these attitudes toward 40 percent of the electorate (much more in key states!) should be part of it. Think of it as a down payment on the 'de-Brahminization' of the Democratic Party." • I think the Democrats are about as likely to take this well-meant advice as MSNBC is likely to give Thomas Frank his own show.

"Circulation of former Cuomo aide's deposition sets off firestorm" [Syracuse.com (Bob)]. " Aides to former Gov. Andrew M. Cuomo have been circulating a transcript of a deposition last month of Ana Liss-Jackson, who was one of 11 women listed in a searing 2021 state attorney general's report that accused the former governor of engaging in a pattern of sexual harassment and inappropriate workplace conduct…. Liss-Jackson noted that she had never accused Cuomo of sexual harassment but that she later believed his conduct, which included calling her 'sweetheart,' kissing her hand, touching her back and asking about her boyfriend, had been improper. 'I don't believe that the governor, to be clear, sexually harassed me,' Liss-Jackson said last month. 'It was on the heels of the 'MeToo' movement and there was a cultural shift around what was, and was not — what is and what is not — appropriate conduct in the workplace.' Liss-Jackson said her intention in speaking to reporters two years ago was to help buttress the more serious allegations being leveled against Cuomo by other women. But she also implied that the way her story was reported in the Wall Street Journal and Gothamist had not been what she hoped to convey. She did not say those stories were inaccurate, only that they 'didn't fully, accurately characterize what I was trying to get across' and that in some news reports her comments were 'taken out of context.'" • Yes, what brought Cuomo down was #MeToo — remember them? — and not slaughtering thousands of elders in nursing homes. It's a funny old world.

"Sen. Dianne Feinstein claims 'financial elder abuse' in lawsuit over husband's estate" [NBC]. "Sen. Dianne Feinstein, D-Calif., is suing the trustees of a fund set up by her late husband, accusing them of committing 'financial elder abuse' by refusing to pay the millions of dollars she's due. The suit was filed in San Francisco Superior Court last week by Feinstein's daughter, Katherine Feinstein, who was given 'a limited durable power of attorney' over her mother's affairs in July.
Realignment and Legitimacy
"Inside the campaign to cancel sex ed" [Popular Information] • Is there evidence that we're any better at teaching sex than we are at teaching math, science, and reading and writing?
#COVID19
"I am in earnest — I will not equivocate — I will not excuse — I will not retreat a single inch — AND I WILL BE HEARD." –William Lloyd Garrison
Resources, United States (National): Transmission (CDC); Wastewater (CDC, Biobot; includes many counties; Wastewater Scan, includes drilldown by zip); Variants (CDC; Walgreens); "Iowa COVID-19 Tracker" (in IA, but national data). "Infection Control, Emergency Management, Safety, and General Thoughts" (especially on hospitalization by city).
Lambert here: Readers, thanks for the collective effort. To update any entry, do feel free to contact me at the address given with the plants. Please put "COVID" in the subject line. Thank you!
Resources, United States (Local): AK (dashboard); AL (dashboard); AR (dashboard); AZ (dashboard); CA (dashboard; Marin, dashboard; Stanford, wastewater; Oakland, wastewater); CO (dashboard; wastewater); CT (dashboard); DE (dashboard); FL (wastewater); GA (wastewater); HI (dashboard); IA (wastewater reports); ID (dashboard, Boise; dashboard, wastewater, Central Idaho; wastewater, Coeur d'Alene; dashboard, Spokane County); IL (wastewater); IN (dashboard); KS (dashboard; wastewater, Lawrence); KY (dashboard, Louisville); LA (dashboard); MA (wastewater); MD (dashboard); ME (dashboard); MI (wastewater; wastewater); MN (dashboard); MO (wastewater); MS (dashboard); MT (dashboard); NC (dashboard); ND (dashboard; wastewater); NE (dashboard); NH (wastewater); NJ (dashboard); NM (dashboard); NV (dashboard; wastewater, Southern NV); NY (dashboard); OH (dashboard); OK (dashboard); OR (dashboard); PA (dashboard); RI (dashboard); SC (dashboard); SD (dashboard); TN (dashboard); TX (dashboard); UT (wastewater); VA (dashboard); VT (dashboard); WA (dashboard; dashboard); WI (wastewater); WV (wastewater); WY (wastewater).
Resources, Canada (National): Wastewater (Government of Canada).
Resources, Canada (Provincial): ON (wastewater); QC (les eaux usées); BC, Vancouver (wastewater).
Hat tips to helpful readers: anon (2), Art_DogCT, B24S, CanCyn, ChiGal, Chuck L, Festoonic, FM, FreeMarketApologist (4), Gumbo, hop2it, JB, JEHR, JF, JL Joe, John, JM (10), JustAnotherVolunteer, JW, KatieBird, LL, Michael King, KF, LaRuse, mrsyk, MT, MT_Wild, otisyves, Petal (6), RK (2), RL, RM, Rod, square coats (11), tennesseewaltzer, Utah, Bob White (3). 
Stay safe out there!
* * *
Look for the Helpers
"UConn Road Trip to EPA Launches DIY Air Filter High-Tech Biochamber Testing" [UConn Today (TPH)]. "The national movement urging the use of the inexpensive, build-it-yourself ""Corsi-Rosenthal"" box air purifiers to easily remove unhealthy air particles from indoor community settings like classrooms and homes has been growing from the University of Connecticut to across the country – and now all the way to the U.S. Environmental Protection Agency's (EPA)  Homeland Security Division Laboratory for high-tech, advanced biochamber research testing of this device…. UConn is bringing for testing a Corsi-Rosenthal box air filter built specifically for the EPA assessment by a class of fifth graders at Commodore MacDonough STEM Academy in Middletown. It was decorated in June with Pride rainbows and the school's owl mascot. One of the fifth graders, Eniola Shokunbi, who wants to be the first female African American president of the United States when she grows up, wrote and mailed Creed a letter inviting UConn to her public school, which was built almost a century ago. The student wanted to have UConn's help to build these air filters to improve her school's indoor air quality, reduce her fellow students' risk of illness, and also run her own science experiment testing the effectiveness of the devices across classrooms by tracking sick absences. My class and I were amazed by your invention, and we wanted to see if we could try to make one ourselves,' wrote the nine-year-old in her letter. 'My school was built in 1925, and it could use some improvement. Your invention could help us with that. Would you be willing to share the plans of the Corsi-Rosenthal?'" • Hmmm…. 
Maskstravaganza
Beautifully done:

I finally got around to painting my daughter's mask. She LOVES it!
✨🪐🌙

The stickers are decoupaged on. It could definitely look cleaner, but I did my best, damn it! pic.twitter.com/vWA7bh6jV0

— Annie Gustin (@oldfshndanne) August 16, 2023
Censorship and Propaganda
"No, you don't have the 'August flu.' It's probably COVID" [Insider]. "Monitoring wastewater gives researchers a pretty good idea of whether COVID-19 or the flu is circulating in a community. Right now, the coronavirus is still being detected across nearly all of the testing sites in the United States sampled by Sanford and Emory University-backed initiative WastewaterSCAN. Samples of the virus have been gradually on the rise since the beginning of the summer, potentially thanks to the new 'Eris' coronavirus variant. Data from the Centers for Disease Control and Prevention (CDC) also shows that hospitalizations from COVID-19 are up 12.5% in the past week, and deaths are up 10%. On the other hand, the flu has been almost nonexistent across testing sites since the beginning of June."

"The psychology behind people acting like everything is normal again" [Health Solutions Group Australia]. "With the easing of COVID-19 restrictions, have you noticed people acting like everything has gone completely back to 'normal'? Or do you yourself get the feeling that COVID-19 is over? Despite knowing that it is definitely far from over, many of us have started to act like there is no longer a threat. Walking down the street now, you might see way more people than before and many of them not social distancing. We all know the pandemic isn't over, so why do we act and feel this way? One part of the answer to this could be that we are experiencing what psychologists refer to as 'groupthink'. To put it simply, groupthink is where we end up acting like others without really thinking about whether we agree with what they're doing or thinking. We do this because we want to 'fit in' with the majority and we look at how others are behaving for clues on how we should behave. Research has shown that it's pretty powerful stuff.  One famous series of studies in psychology known as the Asch conformity experiments, put a person in a room with seven other people (who were all part of the study). The person being tested thought that they were all there to complete a vision test, but really it was to see if that one person would change their answers based on what the group said. They were shown a line and then shown 3 other comparison lines and they had to pick which one matched the length of the first and say it out loud. The thing is, even when it was totally obvious that the rest of the group were wrong, about 75% of people still gave the wrong answer at least once, just because it's what everyone else was saying." • I think "groupthink" is simpler than possible (what is a "group?"). But "Asch conformity experiments" is something to file away.
Science Is Popping
"Surprise COVID discovery helps explain how coronaviruses jump species" [Phys.org]. "Unexpected new insights into how COVID-19 infects cells may help explain why coronaviruses are so good at jumping from species to species and will help scientists better predict how COVID-19 will evolve. Throughout the pandemic, there has been much discussion of how COVID-19 infiltrates cells by hijacking a protein called ACE2 found on human cells. But the new research from the School of Medicine reveals that ACE2 isn't required for infection. Instead, the virus has other means it can use to infect cells…. 'The virus that causes COVID-19 uses ACE2 as the front door to infect cells, but we've found that if the front door is blocked, it can also use the back door or the windows,' said researcher Peter Kasson, MD, Ph.D., of UVA's Departments of Molecular Physiology and Biomedical Engineering. 'This means the virus can keep spreading as it infects a new species until it adapts to use a particular species' front door. So we have to watch out for new viruses doing the same thing to infect us.'…. 
"Something Awful"
Lambert here: I'm getting the feeling that the "Something Awful" might be a sawtooth pattern — variant after variant — that averages out to a permanently high plateau. Lots of exceptionally nasty sequelae, most likely deriving from immune dysregulation (says this layperson). To which we might add brain damage, including personality changes therefrom.

* * *
* * *
Case Data
From BioBot wastewater data, August 17: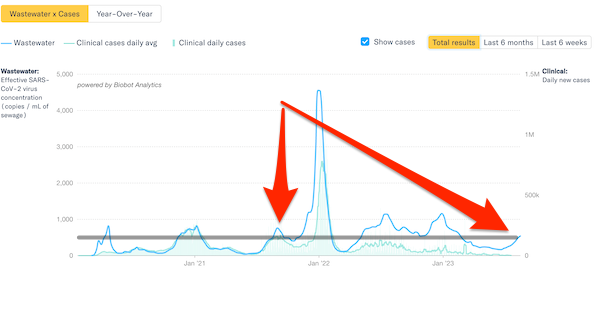 Lambert here: Happy memories of tape-watching days! Closing in on a Trump-era surge level; Biden's, of course, are higher. It will be interesting to see what happens when schools open up. I would like to congratulate the Biden administration and the public health establishment, the CDC especially, for this enormous and unprecedented achievement. And a tip of the ol' Water Cooler hat to the Great Barrington goons, whose policies have been followed so assiduously! A curious fact: All of Biden's peaks are higher than Trump's peaks. Shows you what public health can do when it's firing on all eight cylinders! Musical interlude. NOTE I'm not happy that Biobot can't update this data more frequently. 
Regional data: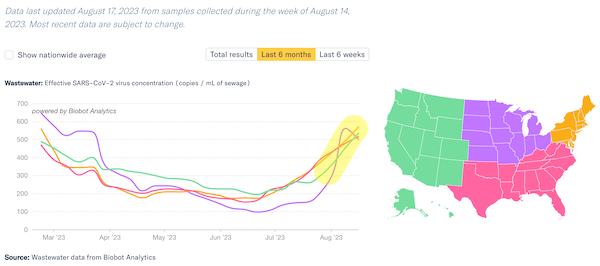 Backward revisions. Interestingly, the upswing begins before July 4, which neither accelerates nor retards it.
Regional variant data, August 19: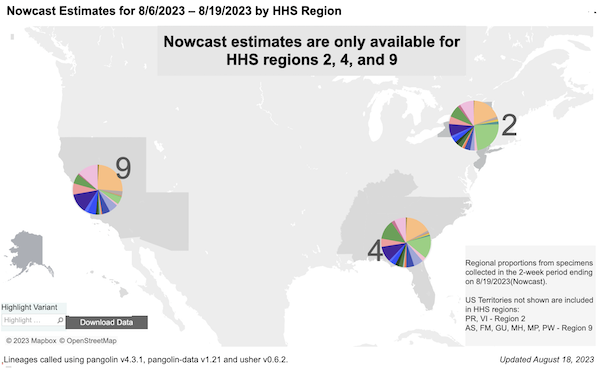 EG.5 (the orange pie slice) still seems evenly distributed. Sadly, the Midwest data is not available, so we can't infer anything about the Midwest surge and any variant(s), one way or the other. 
Variants
From CDC, August 19: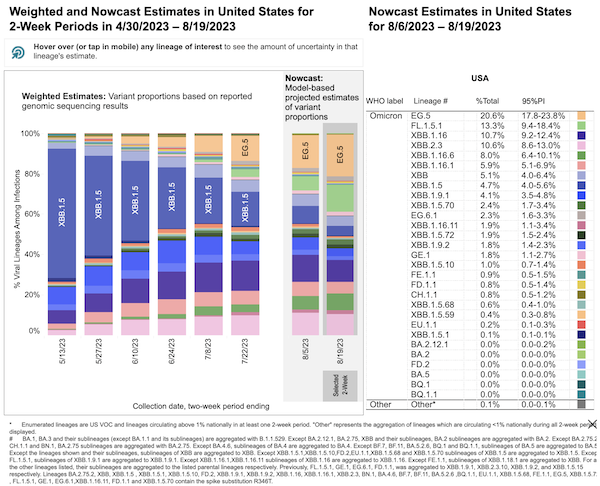 Lambert here: Top of the leaderboard: EG.5 ("Eris"). I'm not highlighting the BA.2's because the interactive version shows that these BA.2's been hanging around at a low level for months.
From CDC, August 5: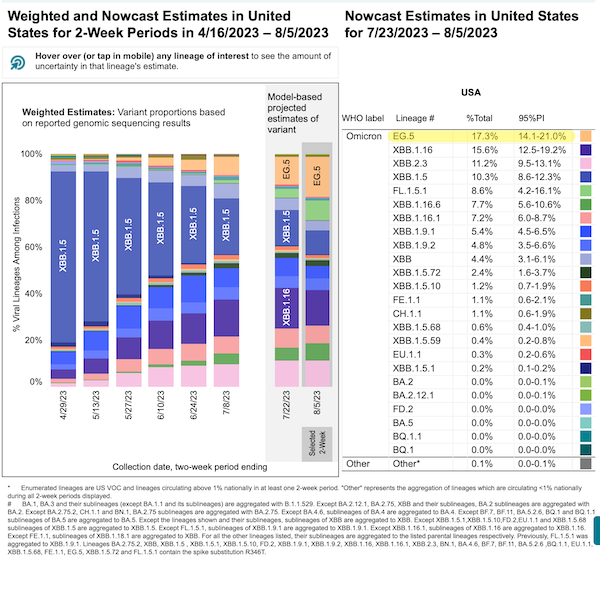 Lambert here: Not sure what to make of this. I'm used to seeing a new variant take down the previously dominant variant. Here it looks like we have a "tag team," all working together to cut XBB.1.5 down to size. I sure hope the volunteers doing Pangolin, on which this chart depends, don't all move on the green fields and pastures new (or have their access to facilities cut by administrators of ill intent).
CDC: "As of May 11, genomic surveillance data will be reported biweekly, based on the availability of positive test specimens." "Biweeekly: 1. occurring every two weeks. 2. occurring twice a week; semiweekly." Looks like CDC has chosen sense #1. In essence, they're telling us variants are nothing to worry about. Time will tell.
Covid Emergency Room Visits
NOT UPDATED From CDC NCIRD Surveillance, August 12: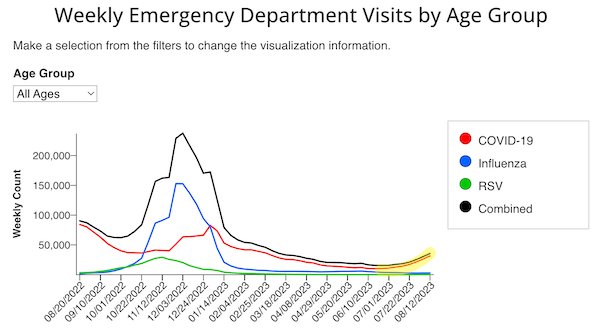 Lambert here: Increase is even more distinct. (The black line is "combined", but it is easy to see that Covid, the red line, is driving everything.)
NOTE "Charts and data provided by CDC, updates Wednesday by 8am. For the past year, using a rolling 52-week period." So not the entire pandemic, FFS (the implicit message here being that Covid is "just like the flu," which is why the seasonal "rolling 52-week period" is appropriate for bothMR SUBLIMINAL I hate these people so much. Notice also that this chart shows, at least for its time period, that Covid is not seasonal, even though CDC is trying to get us to believe that it is, presumably so they can piggyback on the existing institutional apparatus for injections.
Hospitalization
I hate this metric because the lag makes it deceptive. Nevertheless, here's bellwether New York City, August 17: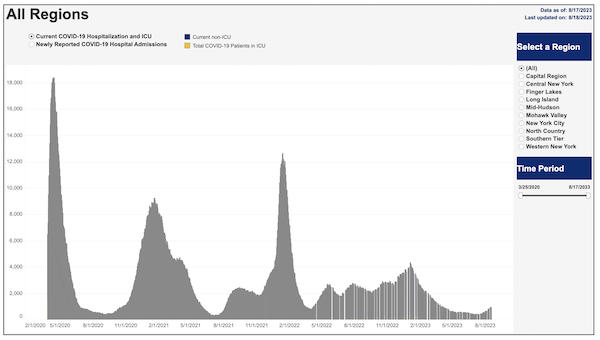 Could be worse, and doubtless will be. But how much worse?
Positivity
NOT UPDATED From Walgreens, August 14: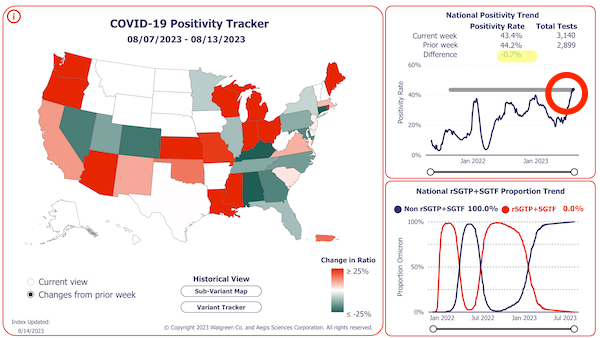 -0.7%. A pause here, too? Interestingly, people are citing to this, too, as well as Biobot. Vertical-ish, though the absolute numbers are still very small relative to June 2022, say. Interestingly, these do not correlate with the regional figures for wastewater. (It would be interesting to survey this population generally; these are people who, despite a tsunami of official propaganda and enormous peer pressure, went and got tested anyhow.)
From CDC, July 31: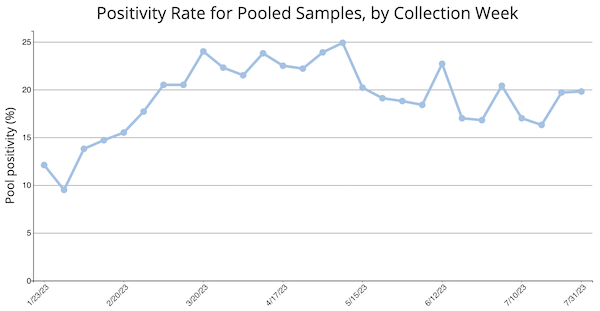 Lambert here: This is the CDC's "Traveler-Based Genomic Surveillance" data.
Deaths
NOT UPDATED Iowa COVID-19 Tracker, August 9: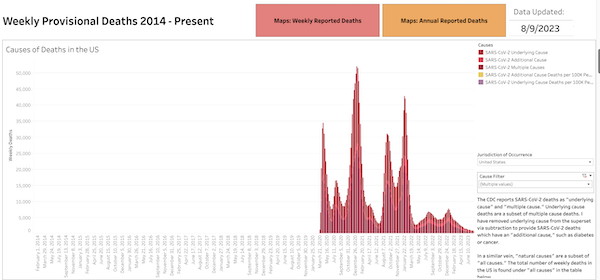 Lambert here: The WHO data is worthless, so I replaced it with the Iowa Covid Data Tracker. Their method: "These data have been sourced, via the API from the CDC: https://data.cdc.gov/NCHS/Conditions-Contributing-to-COVID-19-Deaths-by-Stat/hk9y-quqm. This visualization updates on Wednesday evenings. Data are provisional and are adjusted weekly by the CDC." I can't seem to get a pop-up that shows a total of the three causes (top right). Readers?
Total: 1,172,433 – 1,172,148 = 285 (285 * 365 = 104,025 deaths per year, today's YouGenicist™ number for "living with" Covid (quite a bit higher than the minimizers would like, though they can talk themselves into anything. If the YouGenicist™ metric keeps chugging along like this, I may just have to decide this is what the powers-that-be consider "mission accomplished" for this particular tranche of death and disease). 
Excess Deaths
The Economist, August 18: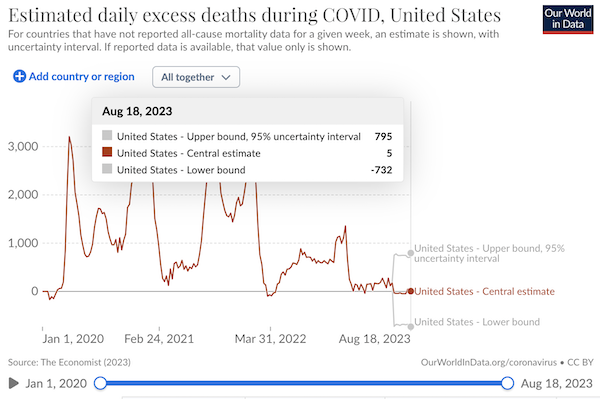 Lambert here:  Back to almost dailiy. Odd when it is, odd when it stops. Based on a machine-learning model. (The CDC has an excess estimate too, but since it ran forever with a massive typo in the Legend, I figured nobody was really looking at it, so I got rid it. )
Stats Watch
There are no official statistics of interest today.
* * *
Tech: Enshittification: It's the circle of life!
As I wrote in 2019, the streaming model was below cost predatory pricing, and now's the moment when they hike prices dramatically. https://t.co/kkkcZJ0pkf

— Matt Stoller (@matthewstoller) August 15, 2023
Streaming is Stage 3 enshittification. Doctorow:
Here is how platforms die: first, they are good to their users; then they abuse their users to make things better for their business customers; finally, they abuse those business customers to claw back all the value for themselves. Then, they die.
Today's Fear & Greed Index: 44 Fear (previous close: 56 Neutral) [CNN]. One week ago: 62 (Greed). (0 is Extreme Fear; 100 is Extreme Greed). Last updated Aug 18 at 1:50 PM ET. Mr. Market is starting to chew his hands.
The Gallery
Reminds me of woods in the Midwest in the summer:
#VanGogh of the Day: Undergrowth, Summer 1887. Oil on canvas, 33 x 46.5 cm. Centraal Museum, Utrecht. @CentraalMuseum pic.twitter.com/XAZJX8W79M

— Van Gogh: The Life (@VanGoghTheLife) August 18, 2023
And into the woods:
Farm in Normandy. Summer, 1882 https://t.co/d3GQSCtyp8 pic.twitter.com/nUg1dNXdKn

— Paul Cezanne (@cezanneart) August 18, 2023
The 420
"Marijuana and hallucinogen use, binge drinking hit historic highs" [The Hill]. "Nearly half of adults ages 19 to 30 reported past-year usage of marijuana, at 44 percent — also the highest level ever reported, up from 35 percent in 2017 and 28 percent in 2012. That same age group reported record-high daily marijuana usage — 11 percent in 2022, up from 8 percent in 2017 and 6 percent in 2012. Hallucinogen use among adults ages 35-50 reached historically high levels, with 4 percent reporting past-year use in 2022, up from 2 percent in 2021 and no greater than 1 percent five or 10 years prior. Among adults ages 19-30, 8 percent reported past-year usage, up from five and 10 years prior. Overall alcohol use trends have been gradually increasing for adults ages 35-50, but binge drinking reached its highest reported levels at 29 percent in 2022, up from 26 percent in 2021, 25 percent in 2017 and 23 percent in 2012. Past-year drinking increased slightly over the past 10 years, from 83 percent in 2012 to 85 percent in 2022." • "That's a lot," as Dima would say.
News of the Wired
"The ancient technology keeping space missions alive" [BBC]. "Launched almost 46 years ago in 1977, the twin Voyager probes continue to send back data from beyond the Solar System. I checked with Nasa, which has assured me that the spacecraft are still being controlled from the same beige cubicle in an annex of its Jet Propulsion Laboratory (JPL) that I visited in 2017, marked with a homemade cardboard sign reading: 'Mission critical hardware – PLEASE DO NOT TOUCH'." • Not all heroes wear capes.
* * *
Contact information for plants: Readers, feel free to contact me at lambert [UNDERSCORE] strether [DOT] corrente [AT] yahoo [DOT] com, to (a) find out how to send me a check if you are allergic to PayPal and (b) to find out how to send me images of plants. Vegetables are fine! Fungi and coral are deemed to be honorary plants! If you want your handle to appear as a credit, please place it at the start of your mail in parentheses: (thus). Otherwise, I will anonymize by using your initials. See the previous Water Cooler (with plant) here. From Upstater: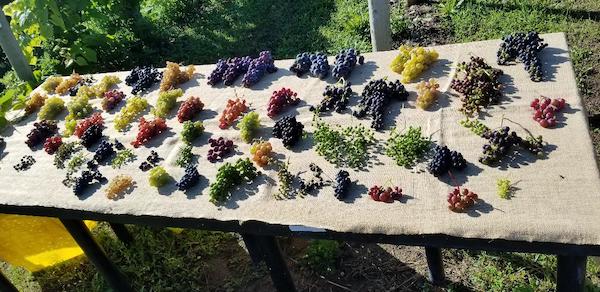 Upstater writes: "In 2019, we visited the New York State / USDA / Cornell University Agricultural experimental station's annual open house in Geneva NY. It has the largest collection of cold climate grapes in the US. Some are table grapes (e.g. Concord), some hardier Vinifera types and hybrids."
* * *
Readers: Water Cooler is a standalone entity not covered by the annual NC fundraiser. So if you see a link you especially like, or an item you wouldn't see anywhere else, please do not hesitate to express your appreciation in tangible form. Remember, a tip jar is for tipping! Regular positive feedback both makes me feel good and lets me know I'm on the right track with coverage. When I get no donations for five or ten days I get worried. More tangibly, a constant trickle of donations helps me with expenses, and I factor in that trickle when setting fundraising goals:
Here is the screen that will appear, which I have helpfully annotated: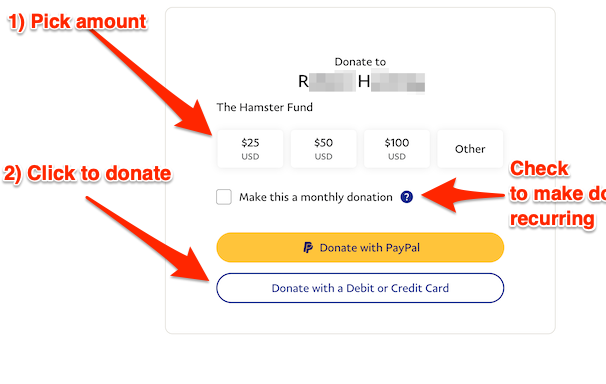 If you hate PayPal, you can email me at lambert [UNDERSCORE] strether [DOT] corrente [AT] yahoo [DOT] com, and I will give you directions on how to send a check. Thank you!