By Lambert Strether of Corrente.
Patient readers, I'm sorry I'm a bit light on Covid today, but I'm pressed temporally. –lambert
Bird Song of the Day
Black-throated Wren-Babbler, Danum Valley Field Centre (DVFC), Sabah, Malaysia. "A bird singing."
* * *
Politics
"So many of the social reactions that strike us as psychological are in fact a rational management of symbolic capital." –Pierre Bourdieu, Classification Struggles
2024
Time for the Countdown Clock!

* * *

"Opinion: He's been booked. His mug shot has been taken. And incredibly this might not end Donald Trump's race for the White House" [CNN]. "The legal system is now at work, holding Trump to account in many cases where the political world failed to take meaningful action. However, without a serious shift in public opinion, Trump might just learn that it is possible to do almost anything and still retain immense influence in politics." • Incredibly. I read it twice. Not one ounce of self-reflection to be found.

"Trump Booked In Georgia: "We Have Every Single Right To Challenge An Election" (video) [RealClearPolitics]. 

TRUMP: This is a really sad day for America. This should never happen. You should be able to challenge an election. I thought it was a rigged, a stolen election and I should have every right to do. As you know, you have many people you've been watching over the years do the same thing whether it's Hillary Clinton or Stacey Abrams or many others.

When you have that great freedom to challenge, you have to be able, otherwise you get dishonest elections. What has taken place here is a travesty of justice. We did nothing wrong. I did nothing wrong and everybody knows it. I never had such support and that goes with the other ones too. What they're doing is election inference — they're trying to interfere with an election. There's never been anything like it in our country before. This is their way of campaigning. This is one instance but you have three other instances. It's election interference. So I want to thank you for being here. We did nothing wrong at all and we have every single right to challenge an election that we think is dishonest and we think it's very dishonest. So thank you all very much and I will see you very soon.

"Trump surrenders to authorities in Georgia" [The Hill]. "In a departure from prior court appearances, he arrived at the jail after standard business hours, making a prime-time entrance just after 7:30 p.m. a day after skipping the first Republican presidential debate. Trump is the front-runner for the GOP presidential nomination. The Fulton County sheriff indicated that Trump did take a mug shot, which would be the first in any of Trump's pending legal matters. Trump also surrendered at a jail, rather than a courthouse, and he is not set to be arraigned until a later date. Trump's jail record indicates that his height was recorded at 6′ 3″ and his weight at 215 pounds. He was also given a prison identification number — P01135809 [musical interlude] — just like his co-defendants in the case who have already turned themselves in at the local jail. He was released a little over 20 minutes after a massive motorcade delivered him to the facility from the Atlanta airport. He is now traveling back to New Jersey where he spends the summers [ouch!]." • And speaking of motorcades, Yves flagged this video before it hit my feed. This looks like the original on Twitter (though not on Tik-Tok, where I do not, yet [sigh], have an account:

This is going to backfire in a big way. Urban parts of Atlanta scream ""Free Trump!!"" As his motorcade passes through pic.twitter.com/pVqofnyThO

— Officer Lew (@officer_Lew) August 25, 2023

I'm not super-happy about the sourcing. But I can't imagine a Republican operation would allow that yellow "Tax Service" sign in the background. And the teenagers sound pretty real. So maybe something interesting and real is going on here — "They arrested him, so he's one of us" — disconcerting to the Bougies who run "the city too busy to hate." Plus the Third World ambience looks legit. (When looking at a ton of Black Lives Matter videos back in the data, the decay of our infrastructure was evident in the background of every shot.) it would be irresponsible not to speculate! And–

"Black Voters Saved Biden in 2020. Democrats Now See a 'Red Flag' in Slipping Support" [The Messenger]. "A Quinnipiac University national poll released last week found Biden receiving 73% support from Black voters, compared to 20% for Trump in a hypothetical 2024 rematch. A poll conducted for Fox News released this month showed 61% of Black voters favoring Biden, compared to 20% for Trump. August surveys from Emerson College, Harris X/The Messenger, and YouGov/The Economist also showed similar results. That's a significant shift, given exit polls found Biden won 87% of Black voters in 2020, compared to only 11% for Trump. Biden's 76-percentage point margin, though ostensibly large, was still low for a Democratic nominee by recent standards. And for a party that needs outsized support and turnout from Black voters, it kept the 2020 Electoral College results close. Biden edged Trump then – as well as in most of the polls cited above – because he has relatively strong white voter support for a Democrat."

* * *

More Trump's interview with Tucker Carlson:

I whinged about the lack of a transcript yesterday, so I don't do that again, save to note that it's ridiculous that there's no transcript of a newsworthy interview. It's almost as if there's some sort of censorship going on. In any case, I alluded to Trump's comments on other candidates. Here he is on Biden (all transcription errors mine):

10:23 [CARLSON:] You don't think he's going to make it to November.

[TRUMP:] Well, I think he's worse mentally than he is physically and physically he's not exactly a triathlete, or any kind of an athlete. You look at him, he can't walk to the helicopter, he, he walks — he can't lift his feet out of the grass. You know it's only two inches at the White House, right, it's not a lot, but you watch him and it looks like he's walking on toothpicks, and then you see him in the beach where he can't lift a chair. You know those chairs are meant to be light, right? They're like 2 ounces; lift them up, he can't lift the chair, he can't walk to the chair… I think he looks horrible at the beach, plus the beach doesn't represent what a president's supposed to be doing. You're supposed to be working. You're supposed to be getting us out of that horrible, horrible warl

Harsh, but fair. I think I overpunctuated the transcript; the best way to punctuate Trump is to follow James Joyce's practice in Molly Bloom's soliloquy: Nothing at all. Notice the amazing stream of consciousness shift from Biden's walk to ending the war (!). NOTE I can't find how long the grass on the White House lawn really is. If in fact it is two inches high, I don't know whether Trump knows that because he's a golfer, or because he had the lawn resodded.

* * *

"Transcripts (CNN News Central)" [CNN]. Van Jones: "I think people are concerned about Joe Biden. They really are. I mean, . But people are concerned. And I do think that anybody but Trump going up against someone like Biden, given some of Trump's challenges recently, probably might have a good shot and could make that age an issue. The problem is, when you put Biden up against Trump, Trump has so many other issues, he's not that much younger, that it becomes a little bit of a wash and then people just kind of go back to their respective corners." • Well, what "adult in the room" doesn't like to go to barbecues and house parties? C'mon, people. Let's be reasonable.

* * *

"Newsom Ups Ante in Clash With School Boards" [RealClearPolitics]. "In Temecula, an area in southwest Riverside County, the school board adopted another policy, drawing deep opposition from the Newsom administration. In a 3-2 vote, the board approved a policy that requires the school district to quickly notify students' parents if their children want to be identified by a gender other than what is shown on official records, which can entail using sports and locker-room facilities of their chosen gender. The policy mirrors one adopted earlier this month by nearby Murrieta Valley Unified School District and a policy that the board governing Chino Valley Unified School District approved last month. The school district must inform parents within 72 hours if their child requests to participate in gender-based sports or use a restroom that doesn't match their previously declared gender. Monday's move drew fire from California Attorney General Rob Bonta, who has launched civil rights investigations into several actions Temecula's school board and others have taken over the last year. 'The rise in school districts adopting policies that target LGBTQ+ student populations is of grave concern,' Bonta said Wednesday. 'My office is closely monitoring the situation and will not tolerate districts compromising the safety and privacy of transgender and gender nonconforming students. We will remain committed to ensuring school policies do not violate students' civil rights.' School board members and parents who back the measure reject the argument that they are targeting LGBTQ+ students for discrimination or privacy violations. They contend that they are standing up for parents' rights to know what is happening with their children at school, especially regarding a major identity transformation such as a gender change."

* * *

Pritzer keeps quietly checking boxes:

"Gov. Pritzker Addresses Food Deserts In Communities" [The Times Weekly]. "'The Illinois Grocery Initiative is the latest expansion of our holistic approach to ensuring Illinois families can reach the big building blocks of a good life,' said Governor Pritzker. 'When our residents struggle to keep a roof over their head, can't put food on the table, or have to choose between paying for basic medical care and keeping the lights on—that's a failure of the system. That's why I'm proud to sign—a first-of-its-kind $20 million investment to open or expand grocery stores in underserved rural towns and urban neighborhoods.' Every community deserves fresh, nutrient-dense food.'"

"Illinois heat wave is the latest of several weather extremes in the state" [WGEM]. "A series of severe storms and flooding between June 29 and July 2 also drew the attention of the federal government, with President Joe Biden approving federal assistance through the Federal Emergency Management Agency. This assistance will go to individuals and businesses in Cook County and can include grants for temporary housing and home repairs and low-interest loans to cover property losses. 'Residents and businesses, especially those on the West Side of Chicago who were most brutally hit, are now able to access additional resources necessary to rebuild and revitalize, and I know Cook County will build back stronger than ever,' Gov. JB Pritzker said in an August 15 news release."

Then again:

"Following Tim Mapes' conviction, lawmakers condemn his conduct, GOP renews call for reform" [Chicago Tribune]. "A spokesman for Democratic Gov. J.B. Pritzker said Mapes' conviction 'advances the cause of cleaning up state government and sends a message that this type of behavior will not be tolerated in Illinois.' Since taking office more than four years ago, Pritzker 'has been clear about the need to root out corruption and instill transparency and honesty at every level of state government,' spokesman Alex Gough said in a statement. But some good-government groups, along with a former legislative inspector general and some GOP lawmakers, have highlighted what they view as weaknesses with the Democratic-led measures, including that the changes don't give the legislative inspector general enough independence to pursue allegations of misconduct by legislators."

"Bally's to test gaming operations at Medinah Temple after Labor Day, the final step before opening Chicago casino" [Dubai Tech News]. "Bally's Chicago has scheduled practice gaming sessions at Medinah Temple for the Illinois Gaming Board after Labor Day. If it passes muster, the first Chicago casino — an idea decades in the making — may be open for business soon thereafter. The test run, which includes a gaming operations assessment on Sept. 5…. Earlier this month, Gov. J. B. Pritzker expanded the talent pool, signing legislation allowing convicted felons to apply for hospitality positions at the state's soon-to-be 14 casinos, including Bally's Chicago. Previously under state law, anyone with a felony conviction was ineligible to work at a casino in any position." • Oh.
Democrats en Déshabillé
Patient readers, it seems that people are actually reading the back-dated post! But I have not updated it, and there are many updates. So I will have to do that. –lambert

I have moved my standing remarks on the Democrat Party ("the Democrat Party is a rotting corpse that can't bury itself") to a separate, back-dated post, to which I will periodically add material, summarizing the addition here in a "live" Water Cooler. (Hopefully, some Bourdieu.) It turns out that defining the Democrat Party is, in fact, a hard problem. I do think the paragraph that follows is on point all the way back to 2016, if not before:

The Democrat Party is the political expression of the class power of PMC, their base (lucidly explained by Thomas Frank in Listen, Liberal!). ; if the Democrat Party did not exist, the PMC would have to invent it. . ("PMC" modulo "class expatriates," of course.) Second, all the working parts of the Party reinforce each other. Leave aside characterizing the relationships between elements of the Party (ka-ching, but not entirely) those elements comprise a network — a Flex Net? An iron octagon? — of funders, vendors, apparatchiks, electeds, NGOs, and miscellaneous mercenaries, with assets in the press and the intelligence community.

Note, of course, that the class power of the PMC both expresses and is limited by other classes; oligarchs and American gentry (see 'industrial model' of Ferguson, Jorgensen, and Jie) and the working class spring to mind. Suck up, kick down.

* * *
#COVID19
"I am in earnest — I will not equivocate — I will not excuse — I will not retreat a single inch — AND I WILL BE HEARD." –William Lloyd Garrison
Resources, United States (National): Transmission (CDC); Wastewater (CDC, Biobot; includes many counties; Wastewater Scan, includes drilldown by zip); Variants (CDC; Walgreens); "Iowa COVID-19 Tracker" (in IA, but national data). "Infection Control, Emergency Management, Safety, and General Thoughts" (especially on hospitalization by city).
Lambert here: Readers, thanks for the collective effort. To update any entry, do feel free to contact me at the address given with the plants. Please put "COVID" in the subject line. Thank you!
Resources, United States (Local): AK (dashboard); AL (dashboard); AR (dashboard); AZ (dashboard); CA (dashboard; Marin, dashboard; Stanford, wastewater; Oakland, wastewater); CO (dashboard; wastewater); CT (dashboard); DE (dashboard); FL (wastewater); GA (wastewater); HI (dashboard); IA (wastewater reports); ID (dashboard, Boise; dashboard, wastewater, Central Idaho; wastewater, Coeur d'Alene; dashboard, Spokane County); IL (wastewater); IN (dashboard); KS (dashboard; wastewater, Lawrence); KY (dashboard, Louisville); LA (dashboard); MA (wastewater); MD (dashboard); ME (dashboard); MI (wastewater; wastewater); MN (dashboard); MO (wastewater); MS (dashboard); MT (dashboard); NC (dashboard); ND (dashboard; wastewater); NE (dashboard); NH (wastewater); NJ (dashboard); NM (dashboard); NV (dashboard; wastewater, Southern NV); NY (dashboard); OH (dashboard); OK (dashboard); OR (dashboard); PA (dashboard); RI (dashboard); SC (dashboard); SD (dashboard); TN (dashboard); TX (dashboard); UT (wastewater); VA (dashboard); VT (dashboard); WA (dashboard; dashboard); WI (wastewater); WV (wastewater); WY (wastewater).
Resources, Canada (National): Wastewater (Government of Canada).
Resources, Canada (Provincial): ON (wastewater); QC (les eaux usées); BC, Vancouver (wastewater).
Hat tips to helpful readers: anon (2), Art_DogCT, B24S, CanCyn, ChiGal, Chuck L, Festoonic, FM, FreeMarketApologist (4), Gumbo, hop2it, JB, JEHR, JF, JL Joe, John, JM (10), JustAnotherVolunteer, JW, KatieBird, LL, Michael King, KF, LaRuse, mrsyk, MT, MT_Wild, otisyves, Petal (6), RK (2), RL, RM, Rod, square coats (11), tennesseewaltzer, Utah, Bob White (3). 
Stay safe out there!
* * *
Maskstravaganza
Handwashing dinosaurs:

Fixed it https://t.co/SNgXjfiYwx pic.twitter.com/72ouiMn9uw

— Amanda Hu (@amandalhu) August 23, 2023
Censorship and Propaganda
"Vulnerable Children Really Count" [Science-Based Medicine]. "One zombie myth spread by misinformation doctors is that COVID had a ""mortality rate of zero among children without a pre-existing medical condition such as leukemia.""  While deaths of children with ""no prior health issues"" are mercifully extremely rare, nearly every child in the US has contracted COVID.  A small percentage of a big number can be a big number, especially when it comes to largely preventable deaths of children. Moreover, most children felled by COVID had common, non-fatal conditions, namely obesity and asthma, not leukemia, though even this is not always a death sentence today. The tragic truth is that nearly all children who died of COVID were robbed of many decades of life, and of course, death is not the only bad outcome from COVID. So why were some doctors so eager to spread the easily-refutable fiction that only vulnerable children died from COVID? Why did they say this was ""good news""? [Because they're eugenicists.] I'm not a mind reader, but none of them seemed motivated to raise awareness about the conditions that left millions of children particularly vulnerable. They never launched a campaign to vaccinate children with obesity, or even leukemia for that matter. That would have been laudable. So would have an editorial titled ""The Importance of Protecting Vulnerable Children."" Instead, it seemed the purpose of error-filled editorials titled ""The Flimsy Evidence Behind the CDC's Push to Vaccinate Children"" was to convince parents: Your child has no risk. They don't need the vaccine. COVID only kills children who are about to die anyways." • Same with the anti-mask brigade; nothing about ventilation, or clean air.
Elite Maleficence
Filing this here for future reference. CDC was just as bad in 2009:

— Lazarus Long (@LazarusLong13) August 25, 2023

The fulsome congratulations remind me of Thomas Frank's brilliant "Nor a Lender Be," the opening salvo of Listen, Liberal!, which you should go read if you haven't read the book,
* * *
Case Data
From BioBot wastewater data, August 24: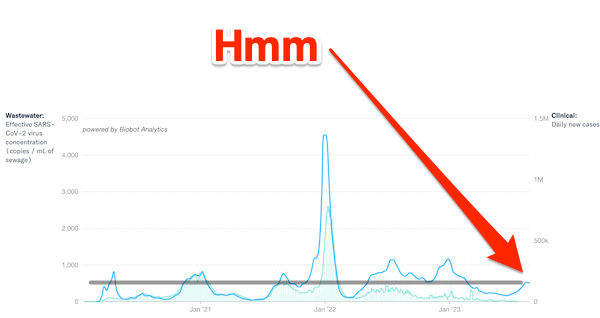 Lambert here: Happy memories of tape-watching days! Closing in on a Trump-era surge level; Biden's, of course, are higher. It will be interesting to see what happens when schools open up. I would like to congratulate the Biden administration and the public health establishment, the CDC especially, for this enormous and unprecedented achievement. And a tip of the ol' Water Cooler hat to the Great Barrington goons, whose policies have been followed so assiduously! A curious fact: All of Biden's peaks are higher than Trump's peaks. Shows you what public health can do when it's firing on all eight cylinders! Musical interlude. NOTE I'm not happy that Biobot can't update this data more frequently. 
Regional data. As we can see, the national flattening is due to the Midwest downward swoop: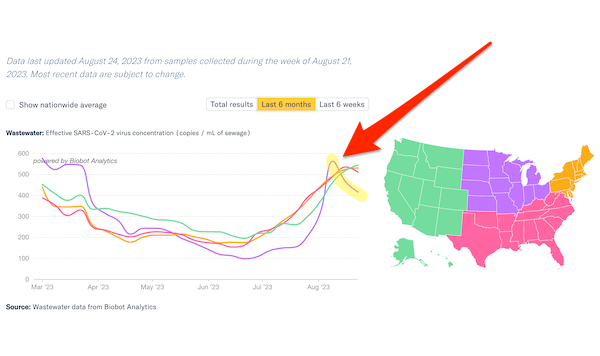 There haven't been any backward revisions so far. I thought I'd try to doublecheck the Biobot data, so I looked first at CDC's wastewater map. (After CDC gamed the infamous "Green Map" so badly, I don't trust them, but needs must*. In any case, I like Biobot's graphs). As of August 21: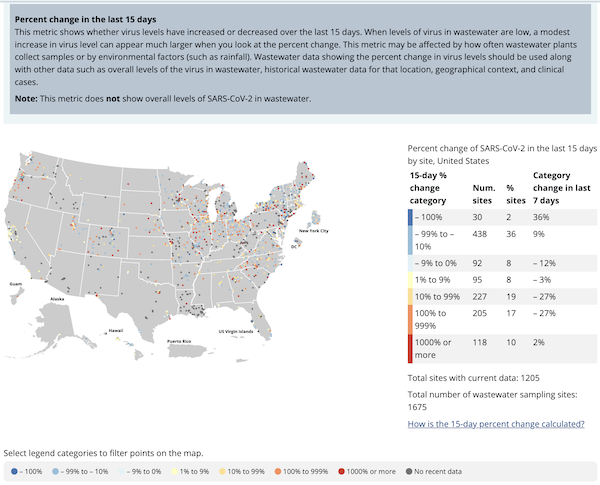 If I read the caption correctly — readers? — there would have to be a lot more blue in the Midwest to confirm Biobot's downward swoop. I thought I'd look at Illinois, since it's a large state, and Cook County, because it's a big city: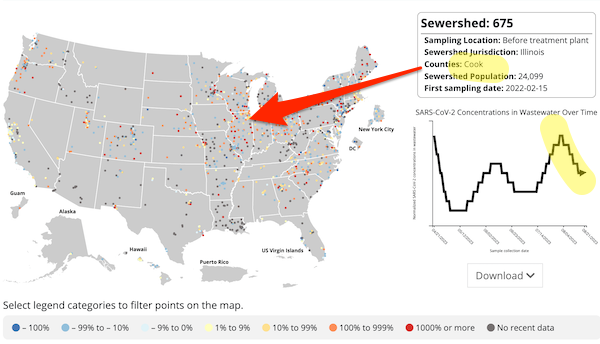 But in Cook County, a downward swoop. So CDC neither confirms nor disconfirms Biobot. Readers? 
And just for grins, I thought I'd look at the Stanford Wastewater Scan project: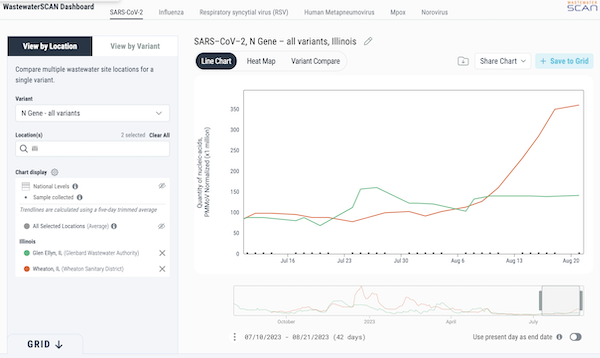 But it's useless for my purposes; only two towns, out in the sticks.
NOTE * CDC's traveler's positivity data is less political; a voluntary program at airports, seemingly designed for post facto papers.
Regional variant data, August 19: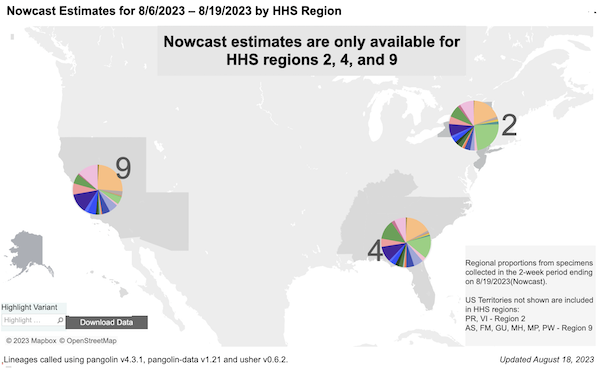 EG.5 (the orange pie slice) still seems evenly distributed. Sadly, the Midwest data is not available, so we can't infer anything about the Midwest surge and any variant(s), one way or the other. 
Variants
NOT UPDATED From CDC, August 19: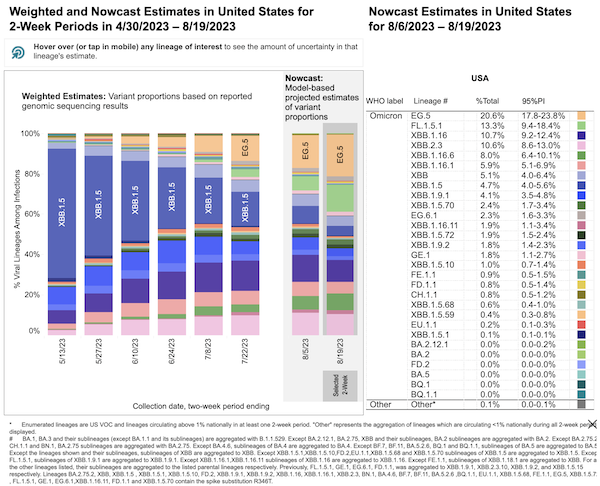 Lambert here: Top of the leaderboard: EG.5 ("Eris"). I'm not highlighting the BA.2's because the interactive version shows that these BA.2's been hanging around at a low level for months.
From CDC, August 5: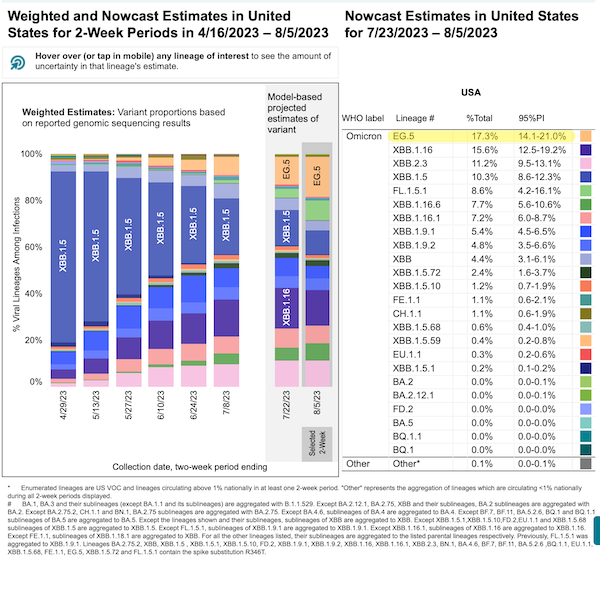 Lambert here: Not sure what to make of this. I'm used to seeing a new variant take down the previously dominant variant. Here it looks like we have a "tag team," all working together to cut XBB.1.5 down to size. I sure hope the volunteers doing Pangolin, on which this chart depends, don't all move on the green fields and pastures new (or have their access to facilities cut by administrators of ill intent).
CDC: "As of May 11, genomic surveillance data will be reported biweekly, based on the availability of positive test specimens." "Biweeekly: 1. occurring every two weeks. 2. occurring twice a week; semiweekly." Looks like CDC has chosen sense #1. In essence, they're telling us variants are nothing to worry about. Time will tell.
Covid Emergency Room Visits
NOT UPDATED From CDC NCIRD Surveillance, August 19: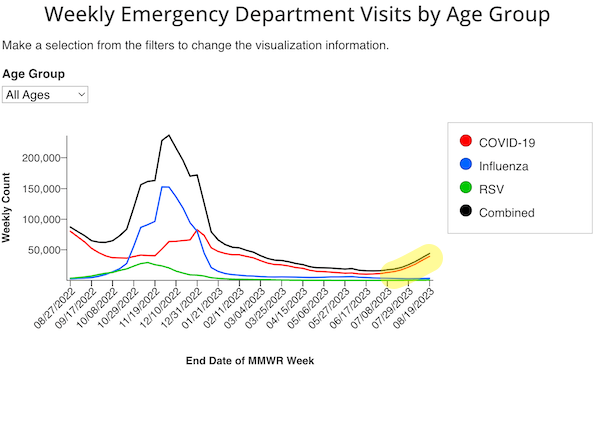 Lambert here: Steady increase. (The black line is "combined", but it is easy to see that Covid, the red line, is driving everything.)
NOTE "Charts and data provided by CDC, updates Wednesday by 8am. For the past year, using a rolling 52-week period." So not the entire pandemic, FFS (the implicit message here being that Covid is "just like the flu," which is why the seasonal "rolling 52-week period" is appropriate for bothMR SUBLIMINAL I hate these people so much. Notice also that this chart shows, at least for its time period, that Covid is not seasonal, even though CDC is trying to get us to believe that it is, presumably so they can piggyback on the existing institutional apparatus for injections.
Hospitalization
NOT UPDATED I hate this metric because the lag makes it deceptive. Nevertheless, here's bellwether New York City, data as of August 24: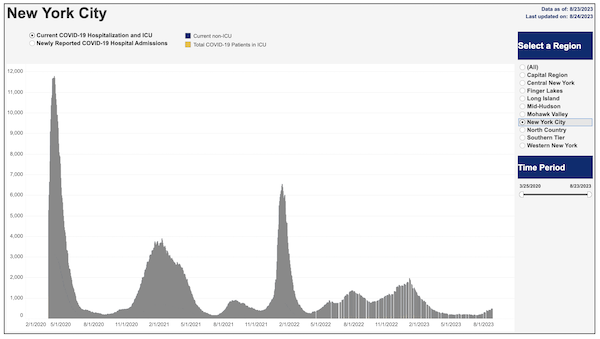 Still getting worse. But how much worse?
Positivity
NOT UPDATED Walgreens, August 21: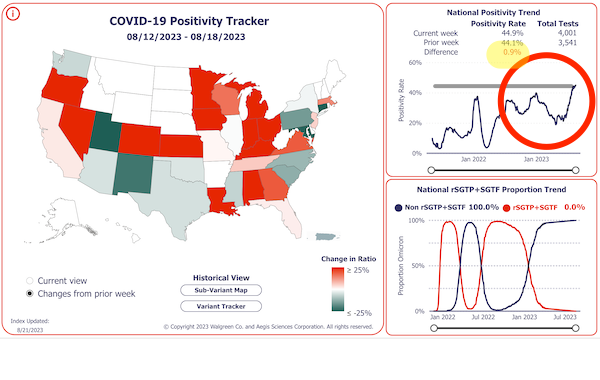 So, Walgreens is back in the game (and how the heck did that debacle happen? We breathlessly await the news coverage). The percentage of positives is the highest ever, though absolute numbers are still small relative to past surges.
From CDC, August 7: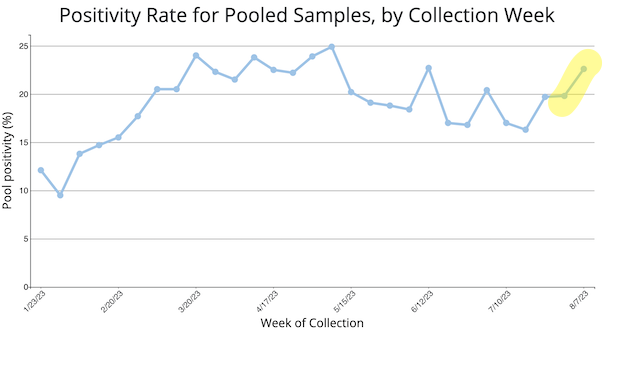 Lambert here: This is the CDC's "Traveler-Based Genomic Surveillance" data, confirming the current surge, only two weeks late. Sure would be useful to know if there were any BA.2.86 in those samples, though!
Deaths
Iowa COVID-19 Tracker, August 23: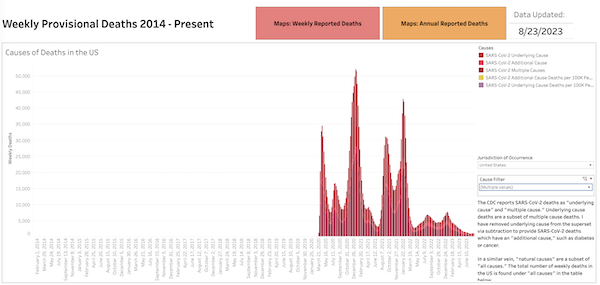 Lambert here: The WHO data is worthless, so I replaced it with the Iowa Covid Data Tracker. Their method: "These data have been sourced, via the API from the CDC: https://data.cdc.gov/NCHS/Conditions-Contributing-to-COVID-19-Deaths-by-Stat/hk9y-quqm. This visualization updates on Wednesday evenings. Data are provisional and are adjusted weekly by the CDC." I can't seem to get a pop-up that shows a total of the three causes (top right). Readers?
Total: 1,173,081 – 1,173,137 = -56 If the YouGenicist™ metric keeps chugging along like this, I may just have to decide this is what the powers-that-be consider "mission accomplished" for this particular tranche of death and disease). 
Lambert here: First negative number (!). Optimism?
Excess Deaths
The Economist, August 25: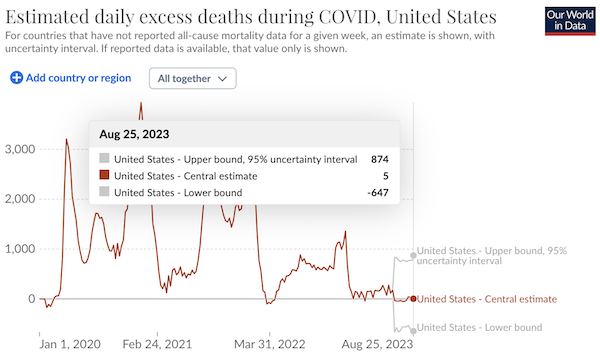 Lambert here:  Back to almost daily. Odd when it is, odd when it stops. Based on a machine-learning model. (The CDC has an excess estimate too, but since it ran forever with a massive typo in the Legend, I figured nobody was really looking at it, so I got rid it. )
Stats Watch
There are no official statistics of interest today.
* * *
Tech: "All hail the new EU law that lets social media users quiet quit the algorithm" [TechCrunch]. "Internet users in the European Union are logging on to a quiet revolution on mainstream social networks today: The ability to say 'no thanks' to being attention hacked by AI. Thanks to the bloc's Digital Services Act (DSA), users of Meta's Facebook and Instagram, ByteDance's TikTok and Snap's Snapchat can easily decline 'personalized' content feeds based on 'relevance' (i.e. tracking) — and switch to a more humble kind of news feed that's populated with posts from your friends displayed in chronological order." • I'm sure there are other issues with the DSA. But this is good. It's amazing it took regulation to accomplish something so sane.
* * *
Today's Fear & Greed Index: 48 Neutral (previous close: 43 Fear) [CNN]. One week ago: 45 (Neutral). (0 is Extreme Fear; 100 is Extreme Greed). Last updated Aug 25 at 12:59 PM ET. C'mon, Mr. Market! One way or the other!
Guillotine Watch
"The Titan Submersible Disaster Was Years in the Making, New Details Reveal" [Vanity Fair]. "As the world now knows, Stockton Rush touted himself as a maverick, a disrupter, a breaker of rules. So far out on the visionary curve that, for him, safety regulations were mere suggestions. 'If you're not breaking things, you're not innovating,' he declared at the 2022 GeekWire Summit. 'If you're operating within a known environment, as most submersible manufacturers do, they don't break things. To me, the more stuff you've broken, the more innovative you've been." • Well, capital seems to be doing pretty well at the breaking part.
Class Warfare
"Etiquette expert: The No. 1 place people still tip 20%—even though they don't have to" [CNBC]. "Sure, most Americans report feeling negative about tipping, but service workers are earning exponentially more in gratuity than before the pandemic, according to payroll provider Gusto. From March 2020 to May 2023, hourly wages only rose 18%, compared with a 42% increase in tip earnings, the company found." • They're risking their lives in ill-ventilated death traps, so…. 
News of the Wired
"How to Drill Your Own Water Well" [Drill Your Own Well]. "You can drill your own shallow water well using PVC and household water hoses.   It is a cheap and effective way to dig your own shallow water well.  Water well drilling isn't just for the pros with huge commercial drilling rigs.  Digging a water well yourself is both interesting and fun." • Readers?
* * *
Contact information for plants: Readers, feel free to contact me at lambert [UNDERSCORE] strether [DOT] corrente [AT] yahoo [DOT] com, to (a) find out how to send me a check if you are allergic to PayPal and (b) to find out how to send me images of plants. Vegetables are fine! Fungi and coral are deemed to be honorary plants! If you want your handle to appear as a credit, please place it at the start of your mail in parentheses: (thus). Otherwise, I will anonymize by using your initials. See the previous Water Cooler (with plant) here. From desert dog: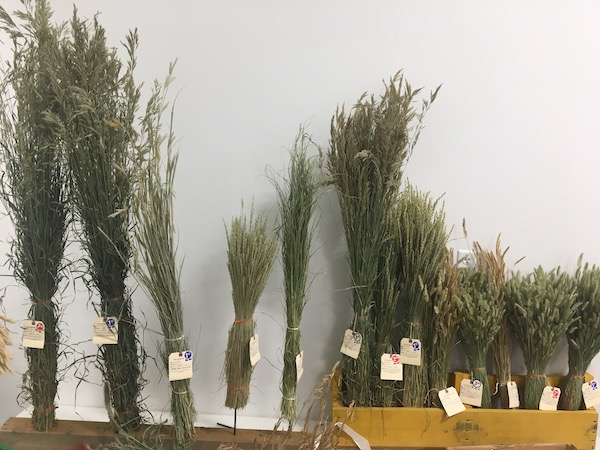 desert dog writes: "Award winning grasses at the county fair. They can really grow grass here. I think some of mine would have placed well but I keep my eyes closed." This accords rather neatly with my fantasy that we should actively revert the Great Plains to prairie, and pay the inhabitants to take care of it.
* * *
Readers: Water Cooler is a standalone entity not covered by the annual NC fundraiser. So if you see a link you especially like, or an item you wouldn't see anywhere else, please do not hesitate to express your appreciation in tangible form. Remember, a tip jar is for tipping! Regular positive feedback both makes me feel good and lets me know I'm on the right track with coverage. When I get no donations for five or ten days I get worried. More tangibly, a constant trickle of donations helps me with expenses, and I factor in that trickle when setting fundraising goals:
Here is the screen that will appear, which I have helpfully annotated: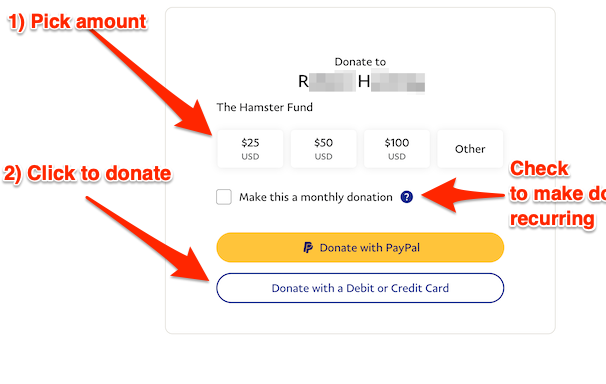 If you hate PayPal, you can email me at lambert [UNDERSCORE] strether [DOT] corrente [AT] yahoo [DOT] com, and I will give you directions on how to send a check. Thank you!