By Lambert Strether of Corrente.
As usual after a weekend and a Monday dereliction of duty, I have far too much material, and so the Covid section is shorter than it should be. Tomorrow I will do better! –lambert
Bird Song of the Day
Eastern Whip-poor-will, Flycatcher Flats, Sleepy Creek Rd, Berekely Co., Hedgesville,WV
Berkeley, West Virginia, United States. "Adult male Eastern Whip-poor-will singing vegetation near the road."
* * *
Politics
"So many of the social reactions that strike us as psychological are in fact a rational management of symbolic capital." –Pierre Bourdieu, Classification Struggles
The Constitutional Order
Two households, both alike in dignity,
In fair Verona, where we lay our scene,
From ancient grudge break to new mutiny,
Where civil blood makes civil hands unclean. –William Shakespeare, Romeo and Juliet

Shakespeare says the two households are "alike" in dignity, but he doesn't say how much dignity they actually have. If Verona's households are like our parties, the answer is "not much."

* * *

"The Sweep and Force of Section Three" [William Baude and Michael Stokes Paulsen, University of Pennsylvania Law Review]. I highly recommend this piece (and the ensuing discussion at NC, starting here). As a former English major and a fan of close reading, I'm not averse to "originalism," of which Baude and Paulsen provide a magisterial example, in the sense that understanding the law as a text must begin with understanding the plain, public meaning of the words used when the text was written. That's how I read Shakespeare, or Joyce, so why not the Constitution? Just as long as understanding doesn't end there! In any case, I'm working through it. One thing I notice is that there do seem to have been rather a lot of rebellions and insurrections, not just the Civil War. To me, this is parallel to one lesson I drew from Mike Duncan's Revolutions podcast (episode 1): There are rather a lot of revolutions, too. Alert reader Pensions Guy summarizes Baude and Paulsen as follows:]

The authors go through an exhaustive textual and originalism analysis of Section Three, and their Federalist Society leanings do not deter them from reaching their conclusion that officials in every State who are charged with determining candidate qualifications should conclude that Donald Trump is disqualified from being on ballots because of the oath he took on Inauguration Day 2017 and subsequently violated through his role in the insurrection that took place on January 6, 2021.

Taking "insurrection" as read (I need to do more reading), more on my continuing coverage of Section Three.

* * *

"Trump 14th Amendment: New Hampshire GOP Feuds As States Grapple With Disqualifying Trump From Ballot" [Forbes]. "Bryant 'Corky' Messner, a New Hampshire attorney who ran for the U.S. Senate in 2020 with Trump's endorsement, has suggested he intends to file a legal challenge questioning Trump's 2024 candidacy under Section 3 of the 14th Amendment… Messner met with New Hampshire's Republican Secretary of State David Scanlan on Friday to discuss the issue, Scanlan said, prompting pushback from the state's Republican Party, whose leader Chris Ager said the party 'will fight to make sure that candidates are not denied access to the ballot.' … Beyond New Hampshire, Michigan's Democratic Secretary of State Jocelyn Benson told MSNBC she intends to seek a legal opinion on the issue from the state's attorney general 'when the time is right,' and suggested she would work in conjunction with her counterparts in other battleground states like Nevada, Pennsylvania and Georgia to determine how to proceed. Voters have filed lawsuits in Florida and Michigan challenging the constitutionality of Trump being on the ballot, which could force state election officials' hands, and legal disputes over the issue are widely expected to make it to the Supreme Court." 
2024
Time for the Countdown Clock!

* * *

"Trump drops 6 points in post-debate GOP poll" [The Hill]. "Former President Trump saw a slight decrease in his support among Republican primary voters after he skipped the first GOP debate last week, according to a new poll from Emerson College." • Trump's lead is so enormous that a six-point drop is "slight":

Yes, only one poll, but note it contradicts the narrative: DeSantis, Pence, and Haley took votes from Trump; and Ramaswamy was a loser.

"The meme that still holds true about Trump's maddening lasting power" [MSNBC]. "During Donald Trump's first presidential run and time in office, there was a recurrent meme that was applied to him: '#nothingmatters.' No matter what Trump did or said, no matter how offensive, controversial or hypocritical his public statements, none of it affected how Republican voters viewed him, and none of it brought any consequences for him. For 2024, it's increasingly clear that '#nothingmatters' needs to return — though for a slightly different reason. This is a campaign in which, literally, nothing matters. Voters long ago made up their minds about Trump: About 40% think he's great, and the rest of the country can't stand him. In a general election, his numbers will be a bit higher because there are Republicans who don't like Trump but can't imagine voting for a Democrat. But there won't be a broad swath of the electorate giving him a new look…. Barring the aforementioned unforeseen circumstance, Trump will win the 2024 GOP nomination, face off against Biden in the general election — and likely lose. And nothing that happens before November 2024 will matter." • This seems to be the conventional wisdom; 2024 will not be volatile. I find that hard to believe.

* * *

The Times version of a complex and tragic story:

"The Story Behind DeSantis's Anecdote About an 'Abortion Survivor': [New York Times]. "Ron DeSantis wanted to dodge a debate question about a six-week federal abortion ban." That's not reporting, unless the reporters are telepaths. But more: "So the Florida governor pulled out a personal story, one that had recently become part of his pitch to voters on the need for greater regulation of abortion rights. 'I know a lady in Florida named Penny,' he said. 'She survived multiple abortion attempts. She was left discarded in a pan. Fortunately, her grandmother saved her and brought her to a different hospital.' … The jarring anecdote caught the attention of viewers on social media, who speculated that Mr. DeSantis was fabricating the story. But Penny does exist. Mr. DeSantis's campaign says the governor has met her. She is Miriam Hopper, who goes by Penny and is an anti-abortion activist who lives in Florida and calls herself an 'abortion survivor.' … In a 2013 interview with the Florida radio station WFSU, conducted in the middle of a statehouse debate over new abortion restrictions, Ms. Hopper said that her story was based on what she had been told by her family. She said that her father, raised during the Great Depression, did not want another child and that she suspected a botched abortion had sent her mother to the hospital with the complications…. Ms. Hopper's mother, aunt, father and grandmother have died. It does not appear that the incident was covered in news reports [Wrong! See below]…. Ms. Hopper said that her story was based on what she had been told by her family. She said that her father, raised during the Great Depression, did not want another child and that she suspected a botched abortion had sent her mother to the hospital with the complications." • Family history reminds me of Liz Warren's Cherokee ancestry. Read on–

The Miami Herald version:

"DeSantis said at debate a woman survived 'multiple abortion attempts.' Here's the real story" [Julie Brown, Miami Herald]. "Penny is real and her last name is Hopper. But DeSantis failed to note key details from her remarkable story: The person who tried to end Penny's life in the womb was not a doctor or even an illegal abortion provider — it was her father…. This article is based on previous recorded statements made by Hopper, newspaper clippings, public records and an interview with a family member who after speaking to a journalist at length asked not to be identified. She confirmed that Hopper's version of events has been told in family circles for years." • So the Times bungles the sourcing and gets the father's role wrong (besides burying it paragraphs deep). 

* * *

"There's More Than Meets the Eye to Ramaswamy's Climate Comment" [Time]. "It's worth unpacking Ramaswamy's debate comments in greater depth. He started by declaring, brashly, that the 'the climate agenda is a hoax' and then followed up saying that the 'anti-carbon agenda is the wet blanket on our economy.' He concluded arguing that 'the reality is more people are dying of bad climate change policies than they are of actual climate change.' Ramaswamy makes clear from the jump that he opposes climate policy, but nowhere does he actually deny that human behavior is contributing to climate change. Indeed, by talking about the 'agenda' rather than climate change itself he tacitly acknowledges the reality of climate change, or at the very least that the old positioning of climate change as a hoax is no longer apt. In interviews following the debate, he twisted climate science, but he didn't deny the phenomenon of climate change even when given multiple opportunities to do so. But Ramaswamy did have a lot to say about the validity of the 'agenda,' presumably referring to policies being implemented by the Biden Administration to slow emissions. Ramaswamy's argument has an obvious political logic to it. Polling shows that the vast majority of Americans know very little about the Inflation Reduction Act and other Biden climate policies. And while Americans increasingly view climate change as a threat, they rank it far below economic concerns. Indeed, one poll released earlier this year showed that only 38% of Americans would be willing to pay a $1 per month carbon fee to address climate change. In short, for many voters, fear of a weak economy will outweigh fears over climate change. By branding climate policy as an economic downer, he and others can poison the well for any future climate policy." • To repeat:

The climate change agenda is a hoax. https://t.co/ZMMwAVnKfc

— Vivek Ramaswamy (@VivekGRamaswamy) August 24, 2023

Hmm. I can see how Biden's climate agenda is a hoax — though not in the way Ramaswamy meant — but that's not what Ramaswamy tweeted.

* * *

"Bernie Sanders downplays fellow octogenarian Biden's age: 'Seemed fine to me'" [New York Post]. "Sen. Bernie Sanders (I-Vt.) on Sunday downplayed fellow octogenarian President Biden's age, recalling a recent meeting in which the 80-year-old commander-in-chief 'seemed fine.' 'I met with the president, I don't know five or six weeks ago. We had a great discussion. He seemed fine to me,' Sanders told NBC News' 'Meet the Press.'" Sometimes Biden is fine; I'd speculate because his staff juices him up. Other times, he's not fine.

Daou on Sanders:

"Sanders hits at Cornel West over criticism of Biden" [Politico]. "'Where I disagree with my good friend, Cornel West, is I think in these really very difficult times, where there is a real question whether democracy is going to remain in the United States of America. … I think we've got to bring the entire progressive community to defeat Trump or whoever the Republican nominee will be, [and] support Biden,' Sanders said on CNN's 'State of the Union.'" "'However, progressives still must 'demand that the Democratic Party, not just Biden, have the guts to take on corporate greed and the massive levels of income and wealth inequality that we see today,' Sanders added." • Sad to see. 

* * *

"Burisma's Devon Archer met with then-Secretary of State Kerry just weeks before Shokin was fired" [FOX]. "'I have said repeatedly in my previous interviews that [then-Ukrainian President Petro] Poroshenko fired me at the insistence of the then-Vice President Biden because I was investigating Burisma,' [Former Ukrainian Prosecutor General Viktor Shokin] said in the interview. '[Poroshenko] understood and so did Vice President Biden that had I continued to oversee the Burisma investigation, we would have found the facts about the corrupt activities that they were engaging in. That included both Hunter Biden and Devon Archer and others." And but: "However, in a statement to Fox News, the White House pointed to indications that Shokin was fired because he had been too soft on corruption. The White House also stated that Shokin's office had not been investigating Burisma or Hunter at the time of his ouster in March 2016, and it pointed to three reports published within weeks of each other in 2019 by the Washington Post, Associated Press and New York Times that said Shokin's office wasn't investigating Burisma." • That's fine, but after seeing how the story of Hunter Biden's laptop was suppressed by those same venues — not to mention the Twitter files, which show an unholy emblobbification among the press, the intelligence community, and the Democrat Party, the White House's argument from authority no longer holds water.

"Khanna says Biden aides heard his message on being overprotective: 'Let him be out there'" [The Hill]. "When asked on CBS's 'Face The Nation' if Biden's top aides got Khanna's message in April that they are too overprotective of him, Khanna said, 'I think they do. The president has a great story to tell.'" More Covid deaths with Trump? A proxy war with a nuclear power, and one we're losing? More: "He's [Biden] a better politician than anyone who works for him,' Khanna said Sunday." That is actually true, which is pretty frightening. 'Let him be out there.'" • If I thought Khanna was Machiavellian, I'd say he was setting Biden up for a fall; and sooner, rather than later.

* * *

RFK asking for my vote (1):

🔥 Robert F. Kennedy, Jr Tells a Crowd in Nashville How He Plans to Help Americans Compete Against BlackRock's Housing Takeover

""I'm going to change the tax code to make it very, very difficult for them to compete with our children. I'm also going to make a 3% mortgage… pic.twitter.com/wn0UWJQ8jw

— Chief Nerd (@TheChiefNerd) August 26, 2023

Private equity shouldn't even be in the housing business. 

RFK asking for my vote (2):

BREAKING: RFK Jr. explains how the CIA & FBI used Operation Mockingbird to control social media

Share this everywhere!!
pic.twitter.com/t57VawyUOy

— TaraBull (@TaraBull808) August 23, 2023

The intelligence community shouldn't even be in the news business. 

* * *

"Op-Ed: Cornel West, A Prophet For President" [Osagyefo Sekou, NewsOne]. At the end: "[E]lectoral politics are filled with swift transitions. Poised the raise $70 billion by next year, the centrist No Labels Party is courting maverick Sen. Joe Manchin (D-WV), which has adverse effects on the Democratic and Republican establishment. Surprisingly, Robert F. Kennedy, Jr. (D) received 15% support among a sample of the Democratic Party's primary in a Harvard CAPS/Harris poll. His bombastic personality and star power make him a prime candidate for an independent run after a Democratic primary that he is surely going to lose. Donald Trump's legal troubles could shave off just enough confidence that he loses a tightly contested Republican primary, and he will not go quietly into the night. So then, if No Labels Party, Robert F. Kennedy, Jr. and Donald Trump run independent candidacies, splintering the Democratic and Republican Parties, all bets are off. The popular vote and Electoral College could be divided in at least four ways. The basic challenge for West and the Green Party manifold: 1) gain ballot access; 2) create a comprehensive ground game; 3) raise enough money to be effective; and 4) build out a political discourse that will shape public conversations.  In this scenario, there is a path to the White House for Cornel West." • In short, 2024 will be volatile.

* * *

Williamson asking for my vote:

There's an official unwillingness to look at the severity of the Long Covid phenomenon, but it's here and it's real.

While this is something that would be taken care of by Medicare4All, at the very least there should be all medical services necessary made available to anyone…

— Marianne Williamson (@marwilliamson) August 28, 2023

* * *

"No Labels to host nominating convention in Dallas in April: Joe Lieberman" [The Hill]. "'If we run it's going to be a bipartisan ticket, so not only will we have concluded that it really can win, but because it's bipartisan we're confident it's going to take equally from both parties, so the idea that we're going to spoil it and reelect President Trump just isn't realistic,' Lieberman said. No Labels has been pushing for a bipartisan ticket to land a third-party bid to the White House and has recently launched a campaign in New Hampshire…. Ben Chavis, the Democratic co-chairman of No Labels, also told NBC News in June that the group 'is not and will not be a spoiler in favor of Donald Trump in 2024.' No Labels confirmed to The Hill at the time it will end its third-party push if Biden is ahead in the polls next spring." 
Democrats en Déshabillé
Patient readers, it seems that people are actually reading the back-dated post! But I have not updated it, and there are many updates. So I will have to do that. –lambert

I have moved my standing remarks on the Democrat Party ("the Democrat Party is a rotting corpse that can't bury itself") to a separate, back-dated post, to which I will periodically add material, summarizing the addition here in a "live" Water Cooler. (Hopefully, some Bourdieu.) It turns out that defining the Democrat Party is, in fact, a hard problem. I do think the paragraph that follows is on point all the way back to 2016, if not before:

The Democrat Party is the political expression of the class power of PMC, their base (lucidly explained by Thomas Frank in Listen, Liberal!). ; if the Democrat Party did not exist, the PMC would have to invent it. . ("PMC" modulo "class expatriates," of course.) Second, all the working parts of the Party reinforce each other. Leave aside characterizing the relationships between elements of the Party (ka-ching, but not entirely) those elements comprise a network — a Flex Net? An iron octagon? — of funders, vendors, apparatchiks, electeds, NGOs, and miscellaneous mercenaries, with assets in the press and the intelligence community.

Note, of course, that the class power of the PMC both expresses and is limited by other classes; oligarchs and American gentry (see 'industrial model' of Ferguson, Jorgensen, and Jie) and the working class spring to mind. Suck up, kick down.

* * *

Primaries? What primaries?

Asked by @ABC News why Biden is not debating his Democratic primary challengers—Marianne Williamson and Robert F. Kennedy Jr:

""President Biden is the Democratic nominee…"" Richmond said.

— Fritz Farrow (@FritzFarrow) August 23, 2023

"Column: Nancy Pelosi on Dylan, the Grateful Dead, a wild night in Argentina — and the healing power of music" [Los Angeles Times]. "She's friends with Weir and drummer Mickey Hart, having seen the Dead and assorted iterations more times than she remembers. On several occasions, the elegantly styled lawmaker has been seen dancing in the wings, 4-inch heels and all." • As a palate cleanser: 

Unexpectedly funny and sweet. (I'm also please the reviewer singles out Lesh, my hero, first!)
#COVID19
"I am in earnest — I will not equivocate — I will not excuse — I will not retreat a single inch — AND I WILL BE HEARD." –William Lloyd Garrison
Resources, United States (National): Transmission (CDC); Wastewater (CDC, Biobot; includes many counties; Wastewater Scan, includes drilldown by zip); Variants (CDC; Walgreens); "Iowa COVID-19 Tracker" (in IA, but national data). "Infection Control, Emergency Management, Safety, and General Thoughts" (especially on hospitalization by city).
Lambert here: Readers, thanks for the collective effort. To update any entry, do feel free to contact me at the address given with the plants. Please put "COVID" in the subject line. Thank you!
Resources, United States (Local): AK (dashboard); AL (dashboard); AR (dashboard); AZ (dashboard); CA (dashboard; Marin, dashboard; Stanford, wastewater; Oakland, wastewater); CO (dashboard; wastewater); CT (dashboard); DE (dashboard); FL (wastewater); GA (wastewater); HI (dashboard); IA (wastewater reports); ID (dashboard, Boise; dashboard, wastewater, Central Idaho; wastewater, Coeur d'Alene; dashboard, Spokane County); IL (wastewater); IN (dashboard); KS (dashboard; wastewater, Lawrence); KY (dashboard, Louisville); LA (dashboard); MA (wastewater); MD (dashboard); ME (dashboard); MI (wastewater; wastewater); MN (dashboard); MO (wastewater); MS (dashboard); MT (dashboard); NC (dashboard); ND (dashboard; wastewater); NE (dashboard); NH (wastewater); NJ (dashboard); NM (dashboard); NV (dashboard; wastewater, Southern NV); NY (dashboard); OH (dashboard); OK (dashboard); OR (dashboard); PA (dashboard); RI (dashboard); SC (dashboard); SD (dashboard); TN (dashboard); TX (dashboard); UT (wastewater); VA (dashboard); VT (dashboard); WA (dashboard; dashboard); WI (wastewater); WV (wastewater); WY (wastewater).
Resources, Canada (National): Wastewater (Government of Canada).
Resources, Canada (Provincial): ON (wastewater); QC (les eaux usées); BC, Vancouver (wastewater).
Hat tips to helpful readers: anon (2), Art_DogCT, B24S, CanCyn, ChiGal, Chuck L, Festoonic, FM, FreeMarketApologist (4), Gumbo, hop2it, JB, JEHR, JF, JL Joe, John, JM (10), JustAnotherVolunteer, JW, KatieBird, LL, Michael King, KF, LaRuse, mrsyk, MT, MT_Wild, otisyves, Petal (6), RK (2), RL, RM, Rod, square coats (11), tennesseewaltzer, Utah, Bob White (3). 
Stay safe out there!
* * *
Policy
On school closures:

One of the most important myth-busting deep-dives I've ever done.

What was the real impact of Covid school closures?
Were they avoidable?
Did they cause 'learning loss' & mental health decline?
What's the impact of Covid on kids' health?

Please do watch:https://t.co/qHgwYA5b0I

— Mehdi Hasan (@mehdirhasan) August 25, 2023
Elite Maleficence
"Hospitals are killing patients because they don't feel like doing infection control" [The Gauntlet]. "I can't believe I have to say this, but infection control is not something that can happen part time, in some cases, or only during surges. As with gloves for bloodborne or hand washing for fomite transmission, protocols for airborne infection control are a set of practices implemented permanently and consistently to protect patients and healthcare workers alike. We don't stop hand washing because norovirus cases are down. We don't stop wearing gloves because HIV cases are down. As a doctor, if you're arguing that you should be able to expose patients to COVID because infection control annoys you, you should not be a doctor. Find a new career. I bet you'd love denying insurance claims. I bet you'd be a natural. Making this picture even more hair-tearingly frustrating for disabled people avoiding healthcare settings is that the counter-argument for proper airborne infection control really is nothing beyond ""don't wanna."" There is no logical argument for allowing the spread of COVID-19 in healthcare settings. There is no scientific debate about the ways in which COVID is spreading. There is no risk analysis which shows that cancer patients or people who've just had heart attacks should consider a COVID infection to be no big deal. There is literally no excuse for this bizarre, unscientific mistreatment of patients other than gross incompetence, institutional negligence, and systemic ableism."
* * *
Case Data
NOT UPDATED!!! From BioBot wastewater data, August 24: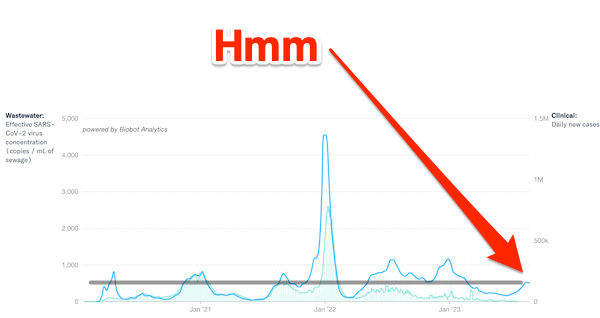 Lambert here: Happy memories of tape-watching days! Closing in on a Trump-era surge level; Biden's, of course, are higher. It will be interesting to see what happens when schools open up. I would like to congratulate the Biden administration and the public health establishment, the CDC especially, for this enormous and unprecedented achievement. And a tip of the ol' Water Cooler hat to the Great Barrington goons, whose policies have been followed so assiduously! A curious fact: All of Biden's peaks are higher than Trump's peaks. Shows you what public health can do when it's firing on all eight cylinders! Musical interlude. NOTE I'm not happy that Biobot can't update this data more frequently. 
Regional data. As we can see, the national flattening is due to the Midwest downward swoop: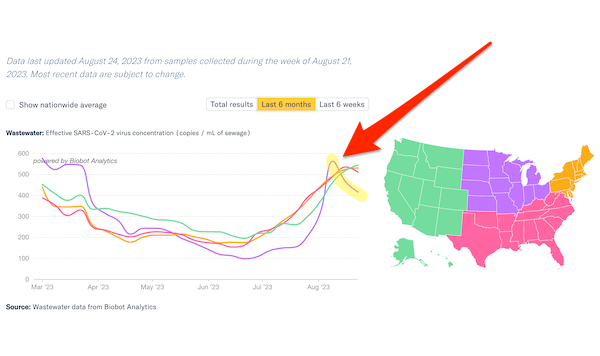 Regional variant data, August 19: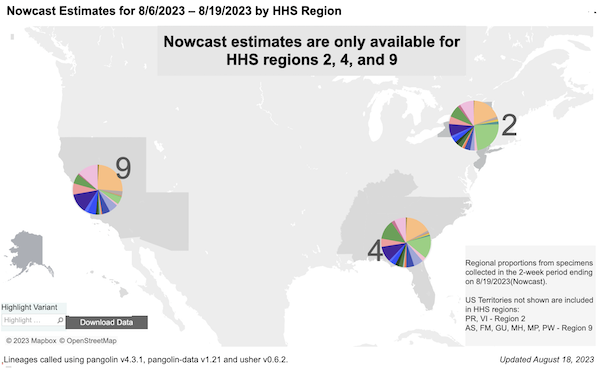 EG.5 (the orange pie slice) still seems evenly distributed. Sadly, the Midwest data is not available, so we can't infer anything about the Midwest surge and any variant(s), one way or the other. 
• "Anthony Fauci on the recent spike in Covid cases" [BBC]. "In a wide ranging interview about his life after retiring as director of the National Institute of Allergy and Infectious Diseases, Anthony Fauci tells the BBC's Katty Kay that 96% of the US population has a degree of immunity again 
Variants                 
NOT UPDATED From CDC, August 19: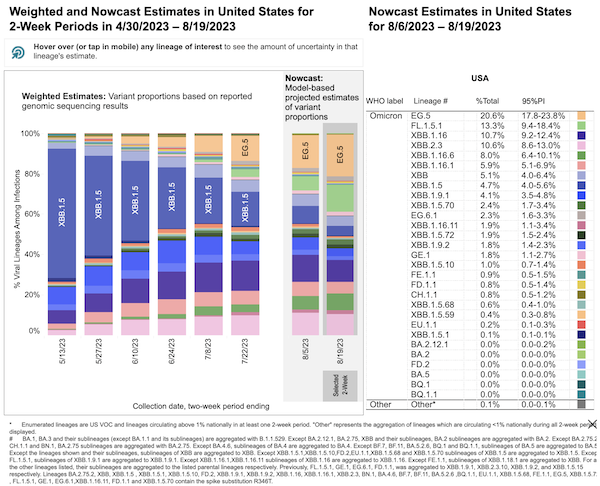 Lambert here: Top of the leaderboard: EG.5 ("Eris"). I'm not highlighting the BA.2's because the interactive version shows that these BA.2's been hanging around at a low level for months.
From CDC, August 5: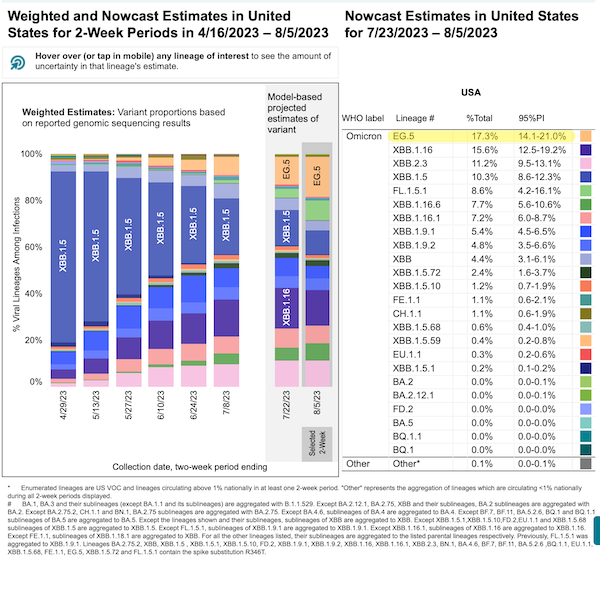 Lambert here: Not sure what to make of this. I'm used to seeing a new variant take down the previously dominant variant. Here it looks like we have a "tag team," all working together to cut XBB.1.5 down to size. I sure hope the volunteers doing Pangolin, on which this chart depends, don't all move on the green fields and pastures new (or have their access to facilities cut by administrators of ill intent).
CDC: "As of May 11, genomic surveillance data will be reported biweekly, based on the availability of positive test specimens." "Biweeekly: 1. occurring every two weeks. 2. occurring twice a week; semiweekly." Looks like CDC has chosen sense #1. In essence, they're telling us variants are nothing to worry about. Time will tell.
Covid Emergency Room Visits
From CDC NCIRD Surveillance, August 19: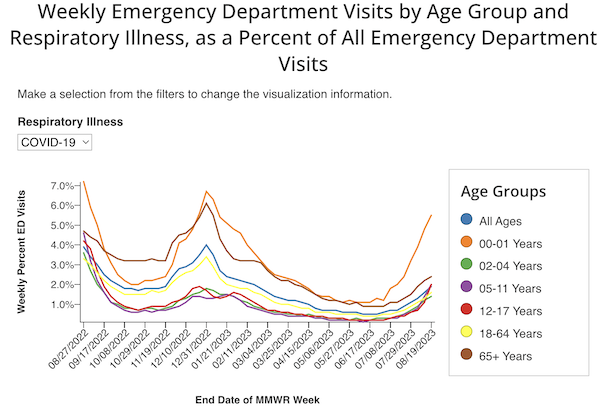 Lambert here: I changed this ER chart to a Covid-only chart broken down by age. Note the 0-1 age group.
NOTE "Charts and data provided by CDC, updates Wednesday by 8am. For the past year, using a rolling 52-week period." So not the entire pandemic, FFS (the implicit message here being that Covid is "just like the flu," which is why the seasonal "rolling 52-week period" is appropriate for bothMR SUBLIMINAL I hate these people so much. Notice also that this chart shows, at least for its time period, that Covid is not seasonal, even though CDC is trying to get us to believe that it is, presumably so they can piggyback on the existing institutional apparatus for injections.
Hospitalization
I hate this metric because the lag makes it deceptive. Nevertheless, here's bellwether New York City, data as of August 29: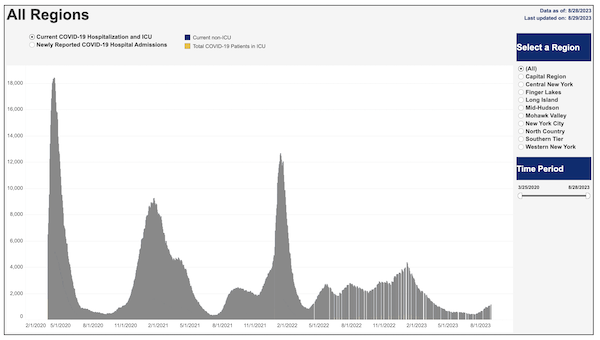 Still getting worse. But how much worse?
Here is CDC's map…. "In Past Week," because there's no [family blogging date]: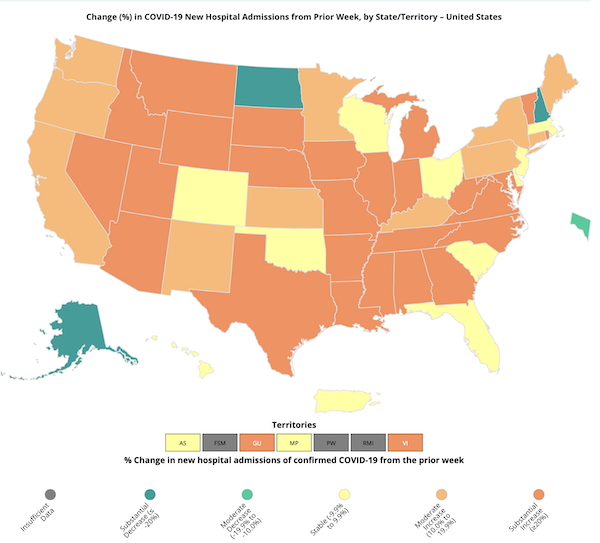 Orange = "substantial increase" (more than 20%). Now that it's too late, maybe we'll swing into some of half-assed action.
Positivity
Walgreens, August 28: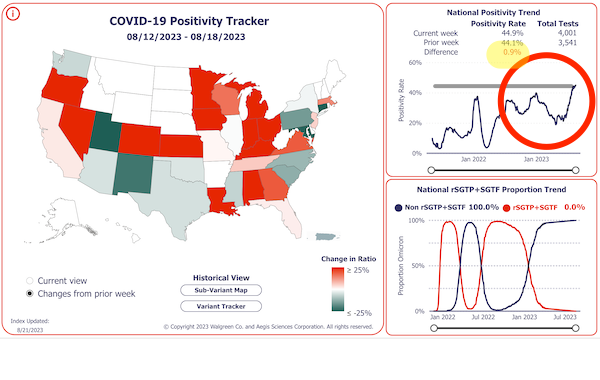 So, Walgreens is back in the game (and how the heck did that debacle happen? We breathlessly await the news coverage). The percentage of positives is the highest ever, though absolute numbers are still small relative to past surges.
NOT UPDATED From CDC, August 7: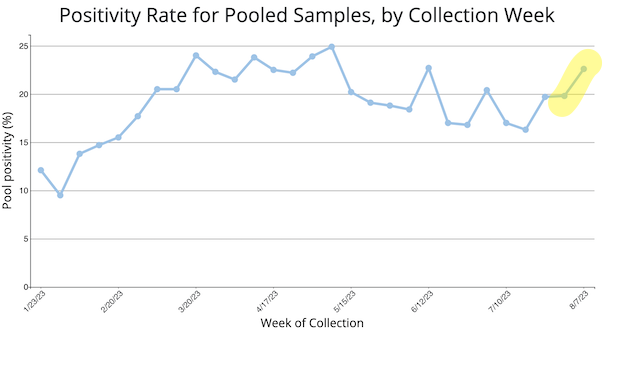 Lambert here: This is the CDC's "Traveler-Based Genomic Surveillance" data, confirming the current surge, only two weeks late. Sure would be useful to know if there were any BA.2.86 in those samples, though!
Deaths
NOT UPDATED Iowa COVID-19 Tracker, August 23: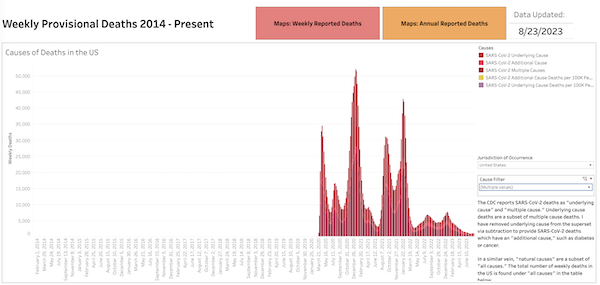 Lambert here: The WHO data is worthless, so I replaced it with the Iowa Covid Data Tracker. Their method: "These data have been sourced, via the API from the CDC: https://data.cdc.gov/NCHS/Conditions-Contributing-to-COVID-19-Deaths-by-Stat/hk9y-quqm. This visualization updates on Wednesday evenings. Data are provisional and are adjusted weekly by the CDC." I can't seem to get a pop-up that shows a total of the three causes (top right). Readers?
Total: 1,173,422 – 1,173,081 =  341 * 365 = 124,465 deaths per year, today's YouGenicist™ number for "living with" Covid (quite a bit higher than the minimizers would like, though they can talk themselves into anything.–> If the YouGenicist™ metric keeps chugging along like this, I may just have to decide this is what the powers-that-be consider "mission accomplished" for this particular tranche of death and disease). 
Lambert here: First negative number (!). Optimism?
Excess Deaths
The Economist, August 29: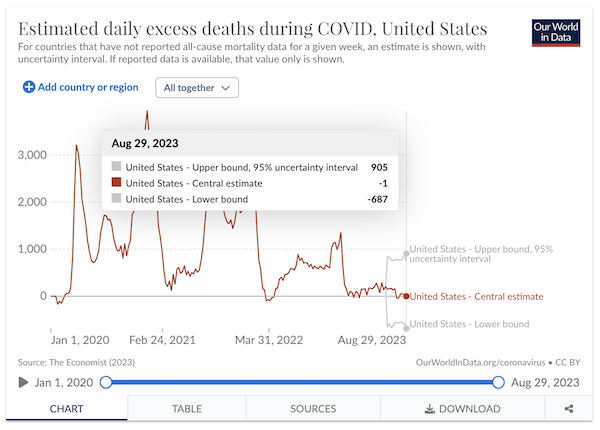 Lambert here:  Back to almost daily. Odd when it is, odd when it stops. Based on a machine-learning model. (The CDC has an excess estimate too, but since it ran forever with a massive typo in the Legend, I figured nobody was really looking at it, so I got rid it. )
Stats Watch
Employment Situation: "United States Job Openings" [Trading Economics]. "The number of job openings declined by 338,000 from the previous month to 8.827 million in July 2023, marking the lowest level since March 2021 and falling below the market consensus of 9.465 million. It also represented the third consecutive month of decline in job openings, indicating that the labor market is gradually slowing after months of unprecedented monetary policy tightening by the Fed."
* * *
* * *
Today's Fear & Greed Index: 50 Neutral (previous close: 48 Fear) [CNN]. One week ago: 47 (Neutral). (0 is Extreme Fear; 100 is Extreme Greed). Last updated Aug 29 at 1:57 PM ET. C'mon, Mr. Market! One way or the other!
Rapture Index: Closes unchanged [Rapture Ready]. Record High, October 10, 2016: 189. Current: 185. (Remember that bringing on the Rapture is good.) NOTE on #42 Plagues: "The coronavirus pandemic has maxed out this category." More honest than most!
The Jackpot
"The Doomsday Prepper's Daughter" [Jessica Wildfire, OK Doomer]. A wild story from Kentucky, worth a read. But can readers confirm? Here's the moral, spoiler removed: "Most survivalists don't spend their time hoarding food and guns in underground bunkers. They focus on learning how to grow food, honing their skills, and developing relationships. The rich do the opposite of all this. They think they can hide in steel boxes from all the chaos they created. [C. Wesley Morgan's] story shows us how well that turns out. The rich aren't really planning. They're indulging in survivalist fantasies."
Class Warfare
"COVID-19 and Education: An Updated Survey of the Research" [Federal Reserve Bank of Cleveland]. "Achievement levels on a variety of standardized tests fell during the pandemic…. Evidence suggests that test scores during the pandemic were related to the choice of instructional mode. Depending on the exact statistical specification, Jack et al. (2022) find that in-person schooling is associated with about a 13 percentage point or 14 percentage point higher pass rate in mathematics and an 8 percentage point or 9 percentage point higher pass rate in ELA than with virtual schooling, while hybrid schooling is associated with about a 7 percentage point or 8 percentage point higher pass rate in mathematics and a 5 percentage point or 6 percentage point higher pass rate in ELA than with virtual schooling. The effects are largest in the lower grades. Goldhaber et al. (2022) find that remote instruction is associated with widening achievement gaps, primarily because the negative effects of remote instruction are larger in magnitude at high-poverty schools and to a lesser extent because high-poverty schools are more likely to use remote instruction."
NGOs gotta NGO:
This org was founded by a former Bernie staffer. While it's presented as pro-union, the entire business model is based around a small staff getting full time wages/benefits when all the ""content creators"" are paid gig wages with no salary or benefits let alone health insurance https://t.co/bOLiIoc3pg

— thomas 🛠 IATSE STRIKE! (@t_NYC) August 29, 2023
News of the Wired
"The World's Oldest Cat Door Has Been Letting Working Cats Enter the Cathedral Since the 14th Century" 
News of the Wired
I am not yet feeling wired today.
* * *
Contact information for plants: Readers, feel free to contact me at lambert [UNDERSCORE] strether [DOT] corrente [AT] yahoo [DOT] com, to (a) find out how to send me a check if you are allergic to PayPal and (b) to find out how to send me images of plants. Vegetables are fine! Fungi and coral are deemed to be honorary plants! If you want your handle to appear as a credit, please place it at the start of your mail in parentheses: (thus). Otherwise, I will anonymize by using your initials. See the previous Water Cooler (with plant) here. From REH: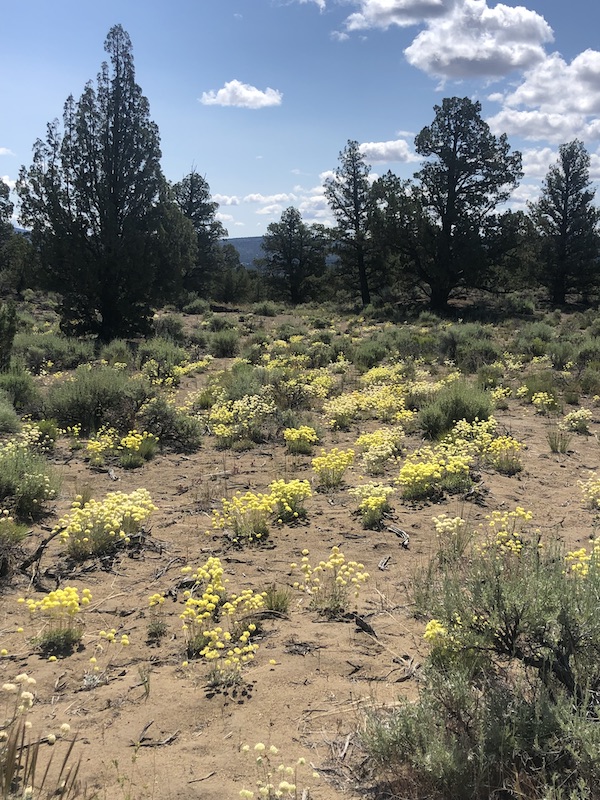 REH writes: "Buckwheat flowering in the high desert of Oregon."
* * *
Readers: Water Cooler is a standalone entity not covered by the annual NC fundraiser. So if you see a link you especially like, or an item you wouldn't see anywhere else, please do not hesitate to express your appreciation in tangible form. Remember, a tip jar is for tipping! Regular positive feedback both makes me feel good and lets me know I'm on the right track with coverage. When I get no donations for five or ten days I get worried. More tangibly, a constant trickle of donations helps me with expenses, and I factor in that trickle when setting fundraising goals:
Here is the screen that will appear, which I have helpfully annotated: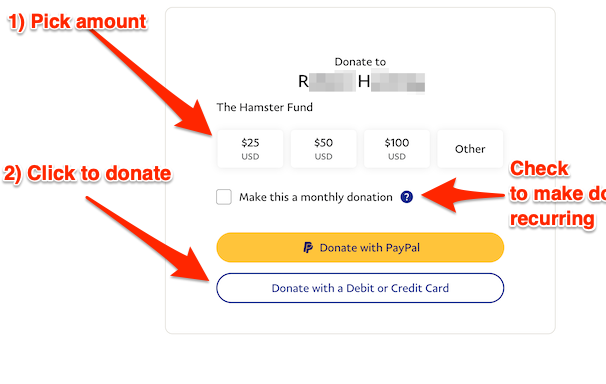 If you hate PayPal, you can email me at lambert [UNDERSCORE] strether [DOT] corrente [AT] yahoo [DOT] com, and I will give you directions on how to send a check. Thank you!