By Lambert Strether of Corrente.
Bird Song of the Day
Western Meadowlark, Fred Hervey WTP (FWTX 4), El Paso, Texas, United States. "Song."
* * *
Politics
"So many of the social reactions that strike us as psychological are in fact a rational management of symbolic capital." –Pierre Bourdieu, Classification Struggles
2024
Time for the Countdown Clock!

* * *

"Is the Trump indictment constitutionally legitimate?" [The Hill]. "If there is no jurisdiction, there's no case. The question of jurisdiction is a question of the authority of the court in which the case is brought to even entertain it. Importantly, the jurisdictional analysis is irrespective of the criminal culpability of the defendant. The question of criminal jurisdiction in a federal court for a case involving acts of a then-sitting president is legally a question of first impression. It has long been thought that the president enjoys immunity for his acts while in office — at least for those acts connected with his official duties. The DOJ has historically agreed with this and has repeatedly endorsed the position that they cannot indict a sitting president. The Constitution, though, seems to go much further.  As a remedy for the commission of 'high crimes and misdemeanors,' by a president, the Constitution calls for impeachment. The remedy of impeachment is the only one delineated in the Constitution. The indictment in this case, of course, follows a failed impeachment for the same acts. The argument against this is that the president has only 'qualified immunity,' meaning that his immunity from prosecution is connected only to acts that are in furtherance of his official duties. There's a long history in American politics of drawing this line in cases involving the prosecution of other politicians, including state governors. But the American president is different. The president is an entire branch of government embodied in one individual…. n order for a prosecution of this sort to even arguably move past the jurisdictional bar, the government would need to establish — maybe even beyond a reasonable doubt — that the acts in the indictment fall outside the scope of the president's official duties. That will be tough for prosecutors. The executive has a direct interest in and obligation to ensure fairness in the outcome of elections. For example, an executive who believes an election is being mishandled by public officials certainly has the authority to comment on such and to intervene as needed — ""as needed"" being the operative phrase. In addition to his obligations as the executive, the president also enjoys a First Amendment right to speak about concerns with election legalities as he sees fit." • A more clever way to frame the "First Amendment" issue than the current state of the art. And while we're talking about lying and fraud:

Here are 24 STRAIGHT MINUTES of Democrats denying election resultspic.twitter.com/gDnNqfruWD

— RNC Research (@RNCResearch) August 2, 2023

I hate to use RNC oppo, but I did search some of the quotes, and they check out. Anyhow, RussiaGate.

NOTE To me, the heart of the case is the "contingent electors." I see the "lying" vs. "Free Speech" argument as not especially salient or compelling, but instrumental; I would argue that the press and both parties are consumed with it because resolving it one way or the other affects the power and functioning of the Censorship Industrial Copmplex.

* * *

"Trump pleads not guilty to federal charges that he tried to overturn the 2020 election" [Associated Press]. "U.S. Magistrate Judge Moxila Upadhyaya set the next court date for Aug. 28, when a tentative trial date will be set, and directed Trump not to communicate directly about the facts of case with any individual known to be a witness. Three police officers who defended the Capitol that day were also seen entering the courthouse. One of them, Aquilino Gonell, who retired from the Capitol Police after suffering injuries, took stock of the location's symbolism, noting that it was 'the same court in which hundreds of rioters have been sentenced. It's the same court former President Trump is being arraigned in today for his alleged involvement before, during, and after the siege….He addressed the proceedings in a brief statement on a drizzly tarmac at Washington's Reagan National Airport before he boarded his plane back to New Jersey. 'This is the persecution of the person that's leading by very, very substantial numbers in the Republican primary and leading Biden by a lot,' he said. 'So if you can't beat 'em, you persecute 'em or you prosecute 'em. We can't let this happen in America.'" • This account follows the proceedings. They're a Trump supporter, but AFACT doesn't make things up. I like the tart tone:

It's all theatrics anyway. DOJ will come back with superseding indictments in this case which resets Speedy Trial clock. (This just happened in classified docs case last week). They want to make it look like Trump is responsible for trial delay and the 🐑 will buy it.

— Julie Kelly 🇺🇸 (@julie_kelly2) August 3, 2023

Worth thinking about.

* * *

Count Two of the conspiracy indictment depends on 18 U.S. Code § 1512 (c)(2) and (k) (from the MSNBC annotated copy of The United States of America v. Donald Trump:

Here are those two sections of 18 U.S. Code § 1512 – Tampering with a witness, victim, or an informant:

(c)Whoever corruptly—

(1)alters, destroys, mutilates, or conceals a record, document, or other object, or attempts to do so, with the intent to impair the object's integrity or availability for use in an official proceeding; or

(2)otherwise ,

shall be fined under this title or imprisoned not more than 20 years, or both.

That is the crime part. Section (k) is the conspiracy part:

(k)Whoever conspires to commit any offense under this section shall be subject to the same penalties as those prescribed for the offense the commission of which was the object of the conspiracy.

I think "obstructs, influences, or impedes any official proceeding, or attempts to do so" is pretty broad. For example, the Medicare for All activists who disrupted Max Baucus's sham ObamaCare hearings could have been sent to jail for twenty years under "impede", and who knows what "influence" might mean; holding up a sign in a Capitol Building hallway? (Not that liberal Democrats wouldn't applaud all this, of course). But I think it's worth noting that [genuflects] Jack Smith has previously lost an overly broadly drawn case before:

A unanimous Supreme Court has overturned the corruption convictions of former Virginia Gov. Bob McDonnell, ruling that federal prosecutors relied on a ""boundless"" definition of the kinds of acts that could lead politicians to face criminal charges.

If Jack Smith can't convict Bob McDonnell of corruption, who can he convict? 

Finally, I'm moving into IANAL (I Am Not A Lawyer) territory here, but I have to believe that the statute's heading ("Tampering with a witness, victim, or an informant") has something to do with Congressional intent. Whatever Trump was doing, it wasn't witness tampering. So again, I think Smith has boundary issues. (I'm not the only one who takes the view that 1512 has been interpreted too expansively; see here, here, and here).

* * *

Remember when liberal Democrats were naming their dogs after Bob Mueller? They never learn:

Look at this slobbering over gritty triathlon man Jack Smith: "His aggressive approach to his personal health and exercise correlates to how he approaches his prosecution" pic.twitter.com/vKNEJ1BHfo

— Michael Tracey (@mtracey) August 3, 2023

Tracy's not exaggerating with "slobbering", either. Just listen.

* * *

Vivek Ramaswamy slipstreaming behind Trump:

The corrupt federal police just won't stop until they've achieved their mission: eliminate Trump. This is un-American & I commit to pardoning Trump for this indictment. Donald Trump isn't the cause of what happened on Jan 6. The real cause was systematic & pervasive censorship of… pic.twitter.com/c1OpZNOl6c

— Vivek Ramas'wamy (@VivekGRamaswamy) August 1, 2023

"Vivek Ramaswamy Wants a Second American Revolution" (interview) [Bari Weiss, The Free Press]. RAMASWAMY: "But I'll tell you what my story is. I'm the embodiment of the American dream. My parents came to this country over 40 years ago with almost no money. I've gone on to found multibillion-dollar companies that created value by doing valuable things for other people, developing five medicines that are FDA approved today. One of them is a life-saving therapy for kids, another one for prostate cancer. I did it while getting married, while bringing two sons into this world, while following my faith in God, while growing up with the ultimate privilege in this country. And I think the thing that's extraordinary about that story is that it isn't extraordinary. It is the story of this country. And I don't think we're in decline. I think we are still a nation in our ascent, in the early stages of our ascent actually, a nation whose best days are still ahead. I think it takes someone in my shoes to see our nation that way, too. That's truly what pulled me into the race." • He's exceptional.

"Pence seizes on Trump's latest indictment as he looks to break through in crowded GOP field" [Associated Press]. "Since the release of the indictment in which he plays a central role, Pence has criticized Trump more aggressively, casting himself as the person who stood up to Trump, averting catastrophe…. But Pence's new words stand out, in part because of just how staunchly he refused to publicly criticize Trump during his four years as vice president, dutifully and deferentially defending his boss, no matter what. His newly tough talk also contrasts with Trump's other rivals, who have largely shied away from attacking the former president over his mounting legal troubles and efforts to remain in power." • I think almost everything Pence believes is wrong, but if there's a Sleaze Merchant Scale™, he's not very high on it. (Not the same as vehemently disagreeing on policy, to be clear.)

* * *

"'Whistling past the graveyard': Dem fear grows over massive grassroots fundraising hit" [Politico]. "One of the best online fundraising days for Democrats this year was the day of Joe Biden's campaign launch — but even that day's haul was meager compared to his campaign kickoff four years ago. That's among the findings of an analysis of fundraising for the first half of the year through ActBlue, the party's primary donation processor. Small-dollar giving at the federal level totaled $312 million in the first half of 2023 — a drop-off of more than $30 million compared to this point in the 2020 cycle. The platform also had 32 percent fewer donors in the second quarter this year compared to four years prior, although its total fundraising increased slightly due to several factors, including more recurring donors and greater giving to non-federal groups.' Because small donors are a proxy for enthusiasm, if people aren't concerned about the drop-off in contributions, then they just aren't paying attention or whistling past the graveyard,' said Ari Rabin-Havt, who served as deputy campaign manager on Sen. Bernie Sanders' 2020 presidential campaign. 'The impact is from top to bottom. You can see it in the ActBlue number, you can see it from the DNC down through every group. There has to be a quick examination among Democrats about what is creating this enthusiasm gap.'" • 'Tis a mystery!

""Dark Brandon" is driving Biden's campaign merch sales" [Axios]. "Dark Brandon" — an online meme that portrays the 80-year-old president as a two-steps-ahead Machiavelli — is driving the Biden campaign's merchandise sales. More than 54% of the store's total revenue is coming from Brandon-themed products, his re-election team told Axios." • You can't spell "Brandon" without "Brand" (as Devon Archer would doubtless agree):

A cup of Joe never tasted better.

Grab yours: https://t.co/4fbxCBQNPZ pic.twitter.com/s2qboyE7C1

— Joe Biden (@JoeBiden) August 3, 2023

* * *
Trump Legacy
"How America Changed During Donald Trump's Presidency" [Pew Research]. • Nothing on economics! Remarkable. This was the most interesting chart, even if not all that useful:

Fascinating that "entertained" is the highest positive for both Democrats and Republicans. 
Obama Legacy
Why are these people laughing?

Wishing my brother and friend, @BarackObama, a very happy birthday. pic.twitter.com/BXAm9ybpLD

— Joe Biden (@JoeBiden) August 4, 2023
Democrats en Déshabillé
Patient readers, it seems that people are actually reading the back-dated post! But I have not updated it, and there are many updates. So I will have to do that. –lambert

I have moved my standing remarks on the Democrat Party ("the Democrat Party is a rotting corpse that can't bury itself") to a separate, back-dated post, to which I will periodically add material, summarizing the addition here in a "live" Water Cooler. (Hopefully, some Bourdieu.) It turns out that defining the Democrat Party is, in fact, a hard problem. I do think the paragraph that follows is on point all the way back to 2016, if not before:

The Democrat Party is the political expression of the class power of PMC, their base (lucidly explained by Thomas Frank in Listen, Liberal!). ; if the Democrat Party did not exist, the PMC would have to invent it. . ("PMC" modulo "class expatriates," of course.) Second, all the working parts of the Party reinforce each other. Leave aside characterizing the relationships between elements of the Party (ka-ching, but not entirely) those elements comprise a network — a Flex Net? An iron octagon? — of funders, vendors, apparatchiks, electeds, NGOs, and miscellaneous mercenaries, with assets in the press and the intelligence community.

Note, of course, that the class power of the PMC both expresses and is limited by other classes; oligarchs and American gentry (see 'industrial model' of Ferguson, Jorgensen, and Jie) and the working class spring to mind. Suck up, kick down.

* * *
#COVID19
"I am in earnest — I will not equivocate — I will not excuse — I will not retreat a single inch — AND I WILL BE HEARD." –William Lloyd Garrison
Resources, United States (National): Transmission (CDC); Wastewater (CDC, Biobot; includes many counties; Wastewater Scan, includes drilldown by zip); Variants (CDC; Walgreens); "Iowa COVID-19 Tracker" (in IA, but national data). "Infection Control, Emergency Management, Safety, and General Thoughts" (especially on hospitalization by city).
Lambert here: Readers, thanks for the collective effort. To update any entry, do feel free to contact me at the address given with the plants. Please put "COVID" in the subject line. Thank you!
Resources, United States (Local): AK (dashboard); AL (dashboard); AR (dashboard); AZ (dashboard); CA (dashboard; Marin, dashboard; Stanford, wastewater; Oakland, wastewater); CO (dashboard; wastewater); CT (dashboard); DE (dashboard); FL (wastewater); GA (wastewater); HI (dashboard); IA (wastewater reports); ID (dashboard, Boise; dashboard, wastewater, Central Idaho; wastewater, Coeur d'Alene; dashboard, Spokane County); IL (wastewater); IN (dashboard); KS (dashboard; wastewater, Lawrence); KY (dashboard, Louisville); LA (dashboard); MA (wastewater); MD (dashboard); ME (dashboard); MI (wastewater; wastewater); MN (dashboard); MO (wastewater); MS (dashboard); MT (dashboard); NC (dashboard); ND (dashboard; wastewater); NE (dashboard); NH (wastewater); NJ (dashboard); NM (dashboard); NV (dashboard; wastewater, Southern NV); NY (dashboard); OH (dashboard); OK (dashboard); OR (dashboard); PA (dashboard); RI (dashboard); SC (dashboard); SD (dashboard); TN (dashboard); TX (dashboard); UT (wastewater); VA (dashboard); VT (dashboard); WA (dashboard; dashboard); WI (wastewater); WV (wastewater); WY (wastewater).
Resources, Canada (National): Wastewater (Government of Canada).
Resources, Canada (Provincial): ON (wastewater); QC (les eaux usées); BC, Vancouver (wastewater).
Hat tips to helpful readers: anon (2), Art_DogCT, B24S, CanCyn, ChiGal, Chuck L, Festoonic, FM, FreeMarketApologist (4), Gumbo, hop2it, JB, JEHR, JF, JL Joe, John, JM (10), JustAnotherVolunteer, JW, KatieBird, LL, Michael King, KF, LaRuse, mrsyk, MT, MT_Wild, otisyves, Petal (6), RK (2), RL, RM, Rod, square coats (11), tennesseewaltzer, Utah, Bob White (3). 
Stay safe out there!
* * *
Maskstravaganza
Well, why not?

Last semester I gave extra credit for students who wore a mask in class (using a roster sign in sheet). Consistent masking was about 70% in one class and 90% in the other. I will do the same this semester! 😷 #CovidIsAirborne #CovidIsntOver #AcademicTwitter

— Sarah E. DeYoung PhD (@SarahDeYoung2) August 3, 2023
Scientific Communication
"ProMED, an early warning system on disease outbreaks, appears near collapse" [STAT]. "The early warning disease network that alerted the world to the original SARS outbreak and the start of the Covid-19 pandemic appears to be in peril. A number of the senior moderators of ProMED-mail, a program operated by the International Society for Infectious Diseases, posted a letter of protest early Thursday, challenging a recently revealed plan to charge for subscriptions to the service. The group of 21 moderators, who announced they were suspending work for ProMED, expressed a lack of confidence in the ISID's administrative operations, suggesting ProMED needs to find a new home. 'For most of us, creating ProMED's content is a labor of love. However, we cannot be expected to continue working on good will alone,' the moderators wrote.  The prospect of a potential collapse of the nearly 30-year-old program has the infectious diseases community aghast." • Hey, who needs early warnings when we've got Big Pharma? I wrote about the fragility of our genomic surveillance infrastructure back in April:

Of the two essential projects downstream from GISAID [Global Initiative on Sharing Avian Influenza Data; they started with bird flu], Pango depends on a tiny team of volunteers (!!), and Nextstrain depends on the curation efforts of one person (!!!). Weak, weak, and weak. Dangerous, dangerous, dangerous. What happens if when the genomic sequencing tools go down, and genomic surveillance can't happen, when a new variant is multiplying geometrically? If when that happens, we can't afford to lose a week!

So while the PMC moans and wrings its hands because the rentier-servicing labor aristocrats of Silicon Valley won't be getting free massages or truffle-infused vegan stylings any more, or the political class loses its mind because we can't send the Azovs in Ukraine enough tanks to break down for parts and sell on the black market, genuine scientists doing the work on which millions of lives depend should look both ways before crossing the street. What a situation. Meanwhile, some brain genius at the Rockefeller foundation misplaced a decimal point. They said a million, I guess because they looked under the couch cushions, but ten million would buy some redundancy. Maybe a hundred millions would buy tech doc dull normals could use, who knows. What's wrong with these people?

I mean, besides brain damage neurological seqeulae. Commentary, and ProMed's email alert on the virus later dubbed SARS-Cov-2, 2019-12-30:

Talking about an important platform 🥲 pic.twitter.com/AZwwYacX9F

— Sean Wei (@XinWei57337546) August 3, 2023

Platform? Well, maybe… 
Infection
"Symptom profiles of community cases infected by influenza, RSV, rhinovirus, seasonal coronavirus, and SARS-CoV-2 variants of concern" [Nature]. "The SARS-CoV-2 symptom profile increasingly resembles that of other respiratory viruses as new strains emerge. Increased cough, sore throat, runny nose, and sneezing are associated with the emergence of the Omicron strains. As SARS-CoV-2 becomes endemic, monitoring the evolution of its symptomatology associated with new variants will be critical for clinical surveillance." • This will no doubt instantly mutate into the claim that SARS-CoV-2 really is "just like the flu," but the flu doesn't give you brain damage. And there's no such thing as Long Common Cold (I mean, that we know of. I'm not sure we know all that much about viruses, and they may be more pervasive than we think).
Sequelae
"An Important Preprint" [Infection Control, Emergency Management, Safety, and General Thoughts (Jason Boxman)]. "This preprint study [linked to yesterday] has some stunning findings. The short version is that even among those who had COVID but no symptoms, there is tissue damage…. I suspect that part of the reason that COVID seems less damaging in younger or healthier populations is that they can more easily handle some tissue damage since the surrounding unaffected tissue can take on some of the load of the damaged tissue. However, as that unaffected tissue ages, it won't work quite as efficiently as when it was young and healthy, and the impacts of the COVID infection will start manifesting themselves as a number of chronic diseases. The fact that we are seeing many of these in such a short time is extremely concerning. It suggests that we will see massive amounts of chronic diseases among people who had COVID infections in the future." • Yikes.
"Something Awful"
Lambert here: I'm getting the feeling that the "Something Awful" might be a sawtooth pattern — variant after variant — that averages out to a permanently high plateau. Lots of exceptionally nasty sequelae, most likely deriving from immune dysregulation (says this layperson). To which we might add brain damage, including personality changes therefrom.

* * *
Elite Maleficence
"Experts warn the U.S. lacks COVID resources as cases tick up again" [Axios]. Look at the wastewater data. Whatever that is, it's not an "uptick." "Infection levels are still relatively low [since we don't test, how do we know?], and immunity [fading] from prior infections and vaccinations means the virus is unlikely to reach the same high levels seen during past fall and winter waves [whatever that means]. Still, 'We [who?] don't have the resources now to combat it like we  [who?] did and we [who?] don't have the political will to even push for those resources,' said Michael Mina, an epidemiologist and chief scientific officer for at-home testing company eMed. This is in part due to the expiration of the public health emergency, leaving Americans with less access to free COVID tests and treatments for the first time since the pandemic began." • The public health emergency did not "expire." It was ended. By Biden.
* * *
Case Data
From BioBot wastewater data, August 3: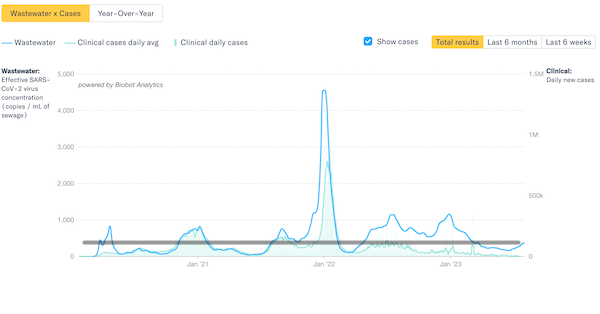 Lambert here: Moving along quite briskly now.
Regional data: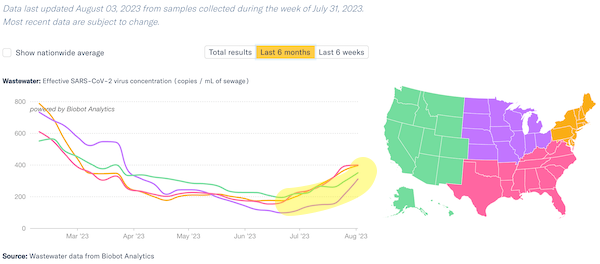 Lambert here: Again, backward revisions. I imagine that dip in the South will be smoothed away.
Interestingly, the upswing begins before July 4, which neither accelerates nor retards it.
Regional variant data: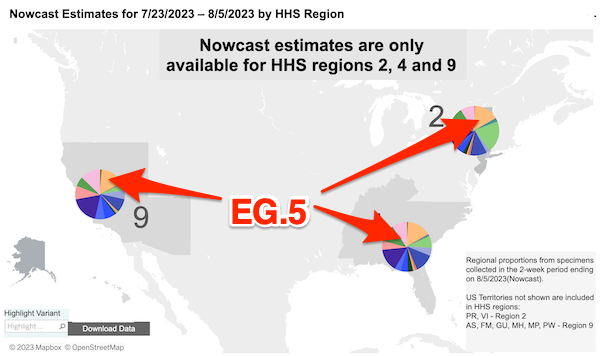 EG.5 (the orange pie slice) still seems evenly distributed.
Variants
From CDC, August 5: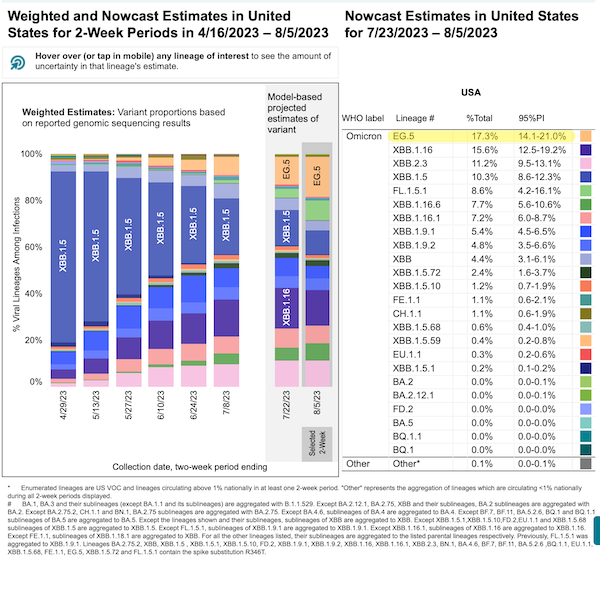 Lambert here:  EG.5 at the top of the leaderboard (after waiting two weeks ffs). EG.5 is big in Japan:
As far as we can tell, in Japan it's mostly Eris (EG.5.1*) and Arcturus (XBB.1.16*) there. There's nothing super notable about either of those, and they're already found elsewhere, so it's not at all clear that the surge in hospitalizations is variant-driven per se in Japan. pic.twitter.com/pYEm2jHAe1

— T. Ryan Gregory (@TRyanGregory) August 1, 2023
From CDC, July 22: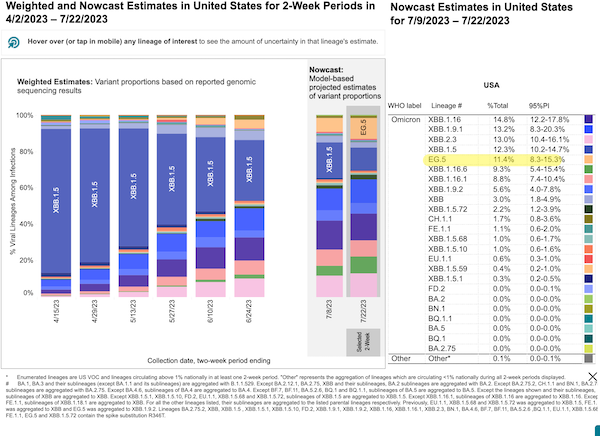 Lambert here: Not sure what to make of this. I'm used to seeing a new variant take down the previously dominant variant. Here it looks like we have a "tag team," all working together to cut XBB.1.5 down to size. I sure hope the volunteers doing Pangolin, on which this chart depends, don't all move on the green fields and pastures new (or have their access to facilities cut by administrators of ill intent).
CDC: "As of May 11, genomic surveillance data will be reported biweekly, based on the availability of positive test specimens." "Biweeekly: 1. occurring every two weeks. 2. occurring twice a week; semiweekly." Looks like CDC has chosen sense #1. In essence, they're telling us variants are nothing to worry about. Time will tell.
Covid Emergency Room Visits
NOT UPDATED From CDC NCIRD Surveillance, July 29: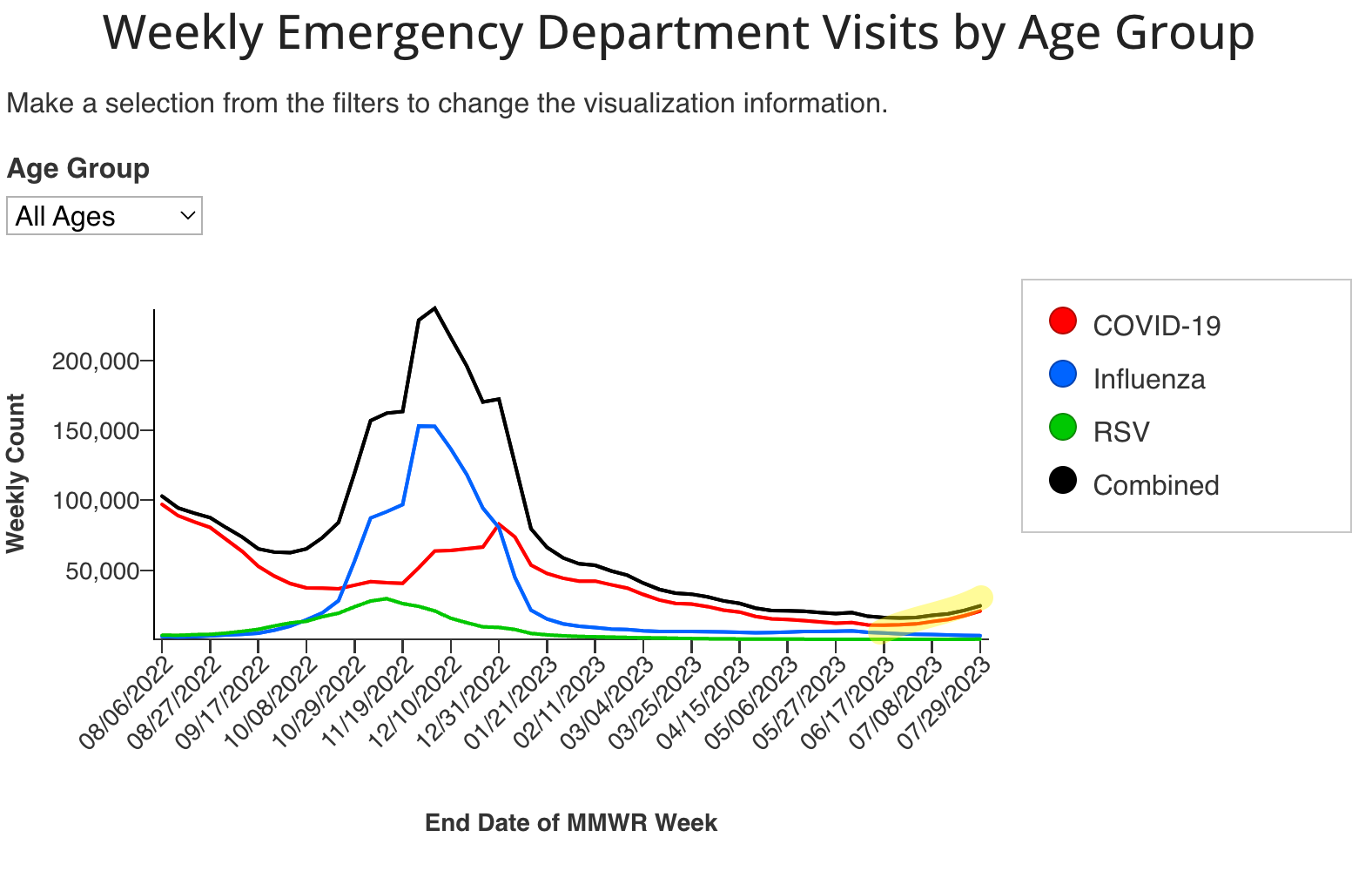 Lambert here: Increase is even more distinct. (The black line is "combined", but it is easy to see that Covid, the red line, is driving everything.)
NOTE "Charts and data provided by CDC, updates Wednesday by 8am. For the past year, using a rolling 52-week period." So not the entire pandemic, FFS (the implicit message here being that Covid is "just like the flu," which is why the seasonal "rolling 52-week period" is appropriate for bothMR SUBLIMINAL I hate these people so much. Notice also that this chart shows, at least for its time period, that Covid is not seasonal, even though CDC is trying to get us to believe that it is, presumably so they can piggyback on the existing institutional apparatus for injections.
Positivity
NOT UPDATED From Walgreens, July 31: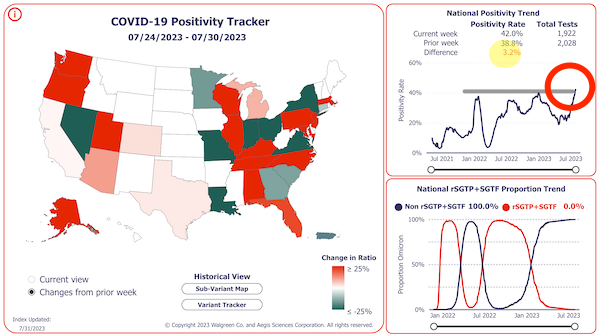 3.2%. Interestingly, people are citing to this, too, as well as Biobot. Vertical, though the absolute numbers are still very small relative to June 2022, say. Interestingly, these do not correlate with the regional figures for wastewater. (It would be interesting to survey this population generally; these are people who, despite a tsunami of official propaganda and enormous peer pressure, went and got tested anyhow.)
NOT UPDATED From CDC, July 10: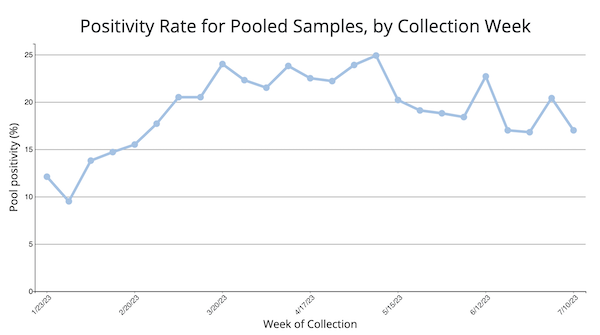 Lambert here: This is the CDC's "Traveler-Based Genomic Surveillance" data. They say "maps," but I don't see one…. 
Deaths
Iowa COVID-19 Tracker, August 2: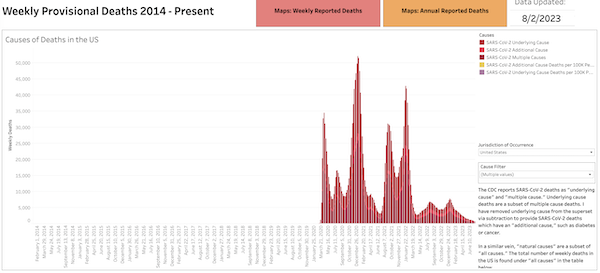 Lambert here: The WHO data is worthless, so I replaced it with the Iowa Covid Data Tracker. Their method: "These data have been sourced, via the API from the CDC: https://data.cdc.gov/NCHS/Conditions-Contributing-to-COVID-19-Deaths-by-Stat/hk9y-quqm. This visualization updates on Wednesday evenings. Data are provisional and are adjusted weekly by the CDC." I can't seem to get a pop-up that shows a total of the three causes (top right). Readers?,,
Total: 1,169,999 – 1,169,985 = 14 (14 * 365 = 5110 deaths per year, today's YouGenicist™ number for "living with" Covid (quite a bit higher than the minimizers would like, though they can talk themselves into anything. If the YouGenicist™ metric keeps chugging along like this, I may just have to decide this is what the powers-that-be consider "mission accomplished" for this particular tranche of death and disease). 
Excess Deaths
The Economist, August 4: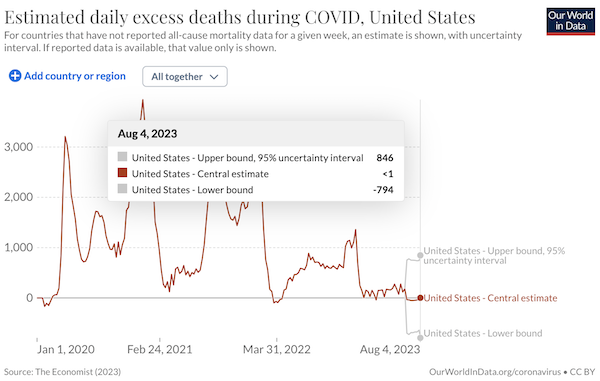 Lambert here: This is now being updated daily. Odd. Based on a machine-learning model. (The CDC has an excess estimate too, but since it ran forever with a massive typo in the Legend, I figured nobody was really looking at it, so I got rid it. )
Stats Watch
Employment Situation: "United States Unemployment Rate" [Trading Economics]. "The unemployment rate in the US decreased slightly to 3.5 percent in July 2023 from 3.6 percent in June and below market expectations of 3.6 percent…. The labor force participation rate was unchanged at 62.6 percent, remaining at its highest level since March 2020."
* * *
Imperial Collapse Watch (via):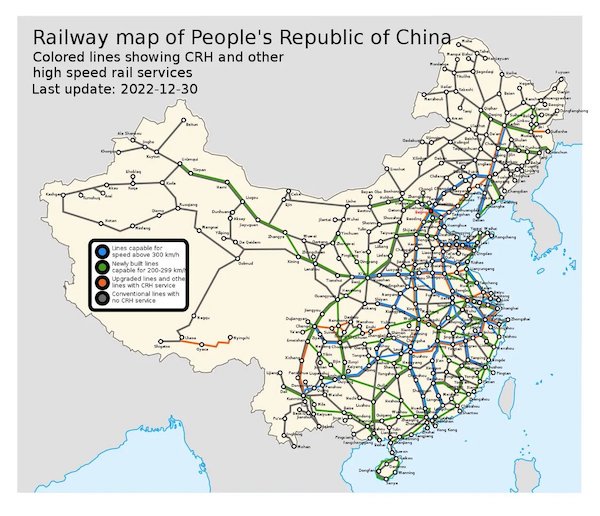 And in this country, forget about the California High Speed Rail debacle, a new tunnel under the Hudson has a "potential" opening date of 2035, when we've known for years that the existing tunnel is failing, and when it fails, will bring rail traffic along the entire East Coast to a halt. I guess we could use helicopters and air taxis for the truly important passengers, but what about freight?
Superconductor: "LK-99 Is the Superconductor of the Summer" [New York Times]. "Dr. Das Sarma said he knew that the research groups of several prominent physicists were working to synthesize the material and make measurements to determine whether LK-99 is indeed a superconductor. 'A claim this huge has to be scrutinized very, very carefully,' Dr. Das Sarma said. 'And has to be duplicated by independent groups in as many ways as possible before we declare victory.' He added, 'I believe this can happen. But that does not mean this has happened.'"
* * *
Today's Fear & Greed Index: 75 Extreme Greed (previous close: 74 Greed) [CNN]. One week ago: 77 (Extreme Greed). (0 is Extreme Fear; 100 is Extreme Greed). Last updated Aug 2 at 1:47 PM ET. Last updated Aug 4 at 1:49 PM ET.
Our Famously Free Press
Class Warfare
News of the Wired
I believe I've run this before, but it still seems apt in so many ways:
— Out of Context Human Race (@NoContextHumans) August 4, 2023
NEW This, however, is also apt:
At my sister's wedding, I gave my 5yo nephew a bag of 100 tiny ducks. He spent the day hiding them all in ppl's bags & pockets. For the last week, the WhatsApp group is just confused ppl finding ducks. The ducks even made it to Morocco with the bride & groom#DucksOnTour pic.twitter.com/MYDV8y8uh4

— Kate Lister (@k8_lister) August 4, 2023
I got this comment via email from desert dog the other day, whose image of Tilford the Turtle graced today's Links. He said (quoted only in part in Links):
After reading both the Links and your Water cooler I actually get a bit depressed and think it wont be long till it's all over. Then I get this message photo from fiends down in Missouri. It's my friend Gregg feeding Tilford the turtle and  it just makes me feel that I am missing the good things in life. I just got to pay more attention to the real life stories?
Well, I don't want Water Cooler to be an exercise in doomscrolling. That's why there are birds at the top, in the sky, and plants at the bottom, for the earth. That said, the world isn't in the best shape, and we do have to report that clearly, especially in the face of denial, minimization, layers of impacted PMC bullshit. That said, "if it bleeds, it leads," meaning that our famously free press has little incentive to report good news beyond clickbait-y heartwarming anecdotes. That's one reason I invented, quoting Mr. Rogers, "Look for the helpers" in the Covid section; to relieve the bleakness. Let's expand the principle! If readers wish to send me more links or photos of helpers in action, you can mail me with "Helpers" in the subject line. Could be Covid, could be any situation. Even helpful animals! –lambert
* * *
Contact information for plants: Readers, feel free to contact me at lambert [UNDERSCORE] strether [DOT] corrente [AT] yahoo [DOT] com, to (a) find out how to send me a check if you are allergic to PayPal and (b) to find out how to send me images of plants. Vegetables are fine! Fungi and coral are deemed to be honorary plants! If you want your handle to appear as a credit, please place it at the start of your mail in parentheses: (thus). Otherwise, I will anonymize by using your initials. See the previous Water Cooler (with plant) here. From MT jefe: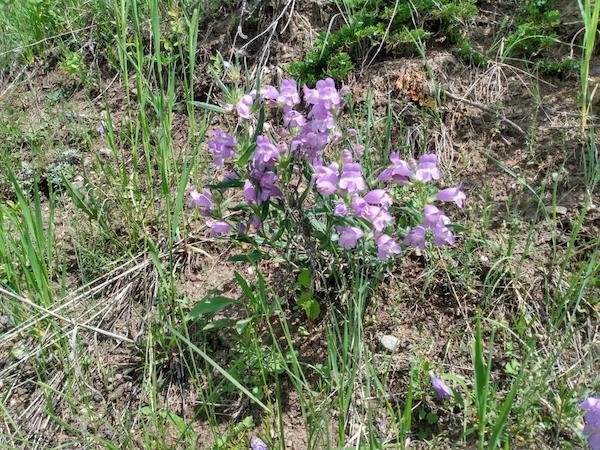 MT jefe writes: "Penstemon Montana." Penstemon is indeed the name of a flower, not [searches] a town in Montana.
* * *
Readers: Water Cooler is a standalone entity not covered by the annual NC fundraiser. So if you see a link you especially like, or an item you wouldn't see anywhere else, please do not hesitate to express your appreciation in tangible form. Remember, a tip jar is for tipping! Regular positive feedback both makes me feel good and lets me know I'm on the right track with coverage. When I get no donations for five or ten days I get worried. More tangibly, a constant trickle of donations helps me with expenses, and I factor in that trickle when setting fundraising goals:
Here is the screen that will appear, which I have helpfully annotated: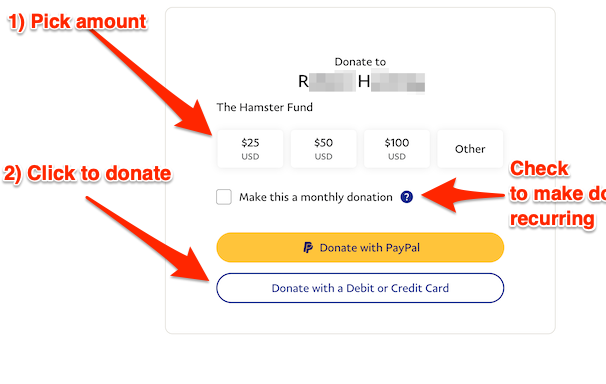 If you hate PayPal, you can email me at lambert [UNDERSCORE] strether [DOT] corrente [AT] yahoo [DOT] com, and I will give you directions on how to send a check. Thank you!