It should go without saying that Clinton adviser James Carville's "It's the economy, stupid," generally is a good predictor of electoral outcomes. And most experts are lousy at predicting the economy. Macroeconomists (such as Mark Thoma, who retired from publishing the popular Economist's View blog and also taught macroeconomic modeling) admit their models are not accurate more than six month out.1
But the level of press noise over the Trump prosecutions and the Hunter Biden at least right has turned pundit attention away from hot the state of the economy might affect Biden prospects, assuming he can be propped up that long.
The short version is the downside appears greater than the upside.
In April, Pew reported that Americans are sour on their personal and the country's long term prospects. This should not be a surprise give falling class mobility and ever-increasing rentier extraction, particularly in housing and health care, and the overarching existential threat of the climate crisis. While this is a bit dated, it's meant to assess fundamental views. From Americans take a dim view of the nation's future, look more positively at the past:
Americans are in a negative mood about the current state of the country, with large majorities expressing dissatisfaction with the economy and overall national conditions. And when they look toward the not-too-distant future, they see a country that in many respects will be worse than it is today, according to a new Pew Research Center survey.

Sizable majorities of U.S. adults say that in 2050 – just over 25 years away – the U.S. economy will be weaker, the United States will be less important in the world, political divisions will be wider and there will be a larger gap between the rich and the poor. Far fewer adults predict positive developments in each of these areas.
In other words, Americans look at longer term trends and don't see much to give them cheer. This rational outlook2 will at least at the margin, and perhaps even more so, will color how they view present conditions.
A fresh survey offers some support to our hypothesis. From CNN Poll: Half of Americans think the economy is getting worse, despite months of stronger economic news:
Despite months of increasingly positive economic indicators, the American public remains negative about the state of the nation's economy, with 51% saying they think the economy is still in a downturn and getting worse, according to a new CNN poll.This consistent pessimism, coupled with a stagnant and negative approval rating for President Joe Biden, could portend challenges for his attempt to sell voters on the success of his domestic agenda as a part of his 2024 reelection bid.Biden's overall approval rating stands at 41% in the new poll, about on par with where it's been since the spring. His approval drops to 37% when Americans assess his handling of the economy and further still to 30% for his handling of inflation. Among political independents, a scant 26% approve of his handling of inflation.
Of course, this is the old menu versus the meal fallacy. Groaf figures appear not to be sufficiently well connected to the lived experience of a lot of Americans. This is in part due to statistical being tweaked over time to produce more flattering result.s3 It is also very likely due to the benefits of this growth accruing disproportionately to those at the top of the food chain (as happened in the post-financial-crisis rebound, for instance).
In fairness, CNN did point out:
The Democratic Party overcame deeply negative numbers for both Biden and the economy in 2022 to emerge with a better-than-expected performance in that year's midterm elections.
But the recent Supreme Court reversal of Roe v. Wade was a huge rallying cry and was a factor, perhaps the factor, in the Dems doing only somewhat badly, as opposed to hemorrhaging losses as once predicted.
In keeping with many Americans not buying what the business press is telling them about the economy, former Larry Summers speechwriter Edward Luce warned in his Financial Times column warned that Biden needed to do more to assure that more Americans felt that reported groaf was helping them. From America's feel-bad Biden boom at the end of July:
At a recent health check-up I had a heart-stopping moment. An African-American nurse told me she would probably vote for Donald Trump next year because she felt much better off when he was president. What about the future of US democracy? "I don't have much time to think about that," she replied. And Joe Biden's economic reforms? "I'm not feeling them," she said. 

Anecdotes can be misleading. But there is data to back up the nurse's view. Under Trump, US blue-collar wage growth beat inflation for the first time in years. Under Biden they have fallen in real terms. This is why barely a third of Americans approve of Biden's economic record. It is also partly why only a third of African-Americans — an overwhelmingly pro-Democratic bloc — say that Biden's policies have helped black people…

At 3.6 per cent of the workforce, US unemployment is at a near 50-year low. America's economy is now about a tenth larger than when Biden came to office two and a half years ago. And US inflation is falling more rapidly than elsewhere. It is quite possible that America is heading for "immaculate disinflation" — the kind of soft landing that usually eludes it.

Yet there is a big gap between America's impressive macroeconomic picture and how most Americans are feeling. There is also not a lot Biden can do to change that in the 15 months before the nation votes. The whip hand lies with the US Federal Reserve, which on Wednesday is likely to raise interest rates for the 11th time in 12 meetings (it paused at its last one).

US mortgage costs are increasingly beyond most people's budgets. Inflation is ranked as the highest concern by US voters. The only happy people are those at the top with exposure to the stock market, which has had an unexpectedly sharp rebound this year. How the rest feel will be a big factor in what happens next year.
We'll put aside the bizarre headline claim that 2% GDP growth in the first quarter and 2.4% in the second is tantamount to a boom. It used to take increases of at least 4% to earn that label. The gap between how the well off are doing versus everyone else has increased electoral dysfunction, since as we know, it's the rich (ex the Sanders campaign) who provide the bulk of campaign contributions, and are essential due to the high cost of buying advertising, most of all TV ads. So the rich get the policies they paid for, natch. One supposes that they are betting on successful enough propaganda plus voter apathy to enable them to continue to not deliver much to the great unwashed. But as Luce indicates, that bet may break down thanks to well-deserved lack of enthusiasm about the Biden campaign and a weak Democratic bench if he has a health crisis.
We'll look strictly at economic developments that could break the wrong way for Biden. One is gas and oil prices. They are admittedly tame compared to the sanctions-blowback level of 2022 (remember the Covid lockdown/widespread work at home plunge was an anomaly; separately you can see the big reason for vaccine boosterism. Look at the pickup in gas prices, no doubt reflecting increase driving, starting at the time of the rollout). From YCharts:

Nevertheless, the press has taken notice (and even more so, the Republican Twittersphere) of the uptick in gas prices. From the Financial Times:
Rising US fuel prices are triggering alarm in Washington just as President Joe Biden steps up his bid for re-election by touting lower inflation and the strength of the US economy.

The surge in petrol costs to a nine-month high follows a 20 per cent jump in global crude prices this summer, after Saudi Arabia and Russia slashed supply. The move has revived predictions of $100 a barrel oil this year — and new worries about the political fallout.

"The White House is in full-blown panic mode," said Bob McNally, head of Washington-based consultancy Rapidan Energy Group and a former adviser to president George W Bush. "Any sitting president is threatened when pump prices go up because of the impact on consumer confidence and the president's approval rating."….

Saudi Arabia last week risked angering the White House by announcing that it would extend and potentially deepen existing oil production cuts, despite the International Energy Agency warning that crude markets are set to tighten significantly in the coming months. The kingdom followed up on Saturday by increasing the price of its oil it in Asia.
Car and Driver is more measured and attributes the consumer-sensitive gas price spike significantly to the July heat wave.
But the Biden Administration is right to be worried. Oil producer efforts to increase prices look to be having an effect after previous production cuts didn't have much impact. This development is happening after the much-derided Russian oil price cap has failed; Urals crude has traded above that level.
The reality is that the US has lost a tremendous amount of soft power due to the failure of its shock and awe economic sanctions to do more than knock the Russian economy back for a short time, while harming what ought to be innocent bystanders, like poor countries that bought Russian grain and fertilizer but were impeded from doing so by sanctions on the banks they'd used for those purchases.
And it goes without saying that the US won't be able to push Saudi Arabia around like it once did. As the Wall Street Journal noted in a mid-2022 headline: Biden to Visit a Saudi Arabia That Is Closer to Russia Than Ever. Riyadh has been keen to play a large role in the emerging non-dollar economic and geopolitical organizations, and in particular, the efforts to create alternatives to dollar payment systems. For instance, from the Associated Press in March:
Saudi Arabia's Finance Minister, Mohammed Al-Jadaan, stunned reporters in Davos in January when he expressed that the oil-rich nation was open to trading in currencies beside the U.S. dollar for the first time in 48 years."There are no issues with discussing how we settle our trade arrangements, whether it's in the U.S. dollar, the euro, or the Saudi riyal," Al-Jadaan said.
Around then, the Saudis said they were willing to sell oil in yuan but I don't see evidence that trade is yet operational at any scale. Mind you, there's little doubt it will occur.
The coup in Niger and threat of a conflict there has added to the upward pressure on oil prices. It is also not helping that the US is escalating with Iran, to the degree that it feels it necessary to put US military personnel on some Gulf tankers, and the Ukrainians have started making drone attacks on Russian tankers in the Black Sea (Alexander Mercoursis thought the over-the-weekend hit on a small empty tanker was a warning to pressure Russia to reactivate the grain deal. There is no way, no how Putin will do that absent the West delivering on its side of the pact, which it still seems to have no inclination to do).
And oil is far from the only potential source of trouble (and we are ignoring shocks resulting from very bad Biden ideas like escalating with China). Wolf Richter has been carefully following labor market trends. The latest data say the Fed campaign to suppress wages has stopped working. The money chart from his
Powell's Nightmare: Wage Growth, after Signs of Losing Altitude, Re-Accelerates: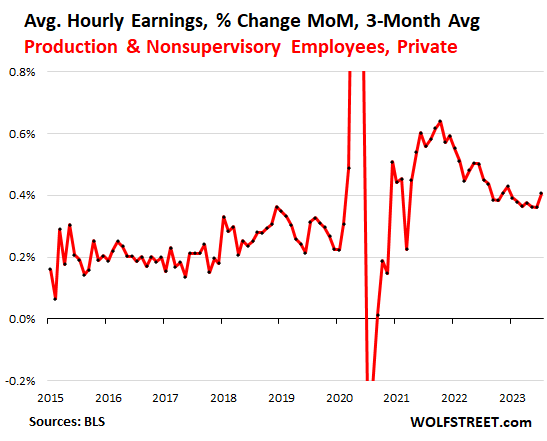 Note this has been happening, despite another fact Wolf has highlighted repeatedly including in a fresh post, that employers have been hiring the disabled at unprecedented levels.
Needless to say, either sustained energy prices or renewed wage pressure will lead the Fed to keep tightening. George Bush the Senior attributed his re-election loss to the Fed waiting 6 months later than it arguably should have to ease rates. What might rate rises going into the election do?
_____
1 This is why psychics and astrologers have a good following on Wall Street. Their predictions are likely no worse than the official oracles. The use of astrologers is so common that I know money managers who profess not to believe in astrology nevertheless consider major astrological factors in their market timing because they know many traders do consult them.
2 I trust you got the memo that rationality is a bad! Generally speaking, supposedly well-adjusted people have an optimism bias and overestimate the odds of happy outcomes. Those who make more accurate assessments typically score as mildly depressed. This may have to do with the inevitability of death and the need not to think about it, otherwise that could be paralyzing. See our long-form treatment in The Dark Side of Optimism at The Conference Board Review.
3 Please do not cite ShadowStats' alternative measures. John Williams has done a great job of tracking the way various official measures have been degraded over time. For instance, one issue we and Michael Shedlock discussed back in the day was the use of hedonic adjustments to GDP, as in goosing economic growth figures to reflect the value of increased computing power. The Bundesbank complained that our approach had the effect of increasing GDP by 0.5% compared to how Germany ran the numbers. From a 2007 post:
Shedlock in particular has written on the seldom-considered practice of using hedonic adjustments to GDP. They allow for the fact that computers are becoming more powerful at lower costs. In essence, the US grosses up the price of computers in its GDP reports to adjust for the fact that computer prices are dropping.

These adjustments have been going on since 1980 and the US is the only OECD country to use this approach. Shedlock obtained some data from the Bureau of Economic Advisers that indicated that hedonic index-related adjustments had added $2.257 trillion to 2005 GDP. That's 22% of the total.
However, Williams does not even remotely have the ability to construct adequate or credible metrics of his own.