As college students across the country head back to school, they are struggling to find affordable housing. Here's Forbes:
As millions of college students happily move into their campus or off-campus digs, some of their peers still don't know where they'll be living during the fall semester. Being admitted to a university does not necessarily guarantee campus housing; schools typically plan to house just 25% to 35% of students on-campus with an emphasis on providing beds for freshmen and sophomores, says Daniel Bernstein, president and chief investment officer at Campus Apartments, the student housing development company led by billionaire David Adelman.
The writers at Forbes decline to pull on that thread anymore and instead focus on the fact college enrollment is ticking back up following declines during the first few years of the Covid19 pandemic. Private equity has indeed been taking over student housing for years, and the result is usually higher prices and fewer services, but what explains the lack of housing? The go-to answer is always that new student housing construction has not kept pace with demand.
Here's the problem with that response: Undergraduate college enrollment dropped 8 percent from 2019 to 2022. According to the Chronicle of Higher Education, enrollment levels remained steady in the Spring of this year, but were still one million below pre-pandemic numbers.
At the same time, we've still been getting stories of students sleeping in cars in recent years even as enrollment dropped. What gives? Here are four possibilities:
1. More competition for off-campus rentals from the general population who can no longer afford to buy a home. This has led more students to seek student housing. The homeownership rate was at its lowest level in decades in 2020. From The Hill:
Slightly more than 80 million out of 126.8 million occupied housing units across the country were inhabited by homeowners in 2020, putting the nation's homeownership rate at 63.1 percent. This is the lowest homeownership rate since 1970.
(This data from 2020 is before the recent rise in mortgage rates that has made owning a home even more unattainable.)
2.  Private Equity has moved aggressively into private student housing in recent years, tempted by its steady revenue and frequent turnover, which allows more easily for consistent rent-raising. Wall Street's takeover of the American rental market really took off during Obama's foreclosure jamboree as private equity snapped up properties at bargain prices. Since then more "innovative" tools are being used by the investment goliaths.  They use computer algorithms to find houses that would be profitable to turn into rental properties, often snapping them up with cash bids within minutes of a property coming onto the market. And when areas no longer have affordable houses to buy, they can raise rents. That brings us to:
3. While the astronomical growth in the cost of rental housing early in the pandemic has subsided, prices are still unaffordable for just about anyone who is working class in many markets.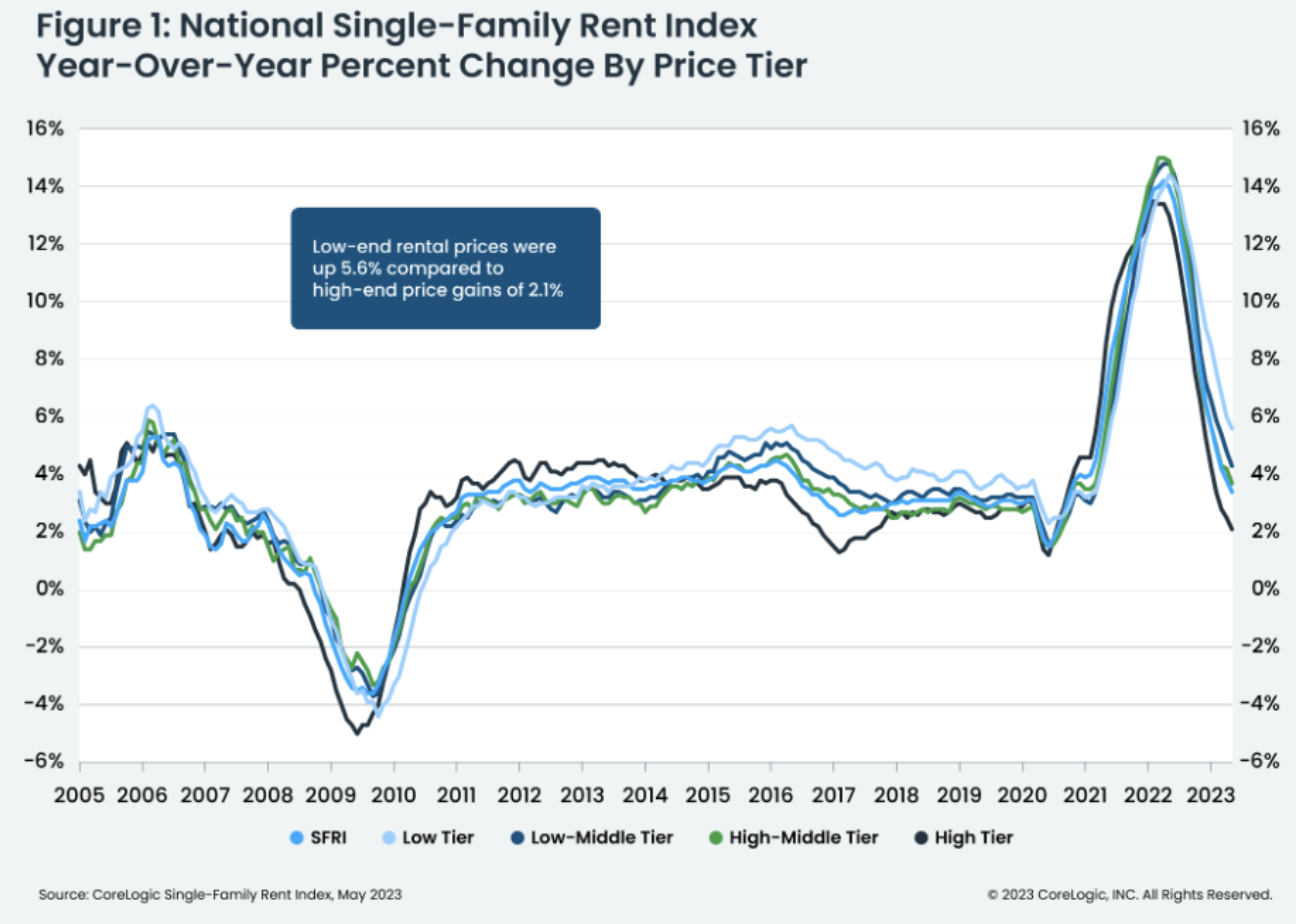 The situation is even worse in student housing. From Inside Higher Ed:
It's no secret that housing costs across the United States are high—for students as well as for the general population. But from November 2022 to May of this year, the average rental cost for purpose-built student housing grew faster [8.8 percent] than rent prices for regular multifamily housing for the first time. As a result, some students are being priced out of apartments that were designed specifically for them.
That alone would likely be enough to explain the situation for college students, but an even bigger factor might be unfolding in a courthouse in Nashville.
4. That's where a huge lawsuit against dozens of rental behemoths and a little-known Texas middleman company is moving forward after a federal judge in Nashville declined to dismiss the case earlier this month.
Texas-based RealPage is accused of acting as an information-sharing middleman for real estate rental giants. The lawsuits contend that that the property managers agreed to set prices through RealPage's software, which  also allowed the companies to share data on vacancy rates and prices in many of the US' most expensive markets. The lawsuits also contend that the conspiracy has had an outsized impact on the student housing market.
Reporting, the lawsuits, and RealPage's own statements showed that the company's software said that it was often more profitable for mega landlords to have higher vacancy rates and keep rents elevated, which contradicted the old landlord practice of getting heads in beds even if that meant lowering rents.
Many of the rental markets dominated by large landlords have seen astronomical growth in rental prices in recent years (even before the pandemic), as well as a rising number of evictions and spikes in homelessness. The lawsuits against RealPage and the rental management companies contend that its software covers at least 16 million units across the US, and private equity-owned property management companies are the most enthusiastic adopters of the RealPage technology. From ProPublica:
RealPage's influence was burgeoning. [In 2017], the firm's target market—multifamily buildings with five or more units—made up about 19 million of the nation's 45 million rental units. A growing share of those buildings were owned by firms backed by Wall Street investors, who were among the most eager adopters of pricing software.

…Somewhere around 2016, according to one trade group, the industry's use of the pricing software began to achieve "critical mass."
I've included this list gathered from the lawsuits in previous posts on RealPage, but I think it's worth including again here. The following are some of the real estate goliaths named in the lawsuits who were using RealPage software to allegedly collude and keep rents artificially high. Many are also major players in student housing:
Greystar: The nation's largest property management firm with nearly 794,000 multifamily units and student beds under management. In December, it was nominated for six( count 'em, six!) 2022 Private Equity Real Estate Awards. Roughly 100,000 student beds under management.
Trammell Crow Company, headquartered in Dallas, is a subsidiary of CBRE Group, the world's largest commercial real estate services and investment firm.
Lincoln Property Co. Manages or leases over 403 million square feet across the US.
FPI Management. Currently manages just over 155,000 units in 18 states.
Avenue5 manages $22 billion in multifamily and single-family assets nationwide.
Equity Residential, the 5th largest owner of apartments in the United States, primarily in Southern California, San Francisco, Washington, D.C., New York City, Boston, Seattle, Denver, Atlanta, Dallas/Ft. Worth, and Austin.
Mid-America Apartment Communities, which as of June 30, 2022, owns or has ownership interest in 101,229 homes in 16 states throughout the Southeast, Southwest, and Mid-Atlantic regions.
Essex Property Trust (62,000 units). This fully integrated real estate investment trust (REIT) acquires, develops, redevelops, and manages multifamily apartment communities located in supply-constrained markets on the west coast.
Thrive Community Management (18,700 units in Washington and Oregon).  Refers to its  employees as "thrivers."
AvalonBay Communities, Inc. As of September 30, 2022, the Company owned or held a direct or indirect ownership interest in 293 apartment communities containing 88,405 apartment homes in 12 states and DC.
Cushman & Wakefield, with a portfolio of 172,000 units.
Security Properties portfolio reflects interests in 113 assets encompassing nearly 22,354 multifamily housing units.
Cardinal Group Holdings, LLC. 89,000 units managed with more than 100,000 beds and a heavy presence in student housing.
CA Ventures Global Services LLC. Manages more than 60,000 beds in 69 university markets.
DP Preiss Co. Specializes in student housing and has more than 30,000 beds in 12 states.
If all these property management companies were colluding to fix prices, it would help make sense of why students are sleeping in their cars.
Let's not stop there, though. All the money these rental management companies rake in also helps them to influence lawmakers and voters. Here's Housing Is A Human Right on Essex Property Trust, Equity Residential, and AvalonBay Communities' activities in California:
Those same corporate landlords shelled out millions in campaign cash to successfully stop California rent control ballot measures Proposition 10, in 2018, and Proposition 21, in 2020.

Essex Property Trust delivered a total of $26.2 million to kill Prop 10 and Prop 21; Equity Residential shelled out $17.9 million; and AvalonBay Communities gave $17 million. Housing Is A Human Right also broke the story that RealPage contributed $1 million to stop Prop 10 and Prop 21.
Private equity firms have been pouring into student housing for years, which they believe will provide better returns compared with other residential assets. For example, the private equity giant and corporate landlord  Blackstone in 2022 paid $13 billion to acquire American Campus Communities, which owned 166 properties located on or around 71 large university campuses across the US. At the time Blackstone already had more than $7 billion worth of student housing in its portfolio. It wasn't long before it got even more.
Here's how that played out in California, courtesy of Jacobin:
As the world's largest private equity firm faces potential losses from a cloudy real estate market, its executives blocked jittery investors from withdrawing their money from one of its real estate funds, while insisting that rent increases and evictions will bolster returns.

Now, the Blackstone Group's real estate investment trust has received a multibillion-dollar bailout from a source whose employees and students are already suffering through the housing crisis: California's public university system.

Just months after Blackstone's real estate investment trust purchased America's largest owner of private student housing, the same trust received a $4.5 billion infusion from the University of California's Board of Regents, two of whom have close ties to the company. The investment rewards the financial firm only a few years after the company and its executives spent $5.6 million to kill California ballot initiatives that would have expanded rent control in the state. …

Effectively, University of California (UC) is funneling cash into privatized student housing and corporate landlords — doubling down on a controversial investment strategy that comes with a massive layer of fees and Wall Street profits — instead of doing its part to address a growing housing crisis, one that affects its students and employees.
One of the most attractive components of student housing for the likes of Blackstone is that rates often reset every year, which means prices can go up annually. Leases are also often co-signed by parents, and if students have trouble affording the higher prices, well, here's some financial aid. And when students are paying off those loans for the rest of their lives, more than half of it could be the result of helping to enrich their private equity landlord during four years of education:
Off-campus rents have gone through the roof—nationally, they're averaging $2,062 a month, up 28% from $1,614 at the start of 2021, according to rental data from Zillow. That raises both demand for on-campus housing and the difficulties students face when they can't get it. …

Even campus housing isn't cheap in the California system. For in-state undergraduates, tuition at UC Berkeley, one of the nation's top colleges, is a comparative bargain—$15,600 this coming year. But living on campus (including a meal plan), costs freshmen an additional $16,000 to $20,000 per year.
Maybe that's why Congress doesn't do anything about the rising cost of housing or college, but it did manage to push through a bill to make it easier to apply for student loans.