This is Naked Capitalism fundraising week. 1598 donors have already invested in our efforts to combat corruption and predatory conduct, particularly in the financial realm. Please join us and participate via our donation page, which shows how to give via check, credit card, debit card or PayPal or our new payment processor, Clover. Read about why we're doing this fundraiser, what we've accomplished in the last year,, and our current goal, more original reporting.
By Lambert Strether of Corrente.
Bird Song of the Day
Manchurian Reed Warbler, 南堡滩涂 (Nanpu Mudflat), Hebei, China. "Two singing birds – one seen carrying food. Sound recorded. Follows on from a bird seen at this site on the 28 July 2016 & marks a significant range extension for this VULNERABLE species."
"Showcasing the spectacle of bird migration" [BirdCast]. • I'm not a stone birder, so I don't already know about this. Cornell Lab of Ornithology involved, which is nice. Includes maps and many charts.
* * *
Politics
"So many of the social reactions that strike us as psychological are in fact a rational management of symbolic capital." –Pierre Bourdieu, Classification Struggles
The Constitutional Order
"The Honorable Shenna Bellows Maine Secretary of State" (letter) [Free Speech for the People]. "Your oath to support the Constitution, and the weighty responsibility entrusted to you by Maine voters as Secretary of State, impel you to exclude Mr. Trump's name from the list of 'qualified candidates' in the presidential primary. But rather than wait until after he submits his declaration of candidacy, with the urgency of an approaching primary election, we urge you to address this critical issue now. Mr. Trump's conduct encouraging the 'Big Lie' of a stolen election, encouraging and inciting an insurrection, and facilitating that insurrection by refusing to intervene to stop it despite urgent requests that he do so and by supervising subordinates who actively blocked the National Guard from assisting the besieged Capitol Police, renders him ineligible for any federal office, including that of president." 

* * *

"The Sweep and Force of Section Three" [William Baude and Michael Stokes Paulsen, University of Pennsylvania Law Review]. I highly recommend this piece (and the ensuing discussion at NC, starting here). As a former English major and a fan of close reading, I'm not averse to "originalism," of which Baude and Paulsen provide a magisterial example, in the sense that understanding the law as a text must begin with understanding the plain, public meaning of the words used when the text was written. That's how I read Shakespeare, or Joyce, so why not the Constitution? Just as long as understanding doesn't end there! In any case, I'm working through it. One thing I notice is that there do seem to have been rather a lot of rebellions and insurrections, not just the Civil War. To me, this is parallel to one lesson I drew from Mike Duncan's Revolutions podcast (episode 1): There are rather a lot of revolutions, too. Alert reader Pensions Guy summarizes Baude and Paulsen as follows:

The authors go through an exhaustive textual and originalism analysis of Section Three, and their Federalist Society leanings do not deter them from reaching their conclusion that officials in every State who are charged with determining candidate qualifications should conclude that Donald Trump is disqualified from being on ballots because of the oath he took on Inauguration Day 2017 and subsequently violated through his role in the insurrection that took place on January 6, 2021.

Taking "insurrection" as read (I need to do more reading), this has been more of my continuing coverage of Section Three.
2024
Time for the Countdown Clock!

* * *

"The Republican Paradox: Conservative Voters Who Nominate Moderates" [Mark Penn (!), The Messenger]. "[M]odern history of GOP nominees shows something surprising: The moderate candidate has consistently won the party's nomination. These primary voters also have a habit of shredding frontrunners and bringing in outsiders. So, just maybe, it's not over. Republican voters chose Sen. John McCain of Arizona over former Arkansas Gov. Mike Huckabee in 2008, and now-Sen. Mitt Romney of Utah over Sen. Rick Santorum (Pa.) or former House Speaker Newt Gingrich (Ga.) in 2012. In 2016 they picked Donald Trump for his brash outsider status, but not for his conservative bona fides — because the hard-right candidate that year would have been Sen. Ted Cruz of Texas….  A review of the recent Wall Street Journal poll of Republican primary voters shows they are a majority of suburban voters and, while more working-class voters have joined them, they still are a more highly educated group than the electorate as a whole, with 54% who are college graduates or more. They are definitely an older party, with 68% of the GOP voters over 50, but 49% are women and 75% of them are married. How plausible is it that this group of older, highly educated suburban family voters are going to return Trump to office if presented with a more compelling alternative?" • Hence, perhaps, Trump outflanking DeSantis on abortion from the left. Hence also Trump's position on Ukraine (where I think he's ahead of the curve, and the Beltway behind it).

* * *

"DeSantis megadonor still not sold on presidential bid, saying his 'ongoing battle with Disney' is 'pointless'" [Business Insider]. "Ron DeSantis still hasn't secured the support of Ken Griffin, the Republican billionaire who was the biggest donor to the Florida governor's 2022 re-election campaign. 'I don't know his strategy,' Griffin said in an interview with CNBC. 'It's not clear to me what voter base he is intending to appeal to.' Griffin, the CEO of the multinational hedge fund Citadel, gave $5 million to DeSantis' re-election effort. And he told POLITICO in an interview last November that he was ready to support the governor's presidential campaign, saying that 'our country would be well-served by him as president.' But Griffin has been apparently dissatisfied with the way DeSantis' campaign has been run, and his comments in the CNBC interview are his most definitive to date. 'First-term governor — just a phenomenal job,' said Griffin. 'But that hasn't been how this last few months has played out.' 'The ongoing battle with Disney I think is pointless,' Griffin continued. 'In fact, it doesn't reflect well on the ethos of Florida.'" • Squillionaire yanks DeSantis's choke chain. Poor little guy, down on all fours like that.

* * *

"Internal emails show Biden admin officials coordinating on shielding Pete Buttigieg's govt jet use' [FOX]. "In December, Fox News Digital reported that, based on flight tracking data, Buttigieg had taken 18 trips on an FAA-managed fleet of executive aircraft, reserved for government officials for occasions when flying commercial isn't feasible. The flight records aligned with Buttigieg's internal calendar obtained at the time by Americans for Public Trust. Following that report, Fox News Digital filed an FOIA request for detailed information and costs of all flights logged by FAA planes since early 2021. For months, the DOT FOIA office repeatedly delayed providing the requested information. Then, on Feb. 27, the FAA finally shared the flight log for its private jets almost immediately after the Transportation Department's inspector general announced an investigation into Buttigieg's use of the planes. The FOIA office, though, opted to leave costs associated with all the flights carrying Buttigieg and his advisers blank and ignored multiple attempts for clarification." • And so on. Worth a read for the sheer grim pettiness of it all. The NY Post adds a detail, kinda. "Buttigieg, 41, has taken trips on planes managed by the FAA to Nevada, Florida, Oklahoma, Minnesota, Ohio and New Hampshire for departmental duties,

* * *

"Newsom says Biden's age is no problem: 'I want a seasoned pro'" [FOX]. • In the Middle Ages, they seasoned their rotting meat too! (Actually, that's an urban legend, but for the sake of the joke….)

"California Gov. Gavin Newsom mocks Republican impeachment effort as 'student government' and says 'of course' Harris should be on 2024 ticket" [CNN]. "The California governor, who has been the subject of 2024 speculation as he has traveled to Republican-led states in recent months and agreed to a Fox News debate with Florida Republican Gov. Ron DeSantis, insisted he will not run for the White House himself. 'The answer is no,' Newsom said. 'No ambiguity.' He also said he has not thought about whether he would make a good president. 'I'm not that guy. I'm just not,' he said…. 'Biden-Harris administration — a masterclass in terms of performance, bipartisan deals on infrastructure, bipartisan deals on guns and debt ceiling, on the CHIPS and Science Act,' he said. 'I mean, by definition, if I think this administration last two, two and a half years, has been one of the most outstanding administrations the last few decades, and she's a member of that administration, she gets to lay and claim credit to a lot of that success….' he said. Newsom said Democrats need to get 'out of this sort of navel-gazing about Joe Biden, and let's get going.' 'Let's get on the train. This train has left the proverbial station,' he said." • Hmmm. "No ambiguity" is pretty close to a Sherman statement.

* * *

"Did RFK Jr. hint the 'rigged' DNC may force him to run third party?" [The Hill]. "Said RFK Jr., in part: 'If the DNC is going to rig it so that it is simply impossible for anybody to challenge President Biden, you know I need to look at other alternatives. Because I can't go back to the people who support me and to my donors and say you know I'm in this to make a point. I need to show them a road to victory …' 'Other alternatives.' Boom goes the political dynamite…. As the DNC, in conjunction with the Biden White House, continues to try to silence and ostracize Kennedy while punishing states such as Iowa, New Hampshire and Georgia — along with millions of potential primary voters — it certainly seems as if they don't trust the people to speak for themselves. The DNC and the Biden White House may quickly learn that it's one thing to try to silence RFK Jr. It's quite another to try and disenfranchise the votes of millions of Americans. Lines are being drawn in the sand. Can the DNC and Biden see them?" • And the author's bio: "Douglas MacKinnon, a political and communications consultant, was a writer in the White House for Presidents Ronald Reagan and George H.W. Bush, and former special assistant for policy and communications at the Pentagon during the last three years of the Bush administration." The genre where a Republican helpfully explains to the Democrats how to win by offering them a poisoned chalice is a hardy perennial, and the world is so upside down that the advice seems sensible (at least to me).

* * *

OH: "The Democrats Must Keep the Senate at All Costs—and the Coal Mine Canary Is Ohio" [The Nation]. "Democrats need to maintain their razor-thin Senate majority if they hope to enact President Biden's second-term agenda—or, God forbid, fend off Trump's. That prospect hinges on a few incumbents facing tough reelection fights. The most critical, must-win seat belongs to Sherrod Brown, a senator from Ohio… Democrats have 23 Senate seats up for reelection, and—assuming the vice president, Kamala Harris, is still there to break the tie—they can only lose one to keep their majority. Though Republican operatives in the state admit defeating Brown will be a 'dogfight,' current polls have him up by just 0.4 percentage points over one possible opponent, Ohio Secretary of State Frank LaRose. Both The Cook Political Report and Larry Sabato's Crystal Ball call this race a toss-up….. Joe Manchin's slide to the dark side and Kyrsten Sinema's wildcard ways leave Democrats no room for error. If Brown loses, and takes the Democratic Senate with him, democracy hangs in the balance."

* * *

"What Are The Swing States Of The Future?" [FiveThirtyEight]. First question — admittedly it's still early (come with your 🔥 takes, I give you permission to change your mind later), but what do you think are the most underrated potential swing states for the 2024 cycle? nrakich (Nathaniel Rakich, senior elections analyst): I think an underrated swing state is Florida. People have written it off after it swung unexpectedly to Republicans in 2020 and after Sen. Marco Rubio and Gov. Ron DeSantis won reelection by almost 20 percentage points in 2022. But people forget that former President Donald Trump won it in 2020 by only 3 points. For a similar reason, I think people are too quick to count out blue-ish states like New Hampshire and Minnesota as swing states. The partisan lean of both states is only around 3 points toward Democrats." • Hmm. Volatility, then (I'm used to having a reasonably fixed list, early.) Worth a read to see the conventional wisdom in formation.
Republican Funhouse
"The Religious Right's Grip on the GOP Is Weakening. That's Working to Trump's Advantage." [Politico]. "Former President Donald Trump has made a number of statements in recent months that might have driven a wedge between his campaign and religious voters. In April, Trump stated that he believed abortion should be regulated at the state level, with little interference from the federal government. At a town hall in June, Trump spoke of abortion in crass, deal-making terms: 'What I'll do is negotiate so people are happy.' These statements have been met with strong backlash from Susan B. Anthony Pro-Life America, the anti-abortion group that described Trump's comments on a federal ban as a 'morally indefensible position for a self-proclaimed pro-life presidential candidate.' The dustups suggest Trump's strong support among white evangelicals might be at risk. But it may not matter. [Trump] can afford some erosion of his support from evangelicals. That's because Trump's real base of support in the 2016 primary contest came from a rising group in the GOP whose impact has been largely unnoticed: Republicans who hardly ever darken the door of a church, synagogue or mosque. I am a quantitative scholar of American religion and politics and have been making thousands of graphs about both subjects over the last several years. The data show that the former president's support among this low-attender group is growing, which means that in the short term, even if Trump does alienate some religiously devout members of the religious right, he remains well positioned to secure the nomination." • I wonder if this change also strengthens the "National Conservatives"?
Democrats en Déshabillé
Patient readers, it seems that people are actually reading the back-dated post! But I have not updated it, and there are many updates. So I will have to do that. –lambert

I have moved my standing remarks on the Democrat Party ("the Democrat Party is a rotting corpse that can't bury itself") to a separate, back-dated post, to which I will periodically add material, summarizing the addition here in a "live" Water Cooler. (Hopefully, some Bourdieu.) It turns out that defining the Democrat Party is, in fact, a hard problem. I do think the paragraph that follows is on point all the way back to 2016, if not before:

The Democrat Party is the political expression of the class power of PMC, their base (lucidly explained by Thomas Frank in Listen, Liberal!). ; if the Democrat Party did not exist, the PMC would have to invent it. . ("PMC" modulo "class expatriates," of course.) Second, all the working parts of the Party reinforce each other. Leave aside characterizing the relationships between elements of the Party (ka-ching, but not entirely) those elements comprise a network — a Flex Net? An iron octagon? — of funders, vendors, apparatchiks, electeds, NGOs, and miscellaneous mercenaries, with assets in the press and the intelligence community.

Note, of course, that the class power of the PMC both expresses and is limited by other classes; oligarchs and American gentry (see 'industrial model' of Ferguson, Jorgensen, and Jie) and the working class spring to mind. Suck up, kick down.

* * *

"Voter Registration Charities: A Massive, Overlooked Scandal" [RealClearInvestigations]. "Nonprofit voter registration, and the get-out-the-vote (GOTV) activities that usually accompany it, have become the heart of a billion-dollar industry in America. According to Candid's Foundation Funding for U.S. Democracy database [Candid], since 2011 nearly 60,000 grants have been made for 'Voter Education, Registration, and Turnout' and 'Civic Participation,' benefitting 15,000 different organizations to the tune of $5.9 billion dollars…. My recent special report, How Charities Secretly Help Win Elections, ripped away that fig-leaf. The report reveals the untold story of a nondescript charity named the 'Voter Registration Project' that was used to funnel over $100 million into a five-year voter registration scheme hatched by Clinton campaign operatives to help Democrats win elections in 2020. Using tax forms, leaked documents, and leaked emails, the report shows how the scheme aimed to register over 5 million 'non-white' voters in Arizona, Colorado, Florida, Georgia, Ohio, North Carolina, Virginia, and Nevada; how it was developed through multiple drafts and edits into a highly sophisticated plan dubbed the Everybody Votes Campaign; and how that plan was eventually adopted by a super PAC tied to Sam Bankman-Fried that instructed billionaire donors to keep it completely secret since it was " • Blech. Everybody involved posing as extremely high-minded, of course!

"If You're A Star They Let You Do It" [Eschaton]. 

Apparently, squillionaires can be squillionaires, and squillionaire globalists be squillionaire globalists, only when they are not members of a protected identity, identities being controlling in all classification struggles. I remember the same nonsense in the UK when the press, the spooks, the the PLP, assisted by the Israeli embassy, were gutting Corbyn by playing the anti-semitism card (laughably untrue in Corbyn's case, except to a gaggle of hyperventilating aghastitudinacs). Atrios is normally very level-headed, so I can only conclude that internal pressure among Democrats to conform is great (given that Soros lavishly funds their NGOs, and AIPAC is what it is).
Realignment and Legitimacy
"The Republicans' 'Excess Seat' Edge in State Legislatures" [Larry Sabato's Crystal Ball]. "We analyzed 48 states to see which have the most lopsided state Senate and state House chambers compared to how the state voted for president….  For Democrats, Hawaii, Rhode Island and Massachusetts have the most ""excess seats"" above the presidential vote threshold. For Republicans, the list is both longer and more varied, with Florida, Ohio, and Wisconsin standing out as at least somewhat competitive states where the Republicans have large excess seat advantages….  The GOP has achieved significant levels of excess seats in about three times as many states as the Democrats have…. So, while unusually large Democratic legislative majorities in a few states might be tempted to outrun their voters' tolerance for progressive policies, the Republicans could pursue more conservative policies than the presidential vote would suggest in three times as many states. It's no surprise, then, that the list above is chock-full of states that have passed the most stringent abortion laws in the country. And in three of these states — Kansas, Kentucky, and Ohio — voters have rebelled by backing ballot measures aligned against further curbs on abortion access. This suggests that the GOP's excess legislative majorities might be underestimating their constituents' desire for more moderate policies." Handy map:

Further: "My guess, though, is that gerrymandering, and even geography, matters less than one might think. I suspect that it has more to do with the minority party turning headlong into a spiral of irrelevance Particularly given the recent decline of voter willingness to split tickets, there comes a point at which a party's weakness in presidential, congressional, and gubernatorial contests becomes a self-fulfilling prophecy. Once a party's prospects seem grim in a particular state, it becomes hard to get credible candidates to run for office, and it becomes hard to raise money to fund a decent party infrastructure."
#COVID19
"I am in earnest — I will not equivocate — I will not excuse — I will not retreat a single inch — AND I WILL BE HEARD." –William Lloyd Garrison
Resources, United States (National): Transmission (CDC); Wastewater (CDC, Biobot; includes many counties; Wastewater Scan, includes drilldown by zip); Variants (CDC; Walgreens); "Iowa COVID-19 Tracker" (in IA, but national data). "Infection Control, Emergency Management, Safety, and General Thoughts" (especially on hospitalization by city).
Lambert here: Readers, thanks for the collective effort. To update any entry, do feel free to contact me at the address given with the plants. Please put "COVID" in the subject line. Thank you!
Resources, United States (Local): AK (dashboard); AL (dashboard); AR (dashboard); AZ (dashboard); CA (dashboard; Marin, dashboard; Stanford, wastewater; Oakland, wastewater); CO (dashboard; wastewater); CT (dashboard); DE (dashboard); FL (wastewater); GA (wastewater); HI (dashboard); IA (wastewater reports); ID (dashboard, Boise; dashboard, wastewater, Central Idaho; wastewater, Coeur d'Alene; dashboard, Spokane County); IL (wastewater); IN (dashboard); KS (dashboard; wastewater, Lawrence); KY (dashboard, Louisville); LA (dashboard); MA (wastewater); MD (dashboard); ME (dashboard); MI (wastewater; wastewater); MN (dashboard); MO (wastewater); MS (dashboard); MT (dashboard); NC (dashboard); ND (dashboard; wastewater); NE (dashboard); NH (wastewater); NJ (dashboard); NM (dashboard); NV (dashboard; wastewater, Southern NV); NY (dashboard); OH (dashboard); OK (dashboard); OR (dashboard); PA (dashboard); RI (dashboard); SC (dashboard); SD (dashboard); TN (dashboard); TX (dashboard); UT (wastewater); VA (dashboard); VT (dashboard); WA (dashboard; dashboard); WI (wastewater); WV (wastewater); WY (wastewater).
Resources, Canada (National): Wastewater (Government of Canada).
Resources, Canada (Provincial): ON (wastewater); QC (les eaux usées); BC, Vancouver (wastewater).
Hat tips to helpful readers: anon (2), Art_DogCT, B24S, CanCyn, ChiGal, Chuck L, Festoonic, FM, FreeMarketApologist (4), Gumbo, hop2it, JB, JEHR, JF, JL Joe, John, JM (10), JustAnotherVolunteer, JW, KatieBird, LL, Michael King, KF, LaRuse, mrsyk, MT, MT_Wild, otisyves, Petal (6), RK (2), RL, RM, Rod, square coats (11), tennesseewaltzer, Utah, Bob White (3). 
Stay safe out there!
* * *
Look for the Helpers
Good news:

This is a tangible sign that our efforts are working. We have successfully taught a ton of people to look for CPC mouthwash, to the point that Colgate *changed their packaging*.
Public health agencies aren't sharing info about mouthwashes. But we are. People are listening to us. https://t.co/4IseJJlSzt

— lizwhatsherface.bsky (@RealGayArbys) September 19, 2023

More good news:

won a seat on the grad school senate after describing the need for clean air, the repercussions when we don't have it, and steps i've started taking to secure it for the class :) i was nervous devoting my whole blurb to covid, but i think people are so tired of being sick

— rnussbaum11.bsky (@rnussbaum11) September 18, 2023
Maskstravaganza
Vaccines don't prevent transmission, but that news has apparently not reached everyone:

Seen on the red line this morning. COVID is surging and there are ads on the subway telling people to ""forget"" masks—despite overwhelming evidence that masks help prevent the spread of COVID. pic.twitter.com/OlGgSTjwti

— Maya Chavez (@maya_chavez_) September 19, 2023

This is the Red Line in Chicago, not Boston. Otherwise, I would have thought the MGH had sponsored the ad.
Vaccines
I am not a vaccine maven, and the story of how Novavax came not to be approved is not one I have followed:

There's a lot of confusing jargon describing why Novavax is the best available COVID vaccine.

Here is the plain English version:

Novavax helps your immune system target the parts of the spike protein that stay the same between variants. That effect gets stronger every shot. https://t.co/nD4S3kdK0t

— Friesein (@Friesein) September 10, 2023

Perhaps readers who know more about Novavax than I do can explain.
Elite Maleficence
Maskless Mandy infects another death trap:

Great visit to Vida Senior Living yesterday! Thanks to those who got their flu + Covid vaccines. Our seniors—from all communities—can get their updated Covid, RSV, and flu vaccines now to stay safe this fall/winter. pic.twitter.com/7eRrcPBS3r

— Mandy K. Cohen, MD, MPH (@CDCDirector) September 19, 2023

"Stay safe" is the same "You are protected" message propagated by the Biden administration in 2021. It was a lie then, since vaccination does not prevent transmission, and it is a lie now. Poor window discipline, too.

Science advances:

Wow, there is progress after all. I had lost hope of seeing @mvankerkhove write about "risk of indoor airborne transmission of SARS-CoV-2 in indoor spaces".

Let's hope there is real follow-up, of course. And that airborne is recognized as DOMINANT for COVID-19 https://t.co/FDZEfQ5REP

— Prof. Jose-Luis Jimenez (@jljcolorado) September 18, 2023

At least the infamous "FACT CHECK: 'COVID-19 is NOT airborne'" tweet is no longer up. But:

Oh my word.
This video 😮
And never an apology, even now she admits it. pic.twitter.com/XXIpYEeQ4T

— tern (@1goodtern) September 19, 2023

Van Kerkhove's remarks were themselves misinformation, though never classified as such.
* * *
Case Data
NOT UPDATED From BioBot wastewater data, September 18:
Lambert here: The national drop is due exclusively to the South. Other signals — scattered and partial though they be — also converge on a drop: ER visits, positivity. We shall see. (I would include CDC's wastewater map for comparison, but it's eleven days old.)
Regional data: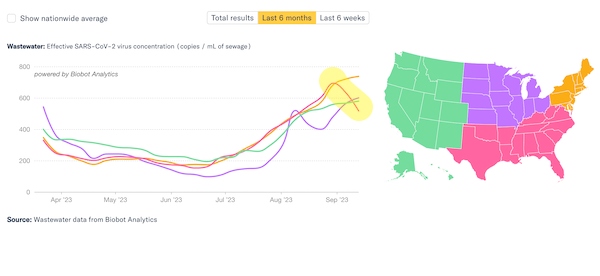 The same regional variation also appears in the Walgreen's positivity data. Interestingly, the upswing begins before July 4, which neither accelerates nor retards it.
Variants                 
NOT UPDATED From CDC, September 16: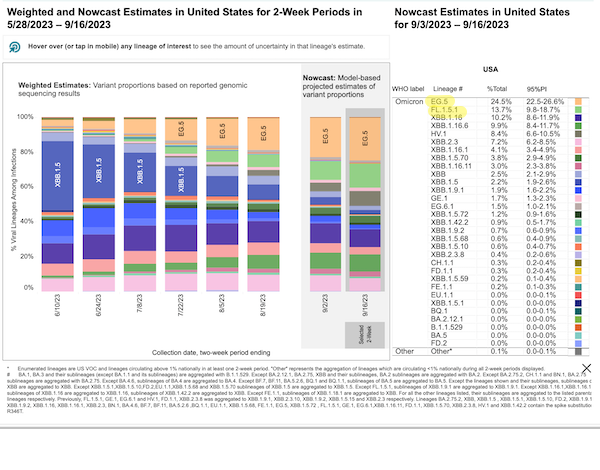 Lambert here: Top of the leaderboard: EG.5 ("Eris"). Still BA.2.86 here, not even in the note, but see below at Positivity.
From CDC, September 2: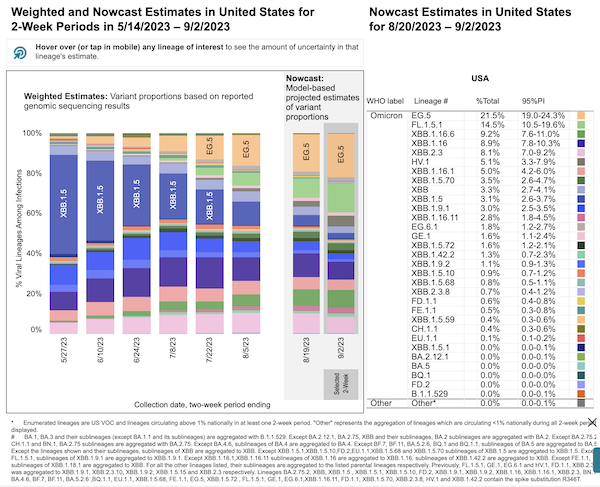 Lambert here: Not sure what to make of this. I'm used to seeing a new variant take down the previously dominant variant. Here it looks like we have a "tag team," all working together to cut XBB.1.5 down to size. I sure hope the volunteers doing Pangolin, on which this chart depends, don't all move on the green fields and pastures new (or have their access to facilities cut by administrators of ill intent).
CDC: "As of May 11, genomic surveillance data will be reported biweekly, based on the availability of positive test specimens." "Biweeekly: 1. occurring every two weeks. 2. occurring twice a week; semiweekly." Looks like CDC has chosen sense #1. In essence, they're telling us variants are nothing to worry about. Time will tell.
Covid Emergency Room Visits
NOT UPDATED From CDC NCIRD Surveillance, September 9: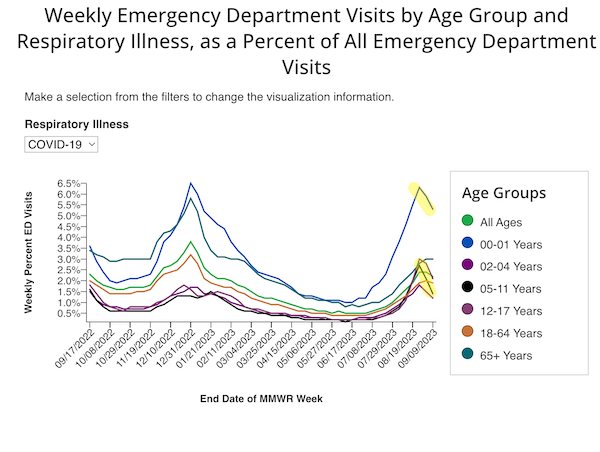 NOTE "Charts and data provided by CDC, updates Wednesday by 8am. For the past year, using a rolling 52-week period." So not the entire pandemic, FFS (the implicit message here being that Covid is "just like the flu," which is why the seasonal "rolling 52-week period" is appropriate for bothMR SUBLIMINAL I hate these people so much. Notice also that this chart shows, at least for its time period, that Covid is not seasonal, even though CDC is trying to get us to believe that it is, presumably so they can piggyback on the existing institutional apparatus for injections.
Hospitalization
Bellwether New York City, data as of September 19: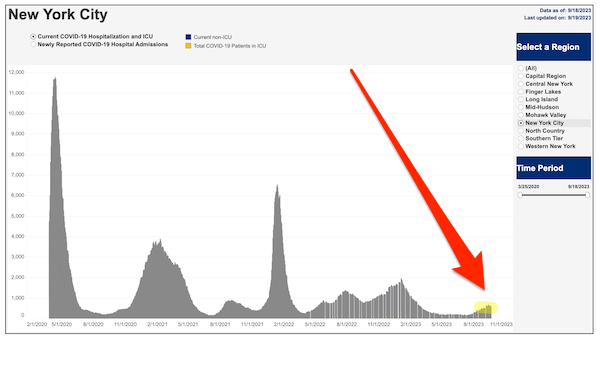 Drop continues. I hate this metric because the lag makes it deceptive.
NOT UPDATED Here's a different CDC visualization on hospitalization, nationwide, not by state, but with a date, at least. September 9: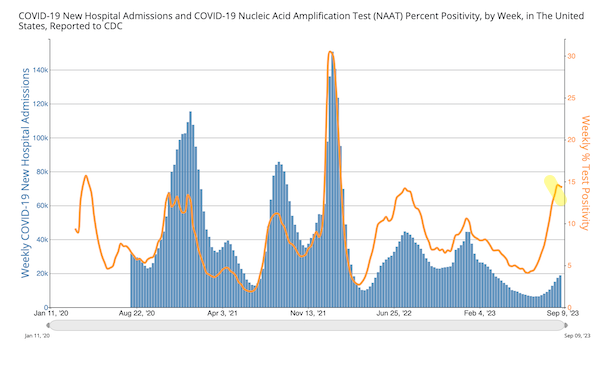 Note the slight drop, consistent with Walgreens. At least now we now that hospitalization tracks positivity, which is nice. Even if we don't know how many cases there are.
Positivity
NOT UPDATED From Walgreens, September 18: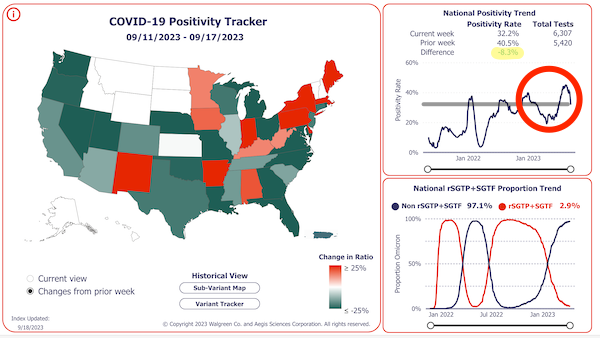 -8.3%. An enormous drop (so not Labor Day data). However, I cannot recall seeing the map so polarized; so much deep green, so much deep red. The absolute numbers are still very small relative to June 2022, say. Interestingly, these do not correlate with the regional figures for wastewater. (It would be interesting to survey this population generally; these are people who, despite a tsunami of official propaganda and enormous peer pressure, went and got tested anyhow.)
Cleveland Clinic, September 16: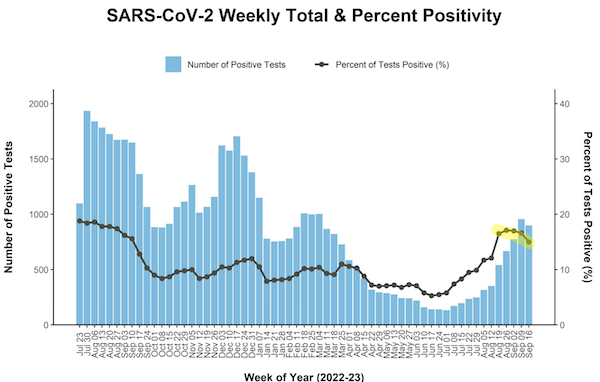 Lambert here: I know this is just Ohio, but the Cleveland Clinic is good*, and we're starved for data, so…. NOTE * Even if hospital infection control is trying to kill patients by eliminating universal masking with N95s.
NOT UPDATED From CDC, traveler's data, August 26: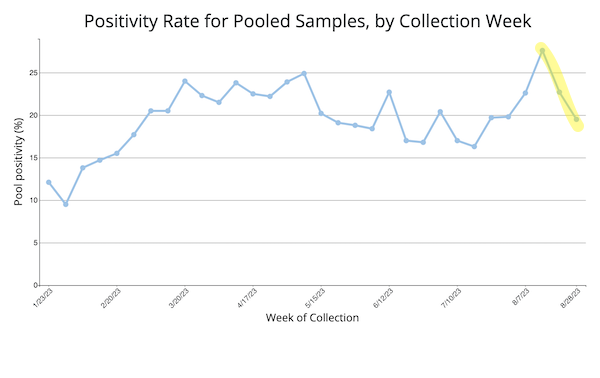 A drop! And here are the variants: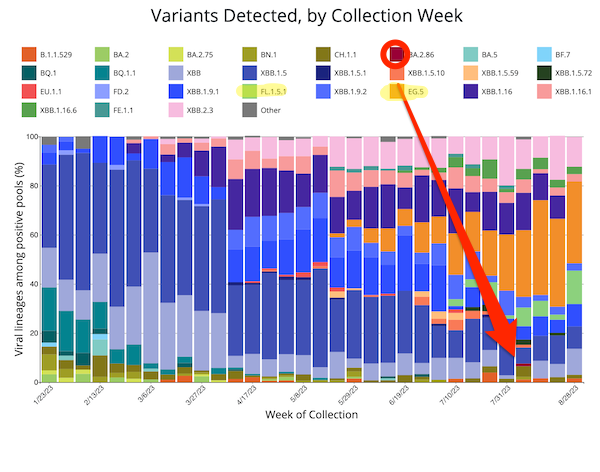 No BA.2.86 for two of the long-delayed collection weeks. I have highlighted the two leaders: EG.5 and FL.1.5.1. Interestingly, those are the two leaders within the United States also, suggesting the national and international bouillabaisse is similar. Or we're infecting the world.
Deaths
NOT UPDATED Iowa COVID-19 Tracker, September 13: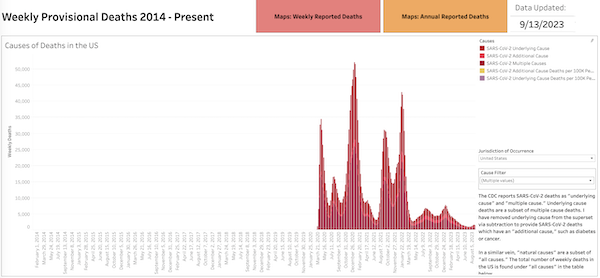 Lambert here: The WHO data is worthless, so I replaced it with the Iowa Covid Data Tracker. Their method: "These data have been sourced, via the API from the CDC: https://data.cdc.gov/NCHS/Conditions-Contributing-to-COVID-19-Deaths-by-Stat/hk9y-quqm. This visualization updates on Wednesday evenings. Data are provisional and are adjusted weekly by the CDC." I can't seem to get a pop-up that shows a total of the three causes (top right). Readers?
Total: 1,175,354 – 1,175,172 = 182 (182 * 365 = 66,430 deaths per year, today's YouGenicist™ number for "living with" Covid (quite a bit higher than the minimizers would like, though they can talk themselves into anything. If the YouGenicist™ metric keeps chugging along like this, I may just have to decide this is what the powers-that-be consider "mission accomplished" for this particular tranche of death and disease). 
Excess Deaths
The Economist, September 17: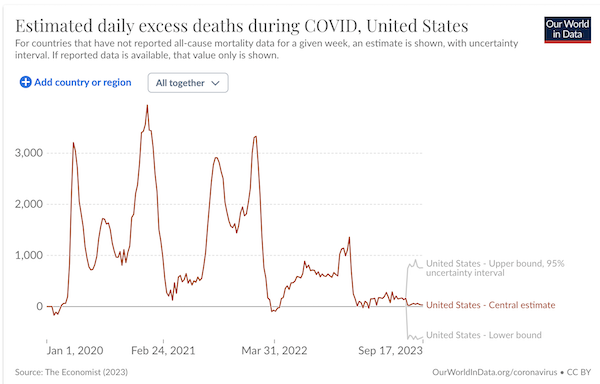 Lambert here: This is now being updated daily again. Odd. Based on a machine-learning model.
Stats Watch
Housing: "United States Housing Starts MoM" [Trading Economics]. "Housing starts in the US sank 11.3% month-over-month to a seasonally adjusted annualized rate of 1.283 million in August 2023. It is the biggest decrease since July 2022."
* * *
* * *
Today's Fear & Greed Index: 48 Neutral (previous close: 48 Fear) [CNN]. One week ago: 52 (Neutral). (0 is Extreme Fear; 100 is Extreme Greed). Last updated Sep 19 at 1:53:42 PM ET.
Class Warfare
"SARS-CoV-2 infection and long COVID among California farmworkers" [The Journal of Rural Health]. "The prevalence of long COVID (defined as self-reported SARS-CoV-2 infection with symptoms >28 days) among farmworkers with a suspected or test-confirmed infection was 61.8%. " • Holy [family blog]. 
News of the Wired
"How Babies Unravel the Origin of Conscious Awareness and Purpose" [Neuroscience News]. "For the study, infants began the experiment as disconnected observers. However, when researchers tethered one of the infants' feet to a crib-mounted baby mobile, infants discovered they could make the mobile move. To catch this moment of realization like lightning in a bottle, researchers measured infant and mobile movement in 3D space using cutting-edge motion capture technology to uncover dynamic and coordinative features marking the When an infant's foot is tethered to the mobile, each foot movement causes the mobile to move. It was thought that the more the mobile moves, the more the infant is stimulated to move, producing yet more mobile motion…. Aliza Sloan, Ph.D., lead author and a postdoctoral research scientist in [Florida Atlantic University's] Center for Complex Systems and Brain Sciences, developed a quantitative 'aha!"" detector to search for abrupt increases in infant movement rate related to sudden infant discovery. Sloan's technique demonstrated that the 'birth' of agency can be quantified as a 'eureka-like,' pattern-changing phase transition within a dynamical system that spans the baby, the brain, and the environment. The system switches from a less correlated state to a state where both movements of the mobile and the tethered limb are highly coordinated as the infant discovers its functional connection to the mobile. The new approach used in this study frames agency as an emergent property from the functional coupling of organism and environment." • So consciousness doesn't exist "in the brain"?
* * *
Contact information for plants: Readers, feel free to contact me at lambert [UNDERSCORE] strether [DOT] corrente [AT] yahoo [DOT] com, to (a) find out how to send me a check if you are allergic to PayPal and (b) to find out how to send me images of plants. Vegetables are fine! Fungi and coral are deemed to be honorary plants! If you want your handle to appear as a credit, please place it at the start of your mail in parentheses: (thus). Otherwise, I will anonymize by using your initials. See the previous Water Cooler (with plant) here. From Late Introvert: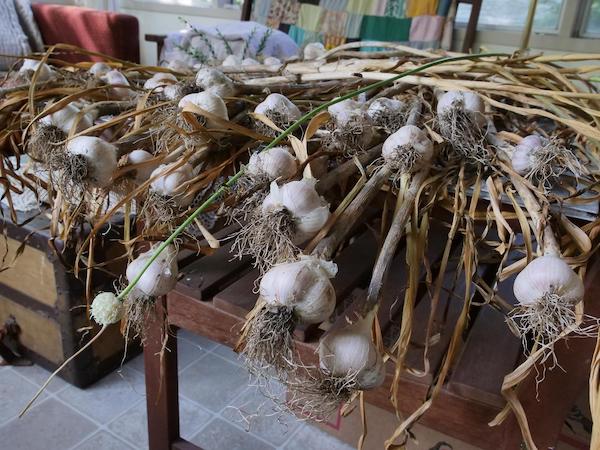 Late Introvert writes: "2023 Garlic crop, the best ever, grown in the front yard. We took down the dead Green Ash last fall, so way more sun this growing season."