By Lambert Strether of Corrente.
Bird Song of the Day
Mrs. Moreau's Warbler, -6.37335, 36.92794, Morogoro, Tanzania.
* * *
Politics
"So many of the social reactions that strike us as psychological are in fact a rational management of symbolic capital." –Pierre Bourdieu, Classification Struggles
Biden Administration
"Biden tells Zelenskyy that U.S. will send Ukraine ATACMS long-range missiles" [NBC]. "President Joe Biden has told his Ukrainian counterpart, Volodymyr Zelenskyy, that the United States will provide a small number of long-range missiles to aid the war with Russia, three U.S. officials and a congressional official familiar with the discussions told NBC News on Friday. The officials, who were not authorized to speak publicly, did not say when the missiles would be delivered or when a public announcement would be made…. Defense officials have said the U.S. does not have a large stockpile of excess ATACMS, which have a bigger payload than traditional artillery, to provide to Ukraine."
2024
Time for the Countdown Clock!

* * *

"Trump says he always had autoworkers' backs. Union leaders say his first-term record shows otherwise" [Associated Press]. "Trump will bypass the second Republican presidential debate on Sept. 27 to instead visit striking autoworkers in Michigan, where he has looked to position himself as an ally of blue-collar workers by promising to raise wages and protect jobs if elected to a second term. But union leaders say Trump's record in the White House speaks for itself. Union leaders have said his first term was far from worker-friendly, citing unfavorable rulings from the nation's top labor board and the U.S. Supreme Court, as well as unfulfilled promises of automotive jobs. While the United Auto Workers union has withheld an endorsement in the 2024 presidential race, its leadership has repeatedly rebuffed Trump. Nevertheless, Trump plans to speak directly to a room of former and current union members. A Trump campaign radio ad released Tuesday in Detroit and Toledo, Ohio, praised auto workers and said the former president has 'always had their back.'" • Well, at least Trump's showing up (exactly as in East Palestine).

IA: "Iowa Could Open Up the 2024 GOP Primary" [Karl Rove, Wall Street Journal]. "It's beginning to dawn on Donald Trump that Iowa matters. Until now it looked as if the former president was devoting more time to meeting with lawyers than engaging with voters, so his recent burst of activity in the Hawkeye State is revealing. His notoriously cheap campaign dropped $700,000 on Iowa TV last week. He finally hired a director to oversee his Iowa ground game. On Wednesday he stopped in Maquoketa and Dubuque, and he vows to return to the state four times in October. That means that over the next six weeks he'll spend about as many days in Iowa as he has over the past nine months…. Mr. Trump's competitors, unburdened by multiple criminal indictments, are making up in their volume of appearances in early states what Mr. Trump gets with his infrequent rallies. Last Saturday, Florida Gov. Ron DeSantis had six events in Iowa while former South Carolina Gov. Nikki Haley had eight stops there across Friday and Saturday… Today, the former president has a big lead in national GOP primary polls. But beware: Republican primary voters don't like being taken for granted. Right now that's what Mr. Trump and his team are doing. Voters know how to register their unhappiness." • Rove points to the possibility of a "surprising second" in Iowa, as with Mondale and Hart in 1984 (though surely the surprise is manufactured by the press?). That would mean a long drawn-out campaign.

* * *

Whoops:

Sacks was big DeSantis guy and helped launch his presidential campaign on Twitter Spaces https://t.co/jrK2i7CVyh

— Matt Dixon (@Mdixon55) September 21, 2023

* * *
Republican Funhouse
"Clarence Thomas Secretly Participated in Koch Network Donor Events" [Pro Publica]. "During [the annual winter donor summit of the Koch network], the [Justice Thomas] went to a private dinner for the network's donors. Thomas has attended Koch donor events at least twice over the years, according to interviews with three former network employees and one major donor. The justice was brought in to speak, staffers said, in the hopes that such access would encourage donors to continue giving. . …. Thomas' involvement in the events is part of a yearslong, personal relationship with the Koch brothers that has remained almost entirely out of public view. It developed over years of trips to the Bohemian Grove, a secretive all-men's retreat in Northern California. Thomas has been a regular at the Grove for two decades, where he stayed in a small camp with real estate billionaire Harlan Crow and the Kochs, according to records and people who've spent time with him there…. 'I can't imagine — it takes my breath away, frankly — that he would go to a Koch network event for donors,' said John E. Jones III, a retired federal judge appointed by President George W. Bush. Jones said that if he had gone to a Koch summit as a district court judge, 'I'd have gotten a letter that would've commenced a disciplinary proceeding.' 'What you're seeing is a slow creep toward unethical behavior. Do it if you can get away with it,' Jones said.'"

"The Billionaire Keeping TikTok on Phones in the U.S." [Wall Street Journal]. "TikTok had hardly any friends in government earlier this year as the Biden administration, Congress and state legislatures were threatening to ban the Chinese-owned video giant. TikTok now has many more friends, with something in common: backing from billionaire financier Jeff Yass. They've helped stall attempts to outlaw America's most-downloaded app. Yass's investment company, Susquehanna International Group, bet big on TikTok in 2012, buying a stake in parent company ByteDance now measured at about 15%. That translates into a personal stake for Yass of 7% in ByteDance. It is worth roughly $21 billion based on the company's recent valuation, or much of his $28 billion net worth as gauged by Bloomberg. Yass is also one of the top donors to the Club for Growth, an influential conservative group that rallied Republican opposition to a TikTok ban. Yass has donated $61 million to the Club for Growth's political-spending arm since 2010, or about 24% of its total, according to federal records. Club for Growth made public its opposition to banning TikTok in March, in an opinion article by its president, at a time when sentiment against the platform among segments of both parties was running high on Capitol Hill. Days later, Sen. Rand Paul (R., Ky.) stood up on the Senate floor and quashed an attempt to fast-track a bill by Sen. Josh Hawley (R., Mo.) to ban downloading of the TikTok app….. In June, Yass donated $3 million to a political committee backing Paul. Including that contribution, Yass and his wife, Janine Yass, have donated more than $24 million to Paul or committees that support him since 2015, according to federal records. Club for Growth has given a Paul-supporting political committee $1.8 million since 2020." • That's nice.

"Who's Bankrolling the Shutdown Showdown?" [Exposed by CMD]. "The 'No Security, No Funding' framework used by the Freedom Caucus for its demands is echoed in materials being circulated by right-wing groups including the Conservative Partnership Institute (or CPI, which effectively provides staffing for the Freedom Caucus), the secretive Council for National Policy's Conservative Action Project, the America First Policy Institute, the Heritage Foundation, Club for Growth, the Competitive Enterprise Institute, the Family Research Council, and the Eagle Forum, all of which are pushing for a government shutdown unless their ideological demands are met. Although these groups' arguments focus on reigning in government spending, their demands have hardly anything to do with the federal budget since they're all based on culture war priorities. For example, a recent letter circulated by the Conservative Action Project and signed by more than 100 individuals — including representatives from the groups mentioned above — contends that any spending bill must include policy reforms that would 'stop the woke cancer that has infected the Pentagon.'" • Which is cray cray, because cancer isn't infectious. Anyhow, if "woke" was the knee-jerking barnburner these guys think it is, DeSantis wouldn't be buying new lifts for his shows. Stale, flat, unprofitable…..  
Democrats en Déshabillé
Patient readers, it seems that people are actually reading the back-dated post! But I have not updated it, and there are many updates. So I will have to do that. –lambert

I have moved my standing remarks on the Democrat Party ("the Democrat Party is a rotting corpse that can't bury itself") to a separate, back-dated post, to which I will periodically add material, summarizing the addition here in a "live" Water Cooler. (Hopefully, some Bourdieu.) It turns out that defining the Democrat Party is, in fact, a hard problem. I do think the paragraph that follows is on point all the way back to 2016, if not before:

The Democrat Party is the political expression of the class power of PMC, their base (lucidly explained by Thomas Frank in Listen, Liberal!). ; if the Democrat Party did not exist, the PMC would have to invent it. . ("PMC" modulo "class expatriates," of course.) Second, all the working parts of the Party reinforce each other. Leave aside characterizing the relationships between elements of the Party (ka-ching, but not entirely) those elements comprise a network — a Flex Net? An iron octagon? — of funders, vendors, apparatchiks, electeds, NGOs, and miscellaneous mercenaries, with assets in the press and the intelligence community.

Note, of course, that the class power of the PMC both expresses and is limited by other classes; oligarchs and American gentry (see 'industrial model' of Ferguson, Jorgensen, and Jie) and the working class spring to mind. Suck up, kick down.

* * *

"Sen. Menendez, wife indicted on bribe charges as probe finds $100,000 in gold bars, prosecutors say" [Associated Press]. "The sweeping indictment alleges that Menendez, chairman of the Senate Foreign Relations Committee, provided sensitive and non-public U.S. government information to Egyptian government officials and took other steps to secretly help Egypt, including ghost-writing a letter on behalf of Egypt pushing other senators to lift a hold on $300 million in aid to the country. Authorities also allege the senator sought to derail a criminal investigation into an associate by pushing for a U.S. attorney nominee he believed could be influenced. A search of the couple's home turned up $100,000 in gold bars and $480,000 in hidden cash, said prosecutors, who announced the charges against the 69-year-old Democrat nearly six years after an earlier criminal case against him ended with a deadlocked jury. The latest indictment is unrelated to the earlier charges that alleged Menendez accepted lavish gifts to pressure government officials on behalf of a Florida doctor." • Commentary:

Wowzers. This Bob Menendez indictment includes gold bars, text messages, cash hanging in closets. It's kind of nostalgic, actually, harkens back to a more innocent time when politicians took bribes instead of getting bullshit children's book contracts. https://t.co/XFSSptC1OI

— Matt Stoller (@matthewstoller) September 22, 2023

Correct!

* * *

"A corruption trial revealed a #MeToo ethics entanglement for a top Biden adviser" [NPR]. From Septembr 13, still germane. "A top adviser to President Joe Biden, whose prominent communications firm helped launch a high-profile effort to assist victims of sexual harassment, rape and assault, was also a paid adviser to a powerful Illinois politician while he was being sued by one of those victims. Anita Dunn, co-founder of the communications firm SKDK and widely considered a member of the president's inner circle, provided "crisis communications" assistance to Michael Madigan, the then-Speaker of the Illinois House of Representatives, from 2018 to 2019. That work netted Dunn and her firm more than $200,000, according to campaign finance disclosures. While Dunn was advising Madigan, Hampton received support in her case from Dunn's firm, which partnered with the anti-harassment charity the Time's Up Legal Defense Fund. Dunn's work for Madigan was specifically focused on responding to allegations stemming from Hampton's lawsuit. As a result, SKDK (the D stands for "Dunn") was on the one hand supporting Hampton in her harassment and retaliation case through its partnership with the Time's Up Legal Defense Fund, and on the other getting paid by a defendant in that very lawsuit. Reached by phone, Dunn said she was heading into a meeting and told NPR to 'just call SKDK on that, thank you,' before hanging up…. NPR asked for a copy of SKDK's conflict of interest policy, but the firm declined to provide it." • Good reporting by NPR and well worth a read for the horrid detail, though if Dunn were a Republican the welkin would still be ringing with the cries of aghastitude.

"Democrats drop PR firm co-founded by top Biden adviser over 'disqualifying' #MeToo conflict" [FOX]. "Illinois House Democrats have dropped a top communications firm co-founded by a member of President Biden's inner circle after it was revealed it raked in $200,000 providing counsel to a Democratic campaign facing sexual harassment charges while also positioning itself as a leader in the #MeToo movement. 'The glaring conflict of interest and conduct in this case sends a chilling message to victims and survivors that they can't even trust the people who claim to be their greatest supporters,' Emanuel 'Chris' Welch, the speaker of the Illinois House of Representatives, said Monday in a statement to NPR. 'We find this to be deeply disheartening and disqualifying for us,'" • FOX quoting NPR. What is this world coming to! (And it is interesting that NPR felt free to take a pot shot at an important figure in BidenWorld.)
The Bush Legacy
Our Famously Free Press
RussiaGate
Roe v. Wade
Trucker Convoys
2018 Post Mortem
Truckers
2016 Post Mortem
Reparations
9/11
Election Legitimacy
Covid
The Debate
Riots and Protests
The Debates
–>
#COVID19
"I am in earnest — I will not equivocate — I will not excuse — I will not retreat a single inch — AND I WILL BE HEARD." –William Lloyd Garrison
Resources, United States (National): Transmission (CDC); Wastewater (CDC, Biobot; includes many counties; Wastewater Scan, includes drilldown by zip); Variants (CDC; Walgreens); "Iowa COVID-19 Tracker" (in IA, but national data). "Infection Control, Emergency Management, Safety, and General Thoughts" (especially on hospitalization by city).
Lambert here: Readers, thanks for the collective effort. To update any entry, do feel free to contact me at the address given with the plants. Please put "COVID" in the subject line. Thank you!
Resources, United States (Local): AK (dashboard); AL (dashboard); AR (dashboard); AZ (dashboard); CA (dashboard; Marin, dashboard; Stanford, wastewater; Oakland, wastewater); CO (dashboard; wastewater); CT (dashboard); DE (dashboard); FL (wastewater); GA (wastewater); HI (dashboard); IA (wastewater reports); ID (dashboard, Boise; dashboard, wastewater, Central Idaho; wastewater, Coeur d'Alene; dashboard, Spokane County); IL (wastewater); IN (dashboard); KS (dashboard; wastewater, Lawrence); KY (dashboard, Louisville); LA (dashboard); MA (wastewater); MD (dashboard); ME (dashboard); MI (wastewater; wastewater); MN (dashboard); MO (wastewater); MS (dashboard); MT (dashboard); NC (dashboard); ND (dashboard; wastewater); NE (dashboard); NH (wastewater); NJ (dashboard); NM (dashboard); NV (dashboard; wastewater, Southern NV); NY (dashboard); OH (dashboard); OK (dashboard); OR (dashboard); PA (dashboard); RI (dashboard); SC (dashboard); SD (dashboard); TN (dashboard); TX (dashboard); UT (wastewater); VA (dashboard); VT (dashboard); WA (dashboard; dashboard); WI (wastewater); WV (wastewater); WY (wastewater).
Resources, Canada (National): Wastewater (Government of Canada).
Resources, Canada (Provincial): ON (wastewater); QC (les eaux usées); BC, Vancouver (wastewater).
Hat tips to helpful readers: anon (2), Art_DogCT, B24S, CanCyn, ChiGal, Chuck L, Festoonic, FM, FreeMarketApologist (4), Gumbo, hop2it, JB, JEHR, JF, JL Joe, John, JM (10), JustAnotherVolunteer, JW, KatieBird, LL, Michael King, KF, LaRuse, mrsyk, MT, MT_Wild, otisyves, Petal (6), RK (2), RL, RM, Rod, square coats (11), tennesseewaltzer, Utah, Bob White (3). 
Stay safe out there!
* * *
Maskstravaganza
Science fiction stuff!

If only there were some simple, low cost way of preventing infections. Like some kind of mechanical device that could block inhalation of virus

— 𝙹𝚘𝚎 𝚅𝚒𝚙𝚘𝚗𝚍 joseph.vipond@ucalgary.ca (@jvipondmd) September 21, 2023

Yesterday, hair. Today, beards:

I got a query from @xacc475013 about how long stubble needs to be before it starts to compromise the fit of a respirator. The answer is in this paper. You need about 3 mm of beard length before you start seeing a meaningful drop in the fit factor. There is a minor drop at 1.5 mm… https://t.co/fXuCwwSBGw

— Dr Satoshi Akima FRACP 『秋間聰』 (@ToshiAkima) September 21, 2023
Covid is Airborne
Good news (1):

Tutorial: How to make your own air cleaner at home to protect against fall viruses

"As COVID cases surge and flu season approaches, Louie Gold demonstrates how to create a DIY air cleaner"https://t.co/teyDjHAJKg

HT @Don_Milton

— Prof. Jose-Luis Jimenez (@jljcolorado) September 21, 2023

This could also have been, as I have grumbled before, been done a year ago at least, say by Dr. Jill Biden and some cute schoolkids on Oprah or Good Morning America. 

Good news (2):

Lowering inhalation dose or virus-laden respiratory aerosol particles leads to lower probability of infection.

It's always been that way. It's never been rocket science, folks. 👇 https://t.co/hbrMYBK1pp

— Richard Corsi, PhD, PE (Texas) (@CorsIAQ) September 22, 2023

* * *

CSA = Canadian Standards Organization; LTC = Long-Term Care:

Deleted this post and correcting.

There is a small reference to ventilation in the LTC standard. Nothing too detailed. Total of 1 page.

There's 3 pages on hand washing and 7 pages on surface disinfection.

It would be nice if they paid the same attention to air. pic.twitter.com/XqQklrHB3h

— Joey Fox (@joeyfox85) September 21, 2023

And the sociology of standards-writing:

That's why selective Gatekeeping in Standards Committees, whether it's CSA, CDC, WHO or similar can have such a devastating impact on society.

— Barry Hunt – #DavosSafe (@BarryHunt008) September 21, 2023

Sounds like HICPAC…. (I ran this tweet yesterday because it was interesting in itself, but the tweet was in response to Fox, who at press time had deleted his tweet, replacing it later with the tweet above.)

* * *
Vaccines
Looks like there's demand?

A sign at a Walgreens in San Francisco. This is intimidating and will only turn people who want to get vaccinated away.

There's a CDC Bridge program that helps everyone get the updated COVID vaccine for free, yet isn't mentioned in the sign.

(Photo by @arielwaldman) pic.twitter.com/eTPsoKaKOI

— Dr. Lucky Tran (@luckytran) September 22, 2023

"Spikevax," though. That's a little too on-the-nose for me. 
Testing and Tracking
Can any New York readers confirm or deny this idiocy?

I'm required to send a letter to every single family every time there's a case of lice in my class.

NYC principals are being told not to tell school families if there are covid cases in their children's class or school outbreaks.

Lice have never killed or disabled a child.

— Sarah Allen (@Mssarahmssarah) September 22, 2023

Here's a happy thought!

Citizen Science: The 💩 🐀 challenge!

What if lots of people did a RAT (Covid Rapid Antigen Test) on their poo?

Are you shedding SARS² virus from your digestive tract? Find out! Do a 🐀 on your 💩!

From Novid to Long Covid, everyone can join on this Citizen Science survey! 👇 pic.twitter.com/hqzArsgVbA

— Pedro Lérias 😷 rplerias.bsky.social (@RPLerias) July 19, 2023

But I guess if you want to find out if you're still shedding — or find out of you have a Covid reservoir somewhere in your body? — this is a good method.
Elite Maleficence
Readers, have any of you gotten reactions like this?

The pushback is never actually about the specifics of what I'm saying.

It's as if these individuals are reacting to the broader narrative around COVID actually being bad for you, and as if they are personally offended by the very existence of public health itself. (2/4)

— Nick Tsergas (@nicktsergas) September 22, 2023

I can understand a negative reaction to "public health" as practiced. But to the very idea? A second example:

and there you go. https://t.co/f5GNtDYmLp

— 𝙹𝚘𝚎 𝚅𝚒𝚙𝚘𝚗𝚍 joseph.vipond@ucalgary.ca (@jvipondmd) September 21, 2023

Only Belgium. But the EU allows this?
* * *
Case Data
NOT UPDATED From BioBot wastewater data, September 18:
Lambert here: "Data last updated September 18, 2023 from samples collected during the week of September 11, 2023. This Thursday's update is delayed. Visualizations are next expected to be updated on September 25, 2023. Most recent data are subject to change." So even wastewater data is turning to garbage? (I checked CDC data, and it was updated on September 18, too? Funding issues? Everybody using the same lab behind the scenes, and there was a debacle of some kind?)=
Lambert here: The national drop is due exclusively to the South. Other signals — scattered and partial though they be — also converge on a drop: ER visits, positivity. We shall see. (I would include CDC's wastewater map for comparison, but it's eleven days old.)
Regional data: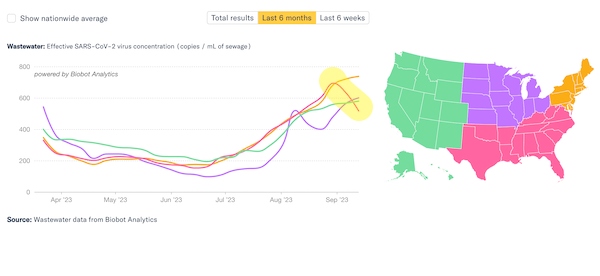 The same regional variation also appears in the Walgreen's positivity data. Interestingly, the upswing begins before July 4, which neither accelerates nor retards it.
• One of our best indicators, The Yankee Candle Index:
Good lordt the Yankee Candle Review Covid Forecaster Index never misses https://t.co/HZaCavDn3c

— nic (@nickelpin) September 21, 2023
There's a real disconnect between official (CDC) and quasi-official (Biobot) data, and anecdotes like this, and anecdotes generally (especially from parents). It's making me a little queasy, although I grant I am easily queased. Then again, would we have all these euphemisms if there were nothing to euphemize?
I got a query from @xacc475013 about how long stubble needs to be before it starts to compromise the fit of a respirator. The answer is in this paper. You need about 3 mm of beard length before you start seeing a meaningful drop in the fit factor. There is a minor drop at 1.5 mm… https://t.co/fXuCwwSBGw

— Dr Satoshi Akima FRACP 『秋間聰』 (@ToshiAkima) September 21, 2023
Variants                  
NOT UPDATED From CDC, September 16: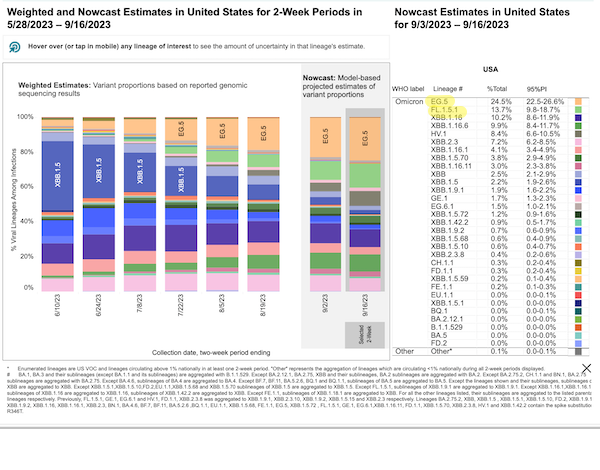 Lambert here: Top of the leaderboard: EG.5 ("Eris"). Still BA.2.86 here, not even in the note, but see below at Positivity.
From CDC, September 2: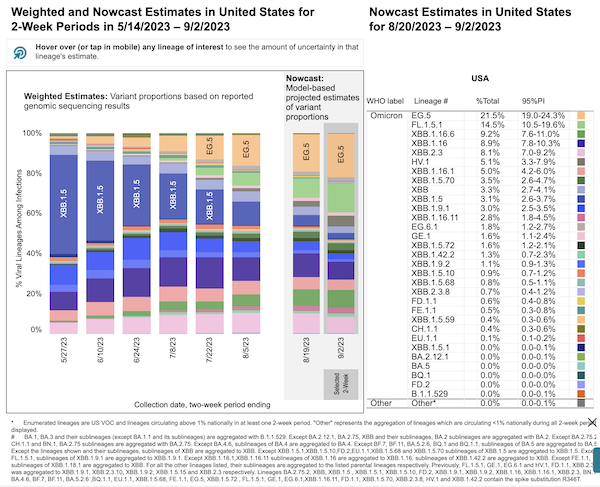 Lambert here: Not sure what to make of this. I'm used to seeing a new variant take down the previously dominant variant. Here it looks like we have a "tag team," all working together to cut XBB.1.5 down to size. I sure hope the volunteers doing Pangolin, on which this chart depends, don't all move on the green fields and pastures new (or have their access to facilities cut by administrators of ill intent).
CDC: "As of May 11, genomic surveillance data will be reported biweekly, based on the availability of positive test specimens." "Biweeekly: 1. occurring every two weeks. 2. occurring twice a week; semiweekly." Looks like CDC has chosen sense #1. In essence, they're telling us variants are nothing to worry about. Time will tell.
Covid Emergency Room Visits
NOT UPDATED From CDC NCIRD Surveillance, September 16: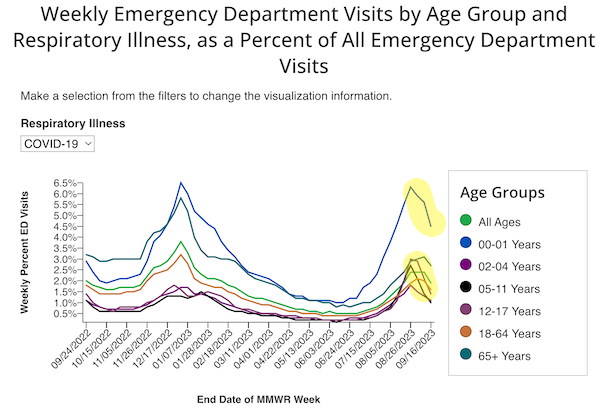 Drop coinciding with wastewater drop.
NOTE "Charts and data provided by CDC, updates Wednesday by 8am. For the past year, using a rolling 52-week period." So not the entire pandemic, FFS (the implicit message here being that Covid is "just like the flu," which is why the seasonal "rolling 52-week period" is appropriate for bothMR SUBLIMINAL I hate these people so much. Notice also that this chart shows, at least for its time period, that Covid is not seasonal, even though CDC is trying to get us to believe that it is, presumably so they can piggyback on the existing institutional apparatus for injections.
Hospitalization
Bellwether New York City, data as of September 21: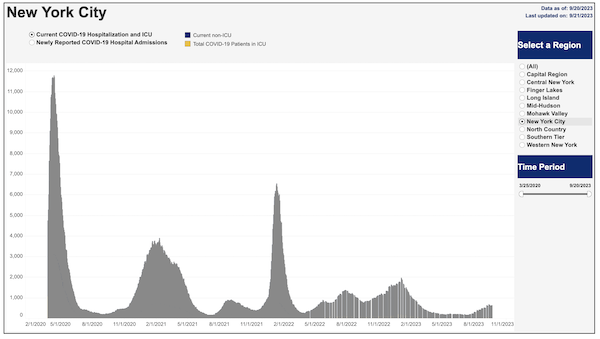 Flattened peak continues. I hate this metric because the lag makes it deceptive.
Here's a different CDC visualization on hospitalization, nationwide, not by state, but with a date, at least. September 16: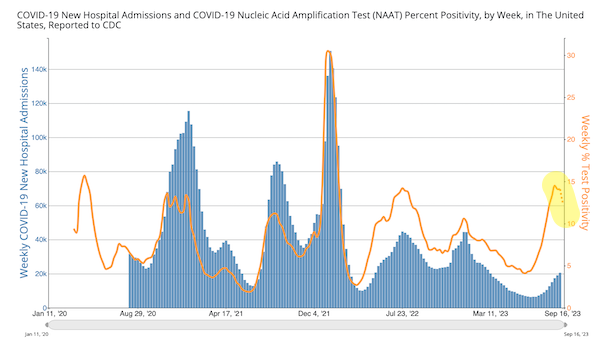 Lambert here:  At least we can see that positivity and hospitalization correlate.
Lambert here: "Maps, charts, and data provided by CDC, updates weekly for the previous MMWR week (Sunday-Saturday) on Thursdays (Deaths, Emergency Department Visits, Test Positivity) and weekly the following Mondays (Hospitalizations) by 8 pm ET†". So where the heck is the update, CDC? 
Positivity
NOT UPDATED From Walgreens, September 18: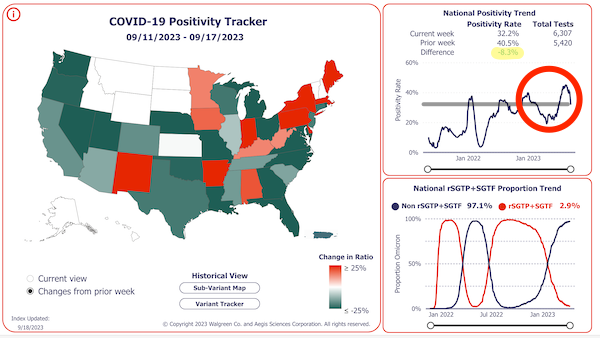 -8.3%. An enormous drop (so not Labor Day data). However, I cannot recall seeing the map so polarized; so much deep green, so much deep red. The absolute numbers are still very small relative to June 2022, say. Interestingly, these do not correlate with the regional figures for wastewater. (It would be interesting to survey this population generally; these are people who, despite a tsunami of official propaganda and enormous peer pressure, went and got tested anyhow.)
NOT UPDATED Cleveland Clinic, September 16: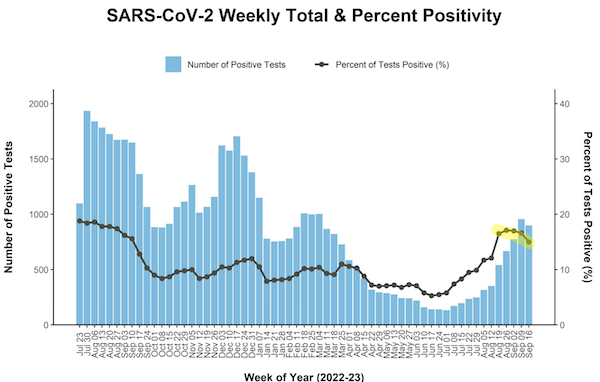 Lambert here: I know this is just Ohio, but the Cleveland Clinic is good*, and we're starved for data, so…. NOTE * Even if hospital infection control is trying to kill patients by eliminating universal masking with N95s.
From CDC, traveler's data, September 4: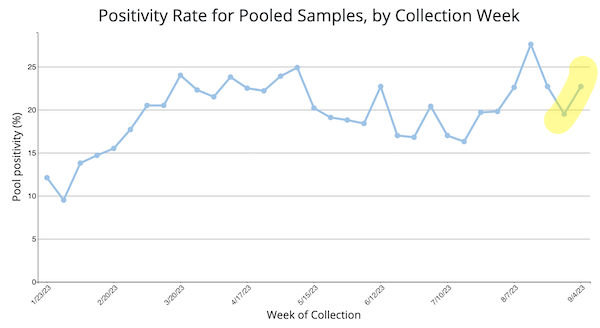 Back up again And here are the variants: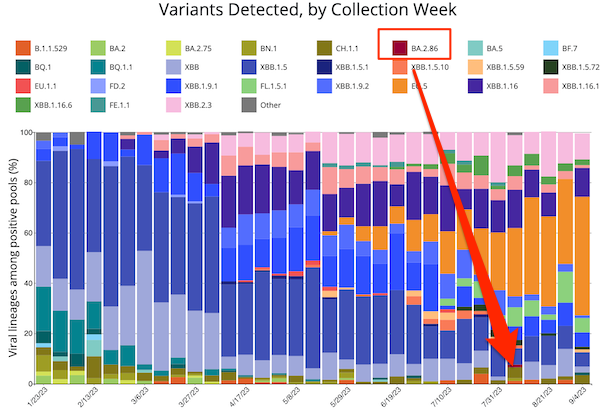 No BA.2.86 for three of the long-delayed collection weeks. We know BA.2.86 is in the country, so apparently it escaped CDC's net.
Deaths
Iowa COVID-19 Tracker, September 20: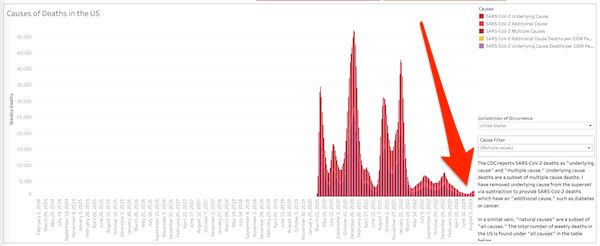 Lambert here: The WHO data is worthless, so I replaced it with the Iowa Covid Data Tracker. Their method: "These data have been sourced, via the API from the CDC: https://data.cdc.gov/NCHS/Conditions-Contributing-to-COVID-19-Deaths-by-Stat/hk9y-quqm. This visualization updates on Wednesday evenings. Data are provisional and are adjusted weekly by the CDC." I can't seem to get a pop-up that shows a total of the three causes (top right). Readers?
Total: 1,175,562  – 1,175,495 = 67 (67 * 365 = 24,455 deaths per year, today's YouGenicist™ number for "living with" Covid (quite a bit higher than the minimizers would like, though they can talk themselves into anything. If the YouGenicist™ metric keeps chugging along like this, I may just have to decide this is what the powers-that-be consider "mission accomplished" for this particular tranche of death and disease). 
Excess Deaths
The Economist, September 21: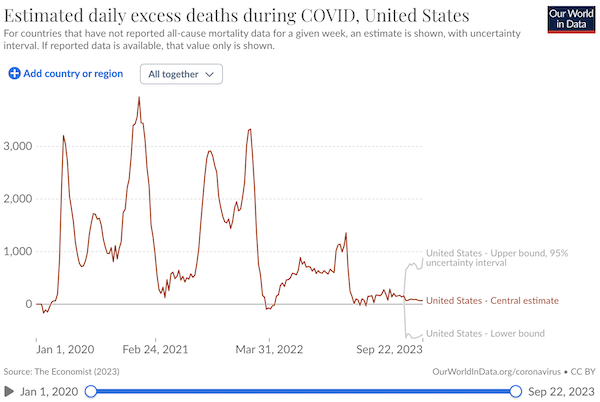 Lambert here: This is now being updated daily again. Odd. Based on a machine-learning model.
Stats Watch
There are no official statistics of interest today.
* * *
Real Estate:  "W.P. Carey Exits Office Market as Demand Sinks Because of 'Work-From-Home' Trend" [Investopedia (ChrisFromGA)]. "The collapse in demand for commercial office space after the pandemic-related rise in "work from home" (WFH) has led W.P. Carey (WPC) to exit that business segment. The real estate investor announced that its board has unanimously agreed to exit the market by spinning off or selling all the office assets in its portfolio." • Hmm.
Tech: "Apple fucked us on right to repair (again)" [Cory Doctorow, Pluralistic]. "Right to repair has no cannier, more dedicated adversary than Apple, a company whose most innovative work is dreaming up new ways to sneakily sabotage electronics repair while claiming to be a caring environmental steward, a lie that covers up the mountains of e-waste that Apple dooms our descendants to wade through….. Tim Cook laid it out for his investors: when people can repair their devices, they don't buy new ones. When people don't buy new devices, Apple doesn't sell them new devices. It's that's simple…. VIN-locking is used by automakers to block independent mechanics from repairing your car; even if they use the manufacturer's own parts, the parts and the engine will refuse to work together until the manufacturer's rep keys in the unlock code." • Well worth a read, since everybody's VIN-locking. 
Entertainment: "WWE founder Vince McMahon sets the stage for his possible exit" [Axios]. "Pro wrestling magnate Vince McMahon is hinting that he wants out of the family business, according to regulatory filings tied to WWE's recent merger with the UFC. The new combined entity, TKO, has registered all of McMahon's shares for sale, thus enabling him to avoid the lockup period that applies to other TKO stockholders like Endeavor and Silver Lake. McMahon currently holds around 28.84 million TKO shares, which was valued at $3 billion as of yesterday's market close." • Not too shabbby.
Antitrust:
Google executive who negotiated Apple default deal for $ billions… takes job as Apple executive, without objection from Google or any effort to establish wall inside Apple to protect Google confidential info/strategy. Internal email says ""our vision is to act as one company."" https://t.co/ias9LcIvsl

— Megan Gray (@megangrA) September 22, 2023
* * *
Today's Fear & Greed Index: 41 Fear (previous close: 39 Fear) [CNN]. One week ago: 49 (Neutral). (0 is Extreme Fear; 100 is Extreme Greed). Last updated Sep 22 at 1:37:25 PM ET.
The Conservatory
"'Stop Making Sense' and the Transformative Power of Collaboration" [The New Yorker]. "It is now having a theatrical rerelease, in a new restoration." Terrific on the big screen:
A propos!
Black Injustice Tipping Point
"'Inquiry' launched into Ibram X. Kendi's Center for Antiracist Research at BU" [Boston Globe]. "Boston University said it is conducting an 'inquiry' into celebrity author Ibram X. Kendi's Center for Antiracist Research after receiving complaints about the center's culture and grant management. The announcement trails news of recent layoffs at the center, which launched in June 2020 amid the racial justice protests that followed the killings of George Floyd, Breonna Taylor, and Ahmaud Arbery. Saida Grundy, a BU professor who worked at the center from fall 2020 to spring 2021, sent an email to then-provost Jean Morrison in December 2021 alleging dysfunction and a ""pattern of amassing grants without any commitment to producing the research obligated"" by them, according to The Boston Globe." 
Class Warfare
"UAW Strikes at More GM and Stellantis Sites, But Spares Ford" [Wall Street Journal]. "The United Auto Workers union on Friday sent another 5,600 members out on strike at General Motors GM and Chrysler-parent Stellantis, widening the impact of its work stoppage and extending it to parts-distribution centers that supply dealerships. The union spared Ford from additional walkouts, saying it was making progress in contract talks with the automaker. UAW President Shawn Fain told members during a livestream address Friday morning that the action targets 38 parts-distribution centers across 20 states. The move brings the number of UAW members on strike to more than 18,000. The distribution facilities ship service parts to dealerships. Crimping the flow of components from the centers is likely to disrupt GM and Stellantis dealers' service operations, potentially leading to longer wait times for customers. Fain said Ford had sweetened its offer in recent days, and the union wanted to recognize that the company was serious about reaching a deal…. In 2019, when the UAW went on strike across all of GM's U.S. facilities, the cutoff of service parts to dealerships began affecting stores within a week. Dealers struggled to get backup components. Many said they had to turn away service customers."
* * *
"Blue-collar workers are our only hope" [Unherd]. "AI's problems start at the top. Unlike the internet, which spawned a number of independent companies (including Google and Microsoft), AI seems to be controlled by existing tech giants, which are investing heavily in these new firms. ARM, for instance, the British-based chip designer whose IPO last week set Wall Street aflutter, is garnering huge investments from other Big Tech firms, including Nvidia, Intel, AMD and Apple. Elsewhere, Open AI's largest investor is Microsoft, while DeepMind was acquired by Google in 2014…. According to the US Labor Department, AI and automation could impact as many as many as 90 million American workers, with warehouse workers among the most prominent losers. What will really alter class relations, however, is the impact on more professional jobs. They have been the ascendent class for the last two generations, growing at an average annual rate of 2.2% since 2001 — well above the 0.4% annual rise for total employment. But whereas the computer revolution was a boon to those working as programmers and market researchers, AI does the job for them, often with more speed and accuracy. As Rony Abovitz, one of the pioneers of virtual reality and AI, has observed: ""It's the end of the white-collar knowledge work."" In such a world, it is not hard to envisage a new kind of class conflict that extends beyond the traditional Marxist conflict between low-wage workers and better-educated owners." • No, it's exactly the traditional Marxist conflict between capital (buyers of labor power) and workers (sellers of labor power). AI, in theory, would reduce the PMC to worker status by eliminating their symbolic capital (credentials, conference presentations, awards, etc.) and their social capital (FlexNets). Of course, AI really is bullshit and really does suck, so such a transition would not be universal. But that's the idea. Same "conflict" in more technical — and in my mind, less supple — terms:
"Marxism & Class" [MR Online]. "Class is a key concept for Marxism. The word has many uses as a term of differentiation and stratification. In social-political-economic terms, it is a way of categorising social groups in terms of wealth, status, education, occupation, and culture, often in a very loose and somewhat shoddy way, when it is addressed at all. For Marxism, it is a more precise concept and one that is central to its whole analysis of society. So what is class for Marxism and how is it different from other approaches? Basically, Marxism sees class in terms of relationship to the means of production. In capitalist society, there are two primary classes: the bourgeoisie and the proletariat—those who own the means of production and those who depend on wage labour to live. Within these classes, there are various strata and other differences, but the great divide is between those who do the work of the world and those who are able to appropriate the fruits of their work, who can extract the surplus value of labour without labouring. I am assuming a broad definition of who is the working class here, including not only the prototypical proletarian, a male manual labourer, but all who work by hand or brain, those who make the world as we know it happen, those who live by their labour, whether plumbers or pilots or professors, whether they build houses, stack shelves, perform surgery, or pursue scientific research, of all genders, races, ethnicities, and nations, the many who are manipulated into serving the interests of the few." • Some issues: (1) Marx, in the single page (!!) final chapter of Capital Volume III identifies at least four:
There are three great social groups whose members, the individuals forming them, live on [(1) working class], profit [(2) bourgieosie] and ground-rent [(3) rentiers] respectively, on the realisation of their labour-power, their capital, and their landed property.

However, from this standpoint, physicians and officials, e.g., [(4) PMC].would also constitute two classes, for they belong to two distinct social groups, the members of each of these groups receiving their revenue from one and the same source. The same would also be true of the infinite fragmentation of interest and rank into which the division of social labour splits labourers as well as capitalists and landlords-the latter, e.g., into owners of vineyards, farm owners, owners of forests, mine owners and owners of fisheries.
(In classic "proof too small to be contained in the margin," the final sentence reads "[Here the manuscript breaks off.]") (2) I am strongly in favor of adding social and symbolic capital to the mix, a la Bourdieu, because otherwise there's no way to give an account of the workings of propaganda and delusion (as well as love, filiality, piety, etc.). Bourdiue remarks somewhere that "sociology is a martial art," and I think the [M|m]arxists could use some new moves that don't sacrifice analytical rigor.
"Sen. Fetterman, the Senate dress code, and Conspicuous Consumption" [Real Economics]. "[T]here is a school of American economics, called the institutionlists, centered on the work and writings of perhaps the biggest gadfly ever among American professional economists, Thorstein Veblen (1857-1929). Veblen is famous for coining the phrase ""conspicuous consumption."" It was the title of the fourth chapter of his 1899 book, The Theory of the Leisure Class. The title of Chapter Seven in that book is, ""Dress as an Expression of the Pecuniary Culture,"" and it is here that Veblen explains how the Leisure Class — basically, the rich and their hangers on, and the various elites of the different parts of society — creates and enforces standards of taste and culture (the pecuniary culture) that reinforces and perpetuates their dominant role in society. Quite simply, elites dress in such a way as to make clear they do not have to do any work in order to exist. This signifies their status, position, wealth, and power as superior to everyone else.  So, the working and lower classes are expected to wear hoodies and shorts. Senators, Congresspeople, bankers, lawyers, and so on, are expected to wear suits, damn it. You do want to fit in, don't you?" • To me, Veblen is anticipating Bourdieu (who also has a lot to say about taste and its formation). Fetterman's Carhartts are not only a form of symbolic capital, they are an assault on other forms of symbolic capital, attempting to devalue them; see discussion of Manet's Olympia yesterday.
News of the Wired
"Money Is Pouring Into AI. Skeptics Say It's a 'Grift Shift." [Institutional Investor]. "Coming off the worst year in recent history for venture capitalists, private market players like Andreessen Horowitz, Coatue Management, Tiger Global, Sequoia Capital, and Softbank quickly redirected their dollars to AI upstarts. Meanwhile, the stock prices of the big tech names suspected to be the major beneficiaries of this often-called ""revolutionary"" form of artificial intelligence have skyrocketed. The 2022 tech downturn became a faint memory as some five tech companies — Alphabet, Amazon, Apple, Microsoft, and Nvidia — accounted for the lion's share of the stock market's remarkable comeback this year, with the S&P 500 rising 20 percent through July. Nvidia, maker of the superfast chips that switched from powering bitcoin mining to making generative AI possible, has gained more than 250 percent so far in 2023, making it the S&P index's top gainer…. Orso Partners co-founder Nate Koppikar, who is also short Applied Digital, has a term for what he sees going on. He calls the phenomenon ""the grift shift"" — arguing that companies and venture capital funds have pivoted from their losing crypto and tech bets to cash in on the AI moment." • "Grift shift" is a keeper, which would seem to have wide application.
* * *
Contact information for plants: Readers, feel free to contact me at lambert [UNDERSCORE] strether [DOT] corrente [AT] yahoo [DOT] com, to (a) find out how to send me a check if you are allergic to PayPal and (b) to find out how to send me images of plants. Vegetables are fine! Fungi and coral are deemed to be honorary plants! If you want your handle to appear as a credit, please place it at the start of your mail in parentheses: (thus). Otherwise, I will anonymize by using your initials. See the previous Water Cooler (with plant) here. From TH: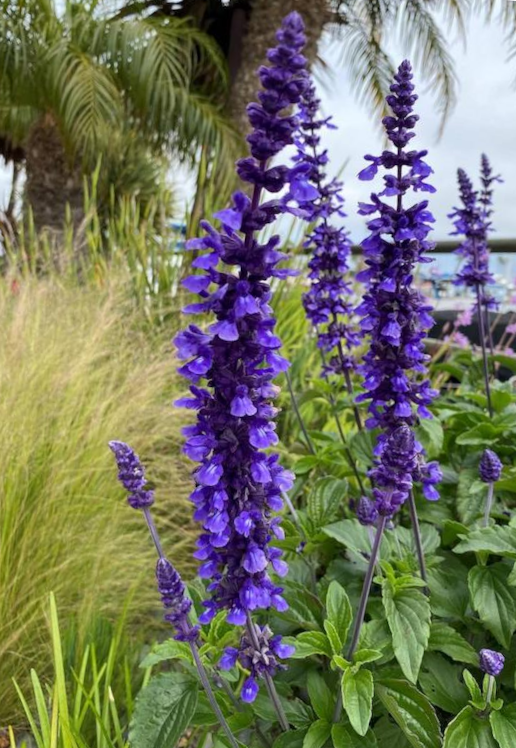 TH writes: "Mealy cup sage, Naples Island, Long Beach, CA. My initial reason for photographing these was to remind myself with iPhone's "Plant look-up" what it is. Then I pulled back and shifted to the side, trying to frame it a bit better. I was hoping to make that railing that separates the walk from the bay less prominent, and ended up liking this angle with the fountain grass and palm fronds best."
* * *
Readers: Water Cooler is a standalone entity not covered by the annual NC fundraiser. So if you see a link you especially like, or an item you wouldn't see anywhere else, please do not hesitate to express your appreciation in tangible form. Remember, a tip jar is for tipping! Regular positive feedback both makes me feel good and lets me know I'm on the right track with coverage. When I get no donations for five or ten days I get worried. More tangibly, a constant trickle of donations helps me with expenses, and I factor in that trickle when setting fundraising goals:
Here is the screen that will appear, which I have helpfully annotated: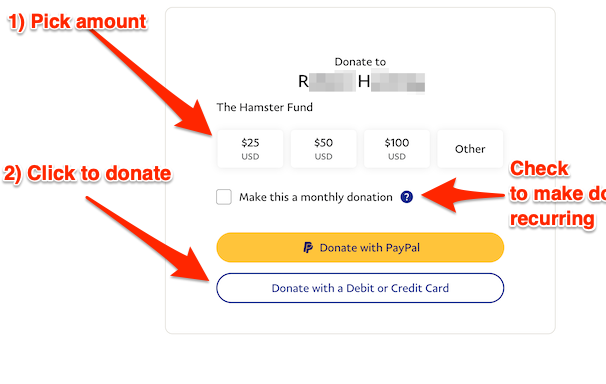 If you hate PayPal, you can email me at lambert [UNDERSCORE] strether [DOT] corrente [AT] yahoo [DOT] com, and I will give you directions on how to send a check. Thank you!