This is Naked Capitalism fundraising week. 550 donors have already invested in our efforts to combat corruption and predatory conduct, particularly in the financial realm. Please join us and participate via our donation page, which shows how to give via check, credit card, debit card or PayPal or our new payment processor, Clover. Read about why we're doing this fundraiser, what we've accomplished in the last year,, and our current goal, continuing our expanded news coverage.
Yves here. Keep in mind that this post illustrates yet another example of what I call the Western side negotiating with itself, as in fantasizing what positions or outcomes are tolerable from their side without considering what the Russians will accept.
In contrast with the Ukraine belief that they can declare a ceasefire unilaterally or otherwise call it quits and Russia will stop, we have a series of confounding issues. The first is the hawks, thanks to Biden's belligerence and unwillingness to climb down, are in charge in Washington and will conduct a long war with Russia if they have to, despite a Rand paper in 2022 warning explicitly against that. Second is that Russia is determined Ukraine commit to not joining NATO. That would seem to require regime change or prostration of Ukraine. Confirming that view is Alaistair Crooke, in an interview with Glenn Diesen and Alexander Mercouris, who at 7:45 points out that the war has changed the psyche in Russia, that the government and public "want to see the regime defeated."
By Andrew Korybko, a Moscow-based American political analyst who specializes in the global systemic transition to multipolarity in the New Cold War. He has a PhD from MGIMO, which is under the umbrella of the Russian Foreign Ministry. Originally published at his website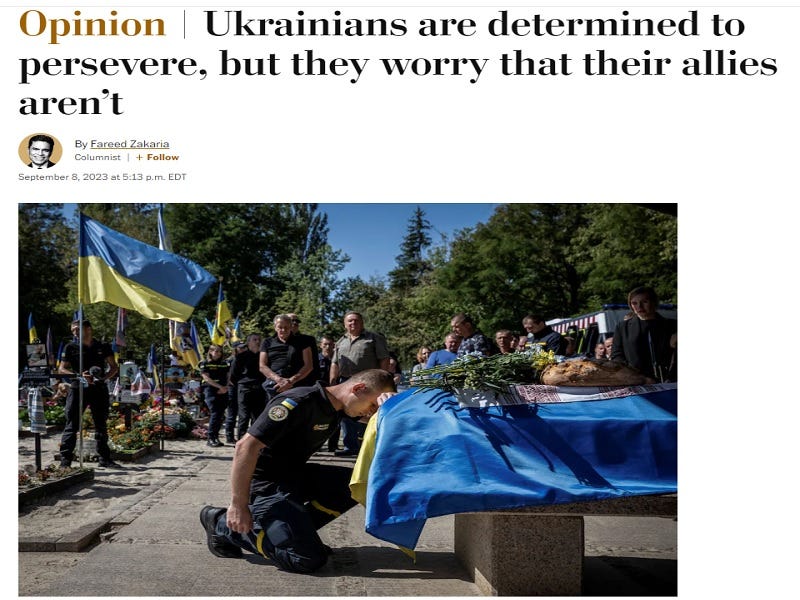 The takeaway is that a theoretical Russian breakthrough along the front lines, perhaps in Kharkov Region where its armed forces have gradually made progress over the summer, could be enough to force Kiev into accepting an informal ceasefire as a last resort against its will.
CNN's Fareed Zakaria is among the most well-known representatives of the Mainstream Media so it's important to keep an eye on what he says if one wants to see what narratives the Western elite are pushing at any given moment. His latest article for the Washington Post (WaPo) about how "Ukrainians are determined to persevere, but they worry that their allies aren't" is a case in point. Here are the highlights, which will then be analyzed to help make sense of what's going on behind the scenes:
———-
* Life in the Ukrainian capital is practically unaffected by the ongoing conflict
– "Despite the war, Kyiv feels almost normal…Stores and cafes in the city are bustling. Air raid sirens went off while I was having dinner at a friend's place, and no one even stopped eating."
* Nevertheless, the mood there is becoming dour
– "Everyone is exhausted and sober. Ukraine's losses have been terrible, measured both in cities destroyed and soldiers and civilians killed."
* No one wants to "surrender", but complaints about the counteroffensive are common
– "But exhaustion does not equal surrender. No one I spoke with believed that Ukraine should stop fighting to get back its territories. They were disappointed that the counteroffensive is not going better, but its difficulties only remind them that this will be a long struggle."
* Some are even whispering about a ceasefire
– "When you speak with people at greater length, their views are more nuanced. 'No surrender' is the mantra, but some said it was possible to imagine a cease-fire — with Ukraine never legally endorsing the legitimacy of Russian rule over parts of Donbas and Crimea — in exchange for real security guarantees."
* An unnamed politician hinted that the military's rank-and-file would support that scenario
– "As one Ukrainian politician (who wished to stay unnamed) told me, 'It's easy for all of us who have not been in the fighting to refuse to compromise. The real question is what are the attitudes of the soldiers in the field and those who have returned. They might have more nuanced positions. But they will have to articulate them.'"
* These shifting sentiments might be partially due to the Western public's fatigue
– "The dominant worry in Kyiv is not about Russia but the West. Ukrainians have reason to be worried. Support for their fight is waning in some European countries…Support for Ukraine is also slipping in the United States…Ukrainians are determined to persevere, but they worry that their allies are not."
———-
The average Westerner might be surprised to learn that Kiev is practically unaffected by the ongoing conflict, which could result in even more of them turning against their politicians who want to continue redistributing the public's hard-earned tax wealth to Ukrainians. As for the locals in that country, Westerners might also have been unaware that they too are beginning to wonder whether it's worth fighting Russia indefinitely, with these two points combining to boost popular support for a ceasefire.
That's not to say that one will be forthcoming, especially not after the recent events detailed here strongly suggest that Kiev and its liberal–globalist patrons in the US' permanent bureaucracy plan to keep the conflict going into next year, but just that divisions between the public and policymakers will widen. The preceding trend could lead to more support for the Republicans ahead of next year's elections while worsening the fatigue and frustration that Western media earlier reported has taken hold of Ukrainians.
The first therefore won't stand a chance of reshaping policy until sometime in 2025 at the earliest, but even that can't be taken for granted, whereas the second could have much more immediate implications. The fact that an unnamed Ukrainian politician hinted to WaPo about how war-weary his country's troops have become and their growing interest in a least a temporary respite show that the armed forces might not be able to fulfill policymakers' expectations of a protracted conflict.
All the dynamics that have been discussed thus far are made even more acute by the symbiotic relationship between Ukraine and the West at the state and the local levels. Their officials' vicious blame game over the counteroffensive arguably influenced their people's perceptions of this conflict and one another, which accelerated their overall fatigue and mutual distrust. This had the direct effect of contributing to the dour mood that Zakaria observed during his visit to Kiev.
The takeaway is that a theoretical Russian breakthrough along the front lines, perhaps in Kharkov Region where its armed forces have gradually made progress over the summer, could be enough to force Kiev into accepting an informal ceasefire as a last resort against its will. The logic is that this could limit Ukraine's losses together with preventing the collapse of its armed forces. It would obviously be under duress and opposed by the US, but Zelensky might feel that he doesn't have an alternative.
Each side would of course blame the other, but the Ukrainian leader could claim moral authority over America if he spins this decision as the will of his armed forces ("heroes"), though the US might still try to exploit the resultant scandal to undermine his re-election bid if this happens before the next vote. There are veritably pros and cons to this scenario, and it's largely dependent on the uncertain possibility of a Russian breakthrough, but the substance of Zakaria's articles suggests that it can't be ruled out.