US neocon efforts to stir up trouble in the Caucasus via Armenia will likely only force other countries in the region closer together and isolate Armenia. Neocon think tanks in Washington like the RAND Corporation and Middle East Media Research Institute have long advocated for stirring up trouble in the South Caucasus as another way to weaken Russia and Iran and potentially cause a rift between the two. Instead the opposite is likely to happen. This is an absolute worst case scenario for Armenia as it has allowed itself to become a proxy battleground between world and regional powers and will almost certainly end disastrously for the country.
To quickly recap recent events: Azerbaijan launched an "anti-terrorism" offensive against the long-contested region of Nagorno Karabakh on September 19. Azerbaijan has been blockading the lone road that leads to the region of Nagorno-Karabakh since December. Ever since the breakup of the USSR, Azerbaijan and Armenia have been locked in a dispute over Nagorno-Karabakh, an enclave recognized as Azerbaijani territory by the international community but mostly populated by ethnic Armenians.
Azerbaijan taking the region by force comes after months of miscalculations or purposeful maneuvering by Armenian Prime Minister Nikol Pashinyan. Under Pashinyan's direction Armenia recently hosted military exercises with the US, invited the EU and Washington into the peace process with Azerbaijan (traditionally handled by Russia), the prime minister's wife visited Kiev to deliver humanitarian aid, and on Thursday the Armenian parliament moved closer to adopting the Rome Statute, which Moscow calls a "hostile move."
Was Pashinyan making loud overtures to the West in an ill-fated attempt to coax more support from Russia in the long conflict with Azerbaijan or was he simply maneuvering to blame Russia for the loss of Nagorno Karabakh and move Armenia closer to NATO, the EU, and Washington?Either way, he got in over his head.  He has now given away Nagorno Karabakh with nothing to show for it.
It's possible that Pashinyan was caught up in magical thinking that he had more support from Washington despite the fact the US has no real way to project power into the Caucasus. After all, Secretary of State Antony Blinken was demanding in July that Azerbaijan immediately reopen the Lachin Corridor, which is the sole road that connects Armenia to Nagorno Karabakh. Nancy Pelosi went to Armenia last September and pledged "the strong and ongoing support of the United States." Members of Congress had also been making noise about more support for Yerevan and stronger opposition to Azerbaijan. Russian Foreign Minister Lavrov recently said, "We have information that they [the West] are signaling to the Armenians, 'Come to us, kick the Russians out of your territory, remove the [Russian] military base and border guards too, the Americans will help to ensure your security.'"
Well, Armenia is still waiting for the US support, and for now Pashinyan is left holding the bag and flailing about. While he blames Russia, he's also tried to downplay claims of mass casualties and backed the ceasefire brokered by Moscow. Pashinyan will now meet with his Azerbaijan President Ilham Aliyev October 5, potentially for a wider peace deal. The blaming of Russia for the loss of Nagorno has unleashed widespread anger in Armenia.
"Lavrov is a bitch. Putin is a dickhead" protesters shout in Yerevan right now https://t.co/E8aWwGOpee

— Anton Barbashin (@ABarbashin) September 19, 2023
Armenian MP Lusine Badalyan says that Armenia is looking into blocking Russian state propaganda channels

Yet another sign of the collapse of relations between Russia and Armenia under Nikol Pashinyan

— Samuel Ramani (@SamRamani2) September 30, 2023
Ironically, Pashinyan who came to power via a color revolution with a more nationalist message, now might be deposed via a color revolution by more nationalist forces. Who that might be remains to be seen, but the mood in Armenia – stirred up by Pashinyan – is now one of anger over betrayal and not just by Russia.
Pashinyan has managed to alienate Armenia's two allies in the South Caucasus (Russia and Iran) while emboldening the two hostile countries on opposite sides (Turkiye and Azerbaijan).
Events have spun out of control for the Armenian prime minister, which begs the question: What were his intentions to begin with? If goal was to offload the Nagorno issue and go all in with the EU, NATO, and Washington, he got his wish. Did he not anticipate the domestic backlash?
Armenians are certainly upset with Russia, as Pashinyan and friends have tried to direct popular anger in the direction of Moscow. But Armenians are also furious with Pashinyan for ceding Nagorno in his statements earlier this year and then standing by while Azerbaijan took control. Thousands have been protesting in Yerevan calling for Pashinyan's resignation. His ruling party failing to win a majority in recent  municipality elections has only added to questions about Pashinyan's legitimacy.
Polling earlier this year after Pashinyan recognised Nagorno-Karabakh as part of Azerbaijan showed that more than 80 percent of Armenians viewed that decision in an unfavorable light, and more than 70 percent viewed his overall performance as negative. Those numbers are likely  even higher now after Azerbaijan's takeover of Nagorno Karabakh.
In such an environment, a new Western-backed color revolution to install someone that could take advantage of the current popular anger to push even more anti-Russian policies is not out of the question.
Outlook for the Region
While some analysts have declared that 30 years of conflict between Armenia and Azerbaijan is now ending because the latter has taken control of Nagorno Karabakh, there's also a strong possibility that this is just the beginning of a new awful chapter. Because Armenia has thrown in with the West thereby alienating its two backers in the region (Russia and Iran), its concerns will no longer be given much weight as transportation and trade deals are worked out.
That could result in more lost territory for Armenia or a bypassing of the country altogether. Because the US overplayed its hand, alarming others in the region, it will force Russia, Turkiye, Azerbaijan, and Iran to the table to iron out wrinkles in regional security and bring them closer together.
A major sticking point between Azerbaijan, Iran and Turkey ever since the 2020 war between Armenia and Azerbaijan has been a transportation corridor between Azerbaijan and its Nakhchivan exclave wedged between Armenia, Turkiye, and Iran.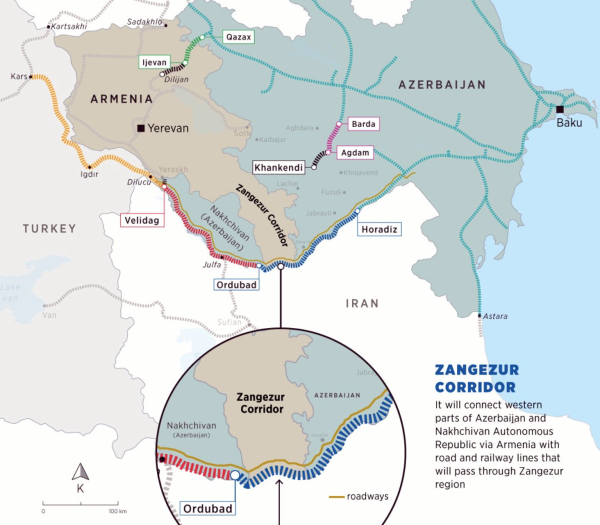 The problem for Azerbaijan and Turkiye, which also wants the corridor in order to fulfill a long dream to connect Central Asia's Turkic republics to Turkey proper via Azerbaijan, had been that Russia restrained these ambitions, but the actions of the Pashinyan government have made that position less tenable.
There is also the issue of Iran, however. Tehran has said such a corridor is a red line, as it would mean goods and energy could flow freely between Azerbaijan and Turkiye without having to be rerouted through Iran, thereby eliminating the lucrative fees Tehran charges for such transfers. This is part of the reason Iran is so opposed to such a plan and has beefed up its presence along its border with Armenia.
The nine-point ceasefire agreement signed under Russian mediation that ended the 2020 war included a  stipulation that Armenia is responsible for ensuring the security of transport links between the western regions of Azerbaijan and the Nakhichevan Autonomous Republic, facilitating the unhindered movement of citizens, vehicles and cargo in both directions. Azerbaijan and Turkiye have latched onto that point, insisting they have the right to set up transportation links through southern Armenia.
Turkey's Minister of Transportation and Infrastructure recently noted that Turkey will start work on the opening of the "Zangezur corridor" in the coming months. Baku and Ankara will likely move cautiously, as noted by bne Intellinews:
One hypothesis advanced by analysts is that Aliyev is wary of putting too much pressure on Armenian leader Nikol Pashinyan in the wake of Azerbaijan's crushing of what was left of the self-proclaimed Republic of Artsakh (the name the ethnic-Armenians gave to their internationally unrecognised breakaway state) because he does not want to see Pashinyan toppled amid Armenian outrage over the fate of the enclave and replaced by a revanchist administration that might have designs on launching an attempt to take back the lost lands.
But it is clear that Azerbaijan and Turkiye are determined for the corridor to become a reality sooner rather than later. Both have proceeded since the 2020 war as if the corridor is on the verge of becoming a reality. Since then, they have been working on highways and rail lines where the only missing link is the roughly 10-mile stretch through Armenia. Back in January Aliyev declared that the project "will happen whether Armenia wants it to or not."
Last week, Erdogan and Aliyev met in Nakhichevan to discuss the corridor. Erdogan told the U.N. General Assembly on Tuesday the following:
"We expect a comprehensive peace agreement between the two countries (Azerbaijan and Armenia) as soon as possible and for promises to be quickly fulfilled, especially on the opening of the Zangezur (land) corridor."
Should Pashinyan and Aliyev fail to come to an agreement, it is now more likely a deal will be worked out between Turkiye, Azerbaijan, Iran, and Russia regardless of what Armenia wants. Pashinyan's actions have provided the impetus for a solution to what had previously looked like an intractable problem. According to Erdogan, Tehran is already signaling that it is open to negotiation with Ankara and Baku on the Zangezur issue.
No doubt, Turkey and Iran have work to do to reach some level of understanding on influence in the Caucasus. For example, in response to the Azerbaijan-Armenia conflict, Tehran is proposing that talks be held in the 3+3 format (the three Caucasus countries of Armenia, Azerbaijan, and Georgia and the three periphery power players: Russia, Turkey, and Iran). Erdogan is instead pushing  2+2 meetings that would involve Russia, Turkey, Armenia and Azerbaijan.
But at the end of the day, Ankara and Tehran will find common ground because all parties, save Armenia, want the West to play no role in any negotiations, nor do they want the West meddling in the region in general.
In a September 21 call between Putin and Azerbaijan President Ilham Aliyev, the Russian president said that Russia will continue pushing for a lasting peace in the region, as well as the unblocking of regional transport links. That is almost certainly referring to the Zangezur Corridor. While Turkey and Azerbaijan push for the East-West route, Moscow is also determined to see a North-South route that will provide quicker transport of goods to and from India. From Russia Briefing:
One of the priorities of India and Russia is the development and uninterrupted operation of the International North-South Transport Corridor (INSTC) connecting Russia, Iran, and India, and which is a priority for Moscow, Tehran and New Delhi. The corridor is seen as a secure way for Russia to link with the Global South. With three branches of the corridor running through the Caspian region, Moscow intends to connect with Iran and India. The recent signing of the financing agreement for the last remaining connectivity of the Rasht-Astara railway between Moscow and Tehran is expected give a major boost to India-Russia trade. It should finally be operational towards the end of 2024…

Compared to the traditional route through the Suez Canal, the route along the north-south corridor is 40% shorter and 30% cheaper.
Azerbaijan is a key player in the INSTC, and Russia, which remains the big player in the Caucasus despite Western media claiming otherwise, wants stability in the region, as it is also vitally important to Moscow's route to the Middle East. It had tried to maintain the peace between Azerbaijan and Armenia with the latter's wishes forming part of its calculus. Recall that it was Russia that ended the 2020 war and imposed an agreement on Armenia and Azerbaijan, which preserved the fragile status quo. Without Russia's support, Azerbaijan, which enjoyed the military advantage, could have mostly taken what it wanted from Armenia.
Despite that, Pashinyan has tried to make Russia the scapegoat for the loss of Nagorno Karabakh, which makes zero sense. Moscow had been trying to facilitate a fair peace agreement for Yerevan despite Nagorno Karabakh being already internationally recognized as part of Azerbaijan and the fact Baku held a military advantage.
And it was Pashinyan who went off script and declared during his May 17 address at the Fourth Council of Europe summit in Reykjavik that his government was ready to recognize Azerbaijan's sovereignty over Nagorno. This announcement came three days after his latest EU-mediated meeting with Aliyev.
During the recent annual Economic Forum in Vladivostok, Putin argued that the current situation in Nagorno is a direct result of that decision by Pashinyan:
The President of Azerbaijan is now telling me, well, you know that Armenia has admitted that Karabakh is ours, that the issue of Karabakh's status is closed…What should we say? There is nothing we can say…If Armenia recognized that Nagorno-Karabakh is part of Azerbaijan…then what are we talking about? This is the key component of the whole problem. The status of Karabakh was decided by Armenia itself.
What Does the West Gain from Armenia's "Defection"?
The spook-run Middle East Media Research Institute gloats that this is some sort of symbolic victory against Moscow as it proves Russia doesn't uphold its end of the Collective Security Treaty Organization (CSTO), which is made up of Armenia, Belarus, Kazakhstan, Kyrgyzstan, Russia, and Tajikistan. Presumably Washington will now tell other former Soviet states that Russia cannot be trusted, etc. Will that carry any weight? It's unlikely.
In reality, it's just more short-term thinking by Washington with attempts to weaken Russia at any cost. We see how well that worked for Ukraine. Armenia hopefully won't suffer a similar fate, but it will be isolated in the region and weakened. Its economy could suffer a major blow. It was profiting handsomely from being a go between the West and Russia. If Armenia continues to "move West," its position in the Eurasian Economic Union could be tenuous.
Additionally, this will prove to be another major miscalculation by Washington neocons in the long run. It will be  another effort to foment conflict that instead will intensify cooperation. Hopes of an Iran-Russia split over the issue have been dashed. And it looks like the dreams of using an Azerbaijan-Iran conflict to destabilize the latter are also dead.
In the end, it's a temporary media-narrative victory that means absolutely nothing other than pain for Armenians. Then again, that's the neocons' chief export so what else could we expect?