A reason to pay a bit of attention to the Wall Street Journal's Greg Ip joining the ranks of "China still could wind up in a world of hurt" prognosticators is that Ip has long been a Fed whisperer. That does not mean Ip is retailing central bank views in his new piece, Don't Rule Out a Financial Crisis in China. But it does mean his reading has likely been influenced by conversations with Fed economists.
Needless to say, Ip's views are conventional if carefully argued. As we'll indicate, he also misses a couple of key issues stressed by China optimists. However, consistent with the title, Ip is flagging that China's economy is unbalanced and therefore subject to crash risk, as opposed to making a call.
The world's second largest economy has a deflating property bubble, local governments struggling to pay their debts and a banking system heavily exposed to both.

Anywhere else these factors would be seen as precursors of a financial crisis. But not in China, conventional wisdom goes, because its debts are owed to domestic rather than foreign investors, the government already stands behind much of the financial system and capable technocrats are on top of things.

Conventional wisdom might be dangerously out of date.
Ip then turns to fresh IMF data, noting that even though China slightly beat growth expectations through the 3rd quarter with results of 4.9%, the international agency lowered its forecast for China to 4% over the next for years. That's a cut from its year-ago estimate of 4.6% for that four-year projection. Note this decelerating growth, which is not great by China standards, comes despite sustained and high fiscal stimulus: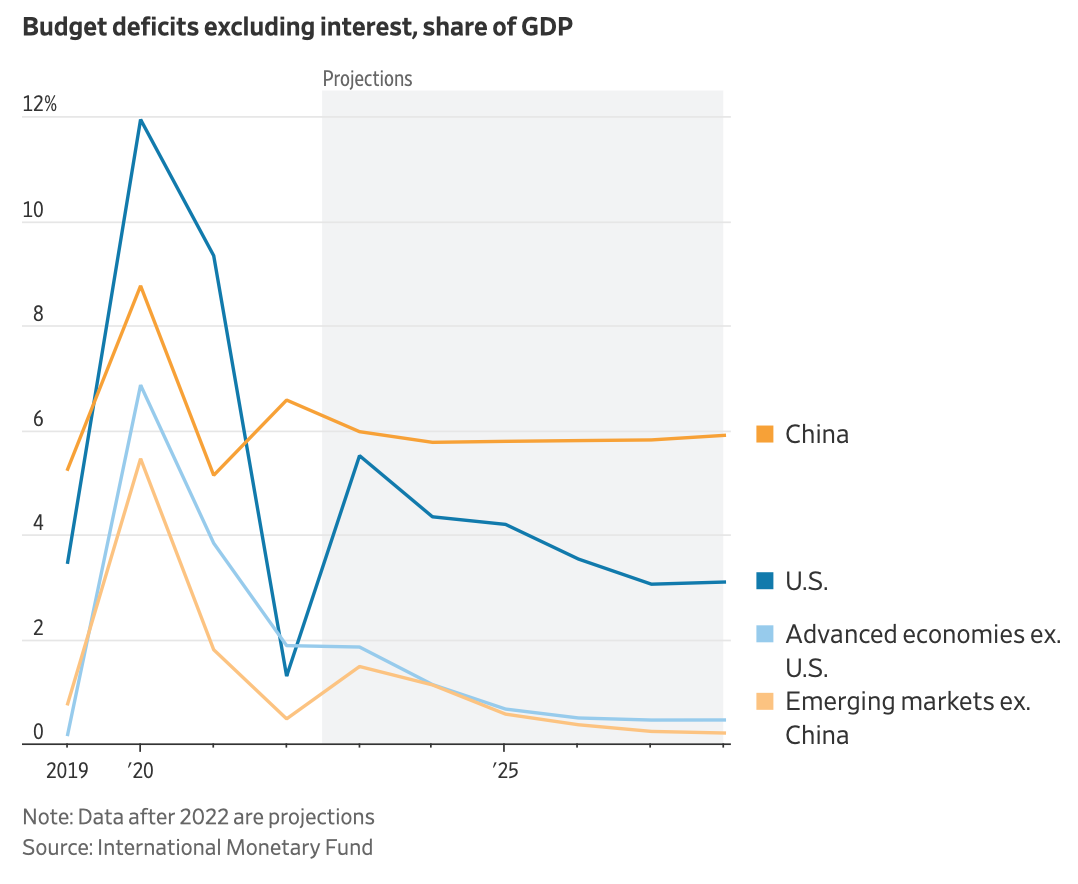 Ip then takes a neoliberal view, warning of China's debt to GDP ratio, projected to rise to 149% of GDP by 2027, if local government debt (45% of GDP) were included. The local government and private debt are what bear watching. The Chinese government, like ours, can always "net spend," as in run deficits, whether nominally financed by bonds or not. That risks creating too much inflation, not default risk.
The reason for respectable if not impressive growth results despite a seriously deflating housing sector is that government spending into sectors like green energy. Consumer spending also increased. Some see the 4th quarter as accelerating, but that does not necessarily contradict the IMF view about the medium term:
🇨🇳'China: Just-fine growth allows prudent policy' sees 5.6% GDP growth in Q4 following 4.9% Q3 upside surprise; consumption, infrastructure spending and real estate contributed to Q3 outcome while infrastructure to be main source of Q4 gains: https://t.co/aWD9d8FHry pic.twitter.com/56qvkPWtuZ

— Medley Advisors (@medleyadvisors) October 18, 2023
Michael Pettis, who also weighed in on the 3Q performance, was cautionary about longer-term outcomes:
5/9
And that surge has been substantial. At the beginning of this year I wrote that after the terrible 10 percentage point increase in China's debt-to-GDP ratio in 2022, I expected a much lower increase in 2023, perhaps of 2-4 percentage points.

— Michael Pettis (@michaelxpettis) October 18, 2023
7/9
This increase in debt, remember, is supposed to lead to a nominal increase in GDP of about 5-6 percent. That's an awful lot of debt for so little growth. That is why I argue that the extent of high-quality growth matters far more than the extent of GDP growth.

— Michael Pettis (@michaelxpettis) October 18, 2023
Even though Pettis IMHO similarly falls for the neoliberal fixation on government debt to GDP, not distinguishing whether the government in question is a currency issuer or user, he nevertheless makes an important and often neglected point about the productivity of government spending. It's one thing if a substantial amount is going into activities that will increase productivity in the future, like education, health care, and improved energy efficiency. It's another when, say as in the US, it goes to things like military pork and pharma grifting, rentier activities that come at the expense not just of growth but even lifespans.
IP includes another IMF chart, showing bank Tier 1 capital projections: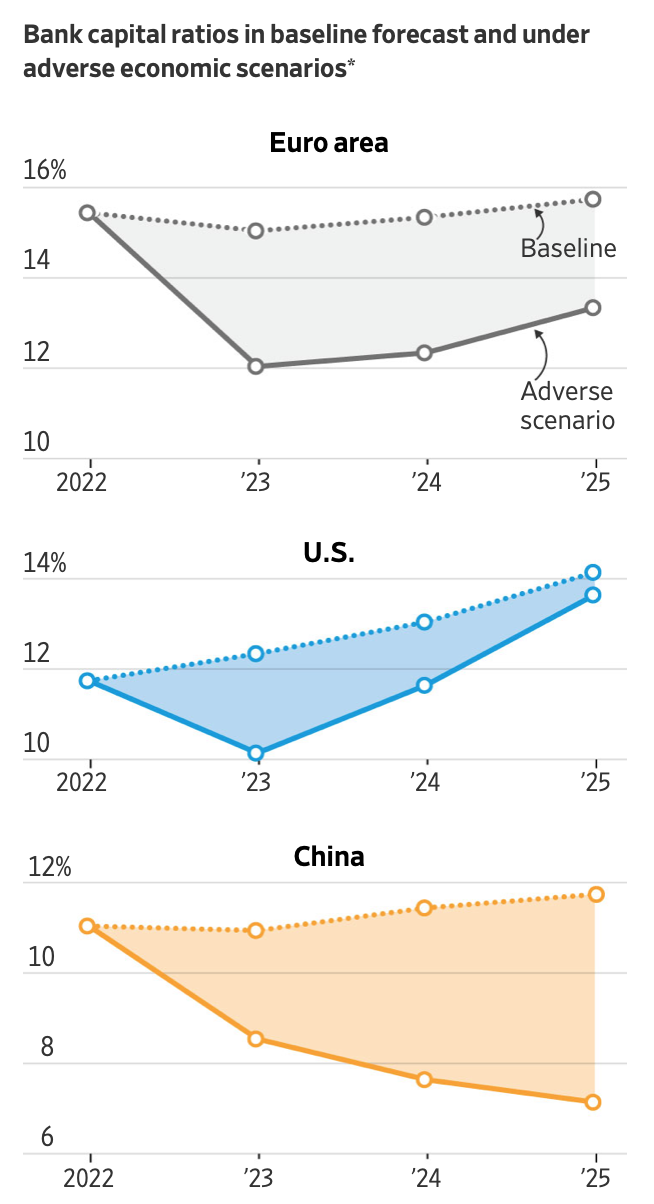 He points out that Chinese banks are not exposed to typical flight risk:
Chinese banks are also mostly owned or controlled by the central or local governments that would presumably not let them fail, precluding bank runs and panics. In China's last bout of banking trouble 20 years ago, bad loans were transferred at par value to state asset-management companies.

But sometimes financial crises occur because local, not foreign, investors flee. Nor are they always fast and violent, like the global financial crisis from 2007 to 2009. Some unfold over years as occurred in Spain in the 1970s, the U.S. (with its savings-and-loan institutions) in the 1980s, and Sweden and Japan in the 1990s.
But as Pwttis pointed out (and the state of search means I can't find his precise formulation), the Chinese approach to that crisis had the effect of making the economy even more imbalanced, by putting the cost of the bank crisis on consumers, among other things via financial repression. That led consumers to save even more and spend less as their earnings on safe investments greatly lagged inflation. China needs the reverse, to move to a more consumption-led economy. Every large economy that has made that transition has experienced a financial crisis. China keeps deferring that crisis by not making that transition. But how long can it keep it up?
9/9
But until there is a real transfer of income to households that boosts domestic consumption sustainably, and a declining reliance on surging debt to keep the numbers growing, China's structural problems are unchanged.

— Michael Pettis (@michaelxpettis) October 18, 2023
So again, China has kept its unbalanced model functioning. Will intensified political stress play out in ways that lead to bigger China wobbles? We are set to find out, like it or not.