As expected, countries surrounding Armenia are moving to implement regional trade corridors and partnerships that exclude Yerevan after its government moved closer to the US. Yerevan poisoned its relationship with longstanding ally Russia and allowed itself to be used by Washington to the detriment of Armenian interest. It's unclear what, if anything, Armenia got from the West, but its increasing isolation in its region is now becoming clear.
Azerbaijan President Ilham Aliyev recently declined to attend a meeting of European leaders in the Spanish city of Granada. It was previously thought that Aliyev might meet his Armenian counterpart there in some attempt for a wide-ranging peace agreement.
"We believe in diplomacy. We believe in political dialogue," European Council President Charles Michel waxed on in Aliyev's absence at the summit of the European Political Community as he called for Armenian PM Nikol Pashinyan and Aliyev to meet with him in Brussels later in October.
Well, that meeting was just canceled too. It would appear Aliyev, and the rest of the region are moving on regardless of how the West wants to interfere in Armenia. In reality, the West's meddling in Armenia has actually accelerated cooperation among other countries in the region, especially Azerbaijan, Turkiye and Iran.
That is playing out with the recent announcement from Tehran that it will allow a corridor through its territory to connect Azerbaijan to its Nakhchivan exclave wedged between Armenia, Turkiye, and Iran. That means that the path between the Caspian and the Mediterranean Seas on increasingly globally-connected trade routes will now do a small curve in order to completely avoid Armenia. Details on this development from Asia Times:
On October 6, Azerbaijani Deputy Prime Minister Shahin Mustafayev and Iranian Minister of Roads and Urban Development Mehrdad Bazrpash attended a groundbreaking ceremony for the construction of a highway bridge, with customs and border infrastructure, in Aghband, located in Azerbaijan's Zangilan district.

The bridge will span the Araz River to connect to the Iranian province of Eastern Azerbaijan. A bridge for rail traffic and construction of railroad links are also foreseen.
This might not seem like much, but Azerbaijan and Turkiye had for years been pushing for a corridor through southern Armenia. Here is what that plan looked like: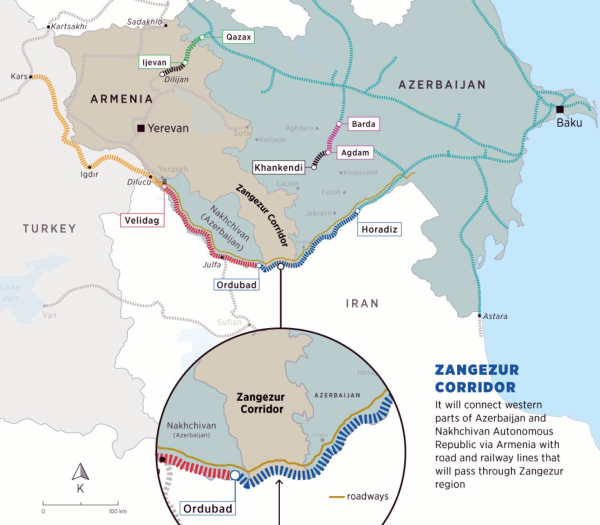 Ankara and Baku were increasingly talking about bringing about the corridor through Armenia by force. This caused tensions with Iran, which didn't want to see a Turkish-Azerbaijani line cutting through the region. Tehran and Baku previously discussed a solution that included more direct transportation routes through Iran back in 2022, but all progress on that deal came to a halt when a gunman launched a deadly attack against the embassy of Azerbaijan in Tehran earlier this year.
Ties between the two countries were in a downward spiral ever since, giving hope to neocons in Washington that they could play the two sides against one another to destabilize Iran and derail integration projects in the region. The US overplayed its hand by leading Armenia down the primrose path, however. In September, just after the US and Armenia completed joint military drills, Azerbaijan launched its takeover of the disputed territory of Nagorno-Karabakh – presumably with the green light from Iran and the Caucasus main power broker Russia.
And not only did Azerbaijan and Iran restart talks on corridor cooperation, but they began sealing deals in quick succession. With the agreement to construct a corridor through Iranian territory, Tehran-Baku relations are on the upswing. Iranian Foreign Minister Hossein Amir-Abdollahian recently stated that Iran is "determined to expand relations" with Azerbaijan "in all areas."
This is the exact opposite to how relations were between the two before the US made its play in Armenia and is the end result of Americans trying to muscle into the South Caucasus via Yerevan. All the other regional actors are now more motivated to work through their issues and unite in order to isolate Armenia and keep the Americans out.
It remains to be seen how, aside from new transportation infrastructure, this corridor through Iran will be different from the current setup that had Azerbaijan, Iran and Turkiye at odds. Details on that arrangement from Al-Monitor:
For years, Iran has served as an alternative land link between Nakhchivan and Azerbaijan, making profits and gaining influence over Baku. Iran is now wary of losing that leverage.

According to the Iranian online journal Mashreq, Iran earns a 15% commission from Azerbaijan's gas supplies to Nakhchivan. It serves also as a route for Turkish exports to Central Asia. An average of about 12,000 Turkish trucks use the route monthly, with Iran charging passage fees of up to $800 for their 1,800-kilometer (1,120-mile) journey to the Turkmenistan border.
Whatever arrangement Iran, Turkiye and Azerbaijan work out, it will be a major missed opportunity for Armenia, which could have used a corridor through its territory as a bargaining chip to secure other concessions from its neighbors. It likewise could have profited from being an integral part of East-West and North-South trade routes through the Caucasus. Instead, it is now more isolated than ever in its region where it is surrounded by more powerful neighbors.
This is the result of American heavy handedness we're now witnessing around the globe. Wherever Washington tries to play divide and rule, the end result is closer cooperation between US foes and isolation (or worse) for the American proxy. Washington, as it unintentionally does, acts as the great uniter.
Both the International North South Transport Corridor and the East West Corridor move through the Caucuses. Armenia will play no role in either with both bypassing the country entirely. More from Silk Road Briefing:
Iran's Roads and Urban Development Minister Mehrdad Bazrpash met with Azerbaijan's Deputy Prime Minster Shahin Mustafayev on Friday (October 6) to discuss bilateral coordination and the development of transport routes, water and energy programmes. The meetings are significant as it means that the controversial Azerbaijan annexation of the disputed Nagorno-Karabakh region from Armenia is effectively over, and that redevelopment of the region will now take place. Doing so opens up an eastern trade corridor that will stretch from Russia to Iran.

The [International North-South Transport Corridor] route links north-south between Russia and Iran, and east-west between China and Europe. Azerbaijan is the focal point where the two intersect.

The Iranian connection facilitates trade south across Iran to the Persian Gulf and further distribution to the Middle East, East Africa, and South Asia, including India's west coast ports.
And other countries in the region continue to advance their cooperation while Armenia is left out in the cold. Railfreight describes the first Middle Corridor joint venture:
What has been in the pipeline since early 2022 is now a reality. Kazakhstan, Azerbaijan and Georgian railways just sealed a deal to establish a joint venture on a parity basis. The new company will be named 'Middle Corridor Multimodal Ltd.' and will provide "services on a one-stop-shop principle, guarantee delivery times, and pursue a coordinated policy for developing multimodal service in the direction of China – Europe and Turkey – China."
Again, Armenia could have played a role in these ambitious infrastructure projects attempting to further integrate Eurasia; instead the paths of development will simply be routed around Armenia.
As fas as I've seen, Armenia has received no reward or commitment from the West for poisoning its relationship with Russia. The European Investment Bank just announced a grant for 10 million euros to improve education in Armenia. And at the recent Granada summit European Commission President Ursula von der Leyen said that the EU will provide $5.53m in emergency aid on top of a similar amount previously announced. Maybe Armenia got a secret promise to join the EU in about 15 years? If not, the EU simply said, "Here's a cool 20 million for mortgaging your future and making your former allies hate you. Keep up the good work."
The EU and Armenia are now practically begging Aliyev to meet with them. Pashinyan even just started pushing his plan for regional cooperation called Crossroads of Peace, which would see Azerbaijan and Turkiye reopen their land borders with Armenia and connect through several routes passing through the country. The problem is no one is listening. Aliyev has said Azerbaijan no longer needs Armenia; they'll just work with Iran instead. Azerbaijan took control of Nagorno-Karabakh, it will soon have its corridor to its exclave and more direct route to Turkiye, and it plays a central role in burgeoning north-south and east-west trade routes.
Azerbaijan also knows that the EU is afraid to do anything in defense of Armenia because it has fired all its bullets at Russia. There is no appetite among European leaders to sanction Azerbaijan, which is increasingly an important source of oil and natural gas for the EU. According to Al Jazeera, French President Emmanuel Macron said that while Azerbaijan seemed to have "a problem with international law", steps such as sanctions would not be productive.
Unfortunately for the inept EU leaders, due to Russian companies' large investments in the Azerbaijani oil and gas sector, it is one of the bigger beneficiaries of Brussels' efforts to increase energy imports from Azerbaijan in order to replace Russian supplies. Azerbaijan is also importing more Russian gas itself in order to meet its obligations to Europe.
Meanwhile, despite depending on Russian energy supplies, including gas, oil, and nuclear energy, Armenia continues to torpedo relations with Russia. Earlier in October it joined the Rome Statute of the International Criminal Court. The ICC, which much of the world views as no more than a political tool of the West, has an outstanding arrest warrant for Putin for alleged war crimes in Ukraine. That now means that if Putin were to visit Armenia he should face arrest there. Moscow called the ratification by Yerevan a "hostile act." It's certainly interesting timing on Armenia's part considering the statute came into effect all the way back in 2002.
What will be Armenia's next move? It could try to force Moscow to vacate its ​​102nd Russian military base, which is located in Gyumri, Armenia. The problem there is that the agreement between the two countries stipulates that Russia can remain there until 2044. If Pashinyan has neocons in his ear, though, that agreement means nothing.
Armenia's membership in the Eurasian Economic Union remains, at least for now, but it will likely be isolated there as well. And it could be one of Armenian PM Pashinyan's next losing chess moves.
During the 2018 Velvet Revolution in Armenia that brought Pashinyan to power, he made statements about the need to leave the Russia-led EEU, which also includes Belarus, Kazakhstan and Kyrgyzstan. This would be another blow to the small Armenian economy.
While Armenia is losing so much and the West offering so little, you'd be forgiven for thinking that's the West's main objective: to destroy Armenia.