Turkish President Recep Tayyip  Erdogan recently delivered a speech lambasting Israel for its brutal disregard for the lives of Palestinian civilians. He blamed the US above all for the tragedy in Palestine-Israel. Now, this is the exact same sentiment that Russia and China have expressed, but Erdogan tends to keep his statements a little more interesting. So he added on the facts that the West is possibly looking to start another holy war and that Israel is a war criminal.
Israel has since withdrawn its diplomats from Türkiye, meaning relations between the two are now in danger of sinking to 2010 lows when an Israelis killed 10 civilians on a Turkish aid ship to Gaza. Prior to the Gaza crisis, Erdogan and Netanyahu were moving rapprochement. So do Erdogan's comments portend some sort of break with the West? Is it limited to Israel? Is this  just Erdogan being Erdogan?
First off, it should be noted that Ankara has yet to respond to Israel's move. Most importantly, oil is still flowing from Türkiye to Israel. From bne Intellinews:
Israel's oil imports have continued to pass through Türkiye despite the near collapse of relations between the two countries over the uncompromising military operations mounted by the Israelis in the Gaza Strip in response to the Hamas cross-border massacre committed three weeks ago.

The Seaviolet, an oil tanker registered in Malta, recently transported 1mn barrels of Azerbaijani crude from Türkiye's Mediterranean oil hub port of Ceyhan to Israel's Eilat Port, according to a report by Bloomberg. Around 40% of Israel's annual oil consumption is met by crude that is piped to Ceyhan for onward shipping. 
Erdogan's comments also need to be viewed in the context of the approaching local elections coming up in March 2024 in Türkiye.  Erdogan desperately wants to retake Istanbul (and other large municipalities like Ankara), he had an opportunity to speak to a crowd of roughly 1 million, and he gave them what they wanted.
While Erdogan's bold proclamations that add fuel to the fire could be dismissed as Erdogan's political maneuvering, the fact is that Turkish public opinion is increasingly against the West. It would be political suicide for Erdogan to stand with the West behind Israel's slaughter of Palestinians (roughly 99 percent of Türkiye's population is Muslim), and that conflict has increasingly taken on an East-West dynamic as the US and Europe are the lone supporters of Israel.
Türkiye has benefited economically from its East-West middle ground position ever since the start of the not-so-cold war, genocide in Gaza (and the possibility that the US uses some claim of "self defense" to launch attacks against Iran and Syria and who knows who else) could finally make Türkiye's balancing act between the West/Nato and East untenable. Or more accurately, it makes the balancing act between the US and Turkish public opinion untenable.
Turkish public opinion is already far more anti-western than it used to be, which limits Ankara's flexibility. Recent polling in Türkiye show that 75 percent think the EU is biased against Türkiye; 52 percent think the US is the biggest threat to Türkiye. Despite Türkiye and Russia's long history of conflicts, only 19 percent saw Russia as the biggest threat. A December poll by the Turkish company Gezici found that 72.8 percent of Turkish citizens polled were in favor of good relations with Russia while nearly 90 percent think the US is a hostile country.
Importantly, Iranian Foreign Minister Hossein Amir-Abdollahian paid an official visit to Türkiye yesterday (Nov. 1) to discuss the ongoing conflict between Israel and Palestine, bilateral ties and other regional developments. One would have to believe that the US' massive military buildup in the regions was on the agenda.
While US Secretary of State Antony Blinken skipped Türkiye during his shuttle diplomacy, Amir-Abdollahian and his Turkish counterpart Hakan Fidan both called for an immediate ceasefire and a peace conference involving "Muslim and Arab" countries. Amir-Abdollahian was also reportedly received by Erdogan. While no information was provided on the meeting, Fidan said the two ministries are now working on a state visit by Iranian President Ibrahim Reisi to Türkiye, which is expected to happen soon.
President @RTErdogan received Minister of Foreign Affairs of Iran Hossein Amir-Abdollahian at the Presidential Complex. pic.twitter.com/fSitppyuVz

— Presidency of the Republic of Türkiye (@trpresidency) November 1, 2023
Ankara's decision to not only meet with Iran at this time but also declare its agreement with Tehran is sure to upset many in Washington and is a loud and clear declaration from Turkiye on where it stands should the US attack Iran.
***
Already, Ankara and Washington are facing the prospect of large protests this week at the major American air base in southeastern Türkiye. From Stars & Stripes:
Bulent Yildirim, the chairman of a relief organization with ties to President Recep Tayyip Erdogan, on Tuesday advocated for a march around Incirlik Air Base in connection with demands for a cease-fire in Gaza as Israel's ground invasion gets underway. Yildirim also urged Türkiye's parliament to vote on whether to shut down Incirlik and a small U.S. military outpost in Kurecik, where the Army operates a missile defense radar.

"We will march to Incirlik base from every part of Türkiye, from every district and neighborhood. … Let's surround that Incirlik base," he said at a news conference Tuesday, according to the state-run news agency Anadolu.

U.S. forces in Europe did not immediately say Wednesday whether security would be ramped up around the base. Turkish media have reported that U.S. forces stationed at Incirlik have been restricted to base since the start of the Israel-Hamas conflict last month.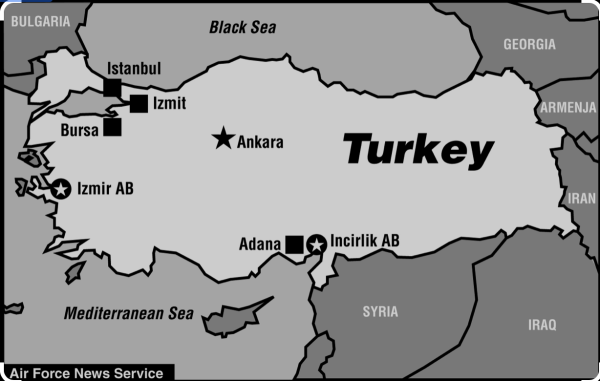 Interestingly, a pair of US Air Force B-1B Lancer bombers just touched down at Incirlik for a "hot-pit" refuel exercise – the first conducted by the B-1 at the base. More detailfrom The Drive (h/t Willow):
"Hot pitting means keeping the engines running while the aircraft is refueled by ground crews. The tactic is used for everything from increasing training sortie rates to rapidly refueling and rearming combat aircraft at forward operating locations near enemy lines during a time of war to get them back in the fight faster."

Just shutting a complex warplane like the B-1 down can drastically increase the chance that a component will break and it will not be to complete another sortie with repair, or even takeoff at all. Executing hot pitting and even crew-swaps while the engines are running helps alleviate the chances of this happening.

The B-1s were at Incirlik — an important U.S. military installation in its own right — for under two hours before they took off again and flew a training mission with the Turkish Air Force.
The US Air Force claimed the exercises had long been planned, and The Drive emphasized that the B-1s are not capable of employing nuclear weapons. Nonetheless, major protests at a Turkish base hosting US nukes would not be a great look.
Erdogan likely wishes this new cold war could go on forever. Consider that in Washington's efforts to apply pressure on Erdogan and get rid of him, they actually helped keep him in power:
Opponents campaign hurt by perceived ties to US and collective west, which are unpopular in Türkiye.
Economy was thrown a lifeline with Western sanctions on Russia, casting Türkiye into the profitable role of middleman and making sure Russia did everything it could to prop up Erdogan. Russian tourists flooded into Türkiye and Moscow gave sweetheart deals on oil and gas.
Has helped Türkiye repair relations in the region. Common ground is usually the desire to keep the US out.
At the risk of drawing too much on WWII historical parallels, any sign that Türkiye is decamping from its middle ground could be a very bad sign for the West. One needs look no further than  World War II when Türkiye was courted by all sides. Turkish cartoonist Ramiz Gökçe depicted Türkiye at the time as 'The Comrade of Germany; The Sweetheart of America; The Ally of Britain; The Neighbour of Russia; The Protector of Peace; The Friend of the World'.
In 1941, Türkiye and Germany signed a nonaggression pact, and Ankara raked in economic and military aid from both Axis and Allies trying to woo Türkiye to their side. As the tide changed in WWII, however, Türkiye wisely bet on the eventual victors, moving increasingly to the Allied side. In 1944 Türkiye stopped exporting chromite to Germany, a key ingredient in the manufacture of stainless steel, and later that year severed diplomatic relations with Germany. In 1945 Türkiye declared war on Germany – two months before its defeat.
While Türkiye ideally wants to remain a bridge between Asia and Europe, it is increasingly drifting away from the US. Or more accurately, it is being pushed away as the West isolates itself. The economic war against Russia has only pushed Türkiye and Russia closer together, as has the West's efforts to stir division in the Caucasus via Armenia. Repeated attempts to prevent Türkiye from cooperating with Russia have not worked, and now it looks like the US wants a big war in the Middle East in which Türkiye will have no choice but to oppose the West. Sinem Adar, an associate at the Center for Applied Türkiye Studies at the German Institute for International and Security Affairs, writing at War on the Rocks:
Behind these statements also lies Türkiye's staunch opposition to a U.S.-led world order. Türkiye's ruling elites believe that "the West lacks strategic thinking and has increasingly become estranged from the rest of the world in the face of various issues including relations with China, migration and terror, and the shift in economic gravity from the West to the East."

For Ankara, the unequivocal and unconditional support that the Biden administration gives Israel confirmsthis belief. Triggering a convergence between the policies of Türkiye, Egypt, Saudi Arabia, and other countries, pro-government journalists expect that the conflict would lead to an increasing isolation of Israel. Regardless of their ideological affiliation, most Turkish political actors tend to see the recent conflict in Gaza as one between the so-called West (led by the United States) and the East. Since the disputed attack at the al-Ahli hospital in Gaza City, there have been calls on the government to ally with countries in the Global South to "stop the U.S.-Israeli alliance."

Yet the proposed methods vary. Addressing an emergency session of the Organization for Islamic Cooperation on Oct. 18, Fidan called upon Muslim countries to act with "self-confidence" and "challenge the hegemonic narrative that has been imposed on them," but without offering a concrete roadmap for how to do that. Devlet Bahçeli, the leader of the AKP's junior partner, the Nationalist Movement Party, said Türkiye should intervene militarily if there is no ceasefire. Those critical of Ankara's civilizationist aspirations yet share its aspirations for a foreign policy independent from the West call for booting U.S. military members at Incirlik Air Force Base and the Kürecik Radar Station in Malatya.
It shouldn't be forgotten that Turkish nationalists were the biggest winners in May's elections. While one might think that affects other countries equally, one has to remember that countries like Russia and China respect other nations' interests and try to find ways to work together that will advance both sides' interests. The US nowadays does the opposite: it pressures, threatens and resorts to force. That plays even worse with the nationalists in Ankara who want to be treated with respect as a regional power. They will have no problem ignoring any NATO agreements if that is in the best interest of Turkiye. And non-agreement-capable US neocons will no doubt protest loudly should that occur.