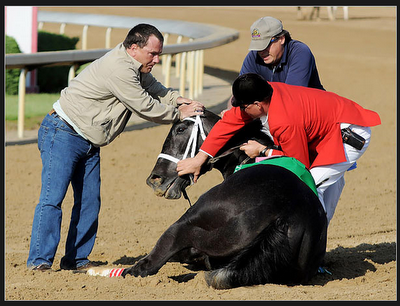 Today a brave filly died at Churchill Downs. Eight Belles was the only one of a huge field of twenty to break from the pack in the homestretch of the Kentucky Derby and attempt to run down the hard charging winner, Big Brown. She collapsed almost immediately after crossing the finish line, both ankles broken, and was euthanized. Unlike Barbaro, who suffered an ultimately fatal leg break in the Preakness in 2006, she had the good taste to collapse off camera, so her death is unlikely to get the national interest his did.
Yet this level of tragic deaths at the very top tier of this sport says something is badly wrong. The industry has long been cavalier about injury, despite the expense of breeding and training racehorses. Being a jockey is one of the most dangerous professions. Every professional jockey has taken a bad fall in a race; it's unavoidable given that the riders do not sit their mounts but are really perched above them, and horses are bumped, stumble, and fall. Paralysis and death are not uncommon.
So given how badly the human athletes in racing are treated, it isn't surprising that the horses don't fare much better. Thoroughbreds don't reach full maturity until they are four, but they start racing as two year olds, which some believe increases the odds of injury. I've also had my doubts about how they are trained, since horses in the wild move about all day, while racehorses are kept in their stalls except for their daily workouts, which are very short. This unnatural activity, torpor interrupted by intense training, may also set them up for breaks and sprains.
Two essays in the Times today take the industry to task, and William Rhoaden comes close to the mark:
Why do we keep giving thoroughbred horse racing a pass? Is it the tradition? The millions upon millions invested in the betting?

Why isn't there more pressure to put the sport of kings under the umbrella of animal cruelty?

The sport is at least as inhumane as greyhound racing and only a couple of steps removed from animal fighting.

Is it the fact that horse racing is imbedded in the American fabric? And the Triple Crown is a nationally televised spectacle? Or is it the fact that death on the track is rarely seen by a mainstream television audience?

The sentiment was summed up by Dr. Larry Bramlage on Saturday when, asked about fillies racing against colts, he said, "One death is not an epidemic."

But this isn't about one death. This is about the nature of a sport that routinely grinds up young horses.

A national audience was exposed to the bittersweet experience of a tremendous victory by Big Brown and — moments later — the stunning news that Eight Belles had been euthanized. As we watched Big Brown's owner celebrate the unmitigated joy of winning the Derby, we watched Bramlage describe the details of Eight Belles's horrible death: She had completed the race, finishing a heroic second to Big Brown. She was around the turn at the start of the backstretch when her front ankles collapsed.

Bramlage described the sickening image of what had happened: a condylar fracture on the left side and the left front that opened the skin, went through it and was contaminated.

"She didn't have a front leg to stand on to be splinted and hauled off in the ambulance, so she was immediately euthanized," Bramlage said.

And that was that.

After the race, Larry Jones, Eight Belles's trainer, choked back tears as he answered questions about the filly's death. But even through the grief, Jones instinctively toed the industry line about racing. He discounted the notion — and veiled criticism — that the dirt surface might have contributed to her death. He also refused to concede the point that horse racing is an extremely dangerous sport, saying that these types of injuries occur in any sport.

Within the racing industry, Eight Belles was a tragic but glorious casualty. The industry is in denial: racing grinds up horses, and we dress up the sport with large hats, mint juleps and string bands.

Why do we refuse to put the brutal game of racing in the realm of mistreatment of animals? At what point do we at least raise the question about the efficacy of thousand-pound horses racing at full throttle on spindly legs?

This is bullfighting.

Eight Belles was another victim of a brutal sport that is carried, literally, on the backs of horses. Horsemen like to talk about their thoroughbreds and how they were born to run and live to run. The reality is that they are made to run, forced to run for profits they never see.

On Saturday, it was Eight Belles in Louisville. Two years ago, it was Barbaro in Baltimore, with a misstep at the Preakness. And who knows how many horses die anonymous deaths? Eight Belles, we'll write, was merely the casualty of a brutal game.

But one death is too many. The miracle of the sport of kings is that there aren't more. But how many more do we need?
Jane Smiley notes that Eight Belles may have been predisposed to push too hard, but to my mind, that is not a sufficient excuse:
I have a friend who trains a jumper who is a relative of Eight Belles, a son of her grandsire, Unbridled. When my friend got the horse, a woman he knows, a steward at Santa Anita, told him to watch out, because Unbridleds tend to be unsound and fearless, and my friend has found this to be the case. Where most horses have at least some caution, my friend's horse will try anything. His mental toughness and competitiveness always take over, no matter what the circumstances.

This is what we saw in Eight Belles: she was more resolute and competitive than was good for her, and she literally ran herself to death. When the race was finished, every part of her was exhausted, including, I am sure, the support apparatus of ligaments and tendons that were keeping her bones together. She probably stumbled and broke one ankle, then stepped hard on the other and broke that one. Then she fell….

It is not racing per se that is cruel, it is American racing as it has been, on dirt tracks at continuous high speeds, for lots of money. Horses in Europe, who run on the turf and only exert themselves all out at the end of fairly long races, do not break down as frequently as American horses on American tracks. American horses bred like European horses, that run in races on the grass, also break down less. American horses have been expected to start racing early and to go fast from the post to the wire, because the people in the grandstands can see the whole race and like plenty of speed.
Rhoades is closer to the mark, but still fails to enumerate the industry's failings. The hard dirt tracks are one; turf or synthetic turf lower injury rates enormously. Due to the American preference for speed at all cost, we breed for that, and our Thoroughbreds are allegedly more fragile that their European counterparts.
But the real dirty secrets are that too many horses that are not fully sound are being raced, and worse, being doped in a way that predisposes them to harm. First, a report from Thoroughbred Times on the second Welfare and Safety of the Racehorse Summit held in 2008:
The California Horse Racing Board has compiled necropsy statistics since the early 1990s, and the summit recommendation is for similar programs to be enacted nationwide.

"Dr. Sue Stover at the University of California at Davis has done a tremendous amount of work on looking at bone and soft tissue and how it relates to ultimate fatal catastrophic injuries," said Rick Arthur, D.V.M., the CHRB's equine medical director. "One of the issues … is that almost all fatalities have some evidence of pre-existing pathology in the tissue somewhere. That doesn't mean that someone abused the horse, it just tells us that we have to improve diagnosis.
But the nasty bit is the possible role of the use of Lasix, a diuretic. Think of handicapping. The addition of five pounds is a huge difference in a race. Lasix can cause a horse to lose 20 pounds, so imagine the advantage it derives, and conversely, the disadvantage a horse is at if it competes against a racer using Lasix.
Diuretics leech potassium, and potassium is a factor in bone health. The widespread use of Lasix in racehorses may be a major culprit in breakdowns. From the New York Times in 2007 (hat tip Culture of Life News):
There's another big difference between the United States and much of the rest of the racing world: medication. Horses racing in America are allowed to be injected with various drugs on race day, the most common being Lasix, a powerful diuretic, and phenylbutazone, an anti-inflammatory medication. Many trainers use whatever medications are permitted whether or not they believe a horse needs it. If they don't, the thinking goes, they will be giving an advantage to a competitor.

Brian Stewart, head of veterinary regulation for the Hong Kong Jockey Club, said that while it was impossible to scientifically link drugs to injuries, "we believe medication adds a risk factor, not only to injury, but to inconsistent racing performance."

Hong Kong has a zero-tolerance policy on any medication in a horse's system on race day.
This is from a 1999 article:
According to Associate Professor Kenneth Hinchcliff, of Ohio State, "We've found excellent evidence that associates furosemide with better performance." Although Hinchcliff and his colleagues stopped short, of saying that the drug definitively improves performance.

Hinchcliff 's team analysed the race records of 22,589 thoroughbreds, the researchers found that 74 percent (16,761) of the horses were given furosemide prior to a race. These horses raced faster, were 1.4 times more likely to win a race, 1.2 times more likely to finish in the top three and earned an average of $416.00 more than the horses not receiving the drug. While 85 percent of the horses in the study had received furosemide at some point in their lives, about 74 percent of thoroughbreds are likely to be running on the drug during a race, Gross said.

The trade name for furosemide is Lasix and it is according to one team member, "frequently used by humans for its diuretic effects" (the editor wonders if this may be an oblique reference to jockeys)? In any case the diuretic effect may cause enhanced racing performance, and other studies found that horses on furosemide lost about 20 pounds of their pre-race body weight through urination.
The romance of the sport is to produce superior performance, but to what avail if it means a race to the bottom with doping and breeding programs that emphasize speed over soundness?
And consider that the sport's most spectacular performance came in an era before these practices were in place. ESPN rated this the second best individual sports achievement, second only to Wilt Chamberlain's 100 point game:
Update 6/2/08, 9:00 PM: This comes considerably after the fact, but William Nack wrote an article, "The Breaking Point" in Sports Illustrated in which he described the factors that led to a large increase in fatal breakdowns among racehorses. Drugs, changed in how horses are raised and trained (significantly less activity to keep them pretty for yearling sales) and inbreeding are the culprits.