Waste coffee grounds offer new source of biodiesel fuel EureakAlert
It's Bank Failure Friday again Interest Rate Roundup
The Stock Market Still Hopes for a Bailout Jim Surowiecki, New Yorker (hat tip reader Scott)
Big 3 Get Lifeline in Bank Rescue Aid Wall Street Journal. Provides useful detail on where the TARP funds stand and suggests the Administration could tap into a very large chunk of allocated but not actually spent monies.
Rectitude Chic Peggy Noonan, Wall Street Journal. Zeitgeist watch.
Treasury's Lowest Yields Offer No Help to Companies Bloomberg
German bank bail-out has failed, say MPs Financial Times
Swelling Ranks of Sellers Michael Panzner. Key sentence:
"Potentially, 10% of retailers could face significant restructuring, bankruptcy or liquidation" in 2009, said Colin McGranahan, a retail analyst at Sanford C. Bernstein & Co.
The End of the Washington Consensus Michael Hudson and Jeffrey Sommers (hat tip Jesse)
We have an anti-antidote tonight. Long standing readers may recall we occasionally featured a simply spectacular private lake for sale by a friend (it really is terrific, and now would be a glam way to go the survivalist route, since it has a dam that in times of yore ran a grain mill, the lake has 9 kinds of fish, plus deer and turkey on the surrounding land).
It was called Leaning Pine after an iconic tree that extended over the lake's surface (you can see it in the third and fifth photo). Sadly, it did not survive an ice storm last night: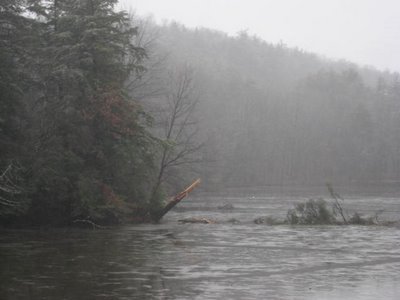 Now to our regular fare: