Amazon rainforest at risk of ecological 'catastrophe' Telegraph
Poached skins matched to tigers BBC
Belligerent chimp proves animals make plans Associated Press (hat tip reader John)
A sinking feeling Economist (hat tip reader Steve L)
To the victor go the spoils: who answers the phone in the US Treasury? Willem Buiter, In the middle, see the rant about Geithner and Summers.
Geithner Said to Push G-7 to Ease Criticism of China Policy Bloomberg
Madoff trumped by Swiss gigolo Diane Francis
Now is the time for a less selfish capitalism Richard Layard, Financial Times
Citigroup Executives Score $2.2 Million Betting on Own Stock Bloomberg. Per our related post this evening, tell me this isn't market manipulation?
China's Feb crude imports dive to 26-month low Platts (hat tip reader Michael)
Japan's Funding Crunch Deepening, State Lender Says Bloomberg
Panics and Booms, a lesson from 1897 Rolfe Winkler. Yes, I know, he is part of the family, but this is still an interesting post.
Financial Fraud Is Focus of Attack by Prosecutors New York Times. Unfortunately, the focus is likely to be on the financial analogue to the street corner pusher:
At the low end of the mortgage transaction ladder, state prosecutors have had a relatively easy time prevailing, but recent history suggests that the government's odds of winning drop when they go after Wall Street executives. Some high-profile convictions have been won in the last decade, but several of the Enron-related prosecutions and some cases brought by Eliot Spitzer when he was New York's attorney general fell apart or were overturned on appeal.
Antidote du jour. From the Guardian: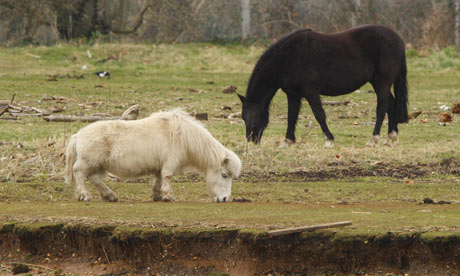 Mayflower, a particularly compact pony, would like you to know the following: she is not stuck in mud, she simply has very short legs…
Anton Phillips, the animal rescue specialist for Hampshire fire service, explained that Mayflower's distinctive physique – an apparent cross between a Shetland and New Forest pony, she has the stumpy-legged look of an equine dachshund – means that from a distance it can appear she is trapped in soft ground….
"These calls from the public are with good intent. When viewed at long range, this pony looks like it is trapped, particularly if it is standing still next to its mates which are twice its height."
Mayflower's owner is reportedly considering putting up a sign in the field to reassure passers-by.