I was in Kansas City at a econbloggers conference hosted by the Kauffman Foundation, and one of the breakout discussions was on the fate of finance.
One participant who claimed to be have a basis for his view (it could be based on private polling or focus group research, or less scientific methods) said that Americans don't want more regulation of financial firms, "they just want some public hangings." Perhaps more important, he said that was what policymakers believed, that Americans were not in favor of regulation.
A recent Gallup poll served to illustrate how susceptible poll results are to how the survey question is phrased: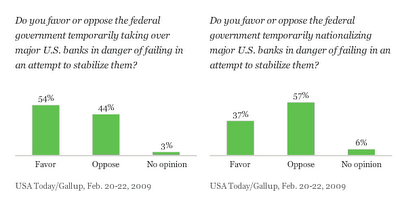 Would you be satisfied if some of the executives at financial firms who helped bring them and the economy to the brink were brought to justice, or do you think additional measures are necessary? Have any friends, family, or co-workers given their views on this question? If so, where do they stand?