The Bank of International Settlements is taking a more public stand on a matter it took up with central bankers privately prior to the crisis, namely, that overly low interest rates stoke asset bubbles. Its chief economist William White had been warning against overly lax monetary policy as early as 2003:
White recognized the brewing disaster. The analysis department at the BIS has a collection of data from every bank around the globe, considered the most impressive in the world. It enabled the economists working in this nerve center of high finance to look on, practically in real time, as a poisonous concoction began to brew in the international financial system.

White and his team of experts observed the real estate bubble developing in the United States. They criticized the increasingly impenetrable securitization business, vehemently pointed out the perils of risky loans and provided evidence of the lack of credibility of the rating agencies. In their view, the reason for the lack of restraint in the financial markets was that there was simply too much cheap money available on the market. To give all this money somewhere to go, investment bankers invented new financial products that were increasingly sophisticated, imaginative — and hazardous….

"One hopes that it will not require a disorderly unwinding of current excesses to prove convincingly that we have indeed been on a dangerous path," White wrote in 2006.
White has retired, but his successors are taking up his theme more publicly than he was able to. One of a series of papers released today notes:
Easy monetary conditions are a classic ingredient of financial crises: low interest rates may contribute to an excessive expansion of credit, and hence to boom-bust type business fluctuations. In addition, some recent papers find a significant link between low interest rates and banks' risk-taking, pointing to a different dimension of the monetary transmission mechanism, the so-called risk-taking channel (Borio and Zhu (2008), Adrian and Shin (2009)). This channel may operate in at least two ways. First, low returns on investments, such as government (risk-free) securities, may increase incentives for banks, asset managers and insurance companies to take on more risk for contractual or institutional reasons (for example, to meet a target nominal return). Second, low interest rates affect valuations, incomes and cash flows, which in turn can modify how banks measure risk.
This reports marshals empirical evidence (well, White and Claudio Borio had as well, and it was ignored). It makes an argument similar to that of John Taylor, that rates were held too low for too long (17 quarters in the US, 10 quarters on average for the EU). The study found that keeping rates overly lax for 10 quarters led to increase in their odds of defaulting of 3.3%. It also found that every 1% inflation-adjusted increase in housing prices for six consecutive years in excess of the long term average increased the odds of bank default by 1.5%.
The study also looked at credit spreads and lending officer attitudes: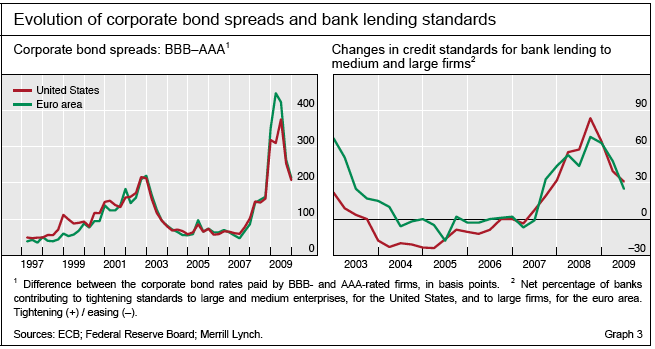 Note that this study, along with the larger quarterly report of which it is a part, did not argue that current monetary policies are too lax.