Reader Andrew sent a research report by Pivot Capital Management, which makes a compelling case that the capital spending bubble in China has reached its limits. This is important in a narrow sense, since capital investment is now the largest component of Chinese growth, and in its broader ramifications, since China is seen as a major contributor to growth expectations around the world.
The highlights of the report:
Given China's importance to the thesis that emerging markets will lead the world economy out of its slump, we believe the coming slowdown in China has the potential to be a similar watershed event for world markets as the reversal of the US subprime and housing boom. The ramifications will be far-reaching across most asset classes, and will present major opportunities to exploit. There are three key reasons why we take this view:

China's expansion cycle surpassing historical precedents: It is widely believed that China is still in an early development phase and therefore in a position to expand capital spending for years to come. However, both in its duration and intensity, China's capital spending boom is now outstripping previous great transformation periods.

Policy actions not sustainable into 2010. This year's burst in economic activity has been inflated by a front-loaded stimulus package and a surge in credit growth. Given their exceptional and forced nature we believe growth rates in government-driven lending and capital spending will collapse in 2010.

Overcapacity and falling marginal returns on investment: Analysis of industrial capacity, urbanisation and infrastructure development shows that China's industrialisation and structural modernisation are largely complete. Combine this with falling returns on investment, and it becomes obvious that China's long-term investment needs are grossly overestimated.
The article argues that China's investment boom was part of the global credit mania, and unlike real estate and private equity, has not deflated in a meaningful way. While all economies that developed rapidly in the 20th century showed high investment relative to GDP, China's level is well above historical precedents (click to view both charts):

Not surprisingly, the marginal returns on investment are falling: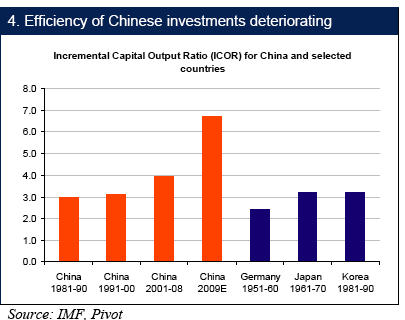 Similarly, the expansion of debt is also proving less effective in generating GDP growth. From 2000 to 2008, it required $1.5 in debt to produce $1 of GDP. By contrast, credit efficiency in the US became poor right before our bubble imploded, with it taking $4 of credit to produce $1 of GDP. China now is even less efficient than the US in 208, with it now taking $7 of credit to yield $1 of GDP increase.
The article shreds the usual arguments as to why China can nevertheless continue spending at rapid clip. For instance, the notion that China has a low government debt to GDP ratio is a canard once you factor in liabilities of local governments. bonds guaranteed by the Ministry of Finance and the central bank as part of the 2003 bank bailout, explicit guarantees of the debt of the three "policy banks" and other off balance sheet liabilities. Adding them yields a public debt to GDP ratio of 62%, comparable to most Western European nations. It also debunks the idea that China can spend its reserves, since its reserves are not high in relationship to its liabilities.
The report continues with a litany of troubling data: that China has few areas with any scope for manufacturing capacity addition, and that the idea that China can urbanize further is also greatly exaggerated (China defines "urban" as a population density of 1,500 per KM, so Houston and Brisbane would not count):
Back in China, a lot of the so-called "villages" and "townships" are in fact highly industrialised. Qiaotou, home to 64,000 people, produces 60% of the world's buttons and 70% of its zippers. Songxia with 110,000 people is the umbrella capital of the world: it produces 500mn umbrellas per year. Bordering on the edge of surreal is the story3 in the Wall Street Journal about the "village" of Shaliuhe at the outskirts of the city of Tangshan where a month before the Olympic Games, in order to reduce pollution, 26 inefficient cement factories were dynamited. Workers at the local Dafeng Steel Mill had to take an early vacation.
The idea that the Chinese are underhoused is another myth; residential square footage per person is high compared to more developed Asian countries. It would appear that a lot of the inefficient credit usage is going into real estate (click to view full chart):

The infrastructure thesis similarly does not bear close examination. Pivot looked at Chinese infrastructure levels against global benchmarks in some detail and concluded that China has already reached "an advanced level." For instance:
…there are 600,000 bridges in the USA, of which 450,000 are in use. There are currently 500,000 bridges in China, with 15,000 bridges built every year for the past decade. These numbers are especially astonishing given that the USA has 5 times more rivers than China. Bridges are a great example of the kind of promiscuous spending on infrastructure that mars China.
The last major argument is that domestic consumption cannot make up for a slowdown of investment spending:
…after a bumper year for credit and investment activity, it is going to be hard for investments to continue growing at 30% in 2010. Even if we assume optimistic investment growth rates of 10% for 2010 and 0% for 2011, leaving the trade balance where it is now, private consumption would have to grow at an average real rate of 20-30% for the next two years for overall GDP real growth levels to hit the magic 10%….2007. This means that private consumption would have to grow at anywhere between 3 to 4 times faster than in the past decade to compensate for the imminent retraction in investment.
Ouch.