Time Magazine still gets first prize for shameless pandering to the interests of the elites (in my childhood, it was called the Establishment) with its designation of Bernanke as "Person of the Year" and the fawning accompanying story. But the FT has a piece tonight that is almost as bad, because unlike Time, the FT knows better.
It starts with the headline: "Fed makes 'a killing' on AIG contracts". Huh? That says the Fed made money, a lot of money. But read the article, and the claim is patently ridiculous:
The Federal Reserve is sitting on billions of dollars in paper profits from its controversial effort to unwind credit insurance contracts that AIG provided to banks such as Goldman Sachs, people familiar with the matter said….
Yves here. So who are these people? Presumably at the Fed, or BlackRock, the asset manager. Hardly independent, in other words. But when you dig, the representation is vastly worse than even this lame bit of cheerleading suggests.
The way this deal worked is the Fed paid 100% of the notional value of CDS written by AIG on AAA to AA- rated CDO tranches held by various banks. The Fed then took the CDOs, which were worth a good bit less, and stuffed them in Maiden Lane III, which is an off balance sheet vehicle of the Fed. Sorta like Gitmo, "assets" go in and nothing will ever come out (or maybe not, as we discuss in due course).
Those CDOs were initially valued at $29.6 B. Now mind you, this stuff is all marked to model, so the idea that its model value will be realized is a stretch to begin with. Recall when Merrill Lynch tried to unload some CDOs. The wound up with a hedge fund, Lone Star. The deal was widely reported as yielding Merrill 20 cents on the dollar. Wrong. Merrill got only 5.5 cents in cash, the rest of the "proceeds" went back loan to Lone Star, secured by the CDO! (the transactions were netted, but this gives you a better picture). That means if the CDO does badly, Lone Star will simply default, and Merrill will get a worthless CDO back.
Now this is what we get from the Financial Times:
At the time of their purchase, the CDOs had a face value of $62.1bn and a market value of $29.6bn. Now, the estimated market value of the CDOs is at least $45bn (£27.5bn), according to several people with direct knowledge of the portfolio.
Now even if this were true, this turn of events hardly constitutes a "killing" That expression implies a large profit. At best, this is the reduction of a loss. The claim is that the Fed initially lost $32.5 billion; now, if you believe this plant, the losses have been shaved to $17 billion.
But that is inconsistent with everything the Fed has reported officially. Per its H.4.1 release of January 14, 2010 (click to view full image):

The table shows a value of $22.4 billion. That's a far cry from $45 billion. Let's do some very basic forensics. First, let's look at the portfolio as of June 30. Note it comes to a total of $20.8 billion; Maiden Lane LLC as of then held about $1.6 billion in cash, which is not reflected in this tally. Look at the ratings columns: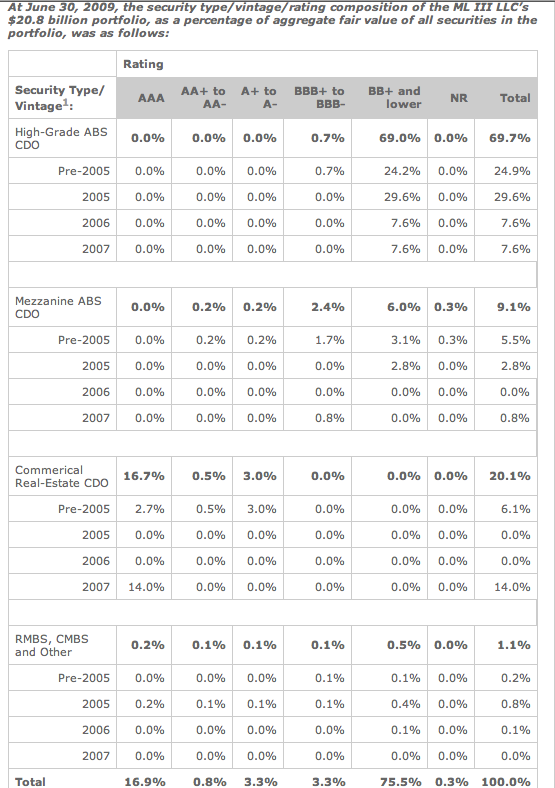 It does not take much in the way of powers of observation to see that the Fed is claiming that securities rated BB- or lower have a value worth 69% of the portfolio. Recall that CDS written by AIG were against CDOs originally rated AAA to AA-. This stuff is largely, if not entirely, toxic sludge. I can't comment on these particular vintages, but most AAA ABS CDOs that have been this severely downgraded are trading for somewhere between 20 cents on the dollar and zero. And the "high grade" label is more than a bit misleading. "High grade" CDOs did start with higher quality assets than "mezz" CDOs (high grades used AA and A subprime tranches, mezz used BBB), but high grade structures were much more aggressive (lower loss cushions, much higher percentages of lower rated CDO tranches permitted, much lower quality "other" collateral tolerated), and so tended every bit as bad, if not worse, losses than "mezz" subprime CDOs.
But note, in the AAA column, that it claims that 16.9% of the portfolio value is in AAA instruments, and that is almost entirely commercial real estate CDOs (16.7%). Frankly, this stuff is probably the only stuff worth anything…. you'd think its percent of the total would be higher.
Now notice the commercial real estate CDOs look to be in pretty good shape, ratings-wise…but that was then. Now let's look at Sept 30. This time, the Fed reports a fair value of roughly $23.5 billion, which includes a tad over $500 million in cash. That gives us net value of $22.9 billion for the instruments. That's already noteworthy, the Fed is claiming a 10% gain in a mere quarter. But look what happened to the commercial real estate CDOs: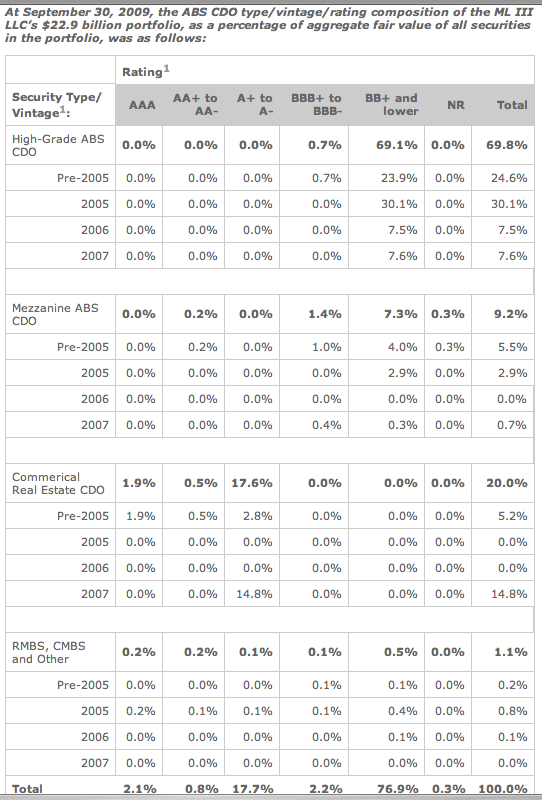 Before, 16.7% of the "fair value" of the portfolio was commercial real estate CDOs; most have apparently been downgraded. That amount has fallen to 1.9%. And the amount of A rated CDOs has increased, from 3.0% to 17.9%.
Now this looks really peculiar. It would be reasonable to think that that much moving form AAA to A would also have an impact on the value of the assets. Yet it appears that 14.8% of the portfolio was simply moved from the AAA to A bucket with no meaningful revaluation (in fact, 14.8%, the reduction of the AAA bucket, plus 3.0% is actually 17.8%. so they decided to say it was worth more, or this may be a function of rounding. Note the AA commercial real estate CDOs percentage remained unchanged.) This outcome is simply absurd, particularly given that the portfolio is also alleged to have increased in value over this period.
Why is that contention utterly unbelievable? And the one we highlighted in from the FT, that the assets were worth $45 billion, even more absurd? While AAA subprime bonds have rallied, the toxic sludge (and per the Fed's own admission, 75% of the portfolio is toxic sludge), has not moved much. Here are the values for Markit's ABX 06-1, which would approximate the collateral value of a good chunk of the CDOs, and which is much more credit sensitive:
12/20/07: 34.5%
9/18/08: 9.03%
6/25/09: 4.00%
10/1/09: 4.23%
1/15/10: 4.28%
Do you see any 100%, or even 10%, price appreciation in this series? And we've looked at some of the initial marks on the AIG exposures we can identify, and as of November 2007, they correspond pretty well with the ABX, so that appears to be not a bad proxy.
So we have every reason to believe the values reported to date have been high, and absolutely no reason to believe these probably inflated values are actually half the "real" value, as the FT's sources claim.
There's another curious item here. The FT reports, which partially confirmed with the Fed's reports, that:
Maiden Lane III was funded with a $24.3bn loan from the New York Fed and $5bn in equity from AIG. Because the CDOs have continued to throw off cash, the balance on the Fed loan is now about $17bn, people familiar with the matter said.
The Fed's reports on AIG and its H.4.1 reports do show a principal balance for the loan to Maiden Lane that is now $17 billion, which implies a substantial paydown. But the idea that those came merely from "throwing off cash" is quite a stretch.
If you look at the March quarter report, it shows a loan repayment of $304 million. It also shows an increase in cash and cash equivalents of $1.1 billion. That is already peculiar.
AAA and AA CDOs, whether cash or synthetic, have very low yields, say 20-30 basis points over Libor. So even if these deals were all paying interest, Libor is now at record lows, a mere 25 basis points for three month Libor on January 20. If you go back a full year, it was 1.13%, but six months ago, was 50 basis points. So if you assume $62 billion, and even the value of Libor a full year ago, plus 30 bp, you get about $900 million in interest, or about $225 million a quarter. That is as good as it gets. And Libor has fallen sharply since then.
Well, you might say, principal repayments! Good guess, but wrong. The high-grade CDOs consisted to a large degree of AA suprime paper. Any principal payments on subprime bonds are still going mainly to the AAA tranches. Any payments to AA tranches would be not high at all.
So the only explanation is that the Fed, or BlackRock, the asset manager, is liquidating the CDOs, which calls the valuation of the remaining holdings even more into question. But liquidation is consistent with the rising payouts in a deteriorating real estate environment.
The June 30 report shows a $1.6 billion repayment, as well as an increase in cash and cash equivalents of over $100 million. The September 30 report shows a repayment of $2.8 billion. Since cash and cash equivalents dropped by $1.1 billion, we still have $1.7 billion coming from somewhere, and that somewhere does not appear to be readily explained by interest and principal payments.
I'd love to hear any other ideas as to how these CDOs are paying down the loans (from people who know CDOs, this is pretty specialized terrain), but I discussed this with Tom Adams, a former monoline executive (which means he is familiar with vagaries of how these deals were structured and perform) and he is at a loss for an explanation.