The Institute on Assets and Social Policy published a report on Monday based on economic data from the same 2000 families from 1984 to 2007 (hat tip Michael Powell). Its sobering results likely understates the case, since it does not include the post financial crisis period. The study found that the median wealth gap between white families and black families rose from $20,000 in 1984 to $95,000 in 2007. Note that home equity was excluded from the calculation.
Essentially, this underlying trend was that of the rich getting richer: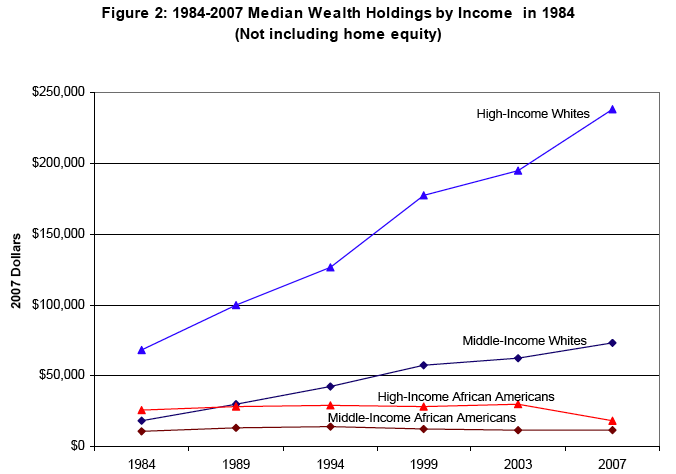 It is striking that even high income blacks have not been able to translate their earnings into greater wealth accumulation. One has to imagine that at least some of the gap comes from the greater representation of whites in the top 1% of the population, which has seen a great leap in its share of total wealth over the last 20 years. The authors argue that tax policies that favored the well off and credit discrimination each played a role:
The racial wealth gap results from historical and contemporary factors but the disturbing four-fold increase in such a short time reflects public policies, such as tax cuts on investment income and inheritances which benefit the wealthiest, and redistribute wealth and opportunities. Tax deductions for home mortgages, retirement accounts, and college savings all disproportionately benefit higher income families. At the same time, evidence from multiple sources demonstrates the powerful role of persistent discrimination in housing, credit, and labor markets. For example, African-Americans and Hispanics were at least twice as likely to receive high-cost home mortgages as whites with similar incomes. These reckless high-cost loans unnecessarily impeded wealth building in minority communities and triggered the foreclosure crisis that is wiping out the largest source of wealth for minorities.
Yves here. This report is a stark illustration that policies that favor capital over labor will, not surprisingly, widen the wealth gap.