While the headline focuses on her outlook for housing, Whitney is bearish across the board, seeing little reason to cheer on the employment and bank earnings fronts. She sees a 10% fall in housing prices in the next six months (!), which will hit bank earnings (Whitney has argued since at least early 2009 that banks have been goosing earning by underreserving for losses) and the economy generally (a further decline in home equity plus lack of mobility of consumers wanting to sell their houses but facing a declining market has implications for consumer spending generally). She point out that consumer credit is tightening, which puts a crimp on small businesses (both via lower revenues and via restricted access to funds), the biggest engine of hiring, and on top of that, municipalities and states are cutting spending and shedding jobs.
From Fortune (hat tip Glenn Stehle):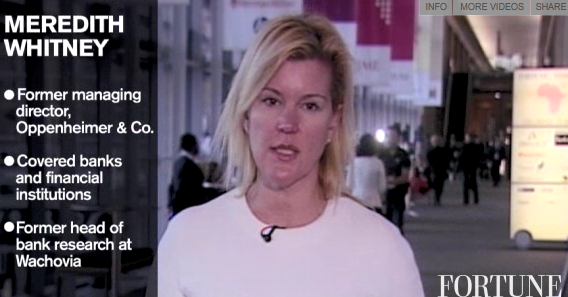 Click here to view the segment.
A similar grim take from Barry Ritholtz via John Mauldin:
Today, residential real estate confronts numerous headwinds: Credit, once given to anyone who could fog a mirror, is now tight. Today, demand is far below what it was during most of the past decade. Home prices are still unwinding from artificially high levels, and remain over-priced. Inventory is elevated. A huge supply of shadow inventory is out there: Speculators and flippers who overpaid but have held onto their properties await modestly higher prices to sell. Bank owned real estate (REOs) continues to increase. That's before we get to the fact that unemployment remains high, and is unlikely to improve anytime soon. Oh, and wages have been flat for a decade.

This are not encouraging factors about housing.

This is known, or at least should be by those who have looked at the data. I cannot explain why some economists still have not figured this out.

In my analysis, price stands out as being the prime mover of the next leg down. High unemployment, and a decade of flat wages aren't helping to create any new housing demand. And the millions in homes they cannot afford will eventually add more pressure to inventory and prices. Indeed, we are still working

But the bottom line is Home prices remain too high: There can be no doubt that home prices have moved way down from the 2005-06 peaks. How did I reach the conclusion that, even after a 33% decrease in prices, home prices are high?

By using traditional metrics: Whether we are looking at US housing stock as a percentage of GDP or Median income versus home prices or even ownership versus renting costs, prices remain elevated. Indeed, we see prices remain above historic means.

Consider price relative to income. From 1977 to 2010, the median US home price was 4.1 times median household income….Home prices are still above that mean. Oh, and that mean is artificially elevated due to the 2002-07 boom. It's the same with home prices relative to rentals, or housing value as percentage of GDP….

Further, we should not assume that prices merely mean revert back to historic levels. What usually happens when markets get wildly overvalued – and a ~3 standard deviation price move sure qualifies — is they get resolved not by reverting to the mean, but by careening far beyond it.
In other words, brace yourself for further downside. Extend and pretend is finally about to run into ugly reality.