As a tiny island nation makes a big sacrifice, will the rest of the world follow suit? Mongabay
19 Turkeys in My Yard. Somebody Call Michael Pollan! Brad DeLong. Gee, I was really pleased when I saw five turkeys in Maine (big suckers, at very close range too).
Exercise Has Minor Effect On Weight Loss, According To Growing Body Of Research Guardian. Given that virtually no trainers, and therefore pretty much no consumers, know exercise physiology, this result isn't surprising (the protocols discussed in the article aren't very good for weight loss). And the comments by researchers indicate no awareness of hormonal response issues.
Members of U.S. platoon in Afghanistan accused of killing civilians for sport Washington Post
Bill Maher digs up O'Donnell 'witchcraft' clip Associated Press via Raw Story
Obama's view of liberal criticisms Glenn Greenwald (hat tip reader Emilano Z)
Does the NYT Allow Its Reporters to Talk About Drug Patents? Dean Baker
More Class Hatred at the Washington Post Firedoglake
Missouri Tells Judges Cost of Sentences New York Times
Fibbing With Numbers New York Times
Shadow Banking and Financial Regulation Harvard Law School Forum on Corporate Governance and Financial Regulation
The Illusion of Pension Savings New York Times (hat tip reader Scott). A stunner.
Antidote du jour (hat tip reader Fred A, from Associated Press):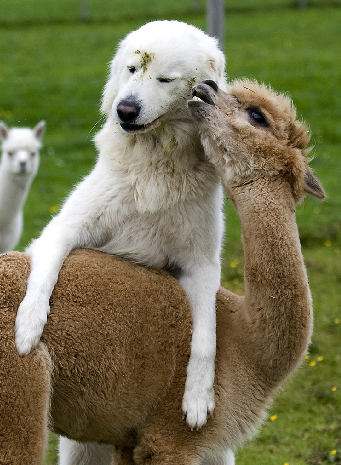 Cattle dog Clarence plays with an alpaca named Cindy in "Alpaca Land" in Goeming, Austria. The two have lived together on the farm since they were 3 months old. Eighty-seven alpacas, the largest flock in Austria, live on the farm.