Last week, the simmering threat of trade disputes erupted into a full boil when Brazil's finance minister Guido Mantega said that national governments around the world were weakening their currencies in an "international currency war" to gain competitive advantage. Mantega stressed that Brazil was prepared to back his words with action to lower the value of the Brazilian real. Yesterday, IMF chief Dominique Struass-Kahn warned that countries were beginning to use their currencies as "a policy weapon" in a Financial Times interview:
"Translated into action, such an idea would represent a very serious risk to the global recovery . . . Any such approach would have a negative and very damaging longer-run impact."
And today, the Financial Times' Martin Wolf declared China to be a legitimate target in an incisive article, "How to fight the currency wars with stubborn China."
Now it's fair to point out, as David Rosenberg has (hat tip Ed Harrison) that currency one-downsmanship has been with us since 2007: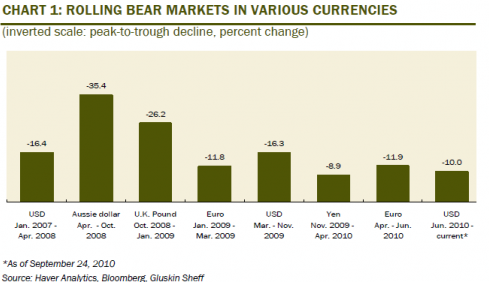 And it is similarly fair to point out that America has gotten itself in an unhealthy economic co-dependency with China. As Marshall Auerback pointed out:
There is a curiously perverse but symbiotic relationship that exists between China's mercantilists and America's finance capitalism…. And it's a whole lot worse than what the China apologists are saying (yes, Steve Roach, I'm talking about you). The whole "Bretton Woods II" process contributes to the financialization of our economy, as it continues to hollow out our manufacturing base. It represents an unholy alliance between Wall Street and China's military, which is driving much of the investment in China because they are reaping so many material benefits. The problem, however, is that at some point Chinese credit expansion has no place to put its money. All of the targets have been saturated, which means that there will be overinvestment in all industries and to an incredible degree. This may well kill industry after industry. It appears to be happening already in Japan.

How can there be an encore? To avoid recession you have to keep the investment ratio up. But capex as a percentage of GDP in China is already off the charts – it is in excess of 50% of GDP. So the Chinese can build an additional round of capacity, which may be equal to ten times annual demand by next year, and fifteen times by the year after. Of course, this process has its limits. When the ratio is this high it is very hard to keep it this high. There is a tendency for it to fall and it will fall faster if there is a trade war. But if it falls there will be a recession in China, so perhaps China is far more recession prone than anyone thinks. It may ultimately be recreating Japanese-like bubble conditions in its own country….

There is no question that China's mercantilism is a product of our ham-handed approach to Asia during the 1997/98 crisis, Less appreciated, however, is Beijing's role in creating that crisis via its cumulative 60% devaluation against the dollar from 1992-94. Very few people are looking at the direct impact of China's trade policies and how it is beginning to hollow out other countries' manufacturing bases. It's not just the US. The Japanese economy is now at the cutting edge of this threat Can the US be far behind?
The problem is, as Auerback points out, is that China's pedal to the investment strategy is self limiting, just as our housing bubble was. And while the US has plenty of its own housecleaning to do, getting the trade imbalance with China reduced is a necessary, if far from sufficient, condition for restoring our economic health.
Martin Wolf goes full bore into the usual defenses of China's stance:
Has the time for a currency war with China arrived?….I no longer believe there is an alternative.

We have to address four questions. Is China a "currency manipulator"? If it is, does it matter? What might China reasonably be asked to do? Finally, can other countries shift China's policies, with limited collateral damage?

The first question is the easiest. If a decision to invest half a country's gross domestic product in currency reserves is not exchange rate manipulation, what is?….

Now turn to the second question: does this matter?…

The Chinese current account surplus is far from the only explanation for the US current account deficit. Yet it is also true that China's currency policies have driven those of other countries; that capital-importing high-income countries are unable to make productive use of the surplus savings of the emerging countries; and that the net flow of funds from the poor to the rich is altogether perverse…

Given, in addition, the continued savings surpluses of Germany, Japan and a number of other high-income countries, a return to stable growth in the world economy requires the battered high-income countries, as a group, to move into sizeable current account surplus. China is the most dynamic and solvent emerging country. It also runs the world's largest current account surplus. If all the offsetting shift towards deficit is in much weaker emerging economies, the ultimate result is likely to be another round of financial crises. Yet China could move today's current account surplus towards deficit, by $300bn a year, at negligible risk.
Wolf points out the asymmetry of the situation: while exchange rate manipulation helped create this mess, monkeying with exchange rates isn't necessarily a remedy. If prices in China rise quickly enough (something we discussed as early as 2007), its good will become less competitive even at the same currency peg to the dollar. What really needs to happen is for China to move to more domestic consumption.
Auerback argues for the use of tariffs if China fails to embrace policies that address its imbalances:
It's impossible to speak about "free trade" when it doesn't apply both ways. Free trade is another one of these neo-liberal myths, largely predicated on the notion that we need China to "fund" our deficits. That's nonsense. We continually read that nations with current account deficits (CAD) are living beyond their means and are being bailed out by foreign savings.

A CAD can only occur if the foreign sector desires to accumulate financial (or other) assets denominated in the currency of issue of the country with the CAD. China makes that choice. I would rather go for higher tariffs than a forced revaluation of the RMB, as I don't think that the promotion of exports per se is a good policy for the US. We seem to be fixated on this idea of reducing domestic wages, often through fiscal and monetary austerity measures that keep unemployment high. The best way to stabilise the exchange rate is to build sustainable growth through high employment with stable prices and appropriate productivity improvements…A low wage, export-led growth strategy sacrifices domestic policy independence to the exchange rate – a policy stance that at best favours a small segment of the population.
There are other reasons to favor Doing Something about global imbalances. The Reinhart/Rogoff work on financial crises found a strong correlation between high levels of international capital flows and more frequent financial crises. While it is in theory possible to have high levels of international trade without having substantial cross-border capital flows, empirically it does not seem to work out that way.
Wolf prefers to respect the free trade sacred cow and attack capital flows directly:
I find ideas for intervention in capital markets far more attractive than those involving action against trade, as the US House of Representatives proposed last week. First, action on trade would have to be discriminatory: there is no reason to attack all imports, merely to change Chinese behaviour. But this would almost certainly be a violation of the rules of the World Trade Organisation. A trade war would be very dangerous. Insisting that China stop purchasing the liabilities of other countries so long as it operates tight controls on capital inflows is, instead, direct and proportionate and, above all, moves the world towards market opening.

Some fear that a cessation of Chinese purchases of US government bonds would lead to a collapse. Nothing is less likely, given the massive financial surpluses of the private sectors of the world and the continuing role of the dollar. If it weakened the dollar, however, that would be helpful, not damaging.
Yves here. I see the odds of things going Wolf's way as close to zero. China has no intention of "opening" its markets to investment bankers; it is not about to have its capital markets colonized, and it lacks the domestic finance skills to cope. China has made a close study of the errors Japan made in its peak years, in the 1980s, and one was the overly rapid deregulation of its financial sector….in response to US pressure.
Similarly, the impetus to put pressure on China IS coming from the trade front, due to high unemployment. Action on the trade/tariff front looks like a more direct remedy, even if, as Auerback points out, the lags in trade are long. And with more economists lining up behind the crowd-pleasing idea of getting tough with China, the pressures and the intellectual cover, are in place.
Even though no one wants a trade war with China, it is not beyond the real of possibility that we wind up there. Per reader Vlad Ender by e-mail:
I remembered what game theory says about brinkmanship and bargaining – both parties want to avoid the worst outcome, yet if their belief of their costs are lower than their opponents, it will end up in tears.

I suspect that both US and China believe their costs are lower – or rather, their costs of not continuing their course are higher than opponents – say some sort of domestic unrest, and it's hard for US to judge exactly China's unrest and vice versa. Historicaly, domestic unrest in US is rare – unlike in China, and China has also status-quo advantage (sort of like management getting unions working on old contracts and then dragging on with negotiations). As a result, it's resaonable for China to believe that their costs of waiting are lower.

I think the situation is made yet more dangerous by US increasing threat (again, brinkmanship), but by so small steps that China disbelieves credibility of any of those. Thus it disbelieves that the situation actually moved – but from US perspective it does, and at some time US may think it has to commit an action which from its perspective is only small escalation, but from China's (who might have ignored all the previous signals) it's a huge jump.
And to add to the odds of misunderstanding: studies of negotiations typically find that the participants' assumptions about their opponent's motivations and priorities are often incorrect. The odds of miscalculation have to be magnified when operating across a large cultural divide.