Japan develops robotic seals to comfort sick and elderly BBC
US to issue Europe travel warning BBC. Why did my BS detector go on when I saw this headline?
Reading Banned Books on the Kindle Me and My Kindle (hat tip reader David C)
Google's CEO: 'The Laws Are Written by Lobbyists" Atlantic. Quelle surprise!
Obama Targets Iran for Human Rights Violations and Shields Bush Officials for Engaging in Same Abuses Truthout
High levels of cancer-causing chemicals recorded since BP spill Los Angeles Times
Complaint Filed with U.S. Justice Department Against Standard & Poor's and Moody's Investors Service iStockAnalyst (hat tip reader Mike). No idea if this claim will go anywhere, but makes for interesting reading.
Side Effects May Include Lawsuits New York Times
"Superliar" Meg Blames Brown for Housekeeper Scandal FireDogLake. I first heard of eBay when an investor buddy called me asking if I knew anything about Meg Whitman. He was looking at the company, Whitman was about to be installed as CEO, and his ringing around on her got reports back that she was completely mediocre. He was very puzzled at the choice, since the rest of the C-level at eBAy looked good. This is a pet peeve of mine because I know a lot of super competent women who don't seem to get the breaks, and then ones like Whitman and Carly Fiorina make it to the top…..
Why China Is Unwilling to Revalue the Yuan Ian Lamont, Baseline Scenario
Chamber of Commerce Issues First Lawsuit over Dodd-Frank FinReg Mike Koncal. From last week, an important item I failed to point to….
On the Foreclosure Front New York Times. The editorial page takes note.
Loan Servicers Prepare for Borrower Backlash. Lawsuits Mounting Mortgage News Daily (hat tip Mortgage Implode-O-Meter)
Commercial Real Estate: End of Extend and Pretend? Calculated Risk
Joseph Stiglitz: the euro may not survive Telegraph
The Very Useful Idiocy of Christine O'Donnell Frank Rich, New York Times
Tea & Crackers Matt Taibbi, Rolling Stone. Today's must read.
Antidote du jour. From ZooBorns:
The Oregon Zoo recently provided a temporary home for twin orphaned cougar cubs while they recuperated from malnutrition and dehydration. The cubs were transferred last week to their permanent home at the Western North Carolina Nature Center. According to Oregon Zoo keepers, the "cute and vocal" brothers have a close bond that has helped them recover from "a rough start to life." "As a conservation organization, it's important for us to take a leadership role in finding homes for orphaned animals," said Kim Smith, zoo director. "These guys really needed our help."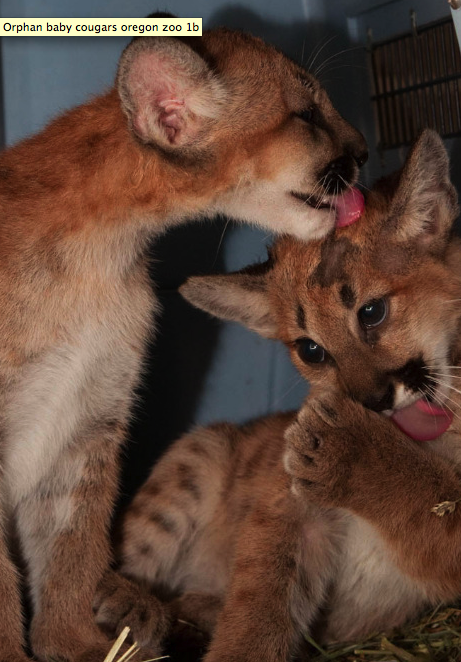 Baby cougars can't live in the wild without their mothers, so zoos offer the orphans' only chance for survival." Schireman was able to quickly place the 10-week-old cubs. "There are a lot of zoos around the country that would be thrilled to provide a home for a cougar, and the nature center was at the top of the waiting list when ODFW contacted me about these cubs," Schireman said. "I'm really pleased that the brothers now have a permanent home where they can live together."