By Matt Stoller, a fellow at the Roosevelt Institute. His Twitter feed is http://www.twitter.com/matthewstoller.
Today, the city of Providence, Rhode Island sent out layoff notices to every single teacher in the city. Every single one of them. If you want to understand why this is happening, why wages in the US keep getting cut, this chart from Doug Henwood tells the story.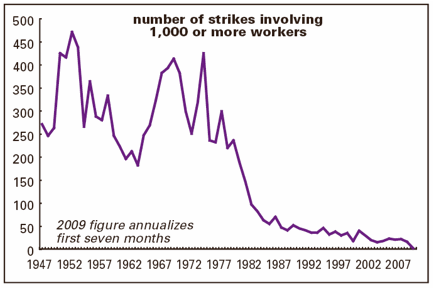 That's the number of strikes since 1947. What you'll notice is that people in America just don't strike anymore. Why? Well, their jobs have been shipped off to factory countries, their unions have been broken, and their salaries until recently have been supplemented by credit. It's part of a giant labor arbitrage game, that the Federal Reserve and elites in both parties are happy to play. Strike, and you're fired. Don't strike, and your pay is probably going to be cut. Don't like it? Sorry, we can open a plant abroad. And we have institutions, like the IMF, to make sure that we get goods from those factory-countries, and get them cheap.
But it's not cheaper, or better, or more efficient. Firing your teachers isn't exactly "winning the future". And outsourcing manufacturing, as Boeing found out, is often a good way to increase coordination costs, create more operational risk, and destroy value. However, the system is good at maintaining the power of oligarch-style control of cultural institutions. If no one but the kids of rich people can read, only the kids of rich people will be able to organize society's resources. Outsourcing work to China means that workers are scared and have no leverage, so they do what management wants. Again, this isn't efficient; the UAW sought to make small cars in the 1940s, but was rebuffed by management. Workers are closest to production; treating them terribly is a good way to degrade product quality. Silicon Valley companies give their engineers free snacks and frisbees because happy employees that take ownership over their work create good quality products. Treating people terribly scares them, and makes them more pliable. Again, it's about control.
The problem for the elites is that the system of control is breaking down. I noted a week and a half ago that the Egyptian revolution was a labor uprising against Rubinites. So to the extent that global labor arbitrage relies on sweatshops and environmental degradation in poor countries for cheap goods, successful strikes in poor countries undercuts the whole system. The reason to outsource work in the first place is to prevent workers in rich countries from gaining pricing and political power. Now workers in poor countries are getting pricing and political power? It's actually a fragile system of control, and can be broken through either crackdowns on tax havens and oligarchs in wealthy countries or protests/strikes where the goods are made.
The Egyptian revolution was really a series of protests and highly politicized strikes, which is why people in Madison are taking inspiration from Cairo. In fact, the actions in Egypt may be creating a wave of labor actions worldwide, rippling to Wisconsin, Indiana, and Ohio. All of these strikes are aimed at a collusive set of tight relationships. Here's new Republican Florida Governor Rick Scott in a back and forth with public employees explaining how this system works. One worker asked him about proposed benefit cuts in the face of a multi-year freeze in salaries and layoffs.
"Do you fully realize the gross unfairness of that proposal?" one worker asked Scott.

Scott said a change was needed and that, "You never know exactly what's fair."

"Right now your plan in underfunded, whether anyone wants to acknowledge it or not," Scott said. "So whoever the youngest is, everyone else should thank them because there might not be a pension plan, just like we're worried about Social Security."

Scott didn't mention the pension fund is about 88 percent funded – among the best in the country – while Social Security is scheduled to start paying out more than it takes in as soon as 2014.

Instead, Scott said both government and the private sector have less money to spend "and you guys all cause it."

"As an example, you all shop at WalMart, right?" Scott said. "You don't say, 'Golly, I'm going to buy the product because they have a better pension plan or better health care plan or pay more taxes. You say, 'I'm going to buy based on price.'

"That's what taxpayers are doing now," he said. "They're moving around the country to pick states where they can keep more and more of their dollars. So what we've got to do … we've got to figure out how to get more efficient every day."

A female worker was cheered when she asked this follow-up: "How do you expect employees to pay for these increases when we ourselves have not had an increase?"

"I would never defend that any compensation is ever fair for anybody, especially the hardest working people," Scott said. "It's never fair and it never will be fair."
There's a reason Scott is incoherent. Florida's pension fund has lots of money in it, and Scott wants to make sure that workers don't get very much of it. "You never know exactly what's fair" and "It's never fair and never will be fair" are cynical Rumsfeld-ian post-modern excuses for wealth transfers upward.
In this 5 minute long answer to another question of why workers are taking cuts while the wealthy do not have to share in the sacrifice, Scott spends time talking about luring companies to Florida, to compete with countries like China.
"There's a reason [the jobs are overseas]. The labor's less expensive, the regulation's less expensive. Everything we do to make it harder on businesspeople means fewer jobs in Florida and less money to do the things we want to do.
This is absurd in one sense, because Florida's problems have nothing to do with regulation. The whole state is underwater from a housing crash, and there's just not enough aggregate demand to bring down unemployment. But these economic theories aren't about efficiency, they are about a value system. Scott is arguing for a low trust low cost world, with no education, no regulatory standards, and low quality output. This is the dominant strain of thinking among American elites. It's not just Rhode Island, where the teachers are literally all under threat of being fired (and where in 2010 Obama apparently sought to win the future by applauding this firing of teachers). In New York, Democratic Governor and prospective 2016 Presidential candidate Andrew Cuomo is gleefully slashing huge chunks of education and health care rather than retain a mild tax on the wealthy. This is a great way to increase crime, disease rates, and social disorder resulting from inequality.
Cuomo is just acting like a standard neoliberal Democrat. Obama has put forward a proposed pay freeze on non-security state Federal government workers, and Senate Democrats want to extent that for at least five years. That's their starting position negotiating against the GOP. You can't have a good regulatory state when you don't pay regulators good wages. Instead, what you have when government is expansive and poorly run is big government corruption.
The GOP likes to foster corruption through privatization of public services, a shadow large government in the form of security contractors, corporations, and banks that are supported with taxpayer money but consider themselves part of the "private sector". The elite Democratic model of governance is more subtle; it is embodied in high expertise-driven regulatory programs like the health care bill, cap and trade, GSE reform and Dodd-Frank. Low pay for regulators means corruption in the form of the revolving door. Whether it's Scott Walker demanding the right to give state power plants and Medicaid money to oligarchs, or revolving door corruption through low pay to regulators, the real agenda of the elites seems to be: cuts for you, corruption for me. Whether the state Senate Democrats in Wisconsin represent an anomaly, or a trend, is an open question. Efficient this is not, but again, it's not about efficiency, it's about control.
Egyptians are trying to throw off the IMF-imposed austerity measures that created such a system for their country. The new government there is proposing raising taxes on oligarchs, increasing food subsidies, and reducing inequality. Their new cabinet is letting more people apply for "monthly portions of sugar, cooking oil, and rice." The previous cabinet, "which was comprised of businessmen and former corporate executives", had refused this.
And look at how Egypt is treating public employees: "Temporary workers who have spent at least three years working for the government will now be given permanent contracts that carry higher salaries, and benefits such as pension plans, and health and social insurance."
Pension plans, health, and social insurance, oh my! How are they planning to pay for this? One member of a left-of-center party made it quite clear:
Confiscating wealth looted by cronies of the former regime, more egalitarian distribution of wealth, gradual taxation, better government oversight, and placing "a reasonable ceiling" on profitability of goods and services sold to the public are among the measures that should restore an economic balance to society, he said.
It is too early to pretend like this is a done deal, but it is certainly the case that the mass exercise of people-power in Egypt made this far more possible than it had been before. Even after Mubarak resigned, and even when the army tried to ban labor gatherings, the Egyptian labor movement continued to strike, gather, and make demands.
As Daniel Ellsberg once said, "Courage is contagious." And what happened in Wisconsin came from the inspiration of see millions of powerless people join together and overthrow a regime in Egypt. It didn't come from union leaders, who have been perpetually unprepared for the onslaught against them. Just look at the webpage of the AFL-CIO of Wisconsin. It looks like it was designed by Geocities in 1997. Yet, #wiunion has been trending on and off for a week on Twitter, and has inspired actions all over the country (check out the Cheesehead protest in NYC).
This upsurge certainly didn't come from the Democratic Party leadership. I mean, Rhode Island is a pretty reliable blue state and the last Mayor of Providence was just elected to Congress as a Democrat. Meanwhile, Former Democratic Michigan Governor Jennifer Granholm is saying the Wisconsin state Senators need to get back to work. And what is striking about Obama's posture on the greatest uprising in American labor history of this century, is how he is really nowhere, meekly tut-tutting about union busting while gravely acknowledging fiscal realities and tough choices. But the Wisconsin protests happen every day, without formal authority structures. This quote from the Huffington Post Hill newsletter shows that there is something new going on.
Tom O'Grady, a union sheet metal worker from Sun Prairie, Wis., said the sight of youngsters protesting against Gov. Scott Walker's efforts to gut collective bargaining rights is bittersweet. "It's humbling," said O'Grady, 60. "We see all these kids, they may never have a union job, and they're here every night for us? It's very humbling."
Striking just isn't in the collective memory of the American public anymore. This kind of highly politicized hybrid political protest/strike walks like an Egyptian these days, which is why Egyptians were sending Wisconsinites pizza and Madison protesters were holding signs lauding teachers, workers, and the new Egyptian flag. In fact, Madison may represent a new kind of American labor model, the melding of old school unions, Howard Dean-style internet-based organizing, Anonymous-style serious pranking, and social media reporting on protests and policy. There's an anti-bailout class-based fervor here as well, with a simmering anger at Wall Street as subtext. It's headless and global, though there is leadership. The most powerful moment so far in the Wisconsin conflict didn't come from the actions of a labor leader, but from a prank call by alt-weekly "Buffalo Beast" editor Ian Murphy, who pretended to be billionaire American oligarch David Koch and had a frank 20 minute conversation with Governor Scott Walker. Murphy originally wanted to pose as Hosni Mubarak, but couldn't pull off the accent.
Perversely, people may be so beaten down that they only want to side with institutions that are visibly and aggressively advocating for them. This might lead them to recognize that middle class interests are aligned with those of labor, which was the widespread view in the first generation after World War II. However, that also means that the de facto business unionism of the 1970s onward isn't appealing. People might only like unions when they see strikes, otherwise all they hear about is backroom negotiations. Perhaps effectively striking is actually the way to force people to ask questions about what kind of country they want to live in. I haven't seen this much labor coverage since, well, ever in my lifetime. There seems to be multiple feedback loops at work: political, global, and economic.
As commodity prices shoot up, and become more volatile, the pressure to liquidate America will only increase. These increases take the form of gifting public assets to oligarchs, taxing the middle class and poor, slashing social service budgets, and cutting wages through inflation and outright demotions (like the NYC sanitation workers that were demoted right before a giant blizzard). But civil unrest is intensifying it its most basic forms: protests and strikes, and in advanced forms, like the blowback at the national security state embodied in the HB Gary and WIkileaks fiasco.
What we are seeing is two political and economic systems, increasingly at odds – high trust and cooperative, or dominance-based and lowest common denominator. This is not, fundamentally, a debate about economics. It is true that neoclassical economics doesn't work, leads to corruption, and is intellectually dishonest. But that's why this isn't a question of economics, because the dishonesty is part of a system of corrupted values.
It is Andrew Mellon morality, the kind that led to the Great Depression (and will lead again to catastrophe):
"Liquidate labor, liquidate stocks, liquidate the farmers, liquidate real estate. It will purge the rottenness out of the system. High costs of living and high living will come down. People will work harder, live a more moral life. Values will be adjusted, and enterprising people will pick up the wrecks from less competent people."
Or it is the morality of Martin Luther King:
"True compassion is more than flinging a coin to a beggar. It comes to see that an edifice which produces beggars needs restructuring."
Sometimes it really is that simple.