This program on RTEOne from the Ides of March gives a window on how the prospect of default looks from Irish perspective (hat tip Richard Smith). Note that it is the chairman of Goldman Sachs International who argues against debt repudiation.
We've argued that it's rational for the Irish to threaten default and if the debt is not restructured, to act on its promise. The EU has more to lose, since one country rebelling against austerity demands will embolden others, and also brings the real underlying problem, that of Eurobank undercapitalization, to the fore.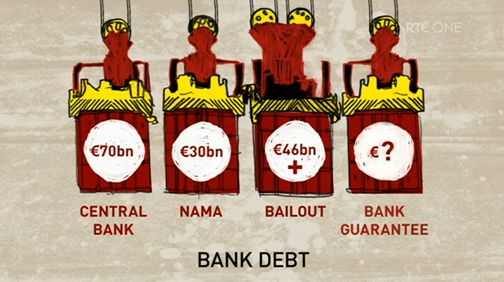 You can view the program here. The relevant segment starts at the ten minute mark. The debate at the end of the show is quite illuminating.
The one issue that is not stated clearly enough on this program is that investors are delighted to lend to companies and countries post default/restructuring because they have a much better balance sheet. The "credibility" issue is a canard. Ireland is not a credible borrower now because the debt burden is obviously unsustainable. The impediment is not the Ireland won't be able to borrow post default, but how ugly and protracted a default/restructuring process might be.