Lender Processing Services has played a singularly destructive role in the mortgage servicing industry. The firm not only offered document fabrication services through DocX, a company it acquired and was forced to shut down after the Department of Justice started sniffing about, but is being revealed to be involved in more abuses as far as borrower records and legal process are concerned. Readers may recall that it is also the target of two national class action suits on illegal legal fee sharing which if successful will produce multi-billion-dollar damages.
This abuses matter due to the role that LPS has come to play. It is the biggest player in default services, meaning it acts as the de facto selector and supervisor of foreclosure mills via its system, LPS Desktop, which manages and oversees the work of local law firms on behalf of its bank servicer clients. It also provides the servicing platform for more than half of the servicing industry. And as our two latest examples show, the company clearly places its profits over integrity of records and due process.
The first, per Abigail Field of Daily Finance, comes out of a affidavit by former LPS employee Adrian Lofton, who worked at its subsidiary Fidelity, the mortgage servicing platform that was acquired by LPS. Lofton describes an environment where cost cutting pressures led to widespread abuse of basic security protocols. Employees of his unit had the ability to access the mortgage records of borrowers and alter them; an important control was that each employee had his own login and password and was per corporate policy allowed only to utilize only his own account. Employees were grades and rewarded on speed and on not asking their bosses for help in resolving problems. This devolved into an out of control environment:
109. Towards the end of my employment at Fidelity, my biggest concern was that most of the Associate Team members had gained unauthorized access to the logins and passwordsof their team associates and supervisors for all of the bank servicers' computers.

110. With this unauthorized access to the Bank's computers, the Fidelity associates could gointo the banks computer files and manipulate the data.

111. Such manipulation of the bank customer data could include changing entries, reversingtransactions, adding transactions and moving funds in and out of suspense accounts.

112. I was particularly concerned that during "crunch" times when a great volume of work came in during a short time and we were understaffed, Team Associates were cutting corners.

113. There were times when a lot of work would come in at one time and there werepressures to get the work done quickly.

114. Supervisors would tell the Team Associates to do whatever was needed to get the job done.

115. In my experience, the system encouraged Team Associates to cut corners.

116. When an employee cut corners, the employee left out one or more steps that should have been performed and had to make something up

117. The problem caused by cutting corners might not come to light until six months down the road when an attorney asks questions about the billing record.
So get this: employees muck with borrower records in their name or in someone else's name. You'd expect some errors in a manual process, even more so if employees were under time pressure. Not only is it unlikely that a staffer who had performed a particular task would remember it weeks, let alone months, down the road, it's impossible to get an accurate reconstruction or hold parties accountable if the casual use of logins means you don't even know who did what. As Field warned:
Even if some of those banks have dropped LPS since then, were their records ever comprehensively fixed? And what about other LPS clients? Surely they've picked up more, as the tidal wave of foreclosures really grew after Lofton left LPS. Indeed, that foreclosure surge surely worsened the problems, since the time pressure on LPS employees can only have gotten worse.

If you're tempted to feel sorry for LPS's bank clients, given that they might not even have realized that their contractor was messing up their business records, don't. Banks hire LPS — and fail to effectively oversee it — for one simple reason: They're trying to get something for nothing. LPS has risen to market dominance primarily because it doesn't charge the banks for its work. Instead, it charges the lawyers in its network who foreclose on the the banks' mortgages.
But the pattern of not caring who did what as long as it fattened the bottom line gets even better. Thought you'd heard everything about robo-signing? One abuse has not been adequately probed. You may recall that there was a bit of excitement about the fact that some robosigners had such visibly different signatures under their name as to point to probable forgery. A deposition of one Cheryl Thomas provides an explanation:
Deposition of Cheryl Thomas, March 23, 2011
If you read the deposition, you will find repeated references to the activities of "surrogate signers". LPS was so keen to crank out volume in the cheapest possible manner that it wouldn't even add new robosigners. It instead hired temps and had them forge the signatures of existing robosigners: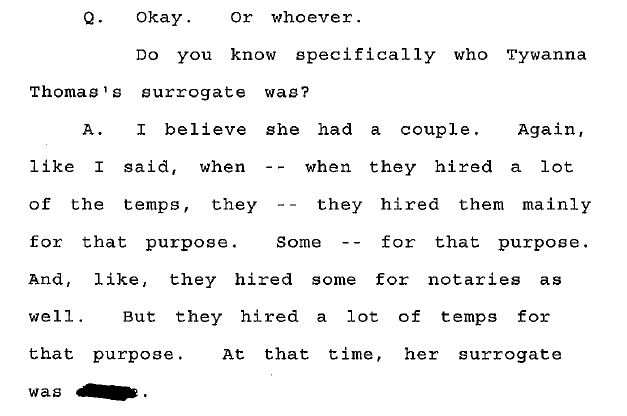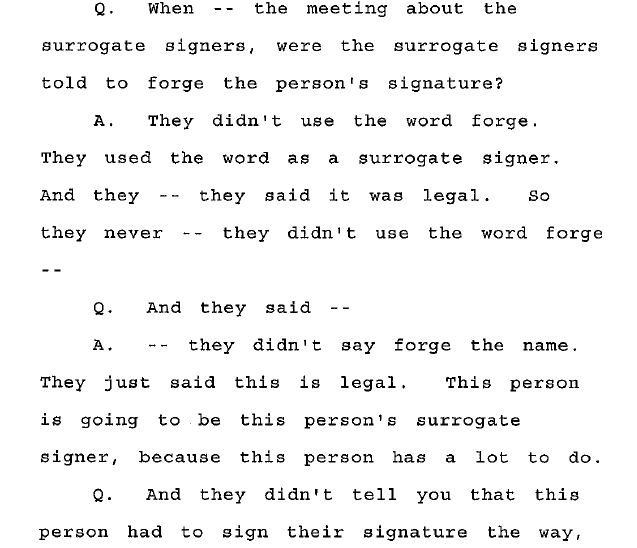 Thomas, who was a notary, made it clear she was skeptical of this procedure but had no say in the matter: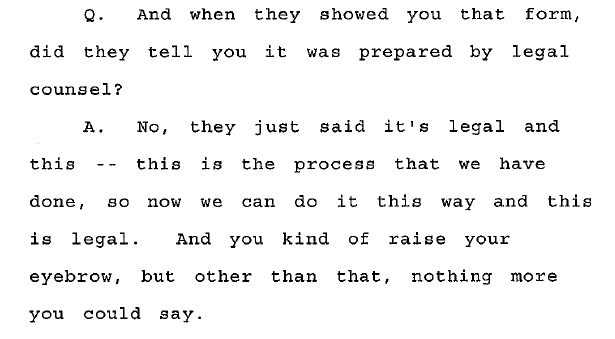 Now the amusing bit is that this isn't the first time we've had mention of this term "surrogate signer". One person who seemed awfully well informed about it back in October was Paul Jackson. Lender Processing Services happens to be Housing Wire's biggest advertiser. Jackson has defended LPS at least twice in editorials, and is reportedly very proud of having "rescued" the company. And we have what has the hallmarks of an anticipatory defense, revealingly using LPS's very own term of art for this abuse. The indented paragraph is from a Gretchen Morgenson story, followed by Jackson's commentary:
On still other important documents, a single official's name is signed in such radically different ways that some appear to be forgeries.

That last sentence does deserve pause, because it refers to allegations that foreclosing lenders quite literally forged loan assignments. As in someone willingly signed someone else's name on a dotted line, and managed to then have that document notarized and filed with the court. We'll call this one the 'surrogate signer' controversy, since every good set of mistakes deserves its own name.
Notice the characteristic Jackson three card monte: he first admits that this practice is forgery, then attempts to depict it as a "mistake". As Thomas' deposition makes clear, this was no mistake but an institutionalized practice at LPS. And so what does Jackson make of this? It's back to the usual "might makes right" argument, this time couched as "deadbeat borrower"
Just how widespread is the 'surrogate signer' problem? Time will tell. Like nearly every story when it comes to foreclosures, however, there is much more here than meets the eye. And should it become needed, I'll take the time to explain this in great detail to HousingWire's readers.

While the procedural gaffes seem to keep getting more and more serious and shocking, it's still debatable whether or not even this newest mess is the sort of thing that actually harms borrowers—meaning that while the bank might have willfully misrepresented a signature on a loan assignment, does that act really harm the borrower who is in default to begin with? Someone, after all, is ultimately in the position to foreclose when payments on a secured loan aren't made.
So here we have Jackson giving a conspiratorial wink and nod to readers, precisely because he's in bed with a major, and probably the only, major perp. And the only standard is whether the borrower is actually guilty….in a court where the servicers, which engage in impermissible application of fees, force placed insurance, junk fees/fee pyramiding, and (via LPS as well as on their own) altering of borrower records (with what kind of audit trails?) are judge, jury, and executioner.
With something as important as most people's important asset, integrity of process is of paramount importance. Casual treatment of real property undermines the very foundation of capitalism, but Jackson has repeatedly established that that is of no matter to him as long as the banks can grind along like doomsday machines, mindlessly mowing down everything in their path in their pursuit of profits. By contrast, in a very different context, someone who is equally out to punish another presumed guilty party is nevertheless insistent that conduct be scrupulous in high stakes legal matters. From former State Department spokesman PJ Crowley in the Guardian:
Earlier this month, I was asked by an MIT graduate student why the United States government was "torturing" Private First Class Bradley Manning, …The fact is the government is doing no such thing. But questions about his treatment have led to a review by the UN special rapporteur on torture, and challenged the legitimacy of his pending prosecution…

To be clear, Private Manning is rightly facing prosecution and, if convicted, should spend a long, long time in prison…. The Pentagon has said that it is playing the Manning case by the book. The book tells us what actions we can take, but not always what we should do. Actions can be legal and still not smart…..

So, when I was asked about the "elephant in the room," I said the treatment of Private Manning, while well-intentioned, was "ridiculous" and "counterproductive" and, yes, "stupid".

I stand by what I said. The United States should set the global standard for treatment of its citizens – and then exceed it. It is what the world expects of us. It is what we should expect of ourselves
By contrast, the actions Jackson has chosen to defend are against the law. There isn't any grey about this. Saying it's trivial is like saying shoplifting is trivial because you only stole a candy bar. That doesn't change the underlying nature of the act. And the stakes here are a hell of a lot bigger than candy bars. This conduct is "ridiculous" and "counterproductive" and "stupid" and "illegal".
Jackson ultimately stands for a two tier system of justice because, as he has declared, "It's all about the money". Little people are expected to adhere scrupulously to their commitments, but per Jackson, for instance, it's no big deal if banks cheat investors by failing to honor the terms of their pooling and servicing agreements. You chip away at the very foundations of society if agreements are one sided and social and business relationships are reduced to the naked exercise of power.
And every time he defends LPS, just bear in mind that Jackson's already told us that his loyalty has been bought and paid for.
.