One of the dangers of framing stories as Manichean tales is the purported bad guys can take offense and try to get even. And if you do it in a book, the threshold for liability is low enough that they might indeed be able to inflict some real pain.
Michael Lewis, author of the bestseller The Big Short, along with his publisher, W.W. Norton and his source Steve Eisman, were sued today in Federal court for defamation by one Wing Chau. In case you are one of the five people in America who is interested in finance but has managed not to read The Big Short, there is a scene in the book in which FrontPoint's Eisman, who is Lewis' main subprime short hero, has asked to meet someone who is on the other side of his trade. That "someone" is a CDO which in practical terms means a CDO manager. Eisman and two of his employees have dinner with Wing Chau, who is the head of the CDO manager Harding. Needless to say, Lewis' account makes it clear that he regards Chau as very much part of the problem.
Now we've written a LOT about CDOs; in fact, our book ECONNED broke the story of Magnetar and demonstrated how its CDO program, which it used to establish a risk-free short position, drove the demand for a large portion of the subprime market in the toxic phase. And we have taken issue with Lewis' characterization of the shorts as heros.; Knowingly or not, the strategy that reaped them billions also distorted normal market pricing signals on a massive scale, not only allowing the subprime mania to continue well beyond its sell-by date but also by actively promoting the creation of the "spreadiest" or very worst mortgages.
Our reading of Lewis' plight is that Chau's claims seem to be a stretch, given that the facts are less on his side than a reading of his suit might suggest. But as we will discuss later on, litigation on books is so plaintiff friendly that even a weak claim can succeed in court.
Normally, to win in defamation suit, Chau must prove that statements were inaccurate (or showed "reckless disregard for the facts") and that they were statements of fact, not opinion. So, for instance, if a doctor went on an expensive junket and then wrote an article in support of a drug made by the company paying for the trip, you could recite the facts and be free and clear. You could add that this appeared to be a conflict of interest or an ethics violation (as in making it clear this was an opinion). But saying he had taken a bribe or was a crook would put you at risk.
Now the "opinion" part seems to be the reason for suing Eisman as well, and by any common sense standard, this is a stretch. The book is clearly Lewis' work and the provocative quotes from Eisman are, well, quotes. Even though Eisman was clearly Lewis' most important source, he was not a co-author or co-creator. So putting them in the same action seems bizarre, but Chau's attorneys seem to want to make Lewis liable for opinions provided by Eisman. Chau might have a basis for a separate claim against Eisman…..but that's above my pay grade.
Oh, and let's NOT forget, you need to prove damages. Here is the guts of Chau's basis for going after Lewis:
As a result of the defamatory statements, Mr. Chau's ability to work in his chosen profession has been severely diminished. Others in the financial services industry have told him repeatedly that The Big Short is a substantial liability to him and a reason investors would be unlikely to invest in venture with which he is associated. He has to explain the book and deny its allegations about him to people in the financial services industry. He has lost business opportunities as a result of the defendant's false and defamatory statements in The Big Short.
While Wall Street does have a proud tradition of people failing upward, I'd be very much surprised to learn that there were lots of opportunities for a CDO manager who put together over $15 billion of deals that blew up in less than 12 months of their creation. The CDO business is dead, as is the private label securitization business. While The Big Short certainly does not help Chau, I'd doubt that his employment/fundraising prospects would be markedly better in its absence.
But how solid is the claim? Superficially, it looks to have enough "gotchas" to put Lewis et al. at risk. But in fact, the most serious looking errors are debatable.
The lawsuit starts with an overly long recitation of Chau's credentials (not sure I've sell his Babson MBA as hard as he does) versus Lewis' (a guy whose previous book on finance was nearly 20 years ago) and additional background. Then he provides what looks like dirt: he makes Chau's professional background sound weaker than it is, states that his fund Harding invested in only in BBB mortgage bond tranches, when in fact it also managed high-grade asset backed securities CDOs (ones consisting heavily of AA and A tranches). And we get this: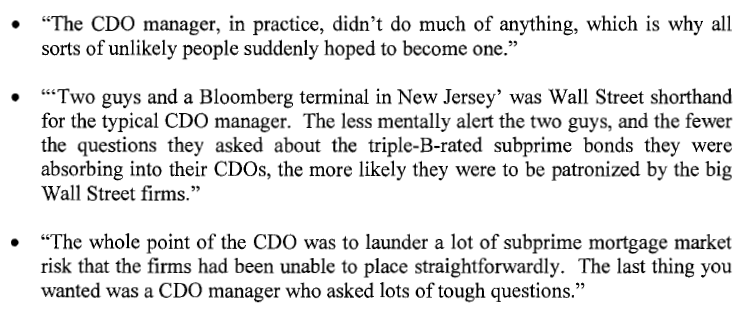 Now this looks terrible and irresponsible, right? Maybe not so good for Lewis, right?
I have to tell you, it will not be hard for Lewis to find buy side investors who would confirm what Lewis wrote. The third point in that list is unequivocally true. In fact, the Goldman Abacus suit last year revealed that Goldman went to some lengths to find a pretty passive CDO manager.
Point one is also accurate. Being a CDO manager was considered an easy sinecure. And the "two guys and a Bloomberg terminal" was used pervasively in the industry to describe CDO managers.
Chau takes issue with the idea that Lewis was implying that Harding was one of those "a couple of guys with a Bloomberg terminal" sort of CDO managers when he had a staff of 24.
Funny, the very first call I placed to a buy side guy about this Wing Chau suit led him to recount his experience with Harding (and note I had not prompted him with the Lewis quote):
I didn't want to meet with them, we took a dim view of the non-institutional CDO managers, and it seemed like a waste of time, so I sent a couple of people on my team. They told me afterwards it was couple of guys and a Bloomberg operation, looked like it was located in a closet at Merrill [the space may have been sublet, but it does appear to have been in the Merrill building], with a bunch of kids. It was clear Merrill was offloading a lot of its deals to Harding.
So it appears some industry participants do not share Chau's assessment of his business' stature pre-crisis.
Chau also objects of statements that he said Eisman falsely attributed to him: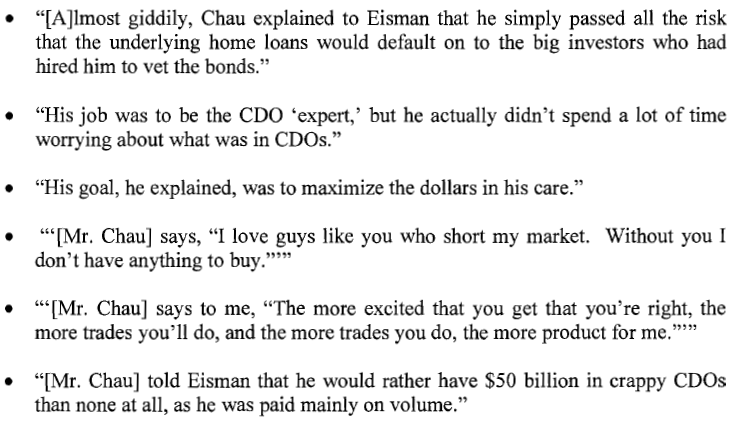 If Lewis has the dinner attendees right, it was Eisman, two Eisman subordinates, Greg Lippman of Deutsche Bank, and Wing Chau. Think Eisman's subordinates aren't gonna corroborate the broad outlines of Eisman's account? Odds are just about zero. Plus, given that Chau was put in the reverse position of his usual stance, of having to sell himself to a short rather than a long, it isn't a implausible that Chau would have tried in the course of the dinner to play up to the shorts and suggest he wasn't too fussy since shorts would not like the idea that a CDO manager was stringent.
Now what are Chau's other main beefs?
Lewis said Harding was number one in mezz CDOs from the time of the meeting (January 2007) to the crash. Chau complains Jody Shenn at Bloomberg concludes that Harding was number two over a longer time frame. Since, Merrill was desperately offloading subprime risk in 2007 and Harding was a major conduit, depending on how you cut the numbers (Wall Street firms make an art form of league tables) Lewis may still be accurate. And what is the difference, in terms of damage to Chau's reputation, between being number one and number two?
From this, Eisman concluded Chau was a front man, handpicked to represent the crooks or morons on the other side of the trade. This was Eisman's opinion, per admission in the suit.
Lewis also says Chau was fat. So is Larry Summers. Who cares?
Now the funny bit is a reader might conclude that Chau is trying to make a case out of being made the poster child for the sins of a mini-industry. But saying that everyone else did it does not make Lewis' statements or his recitations of Eisman's opinions untrue.
Now the bizarre part is that this does not mean that Chau does not have a case. Because books are very long lived, they have far lower thresholds for liability than magazines or newspapers. I went through a legal review for my book, and had to edit a section where I pointed out that an academic had started arguing with survey findings, and in particular accused the respondents of intellectual dishonesty. That's not proper practice; investigators are not supposed to impose their personal opinions on research findings. But I was told that academics loved to sue, and my publisher has had to pay $1 million to settle a case that sounded utterly bogus a year before. My agent (who was normally very good about going to bat with my publisher) told me about a biography of an entertainment industry figure that discussed his drug use. This was well documented; it had been recounted in magazines and newspapers. Yet the author was sued successfully for putting it in his book even though it was factually accurate.
No matter what the merits of Chau's claims are, I doubt we will have the satisfaction of learning how this matter is resolved. Litigation is a hugely expensive process; it is a virtual certainty that this case gets settled with the payment kept confidential. If Chau's side sets its targets too high, the Lewis/Eisman/Norton side might torture him a bit with the most embarrassing discovery they can dream up. But unless both sides decide their manhood is at stake, this will be disposed of behind closed doors.