Matt Stoller pointed out this Bank of America story on Bloomberg, "BofA's Moynihan Said to Press Geithner on Foreclosure Agreement," which has the perverse effect of revealing how desperate the beleaguered Charlotte bank is:
Bank of America Corp. Chief Executive Officer Brian T. Moynihan met Treasury Secretary Timothy F. Geithner to press for a settlement of probes tied to the industry's shoddy foreclosure practices….

A settlement among banks, state attorneys general and the Department of Justice would enable lenders to resolve delinquent loans and in turn allow the U.S. housing market to recover, Moynihan told the officials.

"In the states where foreclosure can take place you're seeing the system unclog and move through," Moynihan said during in an Aug. 10 conference call hosted by mutual fund manager Bruce Berkowitz. "That's different than states where foreclosure is going through very slowly."
Let's parse what is really going on.
First, with Bank of America stock falling 12% last week from the previous Friday's close, down 26% over the last two weeks, and credit default swap spreads widening considerably, Moynihan is desperate for any shred of good news to stem the widely growing (and accurate) perception that the bank faces a crushing wave of mortgage litigation. Yes, BoA probably probably put Countrywide into bankruptcy, but it apparently stripped its two major entities, Countrywide Financial and Countrywide Home Loans, of assets. If true, this is almost certainly fraudulent conveyance, since it was well known at the time of the deal that Countrywide was a sinkhole of liability (your truly inveighed on that issue at the time). That means at a minimum Bank of America will still be in the headlines as to whether and how much residual liability it would have to Countrywide.
Second, Moynihan's statement, "In the states where foreclosure can take place you're seeing the system unclog and move through," bears a lot of scrutiny. Whether foreclosures are "moving through" may be of benefit to banks, who get paid to foreclose, but I have not seen evidence that faster foreclosures help the housing market clear. For a market to "clear" you need to find a price where enough buyers step forward to take up the available supply. Does anyone think that if someone were to wave a magic wand and put all the defaulted properties on sale tomorrow, that hedgies and speculators around the world would snap them up? It took the Resolution Trust Corporation over four years to sell conseratorship assets that that peaked in 1990, and again roughy four years to dispose of receivership assets that peaked in mid 1991.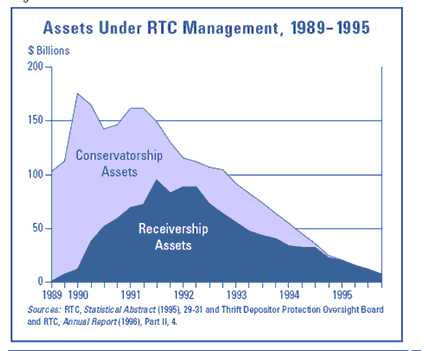 In addition, Congress was very unhappy to be appropriating funds to the RTC and it was under considerable pressure to wind up quickly. Subsequent analyses have suggested that a somewhat more attenuated process would have achieved better value for taxpayers.
In fact, Treasury argued the position the opposite of Moynihan's in defense of its HAMP program: that it was beneficial because it delayed some foreclosures, thus keeping too many from hitting the market at once and depressing housing prices. Indeed, as we mentioned in a post late last week, the evidence is the reverse, that where foreclosures are happening, it is accompanied by serious chain of title problems which buyers won't touch due to the inability to get title insurance (cash buyers don' need title insurance, but that is a much smaller market, and they also seem to be deterred by the lack of a clean title). So how does dumping unsellable properties onto the market help anyone, save allowing banks to collect foreclosure-related fees from investors? As we said, vacant properties are crackhouse futures.
And conversely, the state which with the slowest throughput relative to serious delinquencies right now, New York, is for reasons that have absolutely nothing to do with what an AG settlement would address (and the New York AG is clearly not participating). New York state courts now require plaintiffs to certify that they have taken "reasonable" measures to verify the validity of documents submitted to the court. Now this looks like a belt and suspenders requirement, since lawyers are expected to meet that standard now. But the twist here is the certification requirement makes it easier for opposing counsel to ask that the foreclosure lawyer be sanctioned if something does not pass the smell test (normally, trying to get opposing counsel sanctioned is a sign of very bad taste and/or desperation). And more generally, it is a tough, unified message across New York courts that the judges take a dim view of slipshod procedures when people's homes are at stake.
So Moynihan is trying to imply that it is just the arbitrariness of certain states that is causing his bank grief, when it is the reverse: the states that have a decent proportion of judges that still take the rule of law seriously are where the foreclosure process is grinding to a halt. Even in Florida, with a bank-friendly judiciary, foreclosure filings by banks dropped like a stone in the wake of the robosigning scandal and have not resumed their former pace as banks have tried and not succeeded all that much in cleaning up their "paperwork" problems.
Third, Moynihan is wasting his breath talking to Geithner. Geithner isn't driving this bus.
Remember, when the already-unwieldy 50 state AG effort came together, the Federal banking regulators decided they would get involved, as in coopt them. We noted early on the leader of the AG effort, Tom Miller, was way too cozy with Treasury and was rumored to be angling to become the head of the Consumer Financial Protection Bureau.
But now that the Feds decided to rope in the states, they are stuck with this tar baby. They wanted this grand global pact to "put this all behind them". The Federal regulators could have done a deal on their own in January and have been done with it. Instead, we've been told regularly since then that a deal is "weeks away".
Finally, a state AG settlement buys Moynihan little more than a soundbite. The reason to try to get the AGs out of this type of litigation is first, that AG lawsuits get a lot of press attention, and second they facilitate suits by private parties, both by legitimating them (very important for risk and controversy averse organizations like investment managers) and lower the cost by road testing legal theories and providing information that other plaintiffs can leverage.
The problem is enough AGs are proceeding with mortgage lawsuits against banks so as to render that advantage moot. New York's Eric Schneiderman is moving ahead in a very systematic way, and Delaware's Beau Biden seems to be moving in concert. Massachusetts' Martha Coakley is also pushing ahead, albeit on different mortgage issues. Nevada's Catherine Masto has a major anti-Countrywide suit outstanding that she has no intention of dropping. Karmala Harris in California has nibbled at some foreclosure related issues and may proceed on a broader basis. Colorado's John Suthers is apparently also likely not to participate in the settlement, which means he may file litigation.
Moreover, any state AG settlement does not restrict private parties' rights to sue. It won't stop the $10+ billion AIG action against Countrywide, nor will it bar the various private efforts to derail BofA's $8.5 billion mortgage settlement. And it will not stop borrowers from using chain of title issues to fight foreclosures.
The spectacle of the Bank of America CEO begging for an insider fix to a broad based, multi-headed problem isn't just pathetic, it suggests Moynihan may be in denial as to how deep the rot in his institution runs. He is in the beginning stages of getting an expensive education.