Yesterday, I made a basic point about the financial statements of banks and other financial firms, citing Steve Waldman, who said it better than I could:
Bank capital cannot be measured. Think about that until you really get it. "Large complex financial institutions" report leverage ratios and "tier one" capital and all kinds of aromatic stuff. But those numbers are meaningless. For any large complex financial institution levered at the House-proposed limit of 15×, a reasonable confidence interval surrounding its estimate of bank capital would be greater than 100% of the reported value. In English, we cannot distinguish "well capitalized" from insolvent banks, even in good times, and regardless of their formal statements.
The illustration of Steve's point was that investors freaked out on Monday about an estimate that Bank of America might need to raise $40 to $50 billion in equity. The idea that the market would be surprised (as in not know that and simultaneously regard that figure as plausible) says a great deal about how little confidence investors have in their knowledge of big financial firms.
The debate over Bank of America continued, with Dealbreaker providing another illustration of lack of convergence:
In particular, given the rumors swirling that that BofA is going to be rolled up into the One Bank To Rule Them All, it might be worth checking in with JPMorgan. Their credit analysts have a note out today, and they think the news is so bad it's good:

Sentiment on BAC has become increasingly negative over the past few weeks, and is reflected in a roughly 40% decline in its stock price over the past month, vs. a 15% decline in the S&P 500, and the inversion of the CDS curve. We think it's prudent for management to address concerns in the credit market, which is very stressed, given the inversion of the company's CDS curve. Thus, we are upgrading our rating to Neutral from Underweight. In our view, the pressure from the credit and equity markets is at a point that is increasingly hard for management to ignore. We think this may actually increase the chances of a credit-positive development, such as a capital raise.

They add that "current valuations appear to us to reflect irrationality, rather than the true, manageable, scope of issues facing the company." Valuations such as 445bp 5-year CDS, 550bp 1-year CDS, and oh yeah this:

So to recap, JPMorgan is positive on the credit because they think markets will force BofA to dilute shareholders with a capital raise. Dick Bove is positive on the equity because he thinks that's physically impossible. The markets – I guess they sort of seem to be in Bove's camp, what with CDS at all-time highs and inverted and the stock down just 2% today.
But digging further into their financials does not improve the picture. Consider their Level 2 and Level 3 assets. Remember, Level 3 are commonly referred to as "mark to make believe" and Level 2 are derived using models, but at least some of the inputs are "observable" (click to enlarge):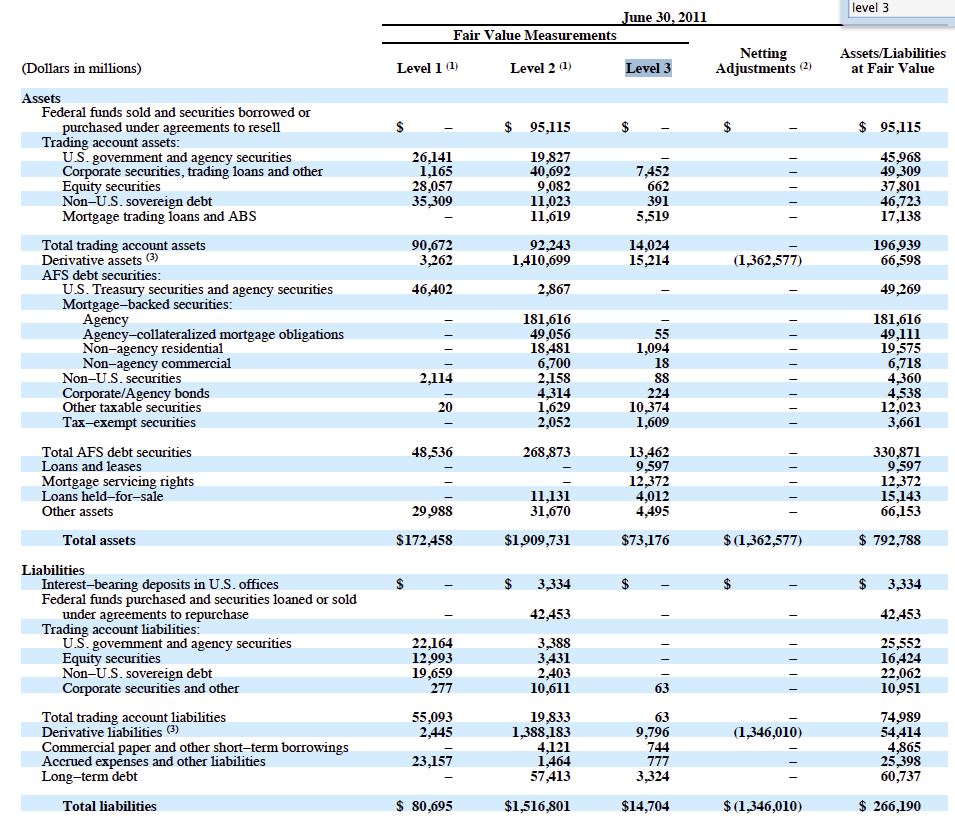 Ignore the derivatives section and the netting adjustment, just look at the asset section, starting with "AFS debt securities". On a roughly $2.3 trillion balance sheet, you have roughly $58 billion of Level 3 assets. I can tell you with great confidence the $12 billion of mortgage servicing rights is worth zero and should probably be reclassified as a liability. I owe you a post on the recent "sales" of servicers, and the dirty secret is they have been dressed up in quite a misleading manner as far as the public is concerned.
And look at the Level 2 assets, roughly $500 billion in the section I highlighted. Ouch.
Now let's get to how BofA is financed. One reader kept hectoring me that the Charlotte bank has a trillion dollars of deposits. Wellie, it has an over $2 trillion balance sheet, and the part that is not funded by deposits isn't all funded by equity, so that assertion about deposits does not mean they are as solid as Gibraltar.
Let's look at their funding, per their most recent Y9 (click to enlarge):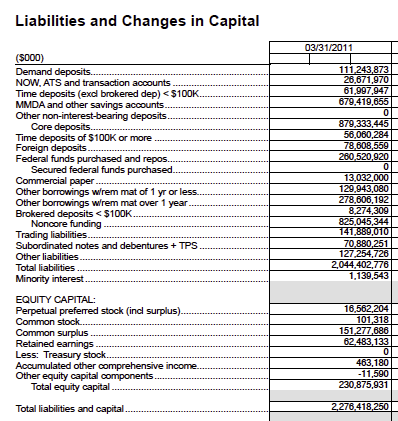 First, they don't have $1 trillion in core deposits, it is under $900 billion.
Of the non-core deposits, I'm not as worried as repo as I might be, since repo these days seems to be pretty much entirely Treasuries and agencies, and increases in haircuts will probably be the result of volatility (and that has already happened to a degree). The categories that might have some flight risk are trading liabilities ($142 billion), borrowings of estimated maturity of less than a year ($130 billion) and commercial paper (a trivial $13 billion).
Now bank defenders will say that post the crisis, all the banks have much bigger liquidity buffers, usually now measured in months, not weeks. True, but consider: how long was Lehman on the ropes? It was months. When Bear went under, everyone knew Lehman was next on the list, since it was a bigger version of the same bank. Lehman failed almost exactly six months after Bear. It hung in the breeze because no one knew what to do with them. Don't underestimate how long BofA could twist in the wind if management doesn't succeed in restoring investor confidence. Second, WaMu was much more heavily deposit funded than BofA, and it suffered a bank run. Don't think large banks are necessarily immune to runs.
Amusingly, BofA took issue with my post yesterday, but they didn't contact me. Instead, they hectored Henry Blodget. Rather weird and frankly a bit cowardly, since Charlie Gaparino was quite able to find and yell at me on the phone within a couple of hours of my saying bad stuff about his positive coverage of Lehman in 2008.
Now the most interesting part is not what they disagreed with, but what they tacitly admitted to. I wasn't doing a valuation, merely pointing out some items on their balance sheet that investors might question. One was second liens, which I suggested might need to be written down by $48 billion or so. Not a peep on that one. Nor did they push back on saying some, perhaps a lot of their $78 billion of goodwill might have air in it (that might be less sensitive, in their opinion, since they have taken to focusing on tangible common equity, which is also what US regulators have taken to emphasizing. But historically, investors care about book equity too, after all, when someone pays a merger premium, investors like to think they got value for money).
On the two items they objected to, one was on the question of their Eurorisk. My comment based on what Bank of America said in its recent Fairholme conference call. So while they do have a "gotcha" here, it is a bit churlish for them to make a mistake or have an inconsistency in their investor presentation and then charge people who rely on their statements with making an error.
I said that the conference call gave a figure of $17 billion of European sovereign exposures and claimed it was hedge (I expressed my skepticism as to how good those hedges would prove to be in a crisis). From the transcript:
The area that's drawn the most attention are obviously the countries of Greece, Ireland, Italy, Portugal, and Spain, and going back to the first quarter of 2010 as we started thinking about sovereign debt and sovereign exposure, as Brian alluded to, we took a hard look at the types of risk that we were taking and focused very much to make sure that we were comfortable to the extent that there was a prolonged period where this went on, and if you look at our 10-Q, I think that the most telling thing that we can speak to is, within that region, we had $16.7 billion of exposure. Of that exposure, roughly $1.6 billion of it was to sovereign entities and we had credit default protection on roughly $1.5 billion of that $1.6 billion of exposure.
You can see Thompson said they have $16.7 billion and then said they have $1.6 billion. The 10-Q clarifies matters (click to enlarge):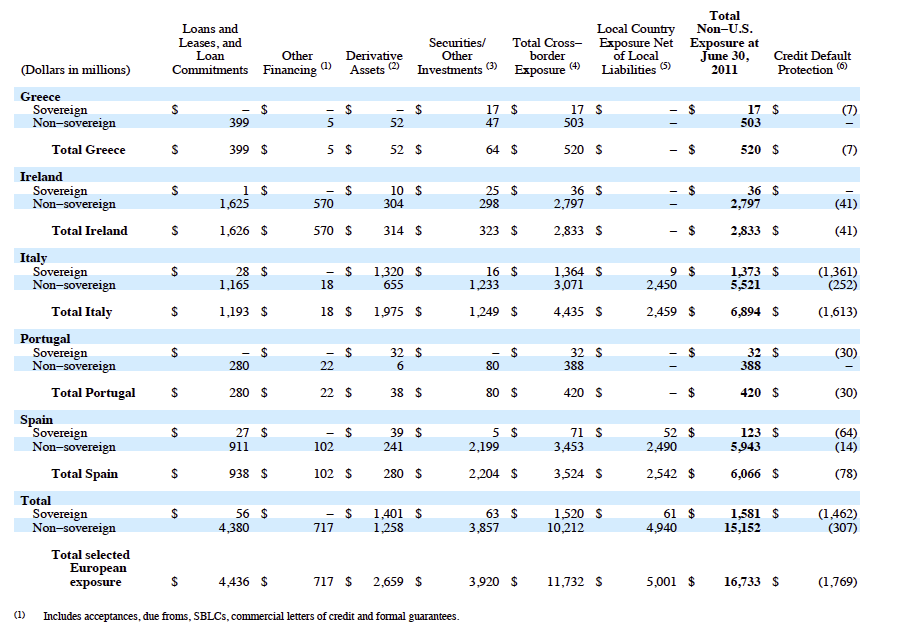 But consider the question I raised originally: this is PIIGS only. As we know, the big risk is of exposure is to banks, and even more so the banks in the big creditor nations, France and Germany. And Belgium is also at risk. So the numbers BofA provided, as I indicted in the earlier post, are pretty incomplete. (There is also a potential secondary issue, in that these figures do not include unused lines of credit. Anyone can hit an unused LOC. These amounts can change big time, and quickly. AIG did draw down all its backup lines before it was bailed out, every last one. By contrast, Bear has huge unused backup lines from Japanese banks, my Japanese bank friends tell me they are astonished Bear did not draw down on them.)
I do have a bona fide stuff up. I read the Y9 reports to get various balance sheet items (I prefer Y9s because they provide margin info and are reported on a consistent basis across banks) . As you an see from the extract above, they are in itty bitty type with dense lines and I scanned incorrectly across the line. Aargh. The commercial real estate average balance for the first six months of 2011 per their 10-Q is $47 billion. This is very embarrassing and I am truly sorry.
But even making that correction, you can see it does not change the overall picture much. There are so many open questions about Bank of America that investors have good reason to be cautious. And the opacity of bank statements and the concerns around how quickly valuations can change means worries are not necessarily ill founded.