As readers know all too well, the very short story of the financial crisis was consumers and banks went on big borrowing party and it all ended really badly, except for the banks.
However, banks built their businesses with the expectation that consumers would continue to rack up debt. But consumers aren't too keen about that any more. Moreover, banks have also gotten a bit of religion and are more careful with extending loans. Since they aren't making as much money on consumer lending, their natural impulse is to find other ways to fleece obtain more revenue from consumers.
We pointed out that Bank of America is determined to preserve its egregious debit card profits, and is circumventing the intent of recent legislation by charging all but reasonably profitable customers a $5 monthly fee for any debit card use (save at a BofA ATM). We hope customers will leave in droves.
We noted that Bank of America no doubt hoped that this move would serve as a bit of price leadership and other banks would follow. Citi apparently decided that the debit card fee was a smidge too obvious and it would try another route.
Reader Deloss alos told us, via e-mail, taht Citi has increased its balance requirements for free checking:
For what it's worth, there was a discreet notice on my online Citi page announcing that either I had to raise my minimum balance from $10,000 to $15,000 or I had to start paying $20/month plus various other fees.

I called to check and yes, that is the new policy.

BoA is merely out in front.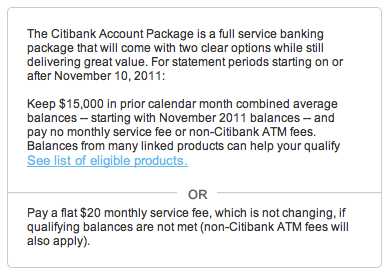 The Los Angeles Times (hat tip Dave Dayen) reported on this change:
Citigroup Inc. was notifying many Citibank customers that they soon would have to start paying for their checking accounts unless they maintained significantly higher balances.

Letters are going out across the country alerting Citi customers of account changes, said the bank's retail banking chief, Stephen Troutner. In many cases, that means customers will have to maintain fatter balances to avoid fees, although Troutner said a basic account option makes dodging charges easier….

That has caused major banks to impose a variety of new customer fees, although the exact formula varies. Citibank, for example, decided not to impose "usage" fees such as the $5 a month that Bank of America, starting next year, will charge most customers who use their debit cards to purchase goods and services.

"We conducted extensive surveys with our customers, and no one wanted to pay to use debit cards," Troutner said.
The LA Times story also notes that many customers are not taking these new charges sitting down:
One day after announcing the new debit card fee, Bank of America was inundated with visits, calls and emails from customers….

Cheryl Holt of Burbank said she received one of the Citibank letters this week saying her old account with the bank, a so-called Easy Checking Package that had always been free, was being replaced in December with a new account package with a $15 monthly fee or $6,000 deposit minimum.

That sent Holt, a self-employed writer with a son in college, out to move her accounts to the Burbank City Credit Union, which has free checking and free debit cards.

"Should have done it years ago!" she said….

In imposing the new fees, the big banks are "playing with their futures," said banking customer-service consultant John Tschohl of the Service Quality Institute.

Tschohl pointed to Netflix, which lost nearly $10 billion in stock market value after surprising customers with a new pricing structure that added as much as 60% to the bills of people who watch both DVDs and online video.

"When you become arrogant and start acting like a monopoly," he said, "it will come back to haunt you."
It's a little late to depict banks as being at risk of "becoming arrogant". But maybe the blowback from these fee increases will make the big banks realize that they can't push consumers around as easily as they can the government.