By lambert strether. Cross-posted from Corrente.
8:50AM Oddly, or not, a Google news search on #oct15 yields no useful hits at all (nifty promotional video for same). So let's check what turned out to be the semantic web, twitter. No, let's not. Let's do the ADD thing and read the Onion:
Nation Waiting For Protesters To Clearly Articulate Demands Before Ignoring Them. Or bribing them. Or gunning them down, heaven forfend, those bright, often young, smart, funny, earnest people. OK. Back to work. After my coffee. Slurp.
* * *
So, some quick coverage before. Slurp. Heading out soon to button up the garden and then stack the wood.
9:22AM Reuters:
Demonstrators worldwide shouted [Why, they are almost like out of control children who need a timeout! Reuters, you can do better than this, surely] their rage on Saturday against bankers and politicians they accuse of ruining economies and condemning millions to hardship through greed and bad government. [So what's their point?]
Yeah, Jeebus, who'd be mad about a little thing like that? Move along, people, move along. There's no story here. Srlsy, the "rage" trope, which the usual suspects habitually deploy against the left — even though, typically, the left doesn't advocate, let alone practice, "open carry" at its events — is a consequence of lazy journamalism.* The real story at the Occupations is not rage, but relief and above all, joy, partly from self-organizing, and partly from the "opening out" of public space for use by the public. Do the occupiers resemble post-modern flaneurs?
Anyhow, check the Reuters story for more #Oct15 cities: Rome, Auckland, Sidney, Tokyo, Taipei, Paris, Athens, Frankfurt. To name a few.
* * *
9:36AM Here's what looks like a useful site organized by country, though I can't claim to have curated it. (I'm always a bit leery of sites that look a little too buff, because I wonder who's funding them or whether there is marketing again. Old school paranoia! Then again, all these bright young people are good with the intertubes. Or at least with WordPress themes!)
* * *
Julian Assange now speaking at the Assembly #occupylsx #globalchange
9:44 AM Assange, whatever else he may be, is a celebrity, and I'm two minds about all celebrities becoming involved in the Occupations, even [genuflects] Michael Moore, because celebrities tend to get the stack popped until they're on top of it. Nevertheless, LSX is just as belly of the beastly as the NYSX, so this will be an interesting story to follow.
I've got to go greet my fellow gardeners now. Backson. Readers, please add your thoughts (and links) below! And if any of you are attending #oct15 events, please share the experience! It occurs to me. Slurp. That I never did find a general explanation of what #oct15 was about. Who are they? What are their demands?
* * *
10:32AM Kettling at Saint Pauls, #OccupyLSX:
Good natured rally on the steps of St Paul's but police now encircling area in what appears to be a kettling operation.
Not sure why the difference in tactics and outcomes in London vs. Wall Street. Surely both cities are urban canyons?
* * *
12:20PM True (almost?) everywhere:
Staff in shops/restaurants within kettle ignoring Met 'advice' & allowing ppl to use toilets, get tap water, etc #occupylsx
12:22PM Talking point, from Assange, propagating (hope the Japanese characters display):
アサンジ:このムーブメントは法律を壊しているのではない。法律を作っているのだ。"This movement is not about the destruction of law, but the construction of law." #OccupyLSX #OWS
True, that.
Much more shortly. Gardening and firewood are my personal hedging strategies against Big Food and Big Energy, respectively. Sorry, but and besides, gardening is a self-disciplinary charkha.
1:15PM Via (FB), Italian agent provocateurs fomenting violence in Rome? Repubblica: (Occhiali scuri ed impassibile. L'uomo appoggiato al muro della banca guarda un gruppetto di black bloc distruggere la vetrata della banca Carim in via Cavour ["Dark glasses and impassive. The man leaning against the wall of the bank looks at a group of black bloc to destroy the window of the bank's Harim in Via Cavour"]. Hmm. Click the red circle in the photo for what could be an earbud, too.
If you've got the right plugins, there's a ton of videos from Rome at Il Repubblica.
* * *
1:26PM AP round-up. Rome, London, Brussels, Frankfurt, Berlin, Cologne, Munich, Vienna, Zurich, Sidney, Tokyo, Manila. Impressive.
1:31PM Via alert reader wendy davis, the continuingly excellent Guardian live blog covers #OccupyLSX (if only we our provincial dailies in New York and Washington were so good), and finally Al Jazeera English. Just a hint to the AJE editors: A live cam from a high place at Zuccotti Park, just as at Tahrir Square, would not go amiss.
1:39PM Readers, if you know of other live blogs from the ground that cover the Occupations, no matter where, will you post them in comments? Then I will repost here. Spanish voices in the Paris occupation; interesting. [UPDATE Other blogs: The Confluence; FDL, where Kevin G has been doing great work.]
1:54PM Uh oh? Via CO11MetPolice Metropolitan Police
St Paul's Cathedral need to prepare for its Sunday services. We advise anyone outside St Paul's to start leaving #occupylsx #occupylondon
Cf. Matthew 21:12.
2:03PM Tents going up at #occupyLSX (via eDahms).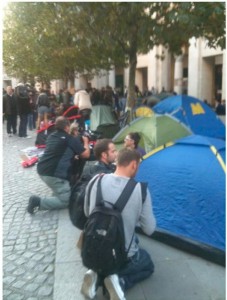 See, the point of Occupations is to occupy. From the Barcalounger: I wonder if tactics need to be different when tents are along the street, as opposed to being in a square or park.
2:16PM Last of the tomatoes. And mozzarella. Sigh. Here is the Guardian's wrap-up of OccupyLSX:
In London about 1,000 protesters massed outside St Paul's Cathedral in a bid to occupy the London Stock Exchange in the nearby Paternoster Square. But the square was closed off by police and private security and the demonstration remained focused on the steps around the cathedral after attempts to enter failed. Police moved in to kettle the crowd and three people were arrested.
I note that this contradicts the encampment photo above. I guess I'll have to go check that out!
UPDATE ON #OccupyLSX 2:38PM Looks like the square is surrounded but occupied. From Tim Hardy:
[Tim Hardy]#OccupyLSX enough people now holding space it seems. Police far more relaxed now
And:
[via] #OccupyLSX police scrolling sign "This containment is to prevent a breach of the peace" in front of hundreds of people dancing, chatting
And via Steven McLain:
Nooo. Everyone partying and wandering about. Crowd patchy. Police could move. Stupid. Sit together! #occupylsx
So, from the Barcalounger, "kettle" doesn't seem quite right. I wonder if there are food vendors around? If the food vendors leave, is that a sign the cops are going to move in? Rather like when small animals sense the approach of a predator?
Another excellent and dynamic map, using the open source OpenLayers, and not GoogleMaps.
2:50PM A happy result of fraternization (Non-Violent Method of Protest And Persuasion #33), or a tactical memo from the higher-ups?
[via] Despite the kettling and some harassment of protesters today at #occupyLSX, most police chatting to protesters were sympathetic of aims
Or both? Nothing wrong with a little slackness, sometimes…
* * *
2:54PM Daily Mail (!): "Tents now being put up in the Square Mile."
* * *
3:04PM Let's see if WP is happy with live feed embed code from what looks like the steps of Saint Paul's. (being served from elsewhere, so NC's servers shouldn't be brought to their knees). Broadcast started, local time: October 15 2011 20:36 Europe/Stockholm… Looks like a GA?? Using the people's mic? Damn, wish I could embed this. Go here! Terrible quality, but if like me, you've never been to a GA, now's your chance! Normally, being a WASP, I'd never experience, let alone express, a surge of emotion, but….
3:22PM Anybody going to the party in Times Square at 5:00pm this evening? I'm really enjoying the image of Izvestia's Pinch Sulzberger looking down from on high on the party from his (no doubt) lavishly equipped executive suite, from which he sallies forth daily to destroy his once-great paper's reputation with dis- and misinformation campaigns that rot the minds of those behind his pay wall. Yes, rather like one of the grey-colored Soviet apparatchiks looking down from the reviewing stand at the signs of incipient collapse, or, to pick an example from yet another sclerotic rentier state, Marie Antoinette looking down from her balcony in Versailles at the canaille…. Oh, forgot the purple patch alert. Sorry. UPDATE: Earthcam of Times Square (via).
Irony alert! Izvestia:
"The irony is that this place represents in many ways the epitome of free-market capitalism," said Tim Tompkins, president of the Times Square Alliance. "But [and by "but" we mean "and," right?] its transformation is due more to government intervention than just about any other development in the country.
"Free market?" Stop it, you're killing me!
* * *
3:40PM Another useful map.
* * *
3:35PM The "turned violent" trope in action. I hate that one; there's no agency. Why the turn? Who turned? Who was turned? Who did the turning? Quiet men in sunglasses and earbuds? And so forth. "The weather turned cloudy." La la la, nothing to see here.
4:26PM Via:
#occupylsx still going strong, assembly meeting 12pm Sunday at st Paul's #globalchange
4:33PM Rome: Consensus Big Media narrative seems to be that the events — not even sure if it's an occupation, where's the GA? — were infiltrated by "black clad" militants who caused the violence. AP has the same narrative, which is a narrative, because I don't see any attempt to quote or interview the militants. In fact, I don't see any sourcing at all. So who the black clad militants were is unknown. Bultigaya? Anarchists? Football hooligans? All or some? And the framing also seems to be rioters vs. protesters, a false dichotomy, since occupation matters more than either protesting or rioting. But hey, Violence is photogenic, bleeds, leads, and so forth. Reminds me of the coverage of the London riots, where the same closely cropped photograph of the same, rather small, burning building ran over and over and over again. Sure, a real story with real impact, but let's not get ahead of ourselves, mkay?
5:03PM More on Rome violence. At least according to Bloomberg cited by the SF Chronicle, the number of "black clad" whosises was… 500. And from the FT, the violence started when a group of about "30 to 40" men torched SUVs along the march route, attacked a bank and a supermarket, and torched some of those flags hotels fly where the limos pull up. Al Jazeera says "several dozen" who broke away from the main demonstration. 30 or 40 is not very many, is it? Baltigaya? Were they wearing sunglasses and earbuds?
4:52PM Big Media begins to grapple blindly with horizontal scaling: "How does a group like Occupy Wall Street get anything done?". Amazingly, or not, the article quotes a management consultant, a clinical psychiatrist, and one of those guys whose inspirational works you see in the "Management" section of bad airport bookstores, but doesn't even cite to the occupier's own materials. Down with the ship!
* * *
5:36PM Arrested for trying to close their account at Citibank (hat tip, MsExPat). That's pretty appalling. What next? Arrested for not putting money into your account? Though I guess that would solve the aggregate demand problem. One way or another. YouTube here.
* * *
5:52PM Chat room (with live stream) for #OccupyWallStreet and for "Global Revolution" (Times Square, now).
6:30OPM My favorite quote today:
James, 32, a protester [Occupier] from south London, said: "The [general] assembly that started here today is based on a methodology that's been going on inspired by the May 15 movement in Spain and is being employed by the occupy groups all over the world now.
Exactly. A method.
* * *
6:43PM Best Japanese sign: "Let's Complain More."
6:36PM Latest from #occupyLSX, Via JoshAJHall:
Back at #occupylsx. Weird atmosphere, like no one knows quite what to do. 30ish tents up now.
And:
Small groups can still come and go at #occupylsx.
And:
Discussion on the human mic going on about whether to move off steps. Wifi arriving in half an hour! #occupylsx
And:
Police seem relatively calm atm but people look really underequipped/unprepared to resist if they try to clear it. #occupylsx
So, interesting. Bottom line for now is that LSX is occupied, with tents set up, a General Assembly in action, and WiFi coming. I have to go do some insulation now, so I'm checking out. We'll see if the Met decides to clear the square, say at 4AM London time, about four hours from now.
6:53PM But, uh oh?
And…..now all the lights have been switched off #occupylsx
7:06PM Shift change, or something more? Still JoshAJHall:
On the stroke of midnight, a big new column of police arrive on the steps #occupylsx
Guess I'm not putting up that insulation!
7:29PM Looks like a shift change, via (#OccupySLX media person?):
Riot squad have left. Just regular met remain #occupylsx #occupylondon
7:49PM And:
Live stream and media tent set up www.livestream.com/occupylsx #occupylsx #occupylondon
Best defense against an assault from the state: Shining light on it. I'd dearly love to know whether they've got a generator and, if not, how they're powering their equipment when surrounded by police. Zuccotti Park and Tahrir Square, let alone Puerto do Sol (which was backed by a Spanish WiFi magnate) seemed a lot more porous than the area around St. Pauls. (And "the steps of St. Pauls…" If you've ever been to London, could you or anyone have imagined this would be happening there? Amazing and unbelievable.
8:18PM, Thomas Ryan, #ows snitch. Gawker has the sordid detail. Of course, this is expected behavior; it probably makes sense to assume infiltration, undercover cops, and legacy party ratf***ing, and just be open and transparent, eh? I mean, as long as they pay me to mine my data. Oh, wait… Anyhow, revolutionary cells are so twentieth century!
8:34PM Fine report from the Montreal Gazoo. 400 staying overnight in Victoria Park, temp 11& degrees C. But where's the Rhinocerous Party?
8:43PM A very good question: "Where were the clergy of St. Paul's?"
Standing in solidarity with those protesting the impact of injustice and greed on the innocent and vulnerable would seem to have been the obvious course for followers of Jesus. As would opening the cathedral doors to offer shelter from the night air and sanctuary as violence erupted. The presence of clerics might well have defused the situation – Met officers would presumably be aware of the kind of publicity which would result from raising their batons to the Dean or hurling members of the Chapter down the steps of their own cathedral

There is no suggestion that the protesters presented any threat to the fabric of the cathedral or were behaving in anything other than a non-violent manner. Their cause is essentially a moral one with which the church could have no possible quarrel. That it apparently did not recognise this is a cause for sorrow.

An opportunity to witness to the way of the rabbi who threw the money changers and traders out of the temple was lost. It seems that the caution of Establishment has once again obscured his radical message.
What's wrong with this person? Anyone would think she regarded the church as some sort of sanctuary!
* * *
8:52PM My question on whether #occupyLSX has a generator is answered:
There's a request for petrol for the media centre. RT and let me know if anyone can drop some off #occupylsx #occupylondon
So how do they do that? Get petrol in? Air drop?
9:04PM A handy list of #occupy live streams.
9:15PM Anonymous money manager, of Schumer (D) and Gillibrand (D) , and why they haven't come out swinging against the Occupiers: "They need to understand who their constituency is." Exactly.
* * *
11:24PM First Stiglitz, then MMT. Note the hat: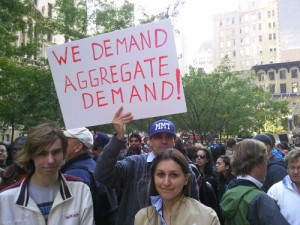 * * *
1:42AM Holy Communion at St. Paul's is at 8:00AM BST, says the Beeb. I'm guessing that if the Met wanted the Occupiers out by that time, they would have moved by now. So I'm signing off.
10:09AM Sunday. Update on OccupyLSX:
St Paul's deacon happy for assemblies to happen during mass. The word used was "co-existence" #occupylsx #occupylondon
Unfortunately, St. Paul's won't sell the Occupiers electricity, so they've got to keep using their generator. Isn't that covered by Luke 10:25-37?
Anyhow, two of the financial centers in the Western world now have Occupations in their midst. Tents are set up, General Assemblies have been held, and media center[re]s, complete with generator and WiFi, have been established. I believe that the average winter temperature in London is around 40 degrees Fahrenheit. So. A state of affairs that is not without interest.
NOTE Also, on #ows, Global Guerillas is running a nice series on "Back Door" Bloomberg and the Occupiers. Here he scores Round One. Tactical-minded, but nothing wrong with that.
NOTE ** Our famously free press also consistently reinforces the top 1%'s view that debt, rather than aggregate demand, is the problem. Any occupier who uses the "government is like a household" trope gets quoted!