The New York Times (hat tip Mary B) took note of a seamy JP Morgan effort at brand burnishing:
In a gambit to promote its charitable work — and maybe polish its image, which has suffered since the financial collapse in 2008 — JPMorgan Chase is financing and sponsoring the "American Giving Awards," which will be televised by NBC on Saturday night. The two-hour show, with Bob Costas as host, will profile recipients of Chase donations, will be book-ended by Chase commercials and will regularly remind viewers that the whole event is "presented by Chase."…

It's a "'greed-washing' campaign to score P.R. points," countered Lisa Graves, whose publication "PR Watch" investigates company public relations campaigns. The $2 million in donations that will be featured on Saturday "are a drop in the bucket compared to its ultra-lush benefits for bankers who profited richly from the swaps that undermined our nation's financial security," she said…

The five charities to be feted on Saturday have already benefited from Chase's largess without a television extravaganza. Over all, the bank says it gives away $150 million a year; more narrowly, through a program called Chase Community Giving, it has been giving money and visibility to small charities across the country for the last two years…

Five charities that received money from Chase in the past were selected to compete in public for a new $1 million grant, with voting happening via Facebook. The winner will be revealed on the telecast Saturday; the other four will receive smaller grants.
Chase claims this show is to raise the profile of the charities and help them raise more money.
The problem is that any argument that this JP Morgan TV extravaganza has much to do with altruism fails when you do the math. JP Morgan is touting $2 million of spending. If you are serious about giving to charities, one of the very first things you look at is the efficiency of your donation. You get the charity's financial statements and look at how much money goes to the cause, as opposed to fundraising and admin.
I'm not current on TV advertising rates (they were $110,000 per 30 second spot in the first quarter, and that is the weakest period of the year for ad spending). JP Morgan bought eight 30 second ads. Even if we assume JP Morgan got better rates than that (Saturday is a low viewership night, and they probably negotiated some sort of volume discount on top of that), the cost of buying airtime was large relative to what went to the charities. And that's before you get to the expense of producing the program.
And let's not forget, quite a few JP Morgan employees will get compensation in excess of $2 million this year. It would be more straightforward for JP Morgan to do a prime time TV show about why they think that's warranted, since increasing pay levels appears to be every large banks' prime directive.
It appears the entire financial services industry is on an advertising kick, this in a year when profits are flagging. I wonder how much of it is defensive, image-burnishing spending.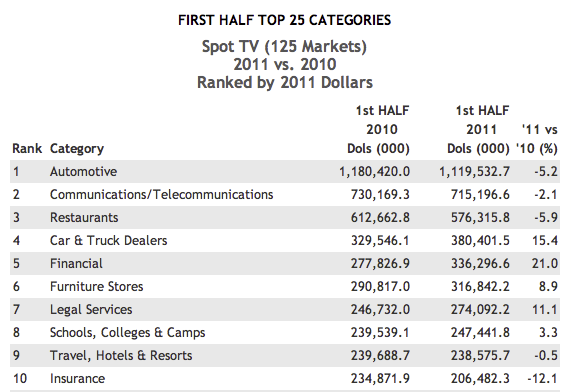 Now this sort of "let's really pretend we are doing something other than PR" messaging is taking place on multiple fronts, as Dave Dayen reminded us last month:
I wrote a piece for The American Prospect about something I dubbed "camo-washing," an effort by big banks to prove their attentiveness to the foreclosure crisis by going out of their way to compensate military families for violations of the Servicemembers Civil Relief Act. These violations included egregious behavior, like moving to foreclose on active duty military while they served overseas in combat. And the banks moved swiftly to deliver mounds of restitution to those military members and the entire military by extension, promising to hire veterans and giving out free homes to those wronged by the scandal. As I said at the time, "Banks are hoping that by compensating members of the military for improper foreclosures, they can boost their public image and avoid responsibility for the broader foreclosure crisis and the truckload of violations committed against civilian borrowers."
JP Morgan rolled over early on, as Dayen noted in his story, "JPMorgan Settlement Continues Their Persistent Attention to Just One Type of Foreclosure Fraud" (if you want to see another type, read "How Chase Ruined the Lives of People Who Paid Off Their Mortgages" for an example):
So in the final analysis, not a single military member lost their home, those that were wrongfully evicted got their home back free and clear, and those ripped off got all the money back for their ripoff plus thousands more, and a reduced interest rate, and maybe a job..

All of this underlines the extreme measures JPMorgan is taking to rectify the situation with wrongful foreclosures of active duty military. And it also underlines the fact that next to nothing is being done with all the wrongful foreclosures on everyone BUT active duty military. The banksters aren't stupid. They know that the military is one of the few institutions left in this country with a modicum of authority. They can screw over virtually every other customer they have, but when they extend that to active duty service members, they must bend over backwards to make it up to them.

This is a well-executed strategy by JPMorgan and other banks to mollify military personnel, in the hopes that nobody will notice that the same practices employed against them extended to everyone else who has a mortgage with them.
So having done right with one customer group because there were serious ramification if the bank didn't make amends (violations of the Servicemans' Civil Relief Act are criminal), JP Morgan has the nerve to tout how nice it has been to soldiers. This is an ad you apparently see if you access a Chase account online, and I'm told similar promotions are running in the media: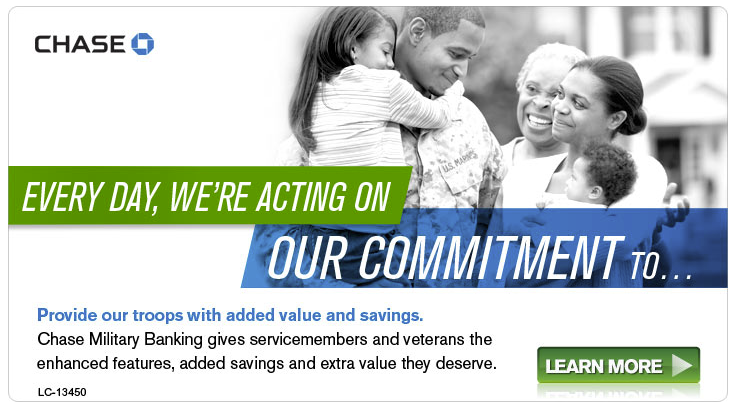 JP Morgan should be ashamed of its conduct towards servicemen. Instead, it is trying to spin actions it took only after being caught out and facing serious consequences as proof of its munificence and public mindedness. It's tantamount to Big Tobacco trying to pretend in the wake of its landmark settlement that it cared about the health of smokers.
One of the basic principles of marketing is that fundamentally misrepresenting your brand in your advertising messages will ultimately backfire. JP Morgan will prove to be a case study of how long it takes for that to occur.