Normally, screwed up plane rides are just screwed up plane rides, but mine on Sunday evening had some novel features. This was a LaGuardia to Birmingham flight on a Delta regional jet. That means you take a bus from the terminal to the plane and climb up steps.
We were on a close to normal sized airplane (unheard of for this route) and somehow, the stairs were set too high, which meant that as the plane got full of people, the door rested on the stair. They were afraid of pulling the stairs away, lest they damage the door. So they had the first eight rows deplane and sit in the bus so as to lighten the plane enough that the door might clear the stair. Whatever they did next damaged the door anyhow.
The rumor from the stewardesses is that there is no other airplane for us. Zillions of efforts to close the door (note the first eight rows are still on the bus) followed by maintenance people coming, more shutting of the door (all with clunking which sounded even to me not quite right) and shining of flashlight on the door. Then the senior maintenance guy comes, supposedly to bless the fix. He leaves and the people on the bus get back on the plane. We think something is about to happen. We get an announcement that the maintenance supervisor took pictures of the door and is getting them approved by someone higher up, which the pilot treated as good news. That was when I was pretty certain this plane was not gonna fly.
A while later, we see the co-pilot put his outer coat on and leave. A bit after that, we are told the pictures have to be reviewed by the airplane manufacturer in Brazil, and they now think we will get out faster if we get into a plane two planes down. But this being LaGuardia, we can't walk, we have to get a bus. Said bus takes us to the terminal, has us get out, then the driver realizes he screwed up and gets us back on the bus. Then we drive back to where the planes are and sit on the bus for quite a while as the refuel the plane. Finally we get on. They did give us a free drink for the trouble.
Girl threatens to kill Santa and cook his reindeer if he doesn't deliver Justin Bieber on Christmas
Neti Pots Linked to Brain-Eating Amoeba Daily Beast (hat tip Buzz Potamkin)
Deer stalkers attack 'immoral' cull by bounty hunters Guardian (hat tip Buzz Potamkin)
Growth of large private water companies brings higher water rates, little recourse for consumers American Statesman (hat tip reader Aquifer)
Keelan: The anti-ethanol uprising Bennington Banner (hat tip reader Aquifer)
How Facebook Can Hurt Your Credit Rating PC World (hat tip Lambert Strether).
Oh, for an Alexander Hamilton to save Europe! Ronald McKinnon, Financial Times (hat tip reader Swedish Lex)
Paris and London go toe-to-toe MacroBusiness
UK will fare better in this Anglo-French spat Wolfgang Münchau, Financial Times
Leveson orders inquiry into hacking exposé Financial Times (hat tip Buzz Potamkin)
Tory MP who attended Nazi-themed stag party loses ministerial aide post Guardian (hat tip reader Buzz Potamkin)
North Korea's Kim Jong Il Dies Bloomberg
Will China Break? Paul Krugman, New York Times
Protest in Wukan Understanding Society (hat tip Lambert Strether)
"Vietnam Ambush": A Cautionary Tale Truthout (hat tip reader May S)
Study: Nearly 1 in 3 will be arrested by age 23 USA Today (hat tip Lambert Strether)
Boehner casts doubt on US stimulus deal Financial Times. So he's retrading the deal? Charming.
Occupy Madison GA Endorses Solidarity Sing Along Standoff Daily Kos
How Business Schools Got to Be the Way They Are David Warsh (hat tip Lambert Strether). David MacKenzie in his An Engine, Not a Camera, tells a somewhat different story.
This slump won't end until 2031 MarketWatch (hat tip reader May S)
Pay gap a $740bn threat to US recovery Financial Times. Ahem, we discussed the underlying phenomenon in 2007
Antidote du jour (hat tip reader furzy mouse):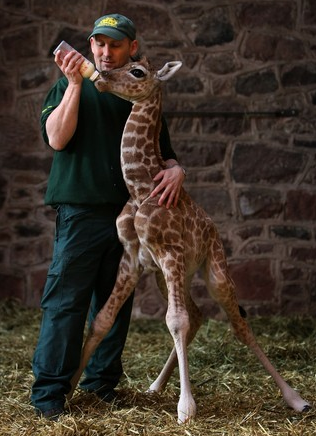 Most babies measuring 5 ft would be considered big, but newborn giraffe, Margaret, at Chester Zoo, UK is seen as unusually small for her species. She is one of the smallest giraffes ever born at Chester Zoo, but pint-sized Margaret will soon be an animal to look up to.
Little Margaret, who is the first female Rothschild giraffe born at the zoo, is being hand-reared by her dedicated keepers. The first calf for six-year-old mum Fay, Margaret, who was born two weeks early, tipped the scales at just 34 kilos (75 lbs) and is a mere 5 ft tall.
Tim Rowland's, team leader of the Giraffes section, said: 'Margaret is one of the smallest giraffe calves we have ever seen. Fay isn't the largest of giraffes and Margaret was also early which might go some way to explaining her size. 'Margaret was having difficulty suckling so our keeping team are now hand-rearing her.