As you might know, since I gave a wee plug, I was on a panel at The Atlantic's Economy Summit on Wednesday. Even though NC readers know much Rubinite/Hamilton Project thinking dominates the Democratic party, it was a bit surreal to see how many of its core assumptions were pretty much unquestioned, such as the belief that Bernanke did a great job in the crisis (more on that in later posts) or that regulation needed to be done judiciously if it was to be done at all (note I was on the panel that had the most people urging bolder action, but the day was dominated by "pragmatists".)
As an aside, the part of the day I found most cringe-making was when Obama budget director Gene Sperling sold the notion awfully hard that the incoming President should be applauded getting a $800+ billion stimulus package passed shortly after coming into office, even though it was widely seen as the time as being too smal,l and was generally not given anywhere near the credit he deserved for all the great stuff he had done. It was also creepy hearing him talk about infrastructure and other initiatives that would generate middle class jobs. It took me a while to put my finger on what bothered me, and I finally realize when he was talking about middle class, he didn't see himself as one of Those People. But I did skip both the panels with Peter Schiff and the session with prince of darkness Bob Rubin, so there were likely even more grotesqueries. (I'll be talking a bit more about the conference over the coming days).
One theme, although it was not taken up that often, was that the US needed more innovation, and that means we need less regulation. There's no evidence for that belief; in fact the first time business tried that line in lobbying (the 1970s) they had could not even muster any proof. Despite their assertions, the US had no innovation gap; it was well ahead of other countries in patent generation and the number of issued patents had risen strongly in recent years. Moreover, many innovations result from regulation: start with those developed to produce more fuel efficient and cleaner cars. Further, companies have been having record profits and are buying back stock (for the most part) rather than investing, so you certainly can't try arguing that regulating is hurting profits and therefore leaving companies capital starved.
Needless to say, I'm not keen about the "let markets take care of themselves" view based on how well it worked out in the financial services industry. And I got another reminder on my return flight from Washington.
Forgive a bit of necessary background. The Atlantic said it would pay for business class travel. I thought that was a bit de trop on the shuttle. But when I went to book at Delta (one of my preferred carriers), I couldn't see how to book a flexible time ticket, and I wasn't keen about calling reservations and then having the call kicked over to Web support (I was tired and needed to get this done as quickly as I could). I recall US Air was explicit about flexible versus non-flexible tickets, so I went to their site.
This is the sort of page I got: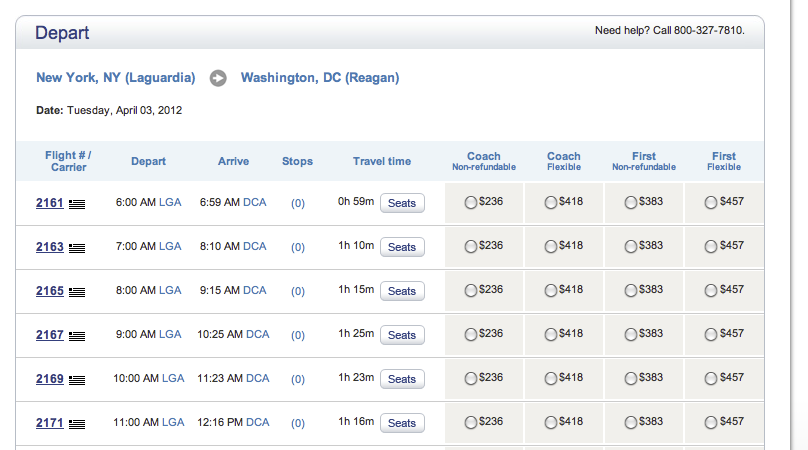 .
Then I started feeling like I should try to help the Atlantic. Big mistake. I thought, "Well, I do know when I want to leave, and if I fly first at a set time on the outbound, it's cheaper than the flexible ticket on the outbound, plus that way I can hang my garment bag in their coat closet." So I picked a first non-refundable on the outbound and a flexible coach on the return.
So when I booked the first leg, this is the sort of page I got in booking the return: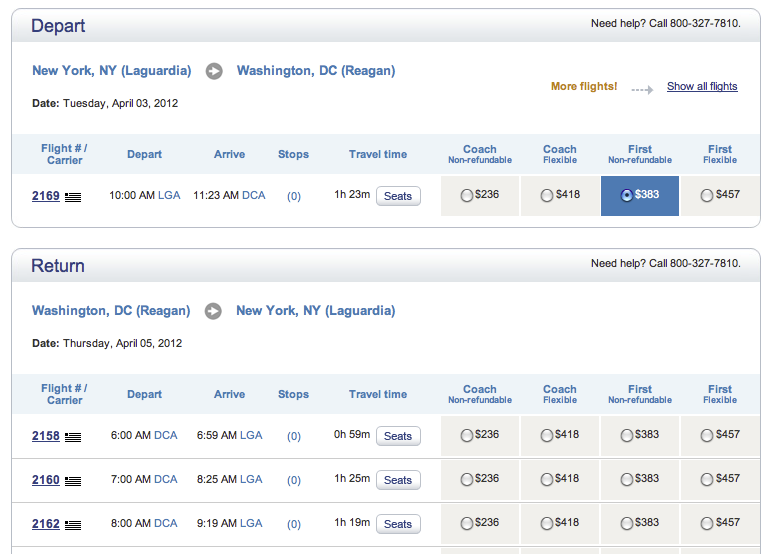 Notice the price of coach flexible is the same as on the return leg after picking the non-refundable seat on the outbound as if I picked a refundable seat. You can try it yourself at the US Air site to verify.
I bought the ticket and got a receipt window that says the ticket is non-refundable. I immediately called US Air in a panic. I gave the agent my record locator and she reassured me that the ticket I bought indeed is for a set time outbound and a flexible return, and I can change the time on my return ticket.
But when I got to US Air early enough to get on a flight one hour earlier than my scheduled departure, I was told by the special services person that my ticket was non refundable and I have to pay $54.25 if I want to get on the next flight. I told her my return was flexible and I'd even reviewed that issue with the reservations after I had purchased my ticket. She said she couldn't do anything. I made her get her supervisor and got the same answer after a longer and more heated conversation.
I then called US Air reservations. I told the agent my problem. She pulled up my record, confirmed I had a flexible return ticket and I should be able to move up my flight with no charge. She got a supervisor who confirmed the same thing. By that time, I had walked back to the special services desk and tried handing my phone to the agent (a different one, the other two had gone off duty but he had heard the earlier discussion). He refused, claiming it was against policy, gave me his number and made the supervisor call him. He picked the phone. She said something short to him. He said it was a non-refundable ticket and hung up. He then told me the supervisor had told him to tell me to back down. Aside from the fact that she had told me the opposite, I find it implausible that she'd go to the trouble to have him tell me that rather than tell me that herself.
So I called reservations again. I got another agent who said the same thing as the first agent, that I should be able to move up the ticket with no charge and she had no explanation as to why I was having trouble at the gate. By now, they were shutting the door to the jet bridge. I got a supervisor again and as before recited my entire story from the beginning. This time I was told that my buying a non-refundable first leg imposed restrictions on the second leg. I said it showed no such thing on the website and I had clicked around to find out what flexible fare meant and couldn't find any information (true, the description was so general as to be useless, and was the same on each of the two screens above, before and after choosing the non-refundable first leg). She said I could have called US Air for more information and also could have called to void the ticket when it showed on my receipt as non-refundable. I told her a second time I had called US Air right after buying the ticket (I even have phone records to confirm it) and was told then I could change the return with no upcharge.
So get this level of bait and switch: not only does the site contain this snare and provide completely inadequate disclosure (making it worse than microtype in bank credit card agreements), but I spoke to three separate agents, all of whom confirmed the intuitive understanding you'd have from buying a ticket on the site, and one supervisor (I have no idea what went on with the supervisor who told me one thing and the gate agent who said she'd said the opposite). Who would ever ask to speak to a supervisor when booking a ticket to double check that the front line staff is giving you the right story?
This is consumer fraud, pure and simple. They rely on the fact that they have your money, most people resign themselves to abuse, and it's pretty impossible to get them to disgorge it (although I'm still going to have a go with my credit card issuer, since they will allow me to dispute part of a payment and I can show I called US Air right after I bought the ticket).
I'm never flying US Air. They have a crappy customer satisfaction record and they fully deserve it. I warn you if you have a weak moment as I did, don't succumb. Don't use them.
But again, this is a reminder of a much bigger issue: many big companies find it profitable not to play fair, particularly after banks have demonstrated how far you can push the envelope of consumer chicanery and get away with it. That means we need some sort of mechanism to remedy the power imbalance. As much as it became popular to decry class action lawyers, since they too often seemed to get very big paydays on the back of nickel and dime abuses, the very fact that they could get big paydays meant they had incentives to go after them and it did help more than a bit to keep companies in line (the fact that they've funded an aggressive lobbying/PR/pack the court effort against class action lawyers speaks volumes as to how much they were feared). So having neutered on watchdog of sorts, we can either try to strengthen others or resign or resign ourselves to continued pilfering.