Matt Stoller is a fellow at the Roosevelt Institute.  You can follow him on twitter at http://www.twitter.com/matthewstoller
Today, both JP Morgan Chase and Wells Fargo released their earnings, beating expectations on revenue and profit.  Nonetheless, their stock prices fell throughout the day.  I went through their earnings releases to see what kinds of interesting information they've put out relating to mortgages.  Here's the JP Morgan Chase release, and here's the Wells release.  Deposits are up at both banks (Move Your Money campaign notwithstanding), and new regulatory guidance on second liens seems to be having a very modest effect at both banks.
JP Morgan Chase
– JPM earned $1.8 billion in its retail banking operation (p. 4), which is entirely due to the $1.8 billion in reduction for loan losses.  Its loan loss reserves dropped $3.9 billion from one year ago (p. 17).  These bank earnings seem like funny money, with loan loss reserves used to plug holes when necessary to smooth earnings.
– JPM Chase's direct mortgage servicing expenses for the last quarter were $1.151 billion. JPM Chase's direct mortgage servicing revenue was … $1.151 billion. (p. 6) What a coincidence! I'm guessing that this is not an accident.  The servicing model is just not profitable with the current fee structure in place.
– JPM Chase's HELOC book dropped from $102B to $99.1B in the quarter, a fall of $2.9B. About 20% of that drop was due to charge-offs of $542M. (p. 7)
– JP Morgan is now reporting $1.6B of "high-risk" seconds due to new regulatory guidance we noted two days ago.
– Deliquency trends for second-liens seem bizarre.  Check out these charts from page 16.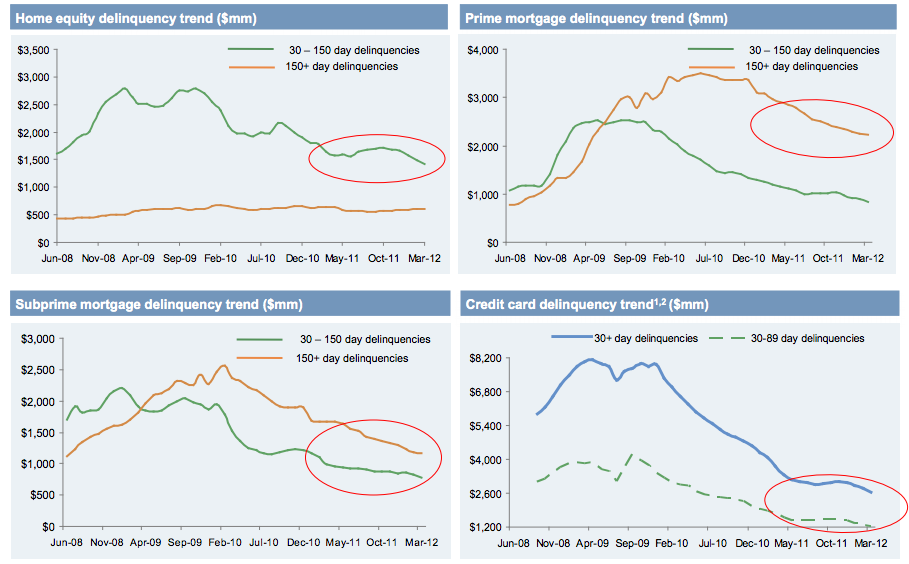 The top left hand chart is the Home Equity Line of Credit deliquency trend.  For the the other three types of debt, when the number of borrowers that are late in the 30-150 segment goes up or down, the number of people that are late 150+ days follows that trend, on lag.  This makes sense, if more people are missing or making payments on a short-term basis, eventually some portion of them will miss or make payments on a longer-term basis.  For HELOCs, though, there seems to be no relationship between the number of loans that are 30-150 days late and those that are 150+ loans.  This is consistent with some of the weirdness on HELOCs described in a post on seconds a few days ago (there's a great comment thread on that post, fyi).
Wells Fargo
– Wells Fargo wrote off $1.7 billion of second liens due to more aggressive examinations by regulators (see page 13)
– On slide 13, Wells says that HARP accounted for 15% of its mortgage originations in the quarter.  Total mortgage originations in the quarter for Wells are up to $129B.  HARP is a government program that allows for refinancing of underwater borrowers.   Shahien Nasiripour has a good article on this at the FT.
The scheme was part of the Obama administration's early response to the stagnant US housing market but it was overhauled last year to make qualification easier, removing a loan-to-value limit and giving participating lenders immunity from paying compensation on loans that broke underwriting guidelines.

Banks have seized on "Harp 2.0" as a highly profitable generator of new fees, according to lenders and analysts. John Stumpf, chief executive of Wells Fargo, told the Financial Times in February that Harp was "much more workable" in its new guise. Analysts expect $2bn-$4bn in additional revenue for Wells this year because of the programme. Wells and JPMorgan Chase, two of the three biggest mortgage servicers, both report earnings on Friday.

Borrowers with negative equity have largely been unable to shop around for finance because banks refinancing loans they already service enjoy the best terms in the government-sponsored scheme. That has led to mark-ups by banks refinancing their own borrowers that may lead to $12bn in additional revenue this year, according to analysts at Nomura….

"The largest banks are clearly taking advantage of the opportunity the government [unnecessarily] gave them," said analysts at Amherst Securities in recent research."In a competitive environment, we would expect some of the benefit to be passed on to the borrower. However, we are not in a competitive environment."
– Wells still has $65B of "pick-a-pay" loans on its books, or as the bank puts it, "non-strategic loans" (p. 24). You've got to love bank-speak. Sorry, your flight is delayed by a "non-strategic" three hours. I think you should get rid of your "non-strategic drug habit." My love handles are "non-strategic."
– 20% of Wells Fargo HELOCs are in a first lien position (p. 35)
– Wells will be releasing reserves in the future (p. 29) if the economy does not deteriorate, adding to earnings.
All in all, the status quo of a thinly capitalized servicer model and odd second lien accounting continues.  What did you notice?