On December 22nd, 2006, Auckland Compliance Limited, a New Zealand company agent, set up shop, and got to work. There are several striking things about Auckland Compliance.
Auckland Compliance has no onshore directors at all.  The sole director is Enrique Morales Robert, of Hato Pintado-calle B Casa 21e, Panama City, Panama. A lady called Deborah Wang seems to have provided the modest physical presence required for onshore paperwork in New Zealand.
Its registered office, 60 Cook Street, is a serviced office in Auckland. Auckland Compliance has a web site, and a phone number. Its web site is a one-pager.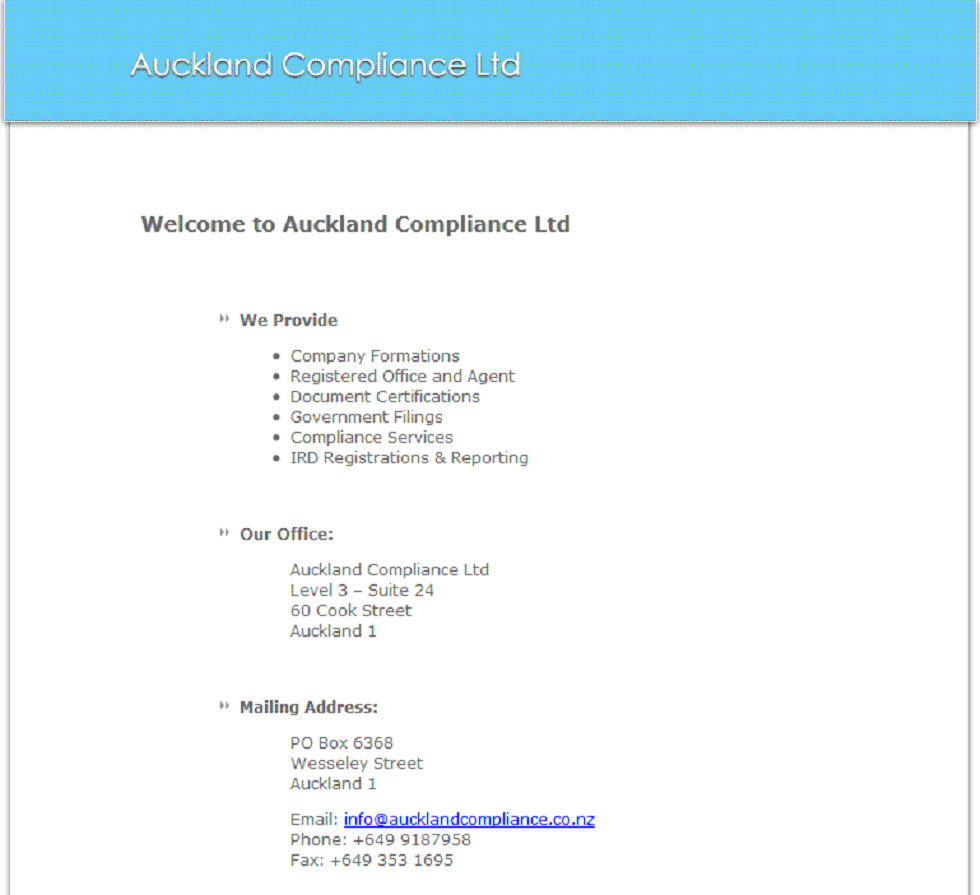 Even by the lamentable standards of New Zealand company registration, that is extreme. Good luck mailing things to "Wesseley" Street, by the way.
Between 14th Feb 2007 and 5th Feb 2010, Auckland Compliance registered at least 80 companies at 60 Cook Street. NZ Companies House's query doesn't track back through changes of company address, so that's an underestimate, possibly a handsome one, of Auckland Compliance's registration activity.
The first fruits of Auckland Compliance's labours were not long in coming (27 June 2007):
The Securities Commission banned ads last week for the Locke secured capital plan, offered by Locke Guaranty Trust (NZ) Ltd, and made some uncertain negative comments about the company. Details have since been removed from the company's website.

The Securities Commission's primary markets director, Kathryn Rogers, said Locke stated that New Zealanders weren't eligible to invest in the plan, but the company appeared to be using New Zealand as a base to offer securities in other countries.

One of Locke's ads, for a Taipei representative, offers a payments scheme bearing an uncanny resemblance to a pyramid. It also mentions that Locke is a registered "wealth creation bank".

Locke was incorporated on 22 March, with its registered address at Auckland Compliance Ltd, 60 Cook St. Directors are Chan Weng Sun, Kuala Lumpur; & Lee Che Hock (Joseph Lee), Petaling Jaya, Malaysia. The company's owner, with 100 million shares (increased from 1000 on 1 May), is British Virgin Islands company Locke Capital Investments (BVI) Ltd.

Auckland Compliance's director is Robert Enrique Morales, of Panama, and its owner is Overseas Capital Ltd (registered office the ASB Bank Centre, Auckland; director Michael Magnusson, Panama; owner Overseas Clearing Corp, Panama; incorporated 22 December 2006). Mr Magnusson is listed in New Zealand as a director of Eurowire Clearing Corp Ltd (incorporated 30 April), Opus Bancorp Ltd (incorporated 14 May), Overseas Capital & Overseas Trust Ltd (incorporated 1 March 2004).

Mr Morales is listed in New Zealand as a director of Auckland Compliance, Continental Bancorp Ltd, First Liberty Savings & Loans Ltd, First Pacific Trust Ltd, National Savings & Loan Ltd, Pacific Bancorporation Ltd, Providence Bancorporation Ltd and Providence Savings & Loan Ltd, and as a former director of Century Trust Ltd, First Capital Savings & Loan Ltd and First Pacific Savings & Loan Ltd.

Issuing the banning order, Ms Rogers said: "The commission can & will intervene in deceptive or misleading offers being made by people based in New Zealand, even if the offer is not open to New Zealanders. Investors should be warned about the scheme because the commission believes claims made about it are likely to deceive, mislead or confuse investors."

She said Locke advertised the plan on its website, where it said the investment was safe & risk-free. "All investments have a degree of risk and the commission believes these statements are deceptive & misleading.

"The website also stated that LGT offers internet banking and is regulated under the Reserve Bank of NZ Act 1989, and that LGT is regulated by the Securities Act 1978.

"The website may have given the false & misleading impression that LGT has been licensed &/or approved by the Securities Commission or the Reserve Bank. LGT is not a registered bank in New Zealand and is not subject to banking regulations."
Since that article was written, Overseas Capital Ltd has been struck off the New Zealand register, though you wouldn't know that from its still-active web site.
Meanwhile, Auckland Compliance kept on registering companies until 2010. As we saw, they registered at least 39 companies that once had "Bancorp" in their names; about one in three of them were scams. But assuming there are no more horrors yet to emerge, that appears to be it with Auckland Compliance's Bancorp spree.
There is more to come from Auckland Compliance's back catalogue, but in the mean time, they have now packed it in; possibly only because Michael Magnusson, the man in Panama behind it all, has a new wheeze:
Zealand Financial Group LP will operate in liaison with OCC headquarters to help meet the ever increasing demand for NZ based Financial Services Company Registrations and related support services.

"Our New Zealand office will not only improve our efficiency when registering Financial Service Providers (FSPs) in New Zealand on behalf of our international clients, but it will also allow us to offer Company Management services and a wider range of administrative support services from within New Zealand" says Michael Magnusson, CEO of Overseas Clearing Corporation.
This is the new pitch, with an endorsement of the regulatory setup in New Zealand that I am sure is already causing eyes to bug out at the Reserve Bank of New Zealand:
We offer a complete range of services for the formation and registration of a legally compliant Financial Service Provider (FSP) in New Zealand. An FSP can legally engage in activities and offer services such as:

Deposit Taking
Keeping, investing and managing money, securities and investment portfolios on behalf of third parties.
Providing credit under a credit contract
Operating a money or value transfer service
Issuing and managing means of payment
Giving financial guarantees
Changing foreign currency
Entering into or trading on an exchange, in an over-the-counter market or otherwise, the following on behalf of another person:
money market instruments (including cheques, bills, certificates of deposits);
foreign exchange (including forward foreign exchange contracts);
derivative products including, but not limited to, futures and options;
exchange rate and interest rate instruments, including products such as swaps and forward rule agreements;
transferable securities;
other negotiable instruments and financial assets

Why New Zealand?
New Zealand repealed its entire Banking Act in 1995 (Click here to access the Banking Act Repeal Act 1995) and thereby facilitated free entry in to the business of banking. There are several laws regulating a financial business, but New Zealand is unique in the sense that an international banking entity can be established without capital requirements, qualification requirements or excessive supervisory requirements. If banking services are not offered to the public in New Zealand, the requirements of prospectus, supervisory trustee and investment statements as set out in Part II of the Securities Act 1978 do not apply. FSPs offering services to non residents also operate outside the geographical scope of the Non-Bank Deposit Taker (NBDT) regulations as defined in the Reserve Bank of New Zealand Act 1989. The NBDT regime only applies to FSPs offering financial services to the public in New Zealand. See our FSP Laws section for further information about FSP related legislation.
You could get the impression, from the URL and contact details of the Zealand Financial web site http://www.zealandfinancial.co.nz/about-us.html#contact-us, that the people behind Zealand Financial Group LP are in New Zealand.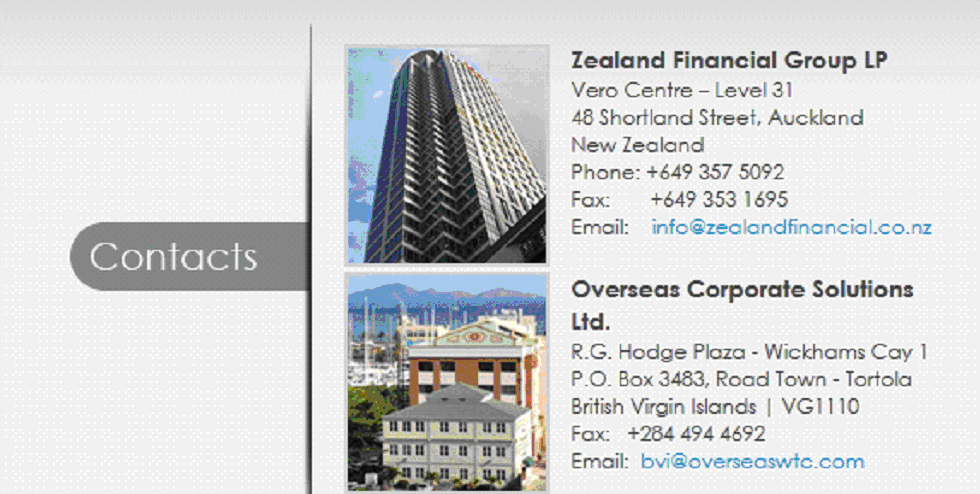 But if you can recognise a serviced office, you'll know better. Think World Trade Center, 10th Floor, Office 1002, Panama City, Republic Of Panama; think leopards with immutable spots.
A straw in the wind: Rodrigo Edgardo Alvarado is a director of Worldwide Forstock, which the Slovenians were warning about, and which was registered in New Zealand via Auckland Compliance. Here's Rodrigo again as a director of the post-Auckland-Compliance Overseas Investments and Finance Limited, which has a nice new FSP Number, FSP 154005.
Magnusson's new harder-to-trace business model still appears to involve the veteran bank CEO (and taxi driver), Darryl Jensen, whom Magnusson's employed before, in some Auckland Compliance/Panamanian Ponzi nastiness that we referred to in an earlier piece.
In other words, Magnusson's new business model appears to be working just fine, which makes me think there must be new bombs waiting to go off. You might hear something.
UPDATE: the first version of this post claimed that the phone number of Auckland Compliance and Zealand Compliance were in the Turks and Caicos Islands. These companies are unreal, but not that unreal: the phone numbers are Auckland ones that I misinterpreted. Thanks to commenter Gavin for pointing this out.