Marcy Wheeler put up a useful post yesterday morning, based on a Reuters article describing the efforts of Standard Chartered to combat the damage done by its making illegal transfers on behalf of Iranian banks.
Marcy picked up on how the article revealed the techniques used by big banks to escape suffering meaningful consequences of their misdeeds:
Reuters lays out the steps that SCB took that normally should be enough to minimize any consequences for violating Iran sanctions. First, you hire Sullivan and Cromwell and act contrite. Then, you pay a consultant to conduct a review and claim the violations involved just $14 billion million in transactions as opposed to $250 billion shown in your bank records.

As part of a review the bank sought to give to regulators, Standard Chartered hired Promontory Financial Group, a Washington D.C. consulting firm run by Eugene Ludwig, who served as U.S. Comptroller of the Currency from 1993-98. Promontory was hired to review Standard Chartered's transactions tied to Iran. The bank's review ultimately settled on the figure of less than $14 million for improper transactions.

Then you bury all the embarrassing details showing willful flouting of the rules, so the proles don't learn how craven banks really are.

I suspect, for the reasons laid out here, that OFAC will still find a way to give SCB a nice cushy settlement. But Lawsky has revealed what really goes on behind these settlements: the coziness, the misrepresentations, the complicity in hiding the true face of banking.
Now I decided to go have a look myself. Being on the vampire shift, I didn't go looking until mid afternoon. And guess what, the story that was now at that URL was not the same story. Yes, there was a story on Standard Chartered. But the version that Marcy worked from was apparently the original, released at 00:28 AM, titled "U.S. regulators irate at NY action against StanChart." I've loaded that version in a Word and put it up at ScribD, and am embedding it below. It's 1766 words. Be sure to download it if you are interested in this topic.
Original Reuters 8/8/12 Standard Chartered Story
The version up at 4:53 had the title "Standard Chartered begins fightback on Iran allegations" and is 1025 words. For grins, I did a version compare from the original article, which I've also uploaded, so you can see this is a new story.
Now why is this significant? The parts that Marcy focused on, the role of Sullivan & Cromwell and Promontory, are gone. And I mean gone. This version of the story has been expunged from the Reuters website. I did these searches on the Reuters site at just after midnight on the 9th (note the results are in reverse chronological order, so the one at the top is the most recent):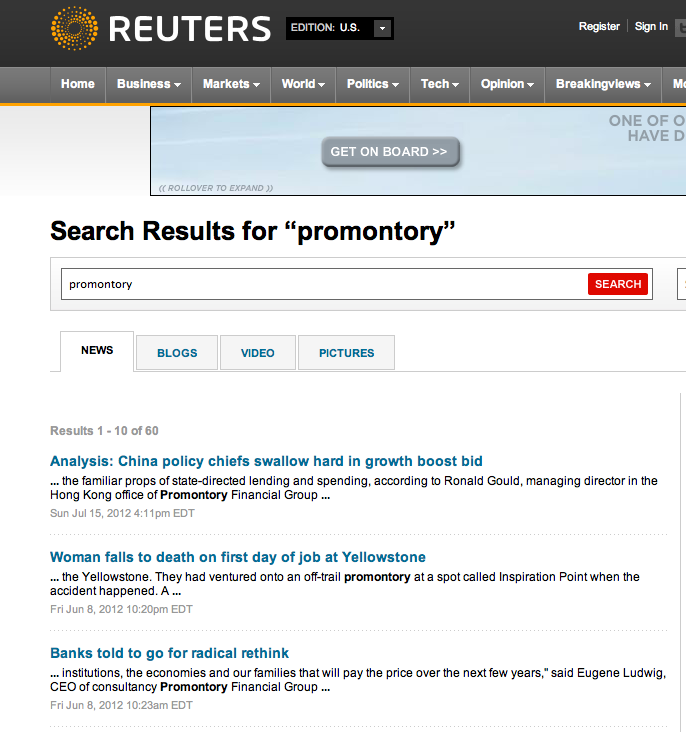 Similarly: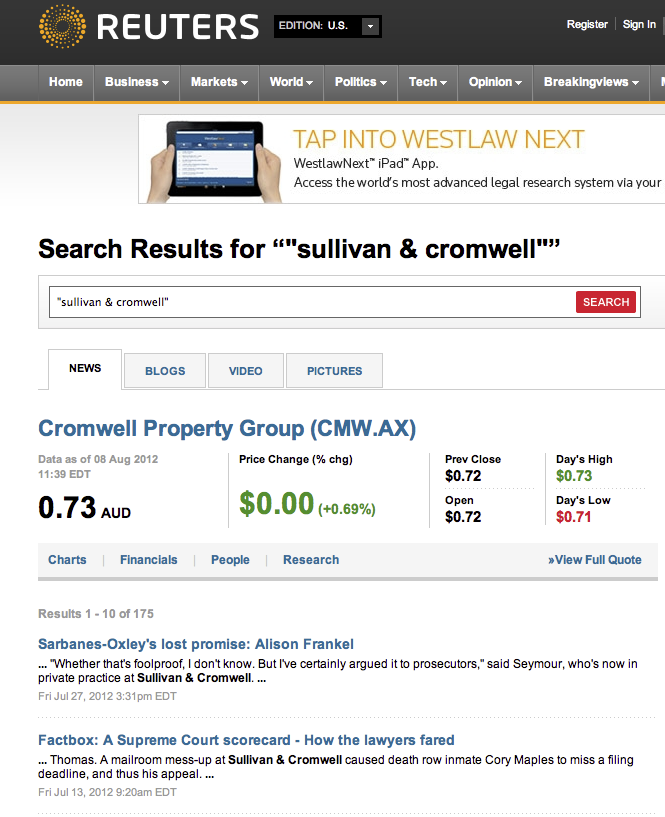 If you try searching from the story on the outside, you can see Google still has it in its cache, but when you click on the link, you get later version with no mention of Promontory or Sullivan & Cromwell (or the other juicy details in the original version):

Now it isn't unusual for stories by Bloomberg and Reuters to morph a bit over the day, as they get more info, juicier quotes, or decide to perk up the wording a bit. But actively expunging a story with important information in it is another matter. One can only hazard how this came about. The first version is pretty favorable to the New York regulators, Benjamin Lawsky. For instance, early in the piece, it says:
Lawsky's stunning move, which included releasing embarrassing communications and details of the bank's alleged defiance of U.S. sanctions against Iran, is rewriting the playbook on how foreign banks settle cases involving the processing of shadowy funds tied to sanctioned countries. In the past, such cases have usually been settled through negotiation – with public shaming kept to a minimum.
But the juiciest bit is how it flags the astonishing difference between the $250+ billion in transactions that Lawsky and SCB's sanctimonious claim of a mere $14 million in dodgy transfers came about. Recall the quote that Marcy extracted above, that the advisory firm Promontory, headed by former Comptroller of the Currency Gene Ludwig, conducted a review and "settled" on the $14 million total. Promontory has made a bit of a specialty of getting hired to do independent reviews for boards in rogue trader cases. It seems it has been using the name it developed there, plus the fact that it has many former staffers from the OCC and other regulators, to enable it to act as a big ticket fixer (note that while the article also mentions that Rodgin Cohen of Sullivan & Cromwell, long recognized as the top bank regulatory lawyer, has been engaged to represent SCB. That's almost to be expected).
So why did the original story get disappeared? Was it the result of pressure by Promontory, pressure by SCB, or maybe even unhappy regulators who didn't like this much detail out in the open? As Marcy Wheeler said via e-mail:"…are they trying to hide the role of Promontory in spinning this as an order of magnitude or five smaller?" When I once made an only mildly snarky remark about Promontory (this before I came to be recognized as hopelessly feral), I was contacted within 24 hours by a Promontory staffer trying to re-eeducate me.
And what was the real bone of contention between Lawsky and the bank? Per the original story:
Lawsky's agency also received the Standard Chartered internal review, according to people familiar with the situation. But the new regulator had little interest in a settlement that didn't yield embarrassing details about Standard Chartered's activities, these people said.
So get this: a key condition for the bank was maintaining its undeserved squeaky clean image (if you've followed the press in the UK, it's often mentioned how the management team has good reputation. So too did Goldman circa 2007). Yet the Swiss central bank made UBS hire an independent law firm to produce a report as to why it needed to be bailed out and required the information to be made public. Similarly, judge Jed Rakoff objected to the practice of having regulatory settlements with no admissions of underlying facts. The idea that if a firm is big enough, it can do bad things, write a "cost of doing business" check when it worries it might get caught, and keep the bad behavior under wraps, save some vague language in its financial reports, is yet another example of how gross the differences are between the haves and the have-nots in our two-tier system of justice. While we are unlikely to see serious change any time soon, the fact that Lawsky put some ugly facts about SCB out in the open is a welcome departure.