By Stephanie Kelton, Associate Professor of Economics at the University of Missouri-Kansas City. Cross posted from New Economic Perspectives.
My Twitter followers are constantly asking me if I think more spending would really help the economy recover. I understand their skepticism. Many are probably struggling with high debt levels, and the last thing they want is some economist urging them to rack up more debt for the good of the economy. (Bad advice, indeed.) Others have heard President Obama talk about putting Americans back to work by investing in our nation's infrastructure, educational system, energy future, etc., but many aren't sure if the "stimulus even worked", so they, too, wonder if more spending is really the right way to grow the economy. Well, here's the answer.
Spending isn't the just the right way to grow the economy, it's the only way.
After all, what is "the economy"? For most economists, it's a simple number. We use a country's Gross Domestic Product (GDP) to measure its "economy." So where does this GDP come from?
There are different ways to calculate GDP, but each method is designed to yield the same result. Let's look at the most popular method — the one based on expenditure. GDP basically measures the total amount of spending (at market prices) on newly-produced goods and services (by their end users). In other words, GDP measure how much money we spend.
Who's "we"? All of us. You and I belong to the household sector, and together with our friends and neighbors, our Consumption Spending normally accounts for about 70 percent of the expenditure that comprises our GDP (go team!). The business sector is important too, because that's where Investment Spending comes from — the factories and office buildings most of us work in and the computers and machinery we use to make things. State, local and federal Government Spending also gets counted in GDP because they pay salaries, order supplies, buy aircraft carriers, etc. Finally, there are the things we import from foreign producers (European vacations, business travel, a foreign-made automobile) and the things we export to foreign consumers, businesses and governments. On balance, our Net Exports (Exports – Imports) are another potential source of GDP.
So how do we "grow the economy"? By increasing our GDP. And how do we do that? By increasing one or some combination of the four components of GDP:
1. Consumption Spending
2. Investment Spending
3. Government Spending
4. Net Exports
Without an increase in one (or some combination) of these components of total spending, GDP cannot increase.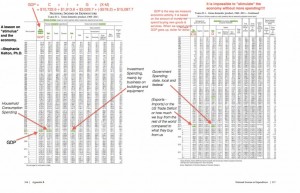 [Click to enlarge]
Lesson on GDP [PDF]
Now for the hard part.
MULTIPLE CHOICE: Who is in a position to lead us out of this weak recovery?
a.) Household Sector (currently deleveraging – i.e. paying down debt)
b.) Business Sector (hesitant despite low borrowing costs and mountains of cash)
c.) Government Sector
1. State/Local (still struggling with shortfalls)
2. Federal (currency issuer that can spend more when others can/will)
d.) Foreign Sector (China, India, Brazil, Eurozone, Russia, UK)
If you agree with me, then I'll c.) 2. it that you become an honorary owl.