By Delusional Economics, who is determined to cleanse the daily flow of vested interests propaganda to produce a balanced counterpoint. Cross posted from MacroBusiness.
I genuinely thought the Europeans were getting somewhere in the last few weeks as I detected (or maybe that should be optimistically hoped) a change of rhetoric from some of the more hardened camps and a growing realisation that the current approach to "solving" the crisis is failing. My optimism was helped by the fact that the OMT, like the LTRO before it, has driven down sovereign yields which has given the European leaders yet another opportunity to sit down away from the fire fighting and discuss outcomes beyond a short term market window.
But alas, this is Europe and I appear to have been wrong. So, as I warned last week, the next step along the road to further integration, the banking union, appears to have hit a wall:
German Chancellor Angela Merkel and French President Francois Hollande had gathered at the Baroque palace in Ludwigsburg, southwestern Germany, where Charles de Gaulle gave a watershed speech to German youth in 1962.

But despite affirmations that European unity was the only way out of the debt turmoil lashing the euro, they differed over a key plank of crisis-fighting: tighter checks on the European banking sector.

"I support a banking union, it is an important measure and we must proceed step-by-step," Hollande told reporters, while stressing that such a framework should be in place "the earlier the better".

Merkel, for her part, said Berlin also backed European oversight of lenders but urged a more cautious approach, saying haste could prove costly.

"For me it is important that quality is ensured. It is pointless to do something very quickly that in the end doesn't work," she said.

"It must be thorough, it must be of good quality and then we'll see how long it takes. We will get our finance ministers to work with each other on it as quickly as possible."
As I said in my previous post on the matter, the most important part of the union isn't the supervisory component it is unified deposit insurance:
The whole point of having a supra-Eurozone backed insurer is that deposit holders in any participating country know that their savings are backed not just by their own national government, which may be struggling, but by all participating governments. In practice this should significantly reduce the outflow of deposits because, although probably not perfect, periphery banks will be seen as being considerably safer than they do today.
Without this component deposit outflows can be expected to continue, further weakening the periphery banking system while stabilising the core. There is a possibility, however, that this is about timing. The Germans would like to see periphery governments under the umbrella of the fiscal compact and providing deposit insurance, like the OMT, is a disincentive. The jawboning of Spain continues and German politicians are becoming frustrated that Rajoy hasn't yet drunk from the poison chalice:
Germany's governing coalition showed growing exasperation with Spain, as a senior ally of Chancellor Angela Merkel said Prime Minister Mariano Rajoy must stop prevaricating and decide whether Spain needs a full rescue.

"He must spell out what the situation is," Michael Meister, the chief whip and finance spokesman for Merkel's Christian Democratic Union, said in an interview in Berlin today. The fact he's not doing so shows "Rajoy evidently has a communications problem. If he needs help he must say so."
Obviously this is about politics. Mr Rajoy is well aware that austerity programs in other nations have seen the end of the government and I am very doubtful, given other circumstances, that Spain will be any different. I note, however, that Mariano is doing a fair job of destroying his own career.
The Spanish banking system continues to see rising bad debts and a new report due shortly is likely to show that at over €60bn is required to cover losses. Given the current economic situation of both the state and the regions on top of the continuing declines in asset values it does not seem possible that the Spanish sovereign can cover these costs. The Spanish government is attempting to implement austerity of its own in order to soften the blow of conditionality, but this won't in anyway alter the outcome that Spain will require an external program.
The poor economic data also continues. In a follow-up to the depressing read that is the Eurozone flash PMIs, the latest German IFO continues to follow the same trend:
Germany's relative resilience to the euro zone crisis has been steadily fraying as its firms see falling demand for their products from key European partners and signs of a slowdown in other markets.

Earlier this month ECB chief Mario Draghi announced a new and potentially unlimited bond-buying program to lower the borrowing costs of embattled euro zone countries such as Spain but market optimism has not spread to company boardrooms.

The Munich-based Ifo institute said its business climate index, based on a monthly survey of some 7,000 firms, fell to 101.4 in September from 102.3 in August, defying expectations for a slight rise.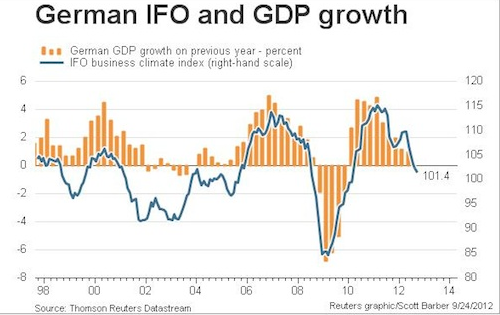 In other news the Troika discussions in Greece have been halted for a week after long and heated back-and-forth over further budget cuts. There has been no official word from the Troika as to the outcome but given IMF President's, Christine Lagarde's, latest statements I can only assume she has been briefed on the futility of the current situation:
Greece faces a financing gap that won't be solved by budget measures being discussed because a weak economy and delayed privatizations have worsened its fiscal situation, International Monetary Fund Managing Director Christine Lagarde said.

Lagarde said efforts being discussed by the Greek government and the so-called troika to find 11.5 billion euros in savings won't be enough to put back on track Greece's 130 billion-euro (168 billion) bailout jointly funded by the IMF, the European Commission and European Central Bank.

A "financing gap" has emerged because of "the macroeconomic situation, the major delay in privatization and therefore shortfall in proceeds from the privatization" as well as "limited revenue collection," Lagarde said at the Peterson Institute for International Economics in Washington. "The Greek debt will have to be addressed as part of the equation."
As I said a month ago the discussion over the latest package is quite irrelevant. The Greek economy is in a shambles, resembling that of a failed state, and it is very obvious that Europe will have to a ) provide on-going funding, b ) provide some form of official sector adjustment, possibly a large lengthening of maturity c) let Greece default.
Overnight German lawmakers re-iterated their objections to further funding, so I have to ask what's left?
German lawmakers would refuse to back a further writedown of Greek debt because such a move would amount to a third aid program, a senior ally of Chancellor Angela Merkel said.

"How could we possibly do that?" Michael Meister, the parliamentary finance spokesman for Merkel's Christian Democratic Union party, said in an interview in Berlin today. "Where would it stop? We're talking about loans from as recently as last year." Germany's lower house of parliament, the Bundestag, which must approve aid, "would not go with it."

Asked about a report in this week's Spiegel magazine that Greece's budget gap may be almost twice as big as envisioned, Meister said that even if it were true, "it's up to the Greeks" to address the problem. He reiterated that as long as the nominal aid for Greece is not increased, "there are a number of possibilities, including front-loading financial help from the second packet."
So against my misguided optimism it seems the Eurozone has fallen back into its old ways. The economy continues to shrink, the current policy response is making the problem worse but meanwhile the eurocrats struggle to agree on anything that may help.